Simple Ways to Make Your Home Crafty, Comfy, and Beautiful  
Rustic is a word that can be applied to the best things in life – good food, being in nature, beautiful architecture, and our favorite thing: home interiors. 
With interior design, rustic means no fuss, neutral tones, comfortable furnishings, and making the most of natural elements like wood, stone, clay, and cotton. Rustic home decor is so great because quite simply it works in any room of your home – from a hearty, farmhouse kitchen to a simple and elegant bathroom, getting back to basics and finding the raw materials to set the tone is what makes being rustic so much fun.
Combining Nature with Innovation in Modern Rustic Homes 
Incorporating natural items into your home does not have to mean throwing your contemporary pieces in the trash. In fact, we think that there is nothing more wonderful than combining styles, and with some careful planning, you can even enjoy some good ole rustic home furniture or design features in a brand-new property! It is also very satisfying to take advantage of modern materials, designs, and crafting methods to ensure that your home works for you – especially if you have kids or pets, or require a dual-purpose room for working from home, for example.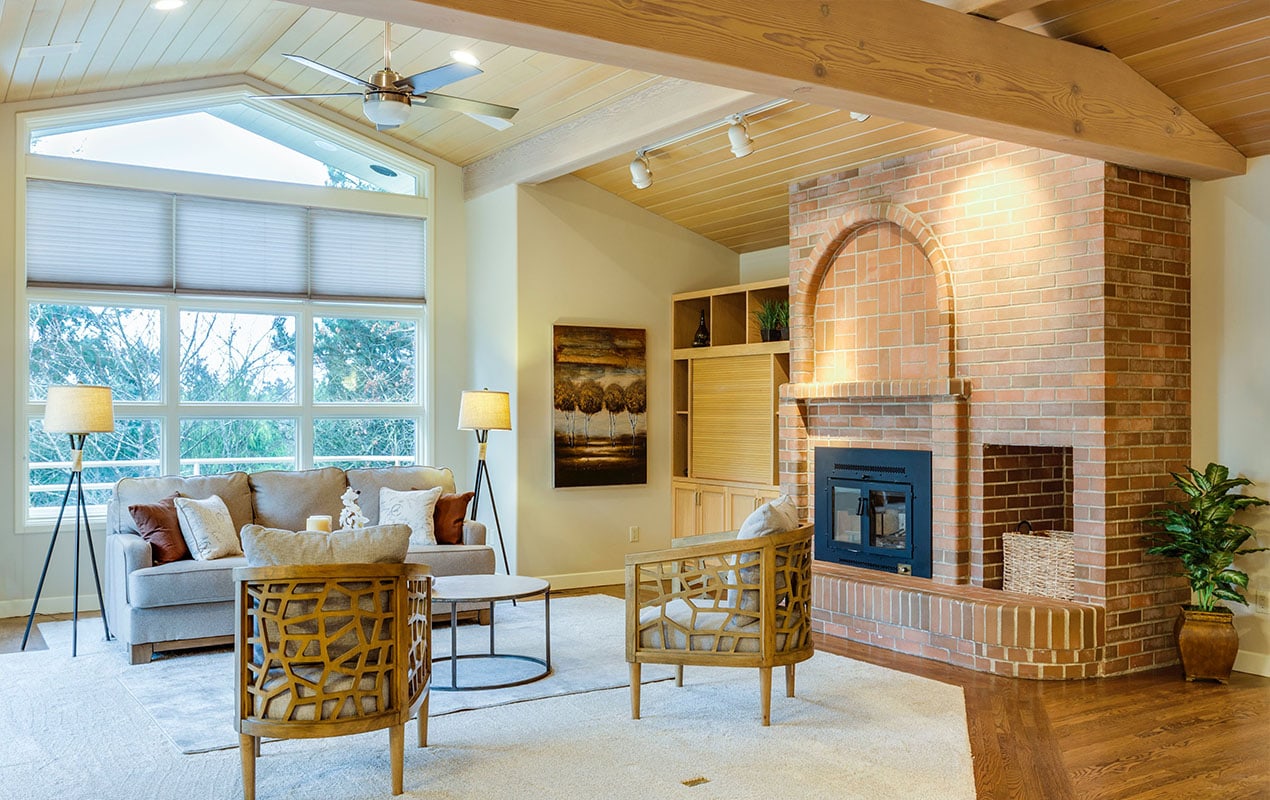 Let's dive into 7 ways to add 'rustic' to your home's vocabulary. 
#1 Exposed Wood 
Timber is the material that is most associated with rustic home decor and, wonderfully, the one that is the easiest to introduce. If your home already has a timber frame or any existing wood that you can bring into the light, you have a headstart! Depending on the condition of the wood you can make use of its charm with minimal effort – the rule of thumb for this look is 'keep it raw', so sand it lightly and treat for woodworm then let it do its thing. 
If you live in a modern home or don't feel sure what wood you can expose, you can always add wooden beams or paneling to your room – a solid beam above a stove or fireplace can make the world of difference and add real warmth.
#2 A Fireplace
Nothing says rustic home decor like a fireplace – it adds a focal point to the room both aesthetically and as a gathering place, and a real fire has never lost the ability to captivate us and make us feel truly safe and snug. You have many options with the style and materials, but we think bare stone and wood sit wonderfully together. If you are looking for rustic Americana home decor, we say when it comes to the fireplace the bigger, the better!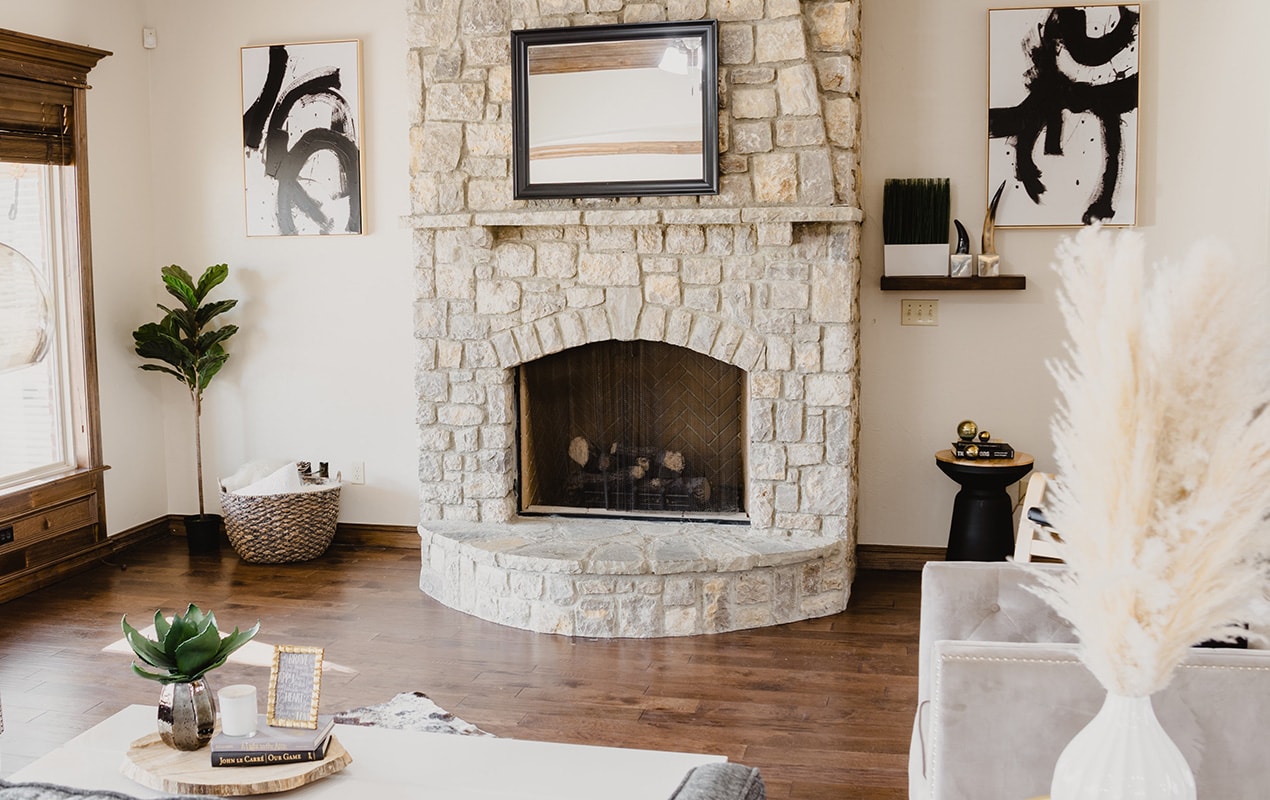 Quick Tip – Use What You Have: Have a look through your linen closet to find some soft furnishings to get the ball rolling. Layers of woolen blankets are a great jumping off point for a rustic atmosphere.
#3 Linen 
There is something very French farmhouse chic about linen and if you love European-inspired rustic home decor, then investing in some good quality linen will add an understated, yet cozy feeling. Start in the kitchen or the bathroom with some linen towels stacked up on a reclaimed wood shelving unit, or in the dining room with a tablecloth and napkins paired with some antique silver cutlery. 
You can commit further with drapes and blinds, even sofa and chair coverings – always make sure a professional has created these for you so that you get the most out of the fabric and enjoy it for years to come. 
#4 Earthy, Neutral Tones 
Neutral paint colors are your best friend with rustic home decor, because they provide a natural backdrop to your furnishings, allow more light to reflect back at you, provide a feeling of space, and complement your timber, stone, and naturally inspired items like cane or bamboo. For rustic tiny homes, putting neutral shades on the walls is the easiest way to get the look without trying to squeeze in a fireplace or have wooden beams that might get in your way.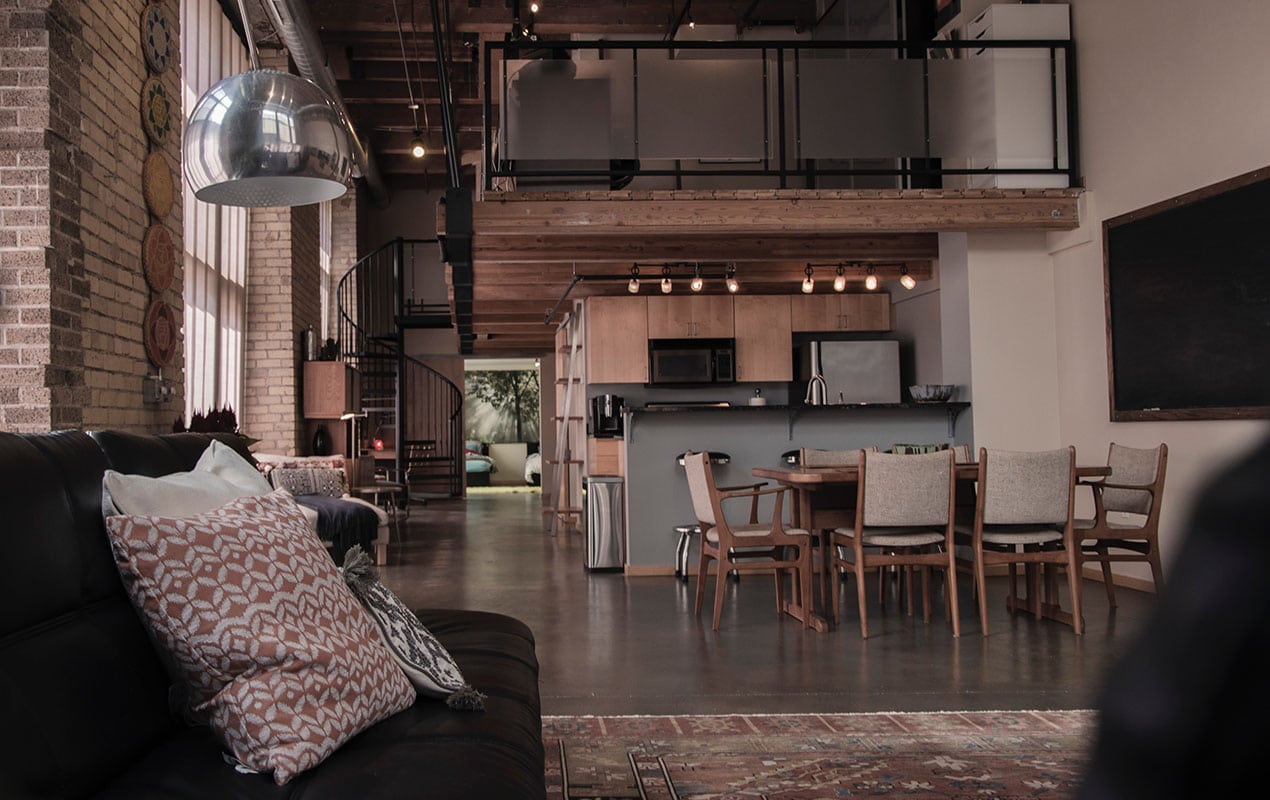 Quick Tip – Get Creative with Searching: Go hunting for kitsch! There are plenty of places that you can find items with heaps of character, from flea markets to thrift stores, just keep those peepers peeled for a deal!
#5 Craftsman Style Door 
A Craftsman style house is an aesthetic that was born out of the American Craftsman movement at the start of the 20th century – it was actually a pushback against mass-produced, Victorian design pieces that were created on a large scale thanks to the industrial revolution. People wanted to go more natural and more 'craft' (perhaps this was the birth of the hipster movement?!)
A Craftsman style door is typically a wooden paneled door with small, pretty windows at head height. It can be as simple or ornamental as you like and either way, makes quite a statement – what a welcome to your lovely, rustic home!
#6 Stone Features 
Like its timber counterpart, stone is a fantastic natural, raw material to uncover in your home if you already have it. Exposing a stone wall at one end of your kitchen and then adorning it with modern art and soft textiles makes for a unique aesthetic – or make practical use of a full stone room as a cool place to store food items or to use as a muddy boot room. 
If you don't have stone already in your home, you can easily add it in with a fireplace – keep the natural finish for a traditional look or paint it with neutral paint colors for a more contemporary feel.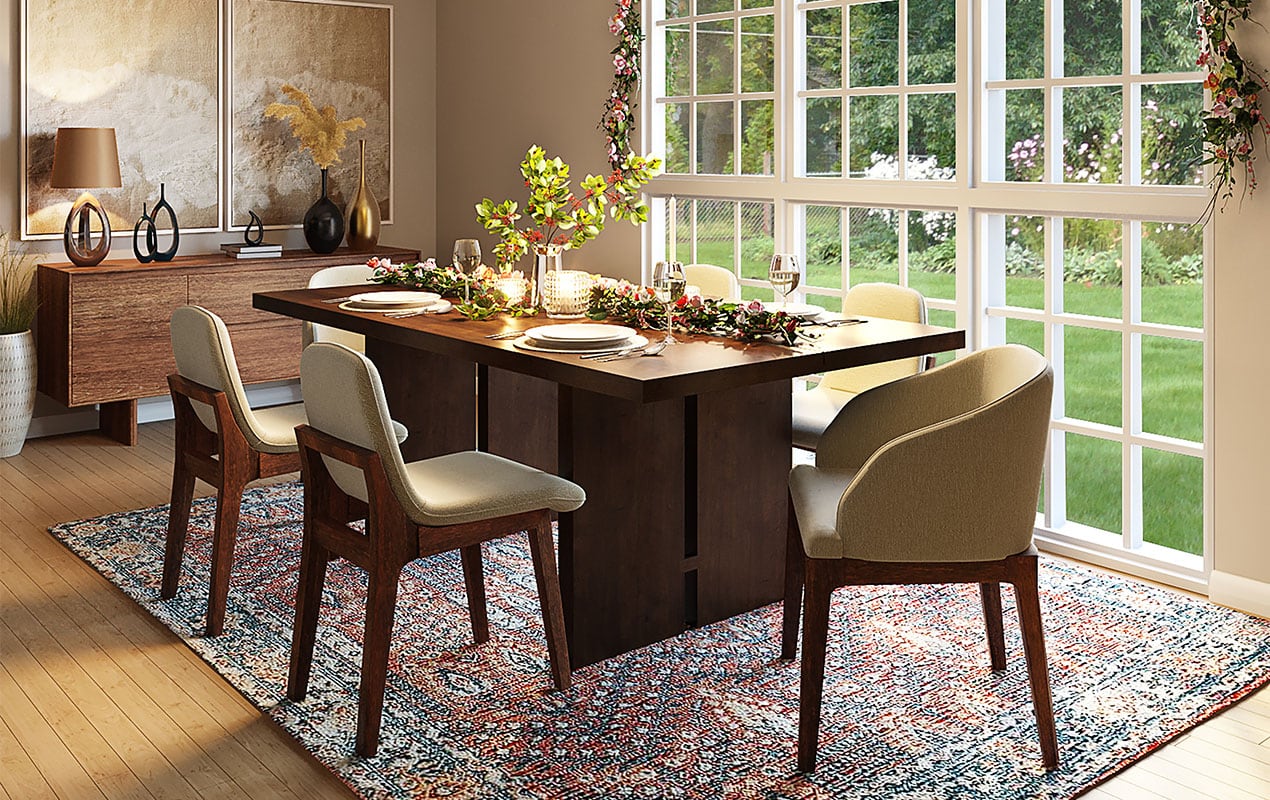 Quick Tip – Get Handy!: Creating your own items of furniture and decor is a surefire way to find that rustic quality that you're looking for. The charm and satisfaction of your own creations will make the rough edges feel cozy.
#7 A focal dining table 
Give nature the limelight by putting the best features right in the center of your room, and one of the loveliest ways to do this is with a long, wooden farmhouse-style dining table. To this piece of rustic home furniture, you can add your favorite candles, table linens, mismatched vintage plates, and flowers for the homiest look possible. If you're stuck for space, find a table that you can extend and fold back again, and use stools rather than chairs so that you can tuck them underneath when you're done. 
Rustic Home Decor – So Many Ways to Do Comfort and Style 
It doesn't matter whether it is achieved in tiny rustic homes or in farmhouses with oodles of space, bringing simple, countryside-inspired decor into your home will make you love your space even more. Browse the many online blogs and websites for your favorite designs – and have fun!