To many, the white bathroom is the ultimate symbol of class and sophistication. But while it can feel like sacrilege to introduce too much color, a simple all-white bathroom can create an atmosphere that's a little devoid of character. If you're wondering how to make a white bathroom interesting, without stripping it of its clean aesthetic, you're in the right place. We've put together this article to give you some white bathroom inspiration, so you can buck up your washroom ideas to the same standards as the rest of your house.
1. Bring in Marble or Natural Stone
Installing natural stone or marble floors, wall features, and surfaces in a white bathroom is a surefire way to add a dimension of regality, personality, and even a more holistic feel to the room. Natural stone and marble often have their own natural grains and patterns ingrained into them, bringing an abstract yet familiar touch to your otherwise, slightly antiseptic white bathroom.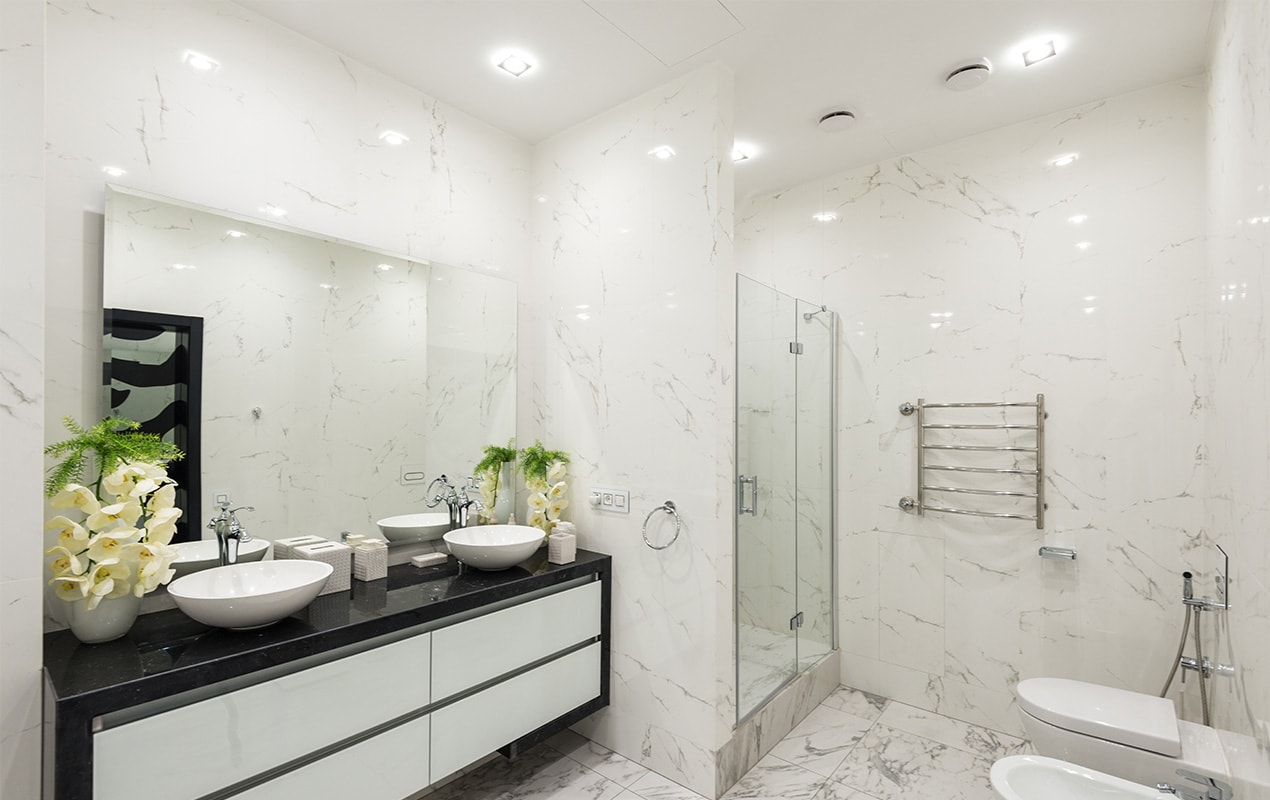 2. Bring in Some Black
Black and white, has there ever been a more iconic combination of colors? From the classic burglar's outfit to the yin-yang symbol, the contrast between black and white is timeless, and introducing black elements into white bathroom designs creates a striking visual effect. Whether you go for a pitch-black sink top or a black medicine cabinet above it, adding blocks of solid darkness helps break up the visual profile of the room.
3. Opposing Mirrors
This is a great trick to use in a small white bathroom ideas with minimal space. Having mirrors on either side of the room creates an interesting, visually exciting effect, which makes the room and its contents appear to be almost infinite. Using this method, you create an illusionary sense that the room has more space than it does in reality, while also being able to have fun with the optical reflective effect.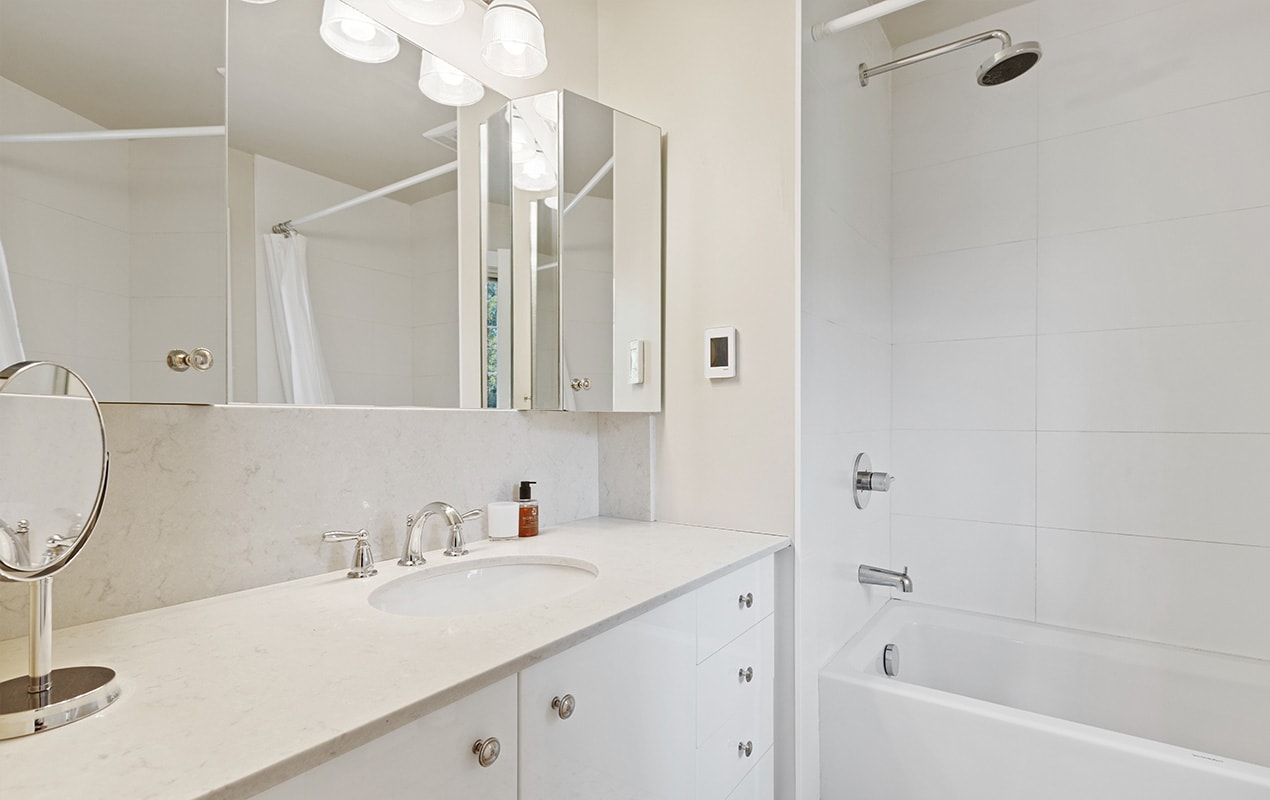 4. Industrial Features
Do you fancy going a little old school with your bathroom? Try out some industrial pieces of furniture and decor, such as deep workman's sinks or perhaps some exposed pipework. Industrial elements definitely stand out, but adding this rustic twist can make your white bathroom feel a little more lived-in and invitingly rough around the edges.
5. Why "Woodn't" You?
Bringing in some wooden features can do wonders for the homeliness of a white bathroom, adding the comforting familiarity of the grain and natural lustre of good timber. This could be with the mirror's frame, a bathroom stool, or a more rustic medicine cabinet, but either way, the addition of wood features will soften the edges of an all-white washroom.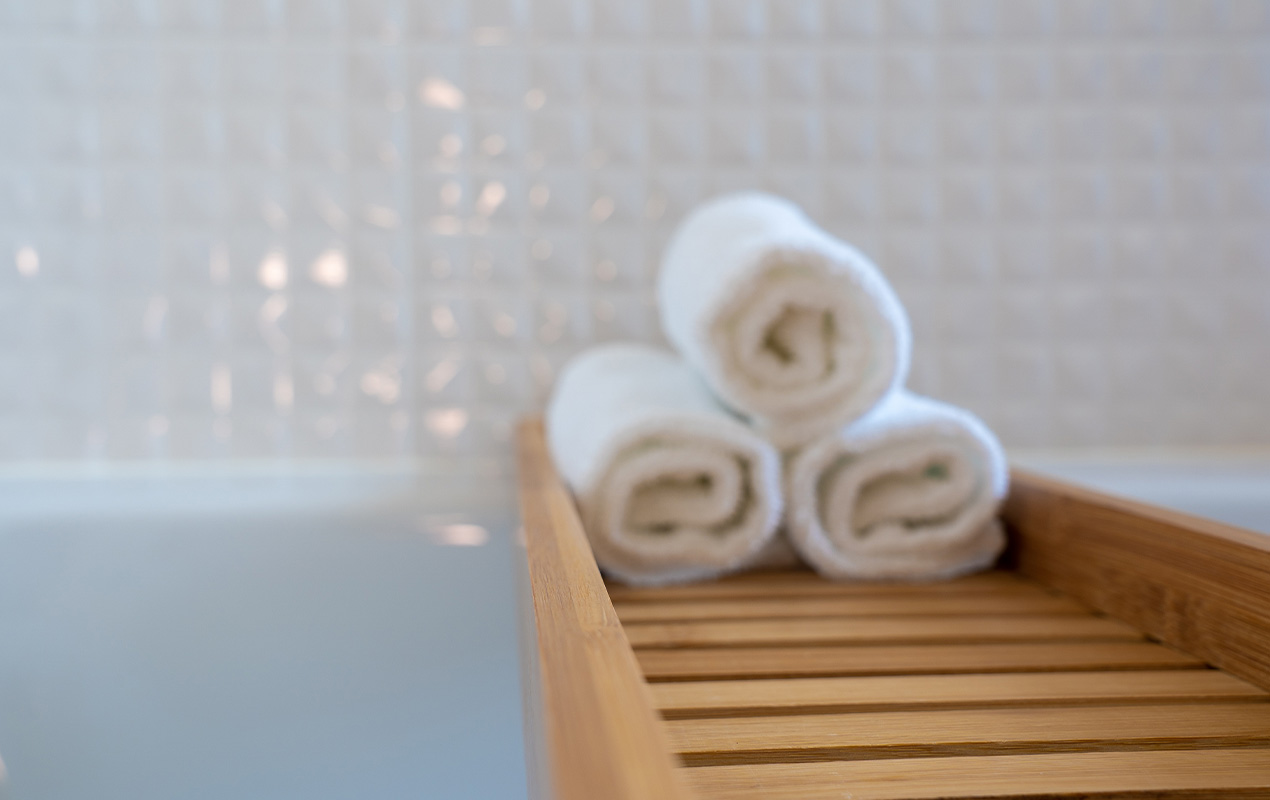 Quick Tip – Don't be a Slave to Trends: When choosing the decor or furniture for your white bathroom, try not to get too caught up in the styles of the present day. Make timeless choices that will always look good.
6.  Art is Your Friend
If you're struggling to find the right pieces of furniture to bring into your bathroom, why not take the route of some art? A cleverly hung portrait or landscape painting can give the room a new lease on life, creating a visual draw for those that use the facilities. Over the toilet is a great choice as is by the mirror, either way, it will break up the somewhat flat feeling of pure white.
7. Tiles are Your Friend
Tiled floors and walls can bring a real touch of value to the visual profile of a white bathroom, while also being a great functional choice for a high-moisture environment. Choosing alternating colors for your floor or wall tiles is a great way to bring some simple but effective patterning into more traditional and modern white bathrooms alike.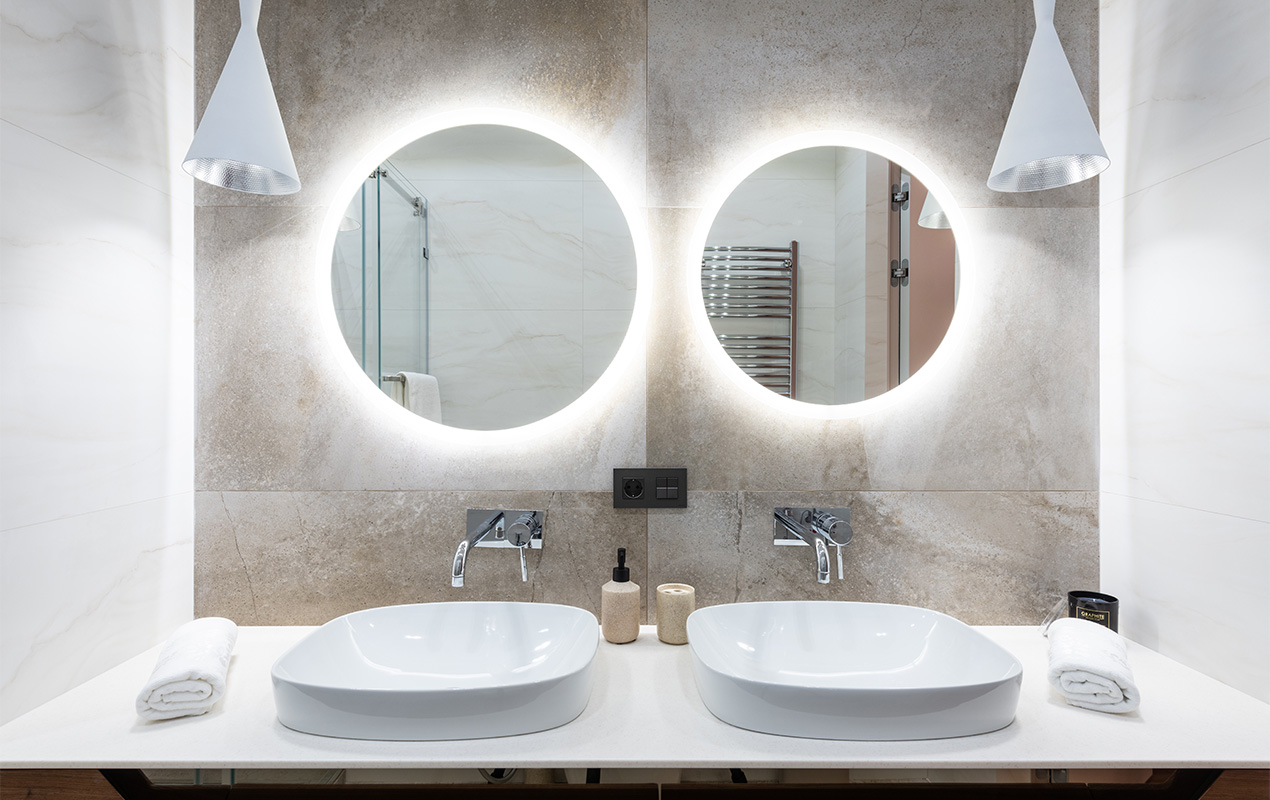 8. Copper Fixtures
Much like industrial features, bringing in copper can add a rustic dimension to your white bathroom. Copper has a gold-like color to it, without the same ostentatious level of glamour and luxury associated with it. Copper features can range from sinks and taps to radiators and heated towel racks, either way, the addition is sure to add some character to a white bathroom.
9. Bursts of Blue
Much like a blue sky is at its most perfect with just a few fluffy white clouds scattered around it, adding bursts of vibrant blue can create a gorgeous effect in an all-white bathroom. An open-plan medicine cabinet with some added blue and white striped wallpaper is a great way to bring a sort of maritime feel to the bathroom, while other features such as towel storage can have similar effects.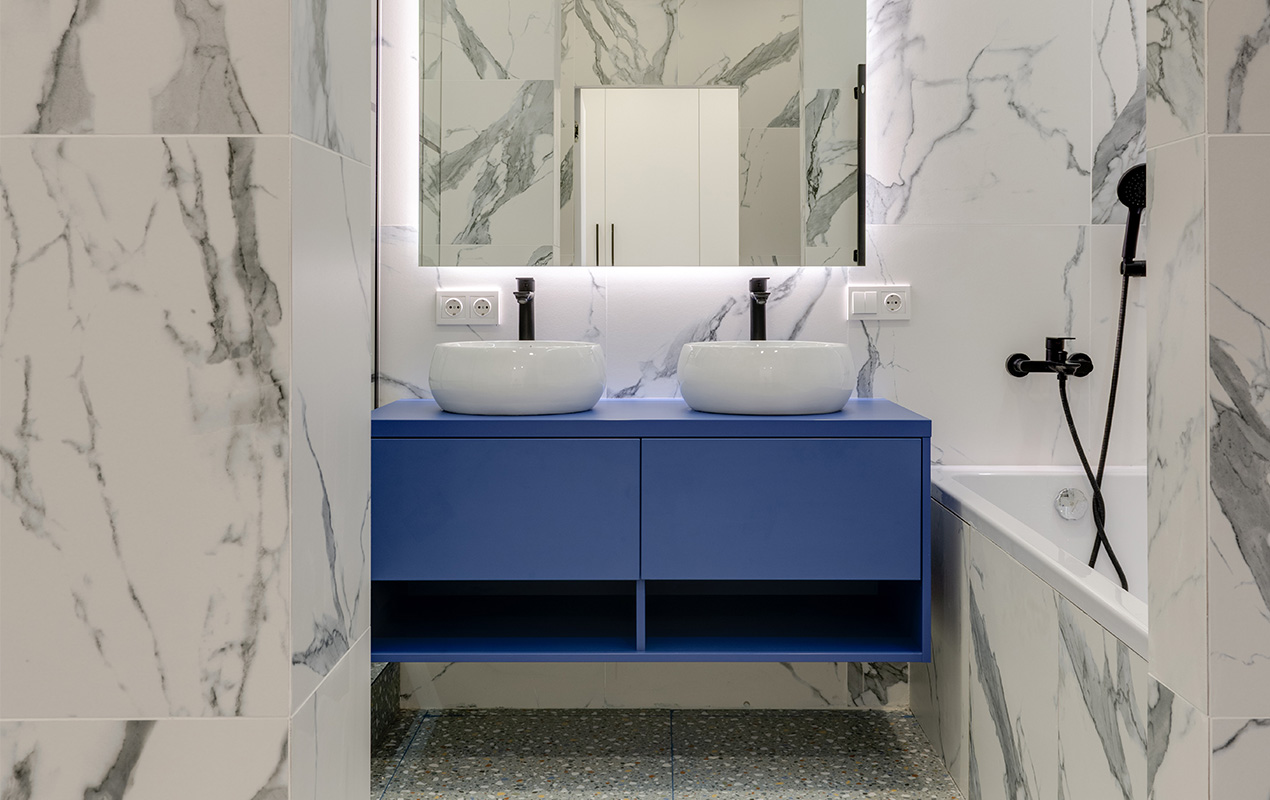 Quick Tip – Consider the Rest of Your Home: Don't get too caught up in the bathroom as a separate entity, make sure that it's not too disparate from the rest of your house when designing the space.
10. Let the Sun Shine
Natural light is an effective method of bringing a more natural, humanistic feel to what can feel like something of a medicinal environment. Consider setting up a large, round window by the bathtub to give yourself access to the glorious sunshine when having your morning bath or shower (but maybe only if you're not facing the street!).
11. Go Luxurious
Now, this option may not suit everyone, but for those with expensive tastes (at least in style), taking the route of full luxury works well in a white bathroom, and can in fact incorporate many of the other elements from this list. Think chandeliers, golden shower fixtures, and the most regal of mirror borders. If it's what you like, why hold back?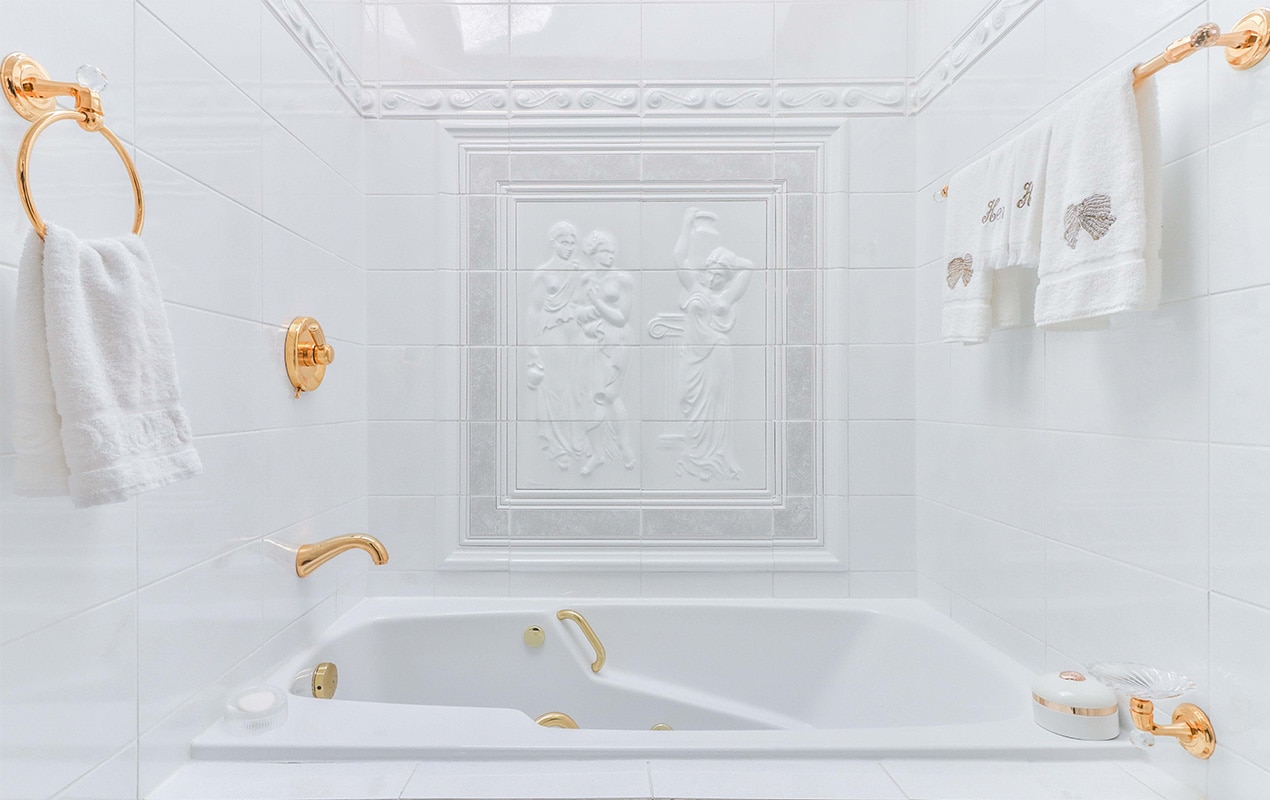 Quick Tip – What's it For?: Are you a bare minimum in the bathroom kind of person, or is the bathroom a big part of your daily preparation. Consider this before installing mirrors and storage pieces in the bathroom.
Where to Look?
For many of these design choices, you might have to take the route of a trained contractor. However, if you're looking for pieces of decor and furniture to add some personality to your white bathroom, take a look through the ranges of various brands, sooner or later you'll find pieces that truly speak to your interior sensibilities. Happy designing!