Embrace the Daring Drama of Dark Color Schemes
When it comes to interior design, dark colors make a real statement and are being embraced by so many people right now – we are saying goodbye to boring and a big hello to hues and tones that reflect a fresh, new, post-pandemic look that welcomes in change and excitement. If you think dark color schemes are only good for the haunted house at an amusement park, think again! With limitless color options and much more vibrant home accessories on the market today, you can give your space a new feel that is unashamedly flamboyant and wonderfully cozy.
One of Our Favorite Decorating Styles of 2023
For many interior designers, it is a breath of fresh air to finally have the freedom to provide a wonderful home with a color scheme that is anything other than white. We can take inspiration from the past – think the deep red bedroom of Lady Mary from Downton Abbey, for example – and at the same time, take a huge dive into the future, where everyone is free to express themselves in whatever style they wish.
A dark color can change the perceived size and shape of a room too – with some clever design and carefully chosen shades, you can make a smaller room appear bigger or a ceiling appear higher. Think of it like makeup for the room, accentuating contours and adding depth. How to pull off dark color schemes in your home? Read on for 5 easy steps…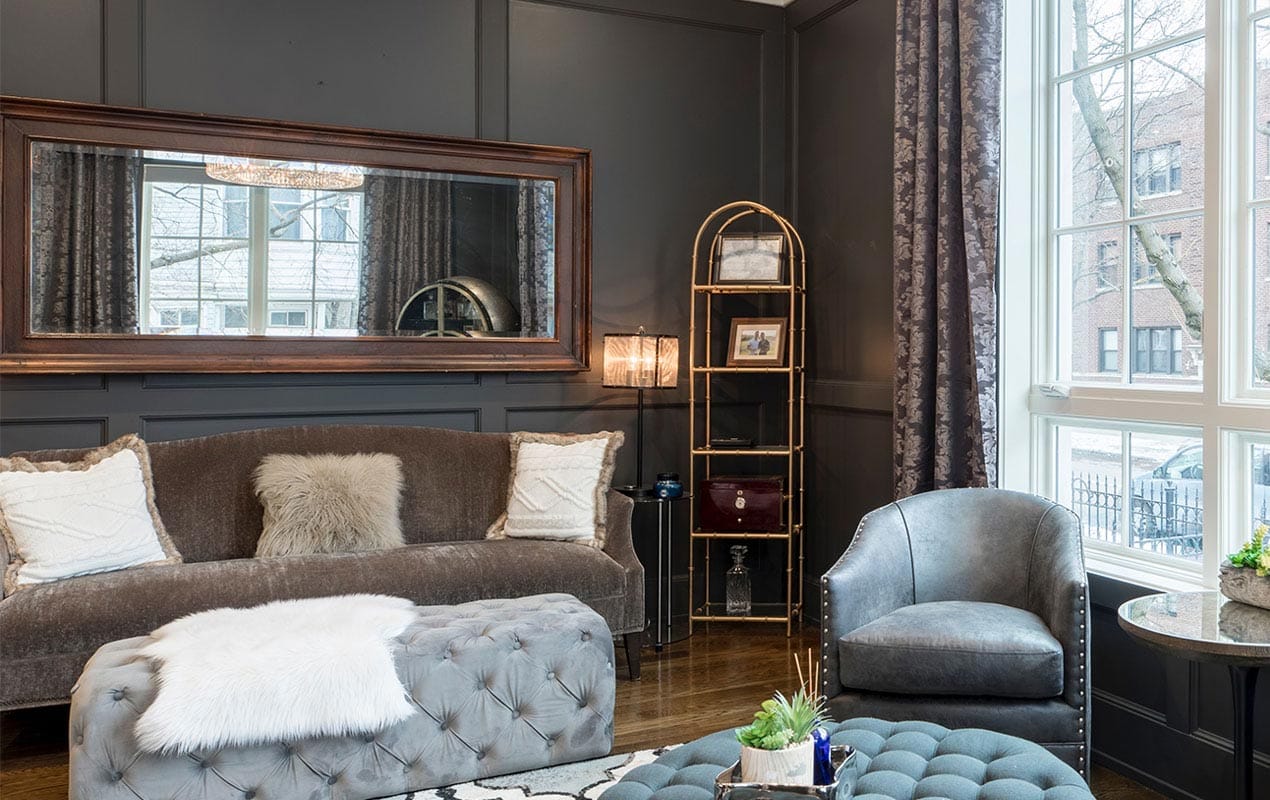 #1 Paint it Black
If painting a room black is something you associate with your teenage self, listening to Echo and the Bunnymen while you dreamed of leaving home, it's time to say goodbye to gloom and say hello to unabashed, stylish drama!
Staying monochrome by pairing black walls with white and grey rugs, sofas, and accessories is a very simple way to do dark – if you crave color, add a splash of something zesty like raspberry, or go for shimmering gold. Simple lines and mid-century styles will keep things clean and fresh, and make sure you have enough light with simply dressed windows and plenty of light fixtures. You can also make for a more mysterious look with large chandeliers, tall plants, marble surfaces, and faux fur upholstery.
Matte black walls give a room a relaxed, soft aesthetic, which allows you to have a dark, wooden floor alongside it, then you can keep a minimalist, modernist decor if that is your style.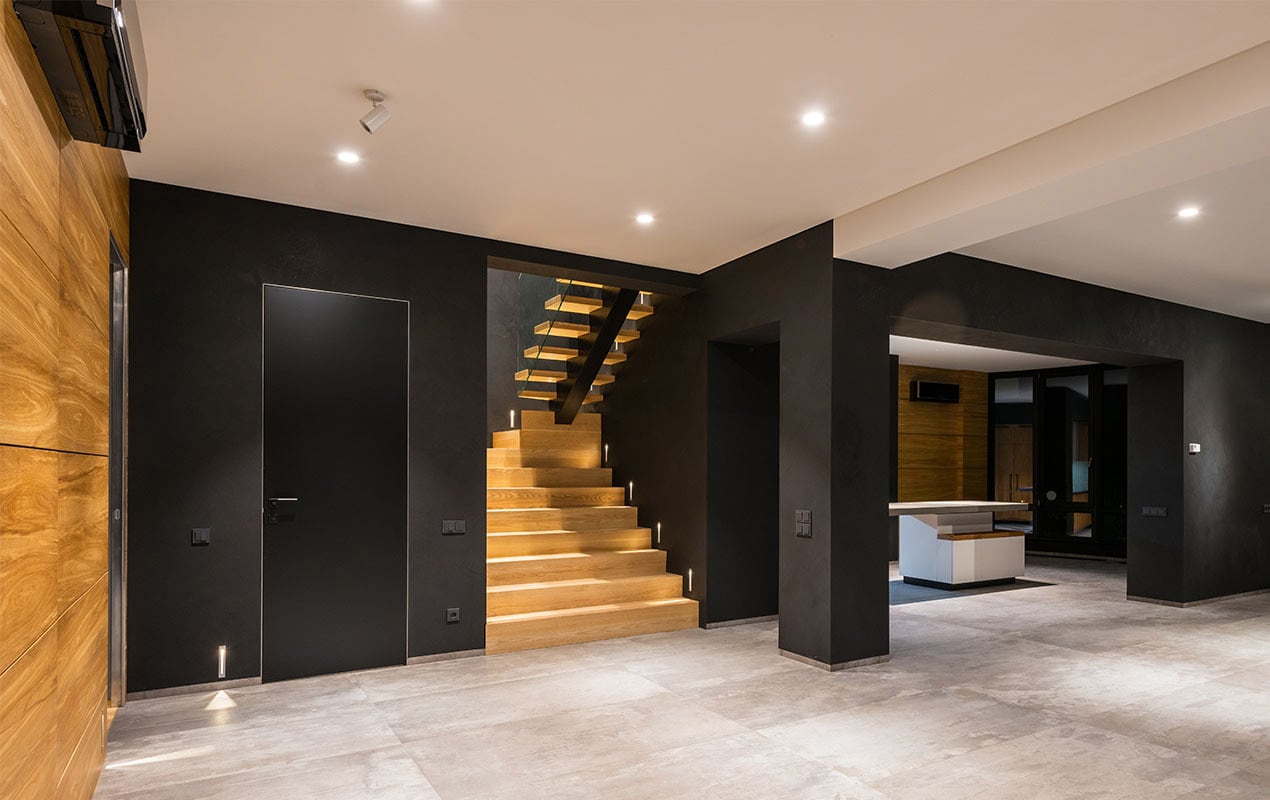 #2 It's What You Do With it That Counts
Dark color schemes come to life when they are carefully dressed with contrasting and complementary items. You could have a wall that is colored a dark aubergine, dusky gray, deep green, or even black, then place open shelving over the top to break up the deep hue. There is something very satisfying about metal against dramatic wall decor – opt for metals with some warmth to them like brushed metals, coppers, and golds.
You can also add colors that give your dark space a bit of a lift, and these needn't be neon bright – blues, greens, and greys are just as effective at lightening the mood a little too. And if you have lots of big windows, you have a home that is perfect for dark colors!
#3 It's Not Just About the Paint
While dark paint adds a touch of drama, using dark aesthetic wallpaper will add texture and give your space a lift. Use it on one or all of your walls and you will add a variety of complementary shades and patterns to your room in one fell swoop.
We love floral and exotic leaf designs for a mysterious jungle aesthetic – match with velvet seating, gold accessories, tall plants, and a splash of pinks or reds with cushions or wall art and you will feel like an intrepid explorer in no time. Alternatively, with the wallpaper doing most of the heavy lifting, you can stay with a monochrome color palette of any shade you like.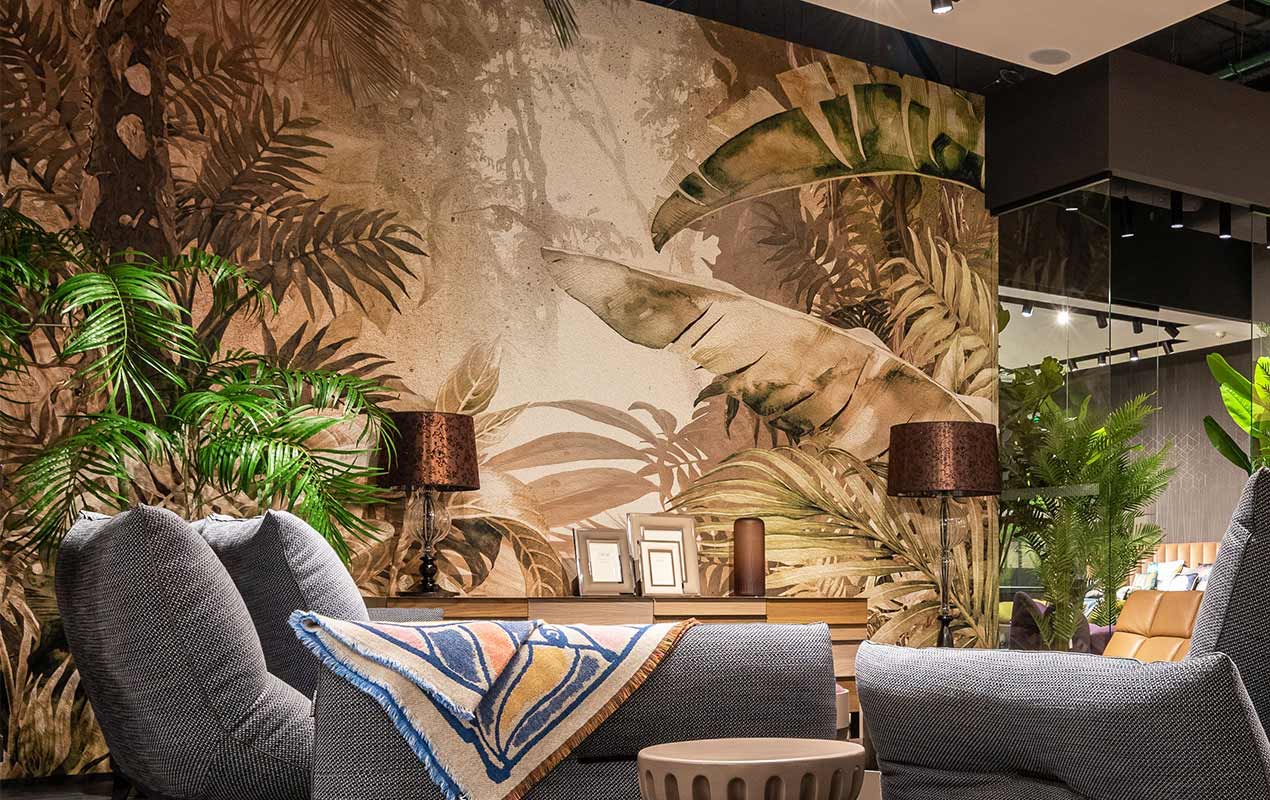 Quick Tip – Use Lighting Creatively: Once you've committed to the dark color scheme, it's time to utilize light fixtures creatively, with anything from a statement floor lamp to some cleverly-placed Christmas lights.
#4 Can't Choose? Go Dark Green
A dark green color scheme is the design trend of the moment – and it makes sense to us because green is the color of nature, peace, and relaxation. There is a wonderful trend sweeping the design world right now called biophilia – simply put, this trend draws on the natural shapes and effects of nature and then transforms them into something to enjoy in indoor life. And if nature isn't the best source of inspiration, we don't know what is.
Green is not only a very natural, classy color but it is very versatile too; dark green walls work great with metals like brass, dark soft furnishings like tan and chocolate leather, oak cupboards and shelving, and even black accessories! Variations of this color include sage, olive, and emerald – but a deep, woodland green can be a great choice if you want to create a dark living room.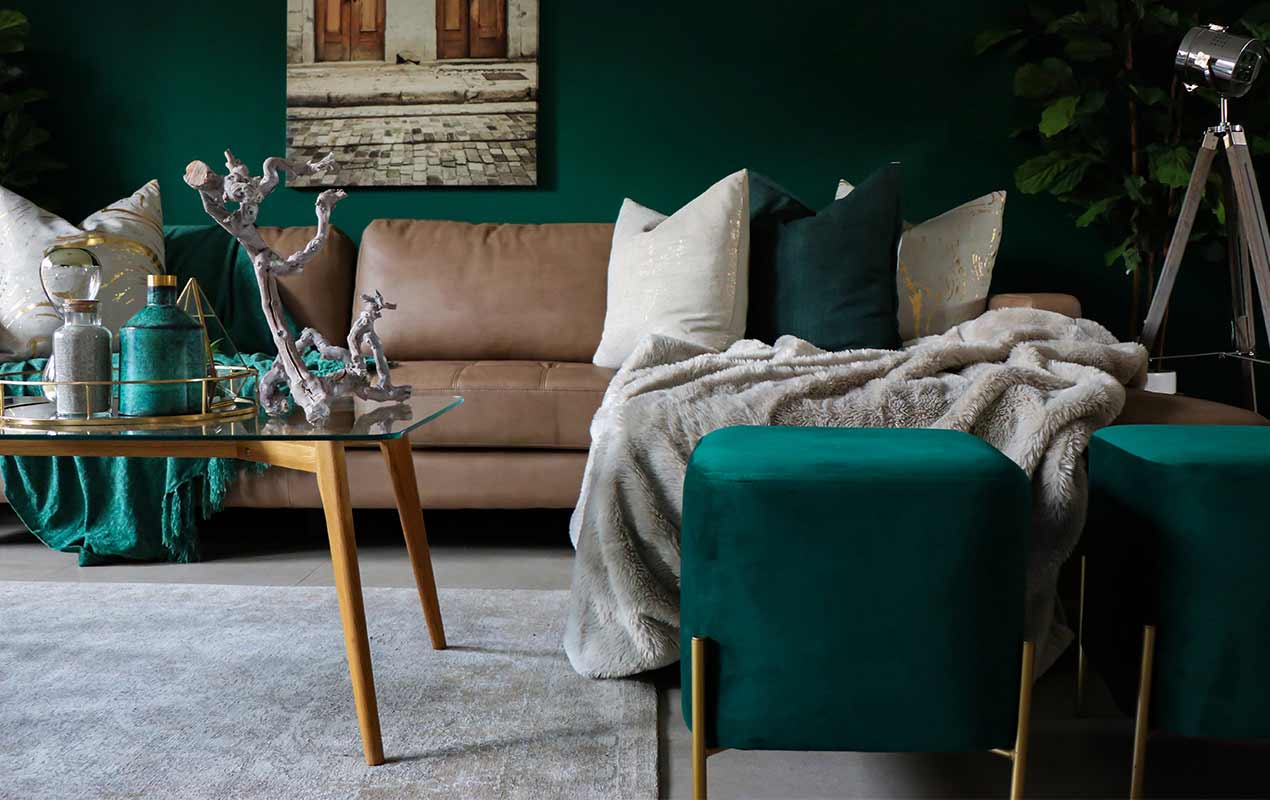 Quick Tip – Start Small: Going for a dark color scheme in your home is a bold choice that might sound better than it feels in practice, so start with small items, then work your way out from them.
#5 Raise the Roof
It is not only dramatic wall decor that sets the tone, look up to the ceiling and imagine the possibilities there too! In most of our homes, we leave a neutral shade on the ceiling, barely giving it a moment's thought when it comes to decoration and painting. But, just like your walls, choosing cool paint color for the top of your room can transform its look and feel.
For example, a darker-colored ceiling paired with light-colored walls instantly adds height to a room where there isn't any. For an added pop of color, ignore the age-old rule that you should stick to a hue that is only a few shades away from the color of the walls, and go for anything you like, from citrus yellow to bright pink or baby blue! Finally, if you love a color enough, you can create a wonderful effect by painting the entire room in that color – break it up with white baseboards if you want to but don't be afraid to indulge yourself!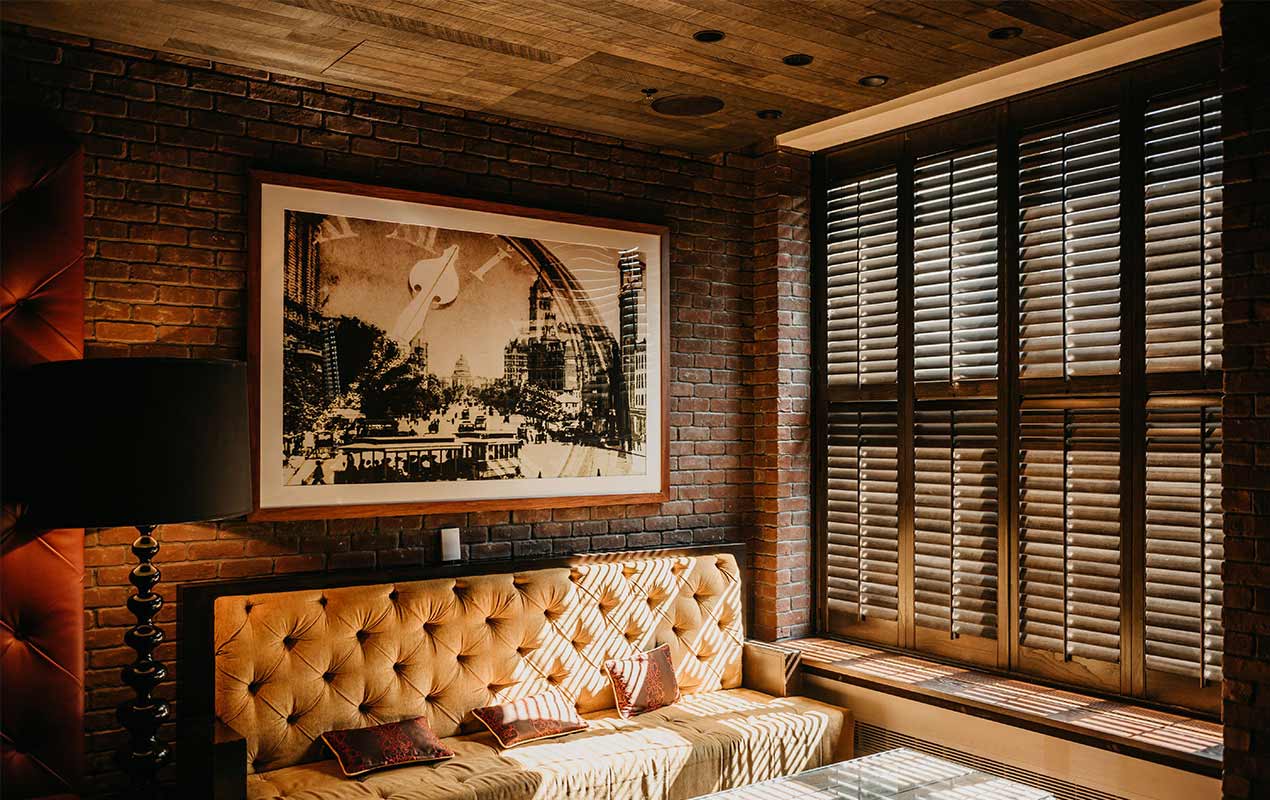 Quick Tip – Consider Contrast: One of the best ways to utilize dark colors is to contrast them with lighter tones, whether on the walls or in the decor. Creating this juxtaposition helps to accentuate the dramatic effect of the dark colors overall.
Dare to Be Dark
Dark color schemes are understandably daunting at first, but this sense of apprehension could simply be interpreted as the butterflies of a new adventure! We guarantee that once you have a look through some design ideas and inspirational blogs you will be reaching for the dark paint in no time! Embrace the drama, dare to be dark!