Are you looking to revamp your living room but don't know where to start? How about going for a classic color combo such as black and gray? The color scheme is reserved for fine items such as morning coats at weddings, smart school uniforms, and of course, luxurious pearl jewelry. So of course, adding it to your living room would add unending sophistication to your space.
Our modern black and gray living room ideas show you exactly how to master monochrome interior design and use white accents alongside your black living room and gray room accessories to add contrast to these elegant, classic interiors.
Go For Sophisticated Gray Furniture
No black and gray living room would be complete without furniture, and while choosing white pieces is tempting as black and gray are such strong colors, working with different surfaces such as matt concrete walls alongside an l-shaped gray living room couch can add vintage industrial charm.
If opting for gray furniture alongside black and gray wall decor, consider an offset white accent wall panel or cabinet to break up the space into compact 'sections'. When dividing your room into sections, each area should have its own focal point – perhaps a piece of oak furniture or a black and white photo print – to draw the eye to different zones and keep the room layout interesting.
Our Pick
Eichholtz Travelling Wall Art - Black & White
Enjoy a tranquil and calming look at the world with this gorgeous 8-piece set of Travelling Prints. Each wooden frame with silver border detail features a timeless black and white image that includes cities, views of the county, and the ocean. This beautiful monochrome set adds global appeal and designer style to your interior.
Pros:
Set of 8

Free Shipping

Payment Plan Available

Price Match Guarantee
Cons:
Care: Avoid Direct Sunlight
Buy Now
Reviews
Continue The Color Scheme Through Soft Furnishings
Large wall tiles can be used to great effect to give the impression of height in a space. Consider filling a feature wall with large concrete tiles and adding black Wenge wood furniture in front of them to create a shorter horizontal division that gives the illusion of space. Built-in nooks in the furniture or sliding doors can hide plenty of storage space within, keeping your room clean and tidy.
A contemporary modular sofa in sumptuous fabrics such as mink-colored velvet, suede, or chalky gray jumbo cord will add texture to the room, and also add a snuggly place for you and your family to perch when watching movies or curling up with a book. Using a large furniture piece such as this creates yet another horizontal division, and should be positioned at a height around one-third lower than the top of the cabinet to make use of the visual appeal of 'the power of threes' used in design and photography.

Following the color palette through 70s-inspired guest room flokati rugs in cream or off-white, and black and gray curtains for living room spaces will ensure that the three-dimensional color palette follows throughout your space, adding peaceful serenity without appearing dull.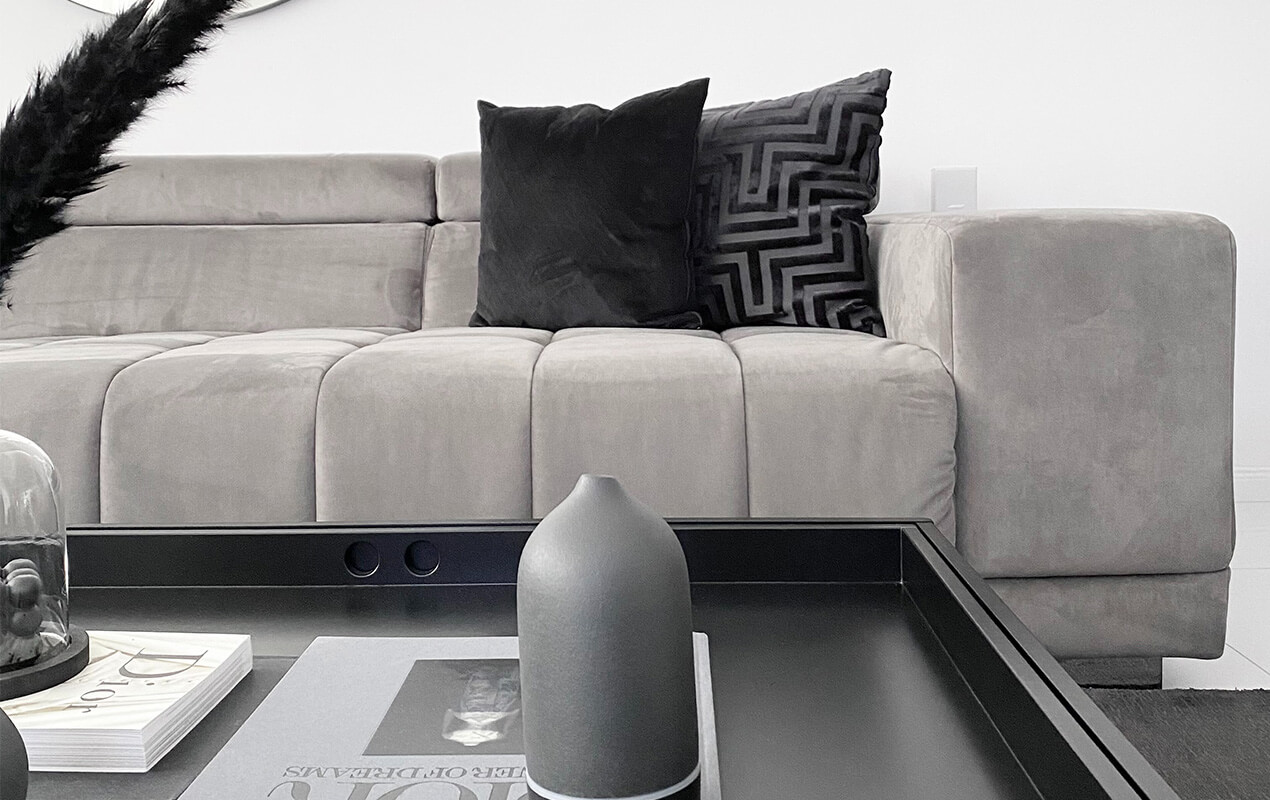 Quick Tip – Don't be afraid to add silver and navy blue accents to your living room to keep it looking fresh.
Dark Soot Colored Walls With White Accessories
On the other end of the gray color spectrum are dark soot-colored walls, which when added to all sides of the room, add drama and intimacy to any living room space. If your room has plenty of natural light you can afford to keep furniture equally dark here, opting for off-gray tones of sage green, indigo blue, or a light gray living room couch to invigorate the color palette with warmer shades.
If light in the room is at a premium, keep decor bright and airy with clean white accessories such as a white accent chair and mirrored surfaces aimed toward light sources to reflect light around the space. A large ceiling pendant above a mirrored or glass table will increase light flow in the room while also looking unobtrusive if kept to simple, straight constructions.
12% OFF
Nuevo Romola Occasional Chair - Coconut Boucle
Relax into the beautifully curved Romola chair. Effortless and enveloping, its organic shape and rounded edges make it the perfect piece for bringing a soft touch to your seating room. With its grand size and silhouette, it will easily become your new favorite spot to curl up.
Pros:
Glides Included

No Assembly Required

Rub Test: 45,000 Rubs

Free Shipping
Cons:
Cleaning: Dry cleaning recommended
Buy Now
Reviews
Off-White Furniture Brightens The Look
Texture is the perfect way of adding interest to a monochromatic space. While we've discussed using concrete and porcelain tiles, metal can also be used to great effect as it catches the eye, inviting light to bounce upon it. Industrial designers opt for the undulating curves of corrugated iron, but an easier material to style is stainless steel, which reflects back the room subjects with ease.

Using off-white furniture alongside metal, in gray and black living room interiors adds additional brightness, and can form a larger part of a gray and black interior, as with a white accent wall buffered against polished black floor tiles. Gray and black veined marble can be used to add luxury to the space and is particularly welcome as a fireplace surround material, or coffee table surface thanks to its easy-to-clean surface that withstands constant use.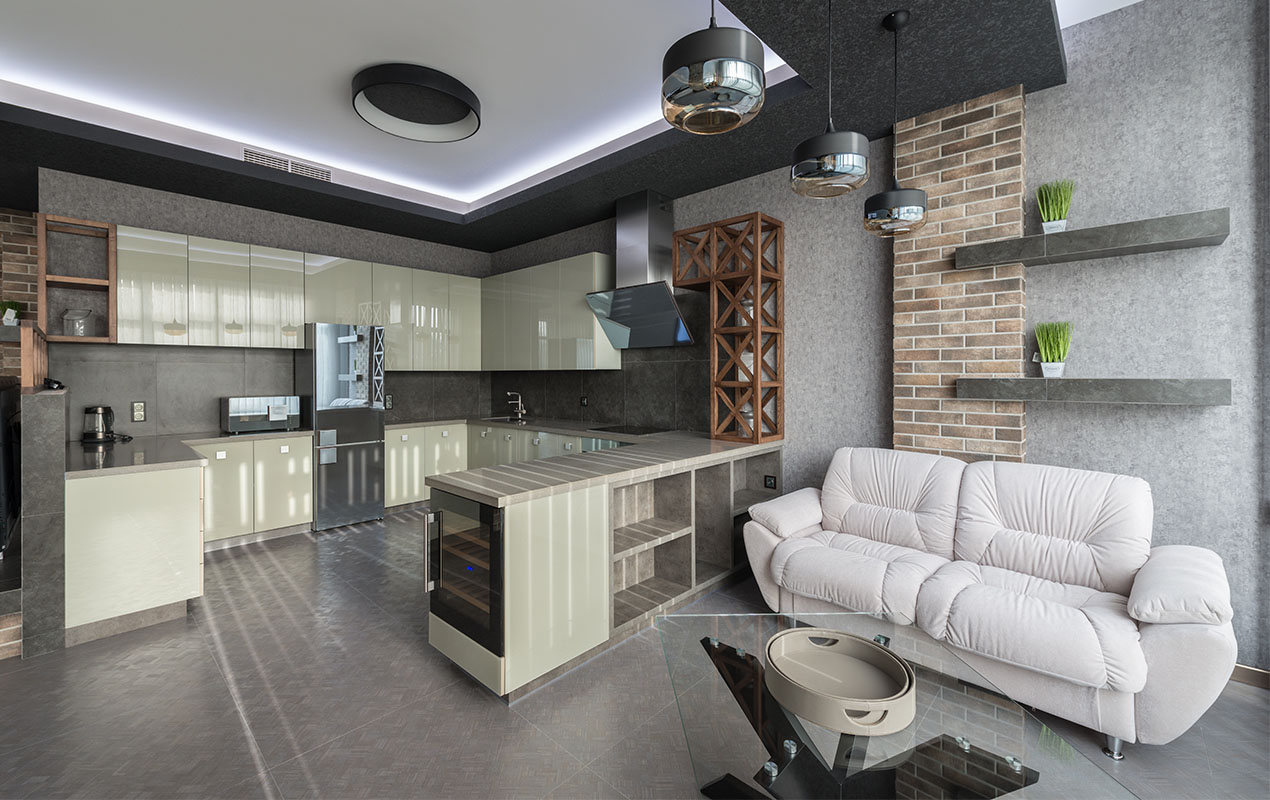 Quick Tip – Red is a lovely accent color alongside gray and black for an 80s-style interior.
Gray Scandinavian Style
While the words 'gray Scandinavian style' may have you reaching for the scroll button, don't run off just so quickly. Gray doesn't have to be dull, and can look very sophisticated when applied in various shades to create a monochromatic effect. Scandinavian design is all about clean lines with the occasional soft curve.
Muted chalk-gray floorboards provide the perfect surface to perch dark gray and black rugs for living room luxe. A soft, curved arm leather couch alongside darker-toned cushions and black framed poster prints all combine to add a luxurious, lived-in effect to a living room that can easily be remodeled with bursts of color down the line without needing to reinvest in expensive furniture items. A classic design for a classic home.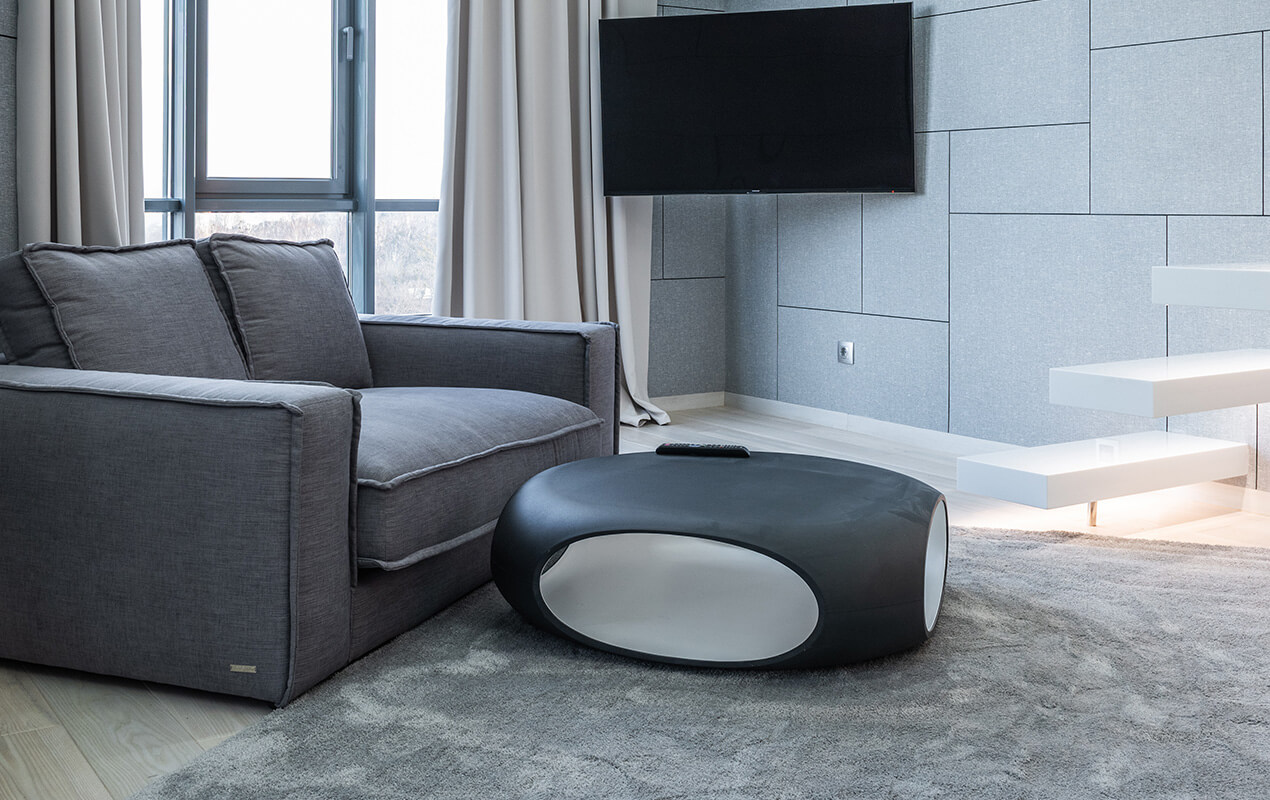 Quick Tip – Adding layered texture will give your space a sensual quality that adds romantic properties to your living room.
What Now
So we've come to the end of our black and gray living room edit, and what have we learned? While black and gray are seen as a difficult color scheme to work with, using silver tones can help brighten up your interior and encourage light to bounce around your space. White is also a great way of adding contrast and depth to your interior, particularly in a Scandinavian style interior that relies on clean lines and soft furnishings for snuggly comfort.