The dining room can be the venue for so many memories, from the perfect dinner party, to the drinks and conversations that follow. However, picking the perfect dining table decorations can be a bit of a struggle. Knowing how to balance class and homeliness, while still leaving plenty of space for people to enjoy their meal in peace is no small task. 
Thankfully, we've put together this list of 13 exciting dining table decorating ideas and tips, so you can feel more confident in setting it out, whether for daily use or for an event. 
Create Cohesion by Matching Colors
When it comes to decorating the dining room table, the urge can be to choose items that complement or even contrast with the color and style of the table itself. While this can be a great choice, you can have just as powerful of an effect using pieces that match the larger pieces of furniture. This will create a strong, coherent visual profile.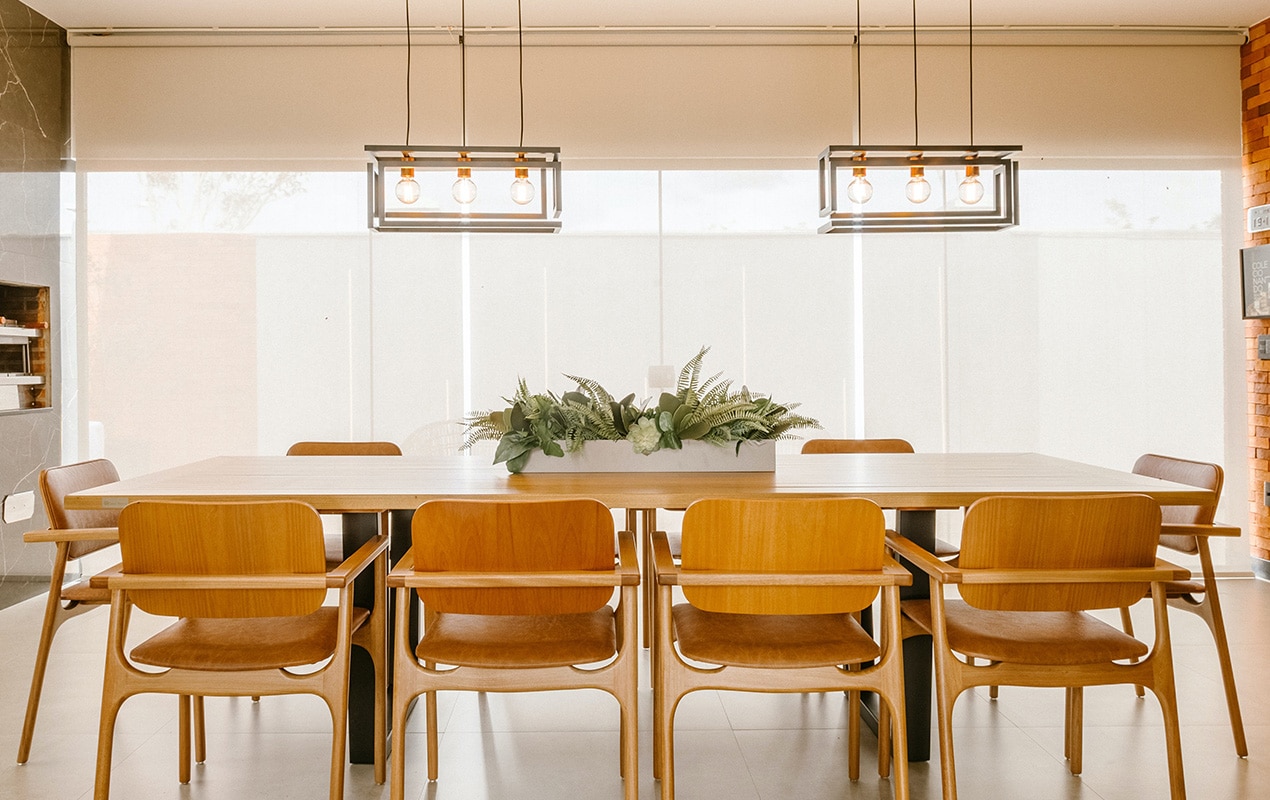 Create Clusters of Decor
Centerpieces are a massive part of dining table decor, but there's no rule that says you have to opt for one large statement piece. If you have a few pieces that mesh well together, then clustering them together in the middle of the table can be a nice way to create a sort of makeshift centerpiece with the things you already have at your disposal. 
Go Small on a Bigger Table
Especially effective if you have a larger table, small items of decor can help to bring the scale of the table itself to the attention of guests and visitors. This is handy if you plan on having a busier dinner party. 
Bring Life with Fresh Fruit & Flowers
Bring some life to your dining table, literally! Flowers, plants, fruit, or even some pretty-looking vegetables can work as the ultimate rustic dining table decor, especially when partnered with a stunning fruit bowl or a lovely vase. Along with this, you give the room some natural appeal, which is great for the mind, body, and soul.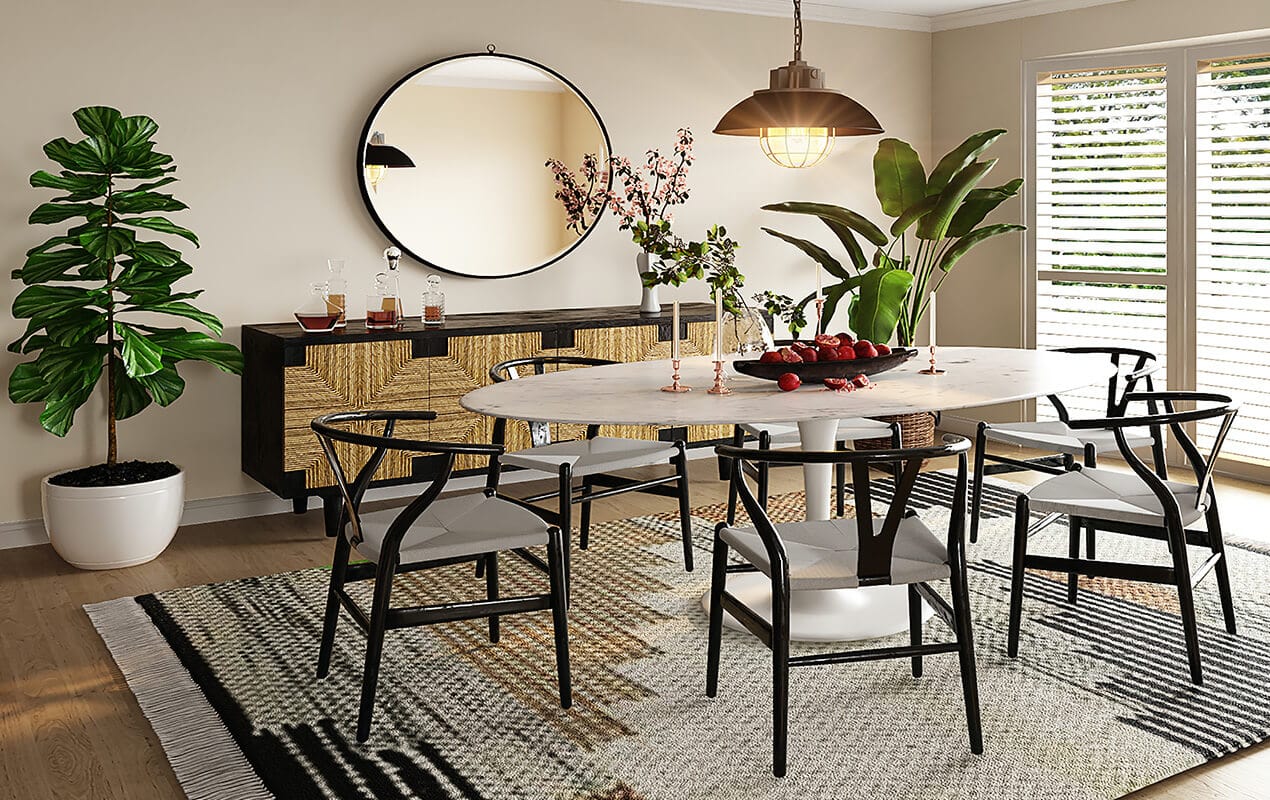 Quick Tip – Use your table, chairs, and room as a base: You might see a piece that you like while browsing, but it should work with what's already in the room.
Mix and Match for Added Flair
If you have a few items that you love, why not mix and match them together to create a little island of personality and expression in the middle of the table, in the embracement of bohemian design ideals. Add a pile of your favorite books, choose some glamorous candlesticks, and add a fruit bowl, there are no rules when it comes to decoration!
Get Creative with Candlesticks
Candlesticks are a great choice as everyday centerpieces for tables, being a sparing yet stunning visual choice for any occasion. Feel free to get creative with them as well, with varying heights and styles to make a truly unique candlestick centerpiece.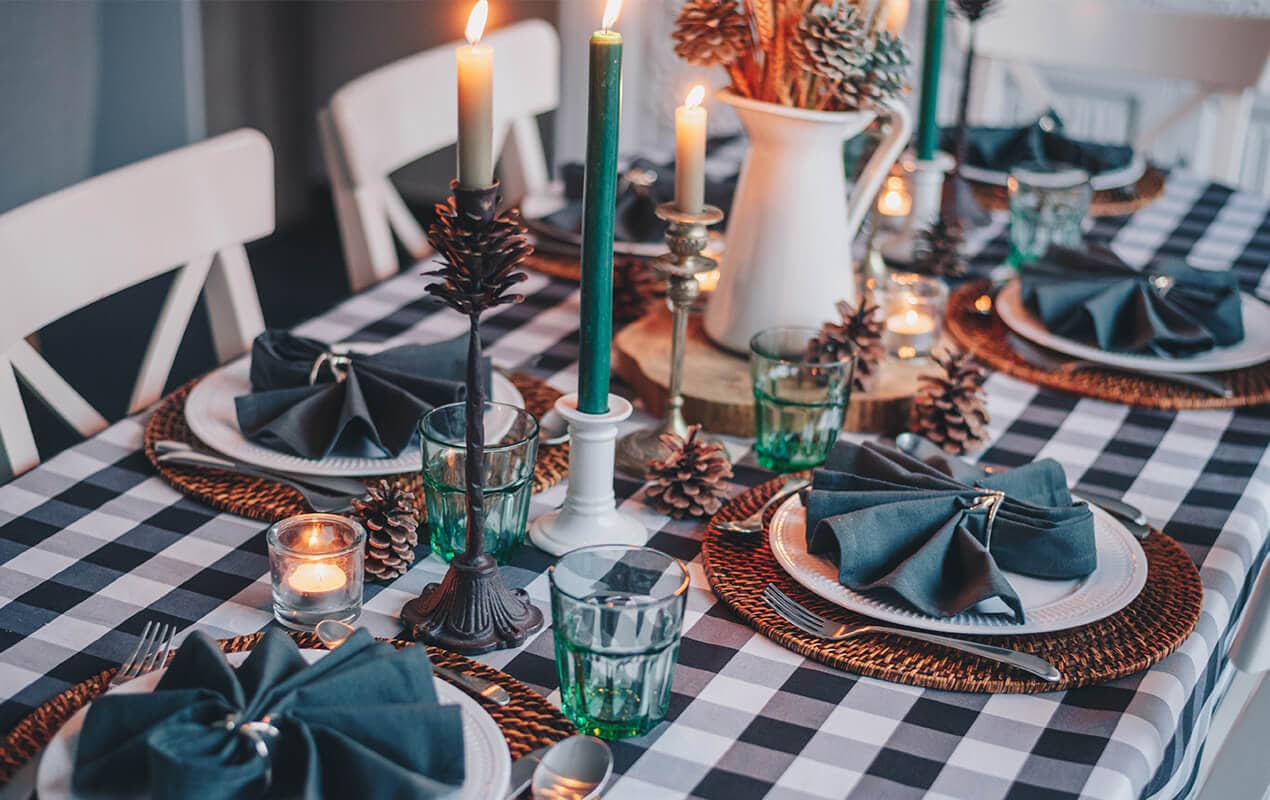 Use a Modern Runner for Sleekness and Style
When considering modern dining table decor, a sleek, stylish runner going down the middle of the table is a great way to add some character. If you want to make things even more interesting, you can subvert expectations by having the runner laid along the width of the table, rather than lengthways, as long as it's not too long. 
Use Attractive Serveware as Decoration
A decorative dining table doesn't have to be adorned with trinkets, plants, and glamorous candlesticks, especially if you're not looking to make new purchases. One option is to choose your nicest-looking pieces of serveware, such as a more interesting serving bowl, like sculptures to center your view of the table.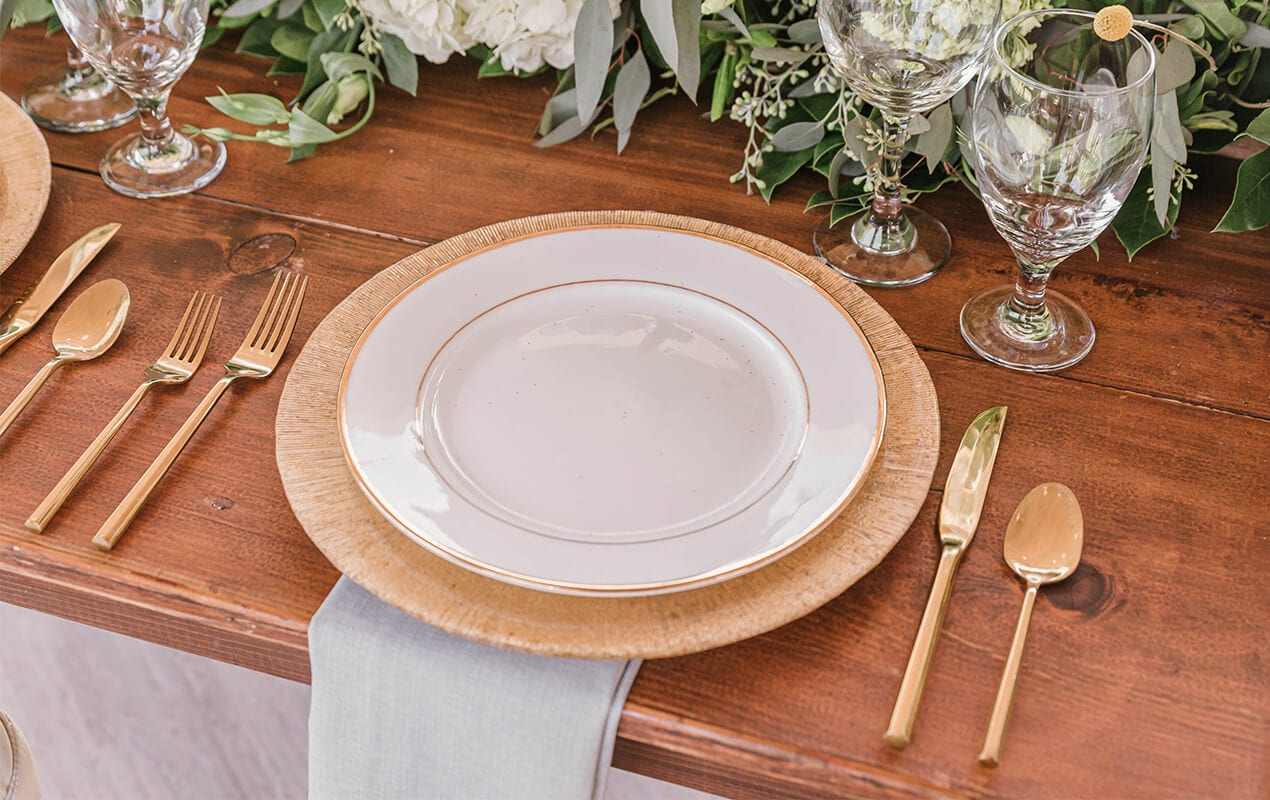 Quick Tip – Switch it up: Use the dining table as your space for experimentation and trying new things. Different occasions and situations will call for different decorations!
Keep it Set and Ready for Guests
Guests are often a big part of what the dinner table is all about, and one of our favorite dining table decor ideas is to simply keep it set with the dinnerware, cutlery, napkins, and other elements that could be used throughout the meal. This showcases an element of preparation, which could make your home feel more inviting to guests. 
Organize your Elements with a Tray
If you are choosing to cluster items together or experiment with a variety of different styles with your dining table decorations, it could be a good call to organize things together with a tray. This will keep all your selections contained in one place and could make them feel more deliberate.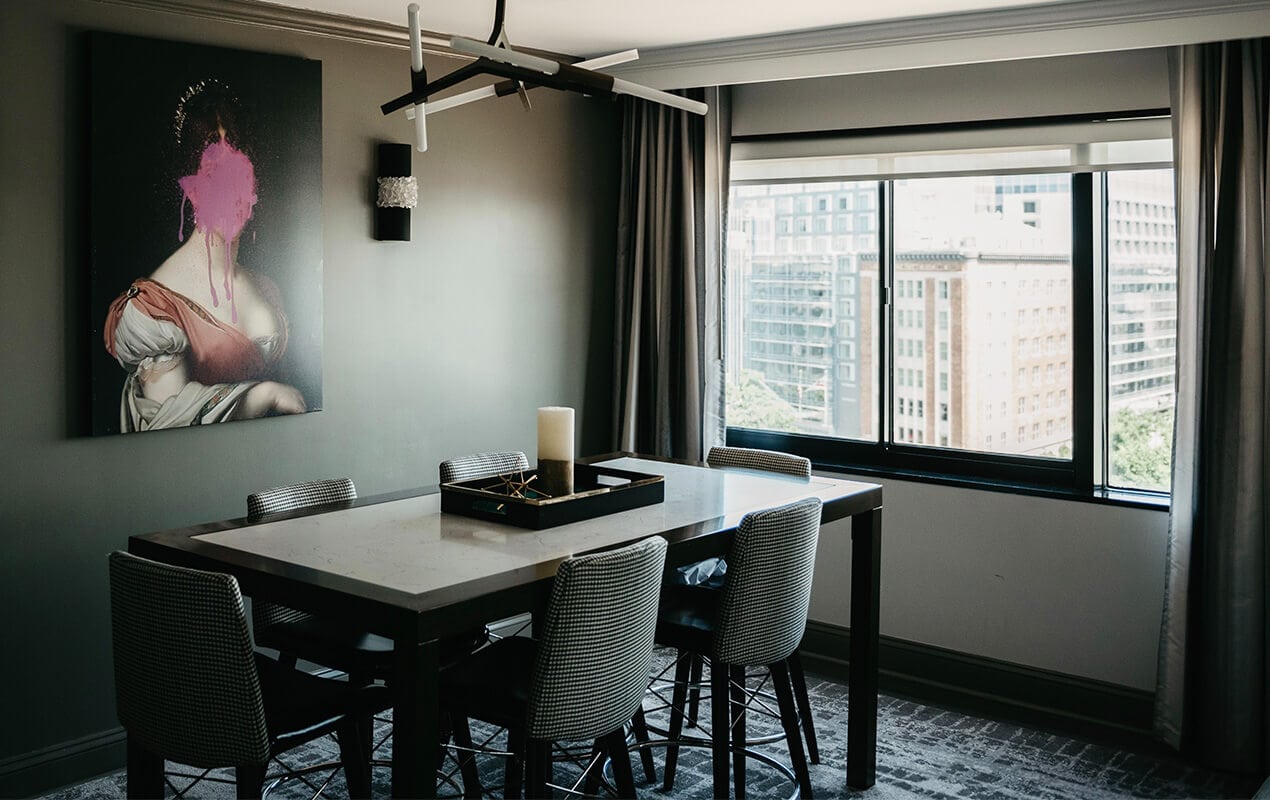 Quick Tip – Remember it's for dining: Don't go too crazy on decorations and remember what the table is really for. Make sure your choices still allow for the enjoyment of food and company.
Experiment with Non-Centered Decor
Who said it has to be a centerpiece? If you have pieces of decor that you connect with and feel would suit the dining table, feel free to try them spread out across the table, or set to one side. Moving away from typical centering is a fun way to experiment with ideas. 
Embrace Simplicity & Minimalism 
There's a time and place for lush, luxuriant dining table decorations, but if that's not your style, there's nothing wrong with opting for a more minimalist decor plan. Pick simple, softly colored items that are noticeable but not distracting, allowing conversation and food to be the true star of the show.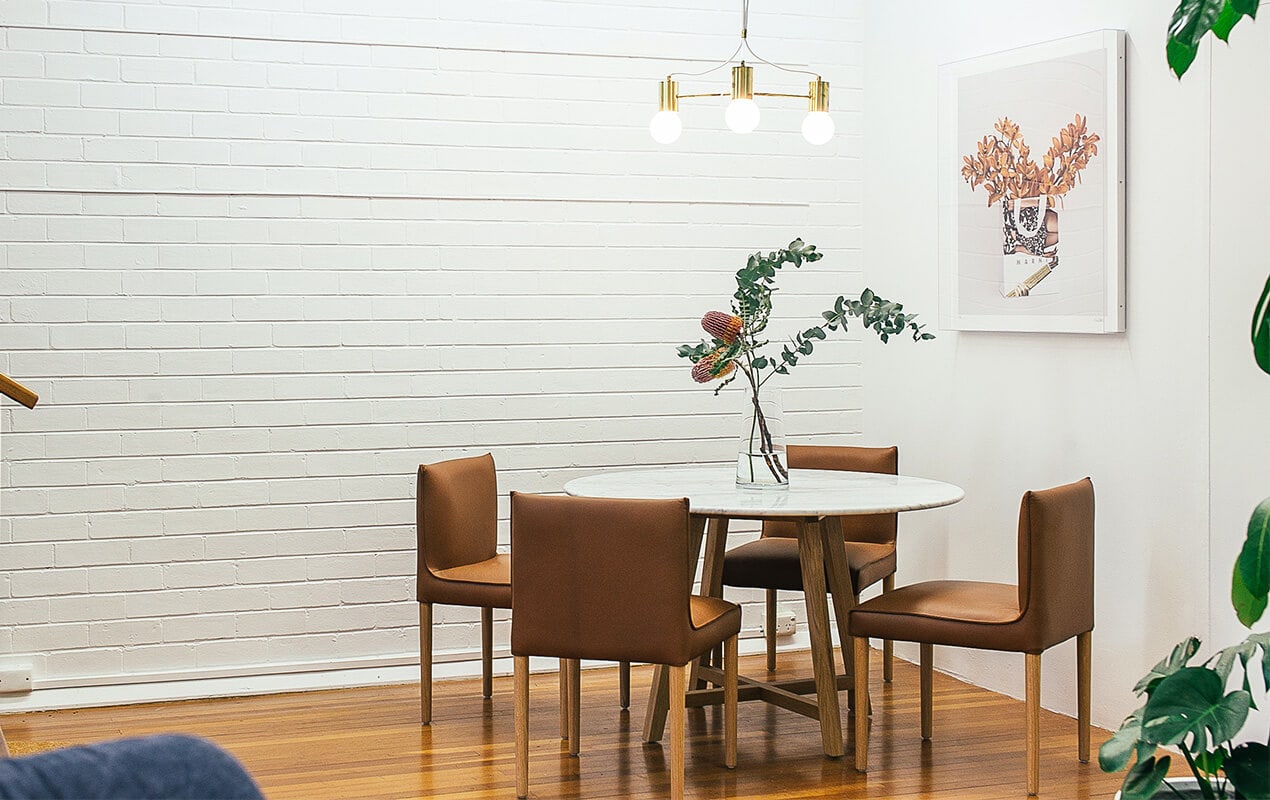 Have Fun and Try New Things!
Remember, your dining table decorations aren't permanent choices. By nature, they'll come and go with the seasons and occasions, so just have as much fun as you can! If you don't love something, try something else, you'll find the perfect choice eventually.
What Now
Hopefully, you now know how to decorate a dining table, or at least have a better idea of how to do so! Using this guide, you could choose to focus primarily on one tip at a time or take things to the next level by mixing and matching the kernels of advice together. Add some statement candlesticks to a mostly minimal table, or match colors with your selected plant life. These tips are here to provide a framework for you to experiment within. Now get decorating, your guests are coming soon!