The dining room decor is centralized by the table. It's the venue for eating, drinking, and general merriment but it's not always easy to know how to set it as well as possible. We've put together this list of table decorating ideas for each month of the year, to give you a basic outline of some everyday tablescapes that you can rely on throughout the seasons! 
January Tablescapes to Kick Off the Year
Starting off the year we have January, a month still firmly situated in winter. It's important with a January tablescape to avoid holding on to too much of the Christmas-influenced decor that likely populated the table in the previous month. Instead of going for the lush opulence of the festive season, pare things back in January, with simple white tablecloths, minimalistic china, and an understated centerpiece.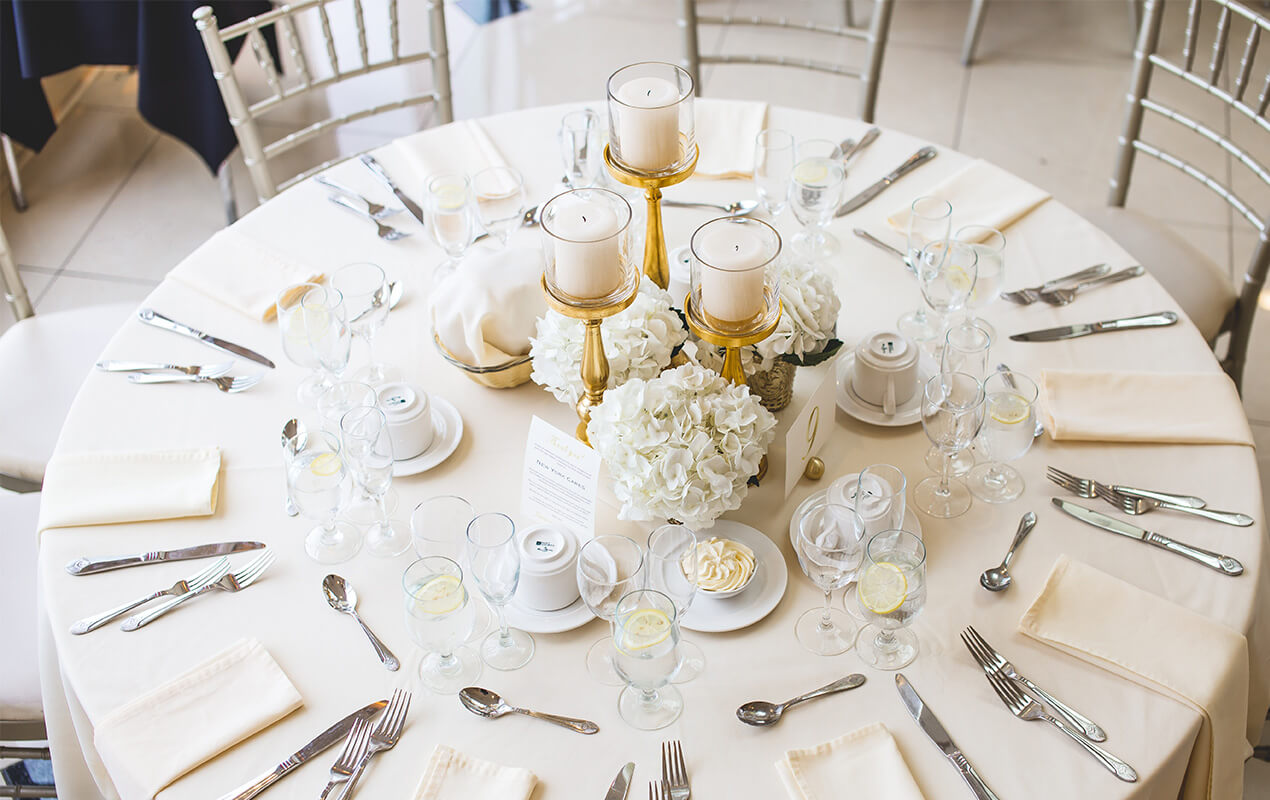 February Tablescapes for Romantic Energy
What better for the month of St. Valentine's than to indulge in some romantic tablescape design? Color can have a real impact on your state of mind, so think powerful and passionate shades of red and pink with your linens, with some pastel elements laid on top. Center the table with a nice vase, filled with roses or other romantic flowers and surround it with some statement candlesticks and you've got a nice tablescape ready for the month of love. 
March Tablescapes for Spring's Springing! 
As March rolls around and the leaves start to return to the trees, there are a number of ways you could go with your tablescape ideas. Your decorative choices should reflect the change in weather, so choose some seasonal flowers like daffodils, tulips, or snowdrops to set the tone. To maintain the feeling of fresh new life, some natural green tones are great for placemats and tablecloths, which can also work well for a St Paddy's Day dinner!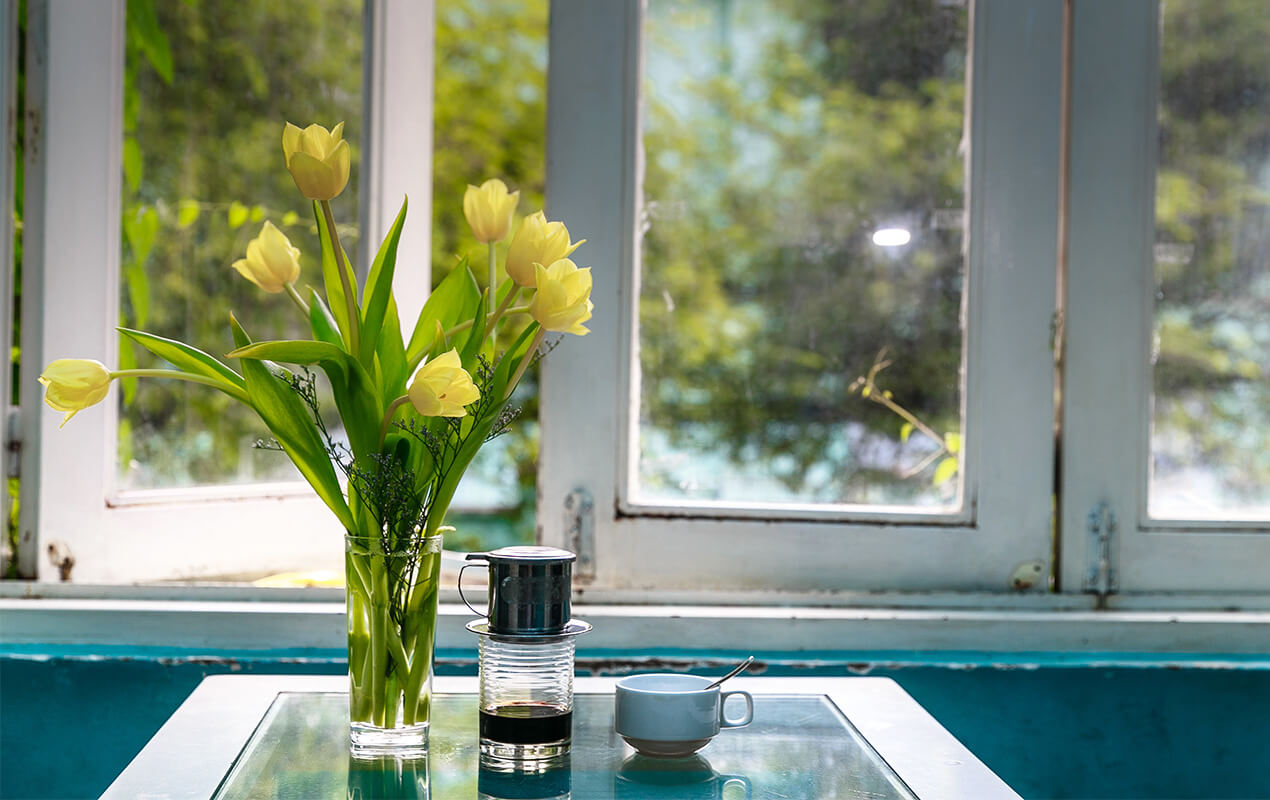 Quick Tip – What's the purpose?: Are you going to be having guests around regularly or just serving food to family? Consider this when deciding how grandiose your spread should be.
April Tablescapes for a Colorful Easter
In April, spring has well and truly sprung, along with Easter being just around the corner. Some floral plates and linens help to create the happy, lighthearted atmosphere of this festival, while some tall colorful candles also fit nicely into an April tablescape. For a centerpiece, you could lean fully into the Easter spirit with some ceramic eggs or rabbits, or keep it simple and natural with some nice potted orchids. 
May Tablescapes with Flower Power
The final month of spring is all about the flowers, and that should show in your approach to the tablescaping. Expand upon a springtime centerpiece by arranging flowers along the length of a dining table, atop a brightly-colored runner. Strong, sunny shades of yellow should populate the table, with some nice blue crockery in place for some pleasant contrast.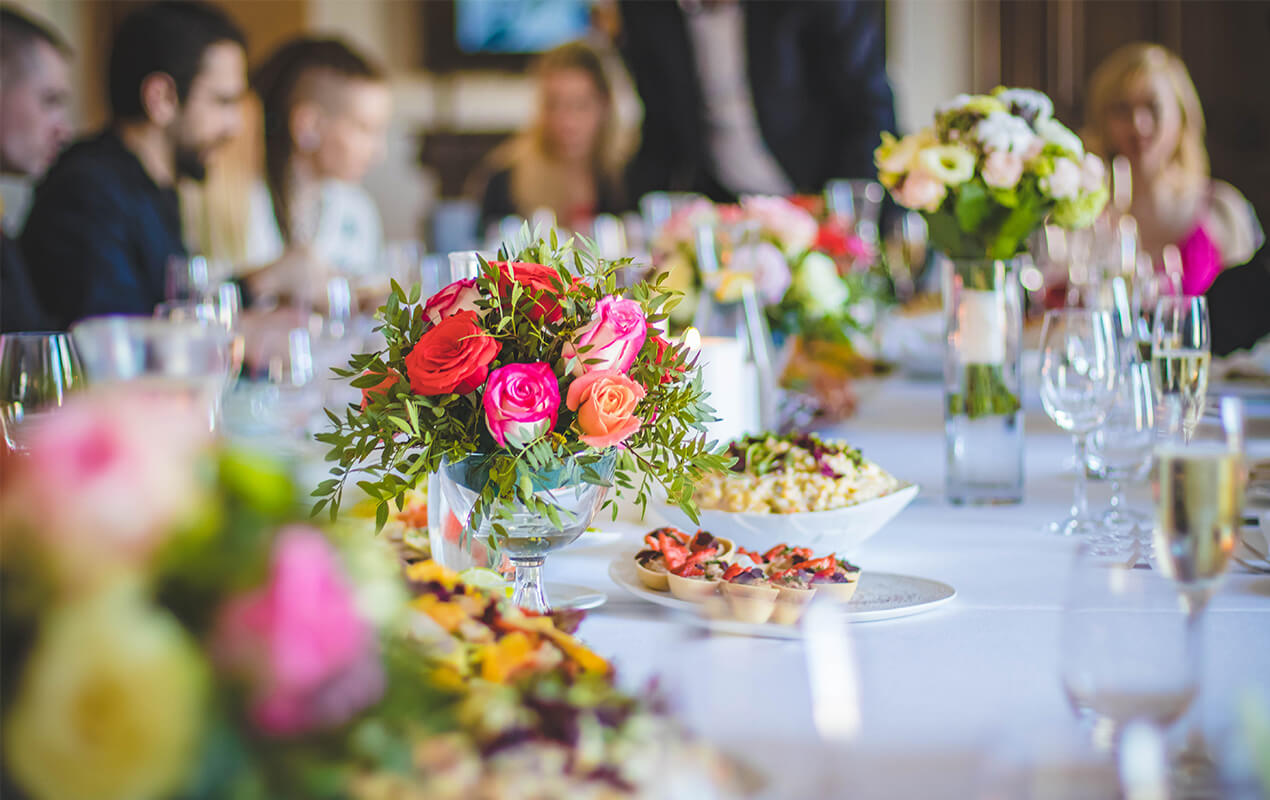 Quick Tip – Consider table size: These concepts have been presented as if the table size is no object, but of course take the size of your table into account before enacting any of these ideas!
June Tablescapes for the Start of Summer
Once summer comes around your options open a little. If you're lucky enough to live in an area with nice weather, why not move things to a nice picnic table? If you can pull this off, your tablescape can be minimal and homely, with simple placemats and napkins, with the table centered with a nice jug of iced water. For indoor tablescaping ideas, going for light blues and sandy yellows with your decor items is a great way to elicit the summery beach feel. 
July Tablescapes for Sunny Celebrations
Now we find ourselves into the month of summer hygge, along with the time to celebrate America's independence! For a patriotic table setting you could choose contrasting red, white, and blue elements, with some miniature flags to truly drive the point home! For a less on-the-nose, more modern tablescape, choose some rattan placemats, lilac napkins, and a creamy tablecloth, with some potted greenery at center stage.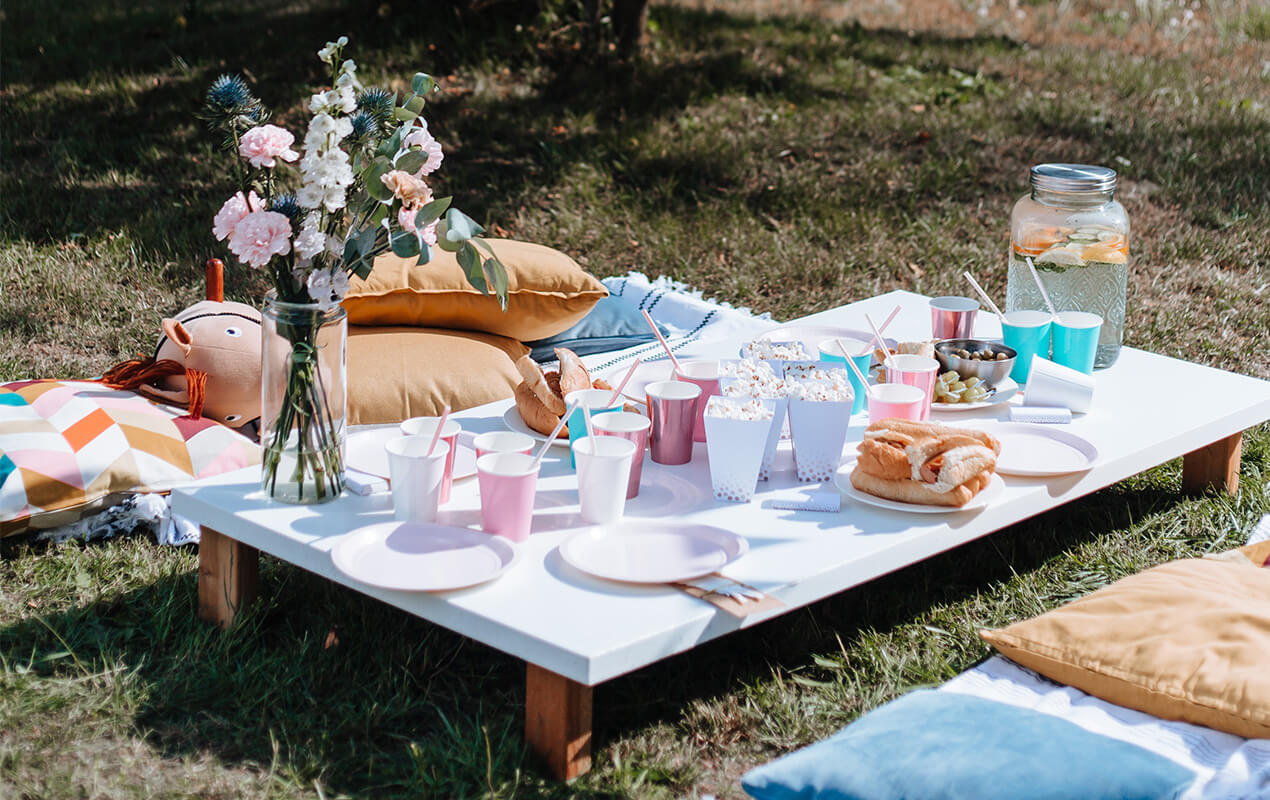 Quick Tip – Utilize plants always!: The natural of plants cannot be understated, and some in-season plants or flowers should make appearances on your table every month of the year.
August Tablescapes for a Super Summer
With summer fully in swing, this month is a great time to lean into lush plant life and naturally inspired elements. This means sticking with rattan or wicker placemats, a big fruit bowl at the center of the table, and drinking glasses with some green or turquoise tints. Bonus points if you can pull this off on an outdoor table!
September Tablescapes for Falling into Autumn
Summer is winding down and autumn is on the rise, but you should still use the remaining sunshine to your advantage. Choose a selection of different vases and fill each with a singular species of fall-friendly flower, such as Bidens, African Daisies, and Blanket Flowers, clustered together to create a sort of bohemian flower arrangement.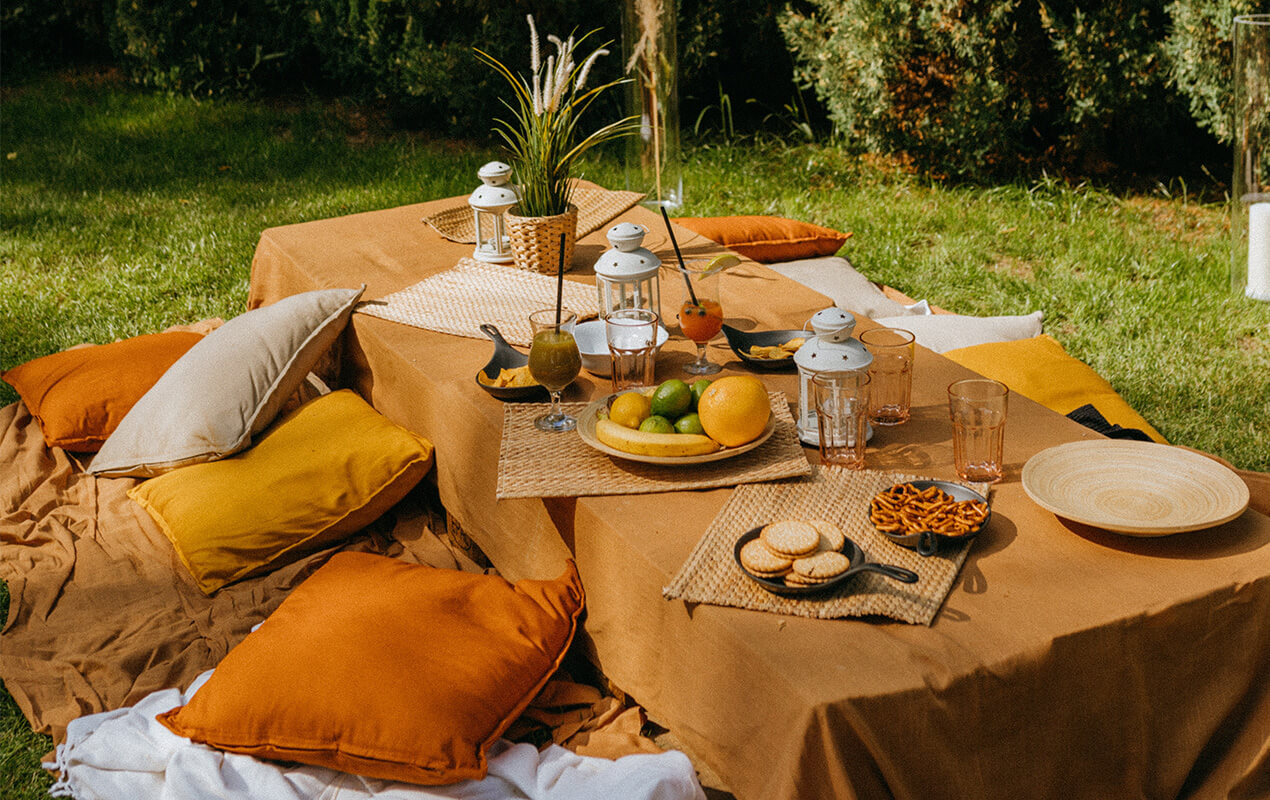 October Tablescapes for the Lead-Up to Spooky Season
The leaves are brown and falling, the sweaters are coming out, and the autumnal spirit is in the air. What better way to celebrate this than with a stunning fall tablescape? Allow the rich brown, orange, and auburn tones of the season to inform your choice of linens, glasses, and crockery, while your centerpiece can fully lean in, with pinecones, natural wood trays, and even some fresh produce like pumpkins all making great elements. 
Bonus: Use some spooky elements at the end of the month to celebrate Halloween! 
November Tablescapes for going Fully Fall-Friendly
This month we're going to go even deeper into the fall theme, with natural colors and shades brought front and center. To signify the move from autumn to winter, you could start to bring in some more gold and metallic elements, while a collection of multicolored fallen leaves makes for a stunningly suitable centerpiece. Then of course, once Thanksgiving rolls around, there's nothing better than a turkey and the trimmings as the star of the show!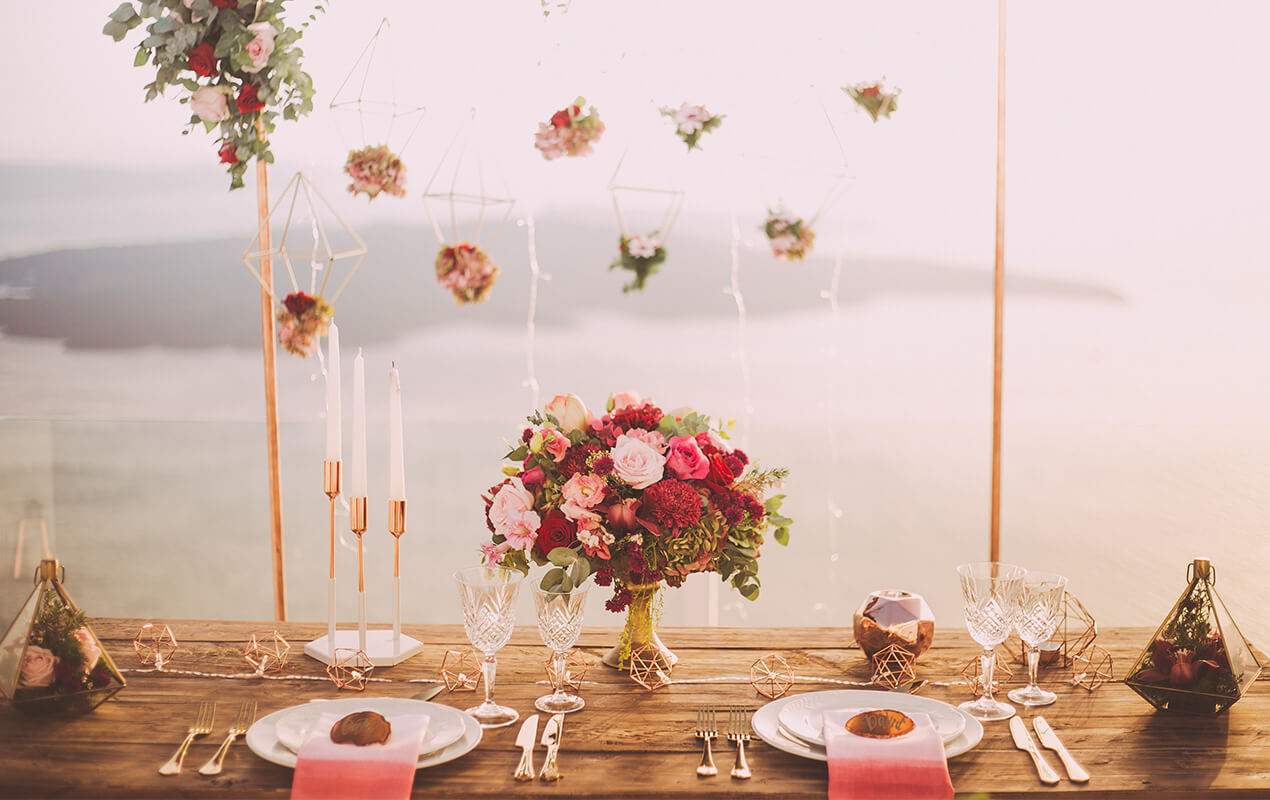 December Tablescapes for the Festive Feeling
What theme could this month possibly come with? In the festive season, more is more! Go for rich shades of red, golden elements, and plenty of dark green when it comes to colors in linens and placemats. For a centerpiece, think holly, berries, and plenty of fruit, alongside some glamorous candlesticks.
Conclusion
With this guide, you should feel more confident than ever in approaching your tablescaping projects all year round. Whether you opt for more seasonal designs to span a few months at a time or choose to draw inspiration from more specific occasions, your family dinners, parties, and solo dining experiences will be imbued with a new sense of purpose and atmosphere. They say we eat with our eyes, and that can be just as relevant for the setting as it is for the food. Remember to experiment, this is just our advice!