So you've just decked out your living room with a fresh coat of paint or some new statement pieces of furniture, opting for a navy blue color scheme. Navy blue can have a variety of effects, at once feeling inviting, formal, and natural, making it a great choice for a color scheme. But you can't fill a room with just one color, so you need to be aware of what colors go with navy blue home decor, then you can properly complement the baseline color scheme of the space. 
We've put together this blog to explain some great navy blue color combinations, along with giving you some examples of the items you can use to create them and truly bring out the best in your newly decorated room. 
Red and Navy Blue might be for You
Red and blue – a color conflict as old as time that can still look amazing when used properly with one another. Color schemes with navy blue as the baseline can be infused with touches of red to bring out pops of passion and liveliness, while other shades of blue should be utilized around the space to make the contrast less jarring. 
Using a red tablecloth on a dining table is a great way to infuse some extra personality into your dinner party decor, while some red cushions and pillows can make bedding sets and sofas feel more visually impactful. Don't overdo it on red elements, but focus on soft furnishings to complement larger navy elements.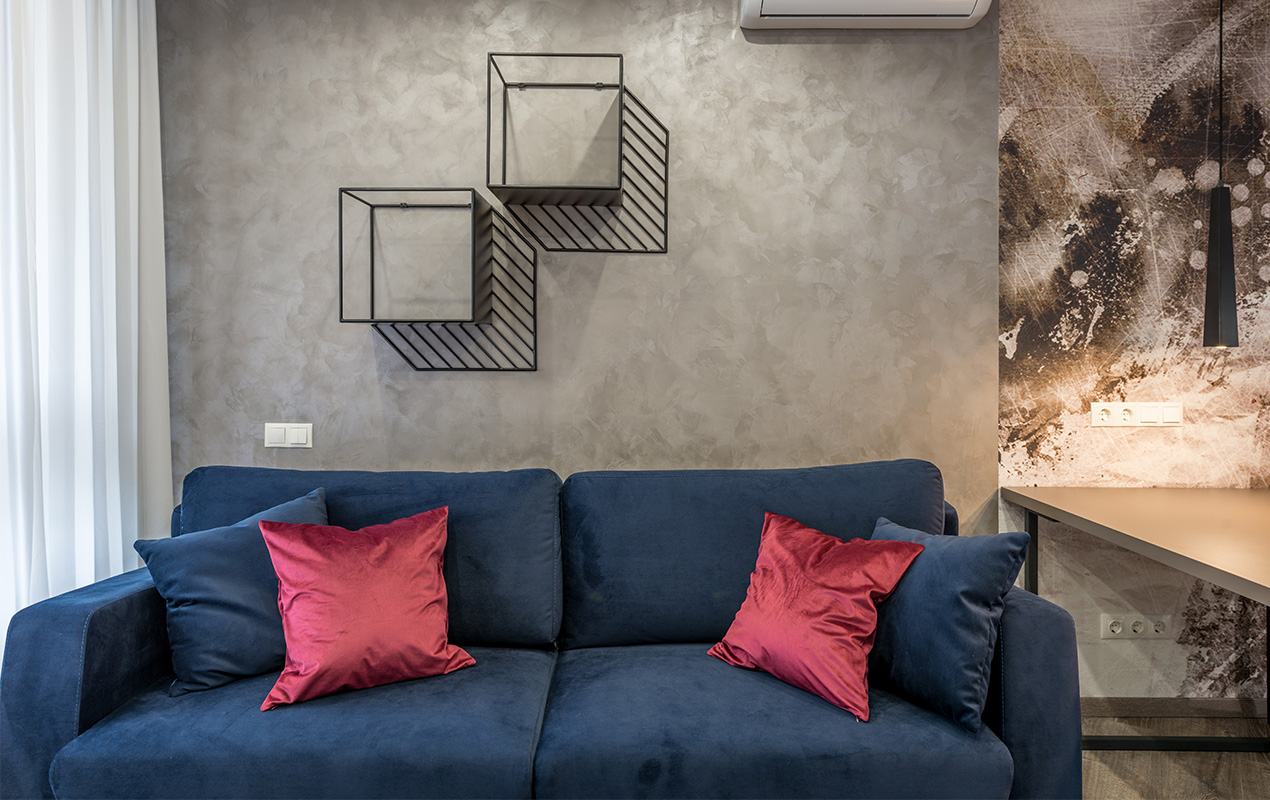 Quick Tip – Use brighter colors to accent navy blue: With brighter, more impactful colors like greens, reds, and gold use smaller elements that will pop against the navy, rather than curating combative larger pieces. 
Navy Blue and Green Looks Rather Serene
We believe that blue and green should be seen! This might be a slightly controversial choice, but navy blue and green can work very well in home settings as long as it's carefully placed and considered. Bringing in bright, fresh greens can help to curate a lively, natural feel in a living room a bedroom, partnering well with natural light to have a comforting biophilic effect. 
With this navy blue color combination, green should be used sparingly but effectively, with tones and shades carefully considered. The greens you use should accent the navy blue features of the room, so consider pieces of artwork, smaller decorative features, and even some nice houseplants to create the effect.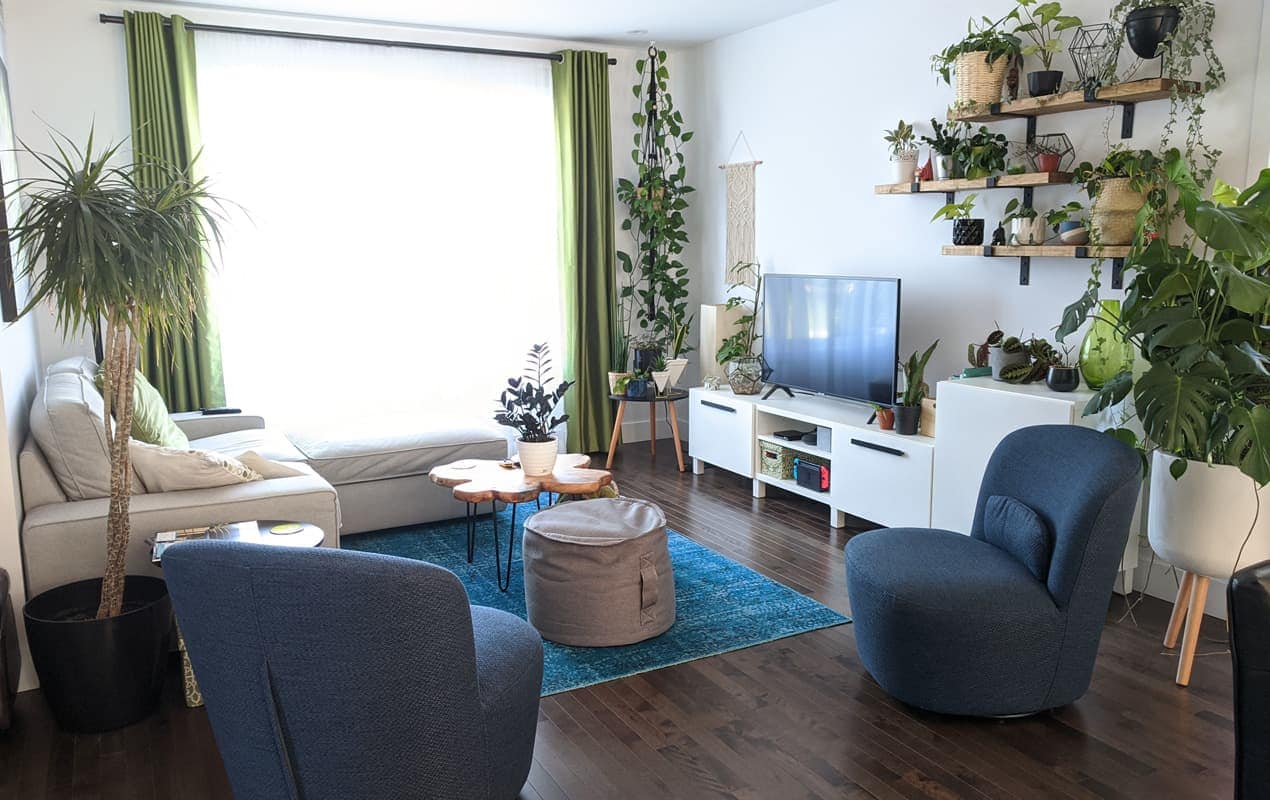 Quick Tip – Simple is effective: Don't crowd a small space with too many contrasting colors. Using a few more shades of blue to add some visual texture works, but don't overdo it. 
Say Hello to Navy Blue and Yellow
This is another classic combination, with the bright, warm tones of yellow contrasting nicely with the calmer, more subdued feel of navy blue. Using a dark navy base with bold mustard yellow pieces is a great way to make decor elements stand out and draw focus in a room, while softer, more delicate tones of yellow can complement light navy blue pieces in a less dramatic way. 
The living room is a particularly great place to experiment with this combination, with mustard yellow sofas standing out stunningly against navy blue walls. Similarly, some yellow soft furnishings in a bedroom that's dominated by navy blue can help to breathe some life and energy into a space.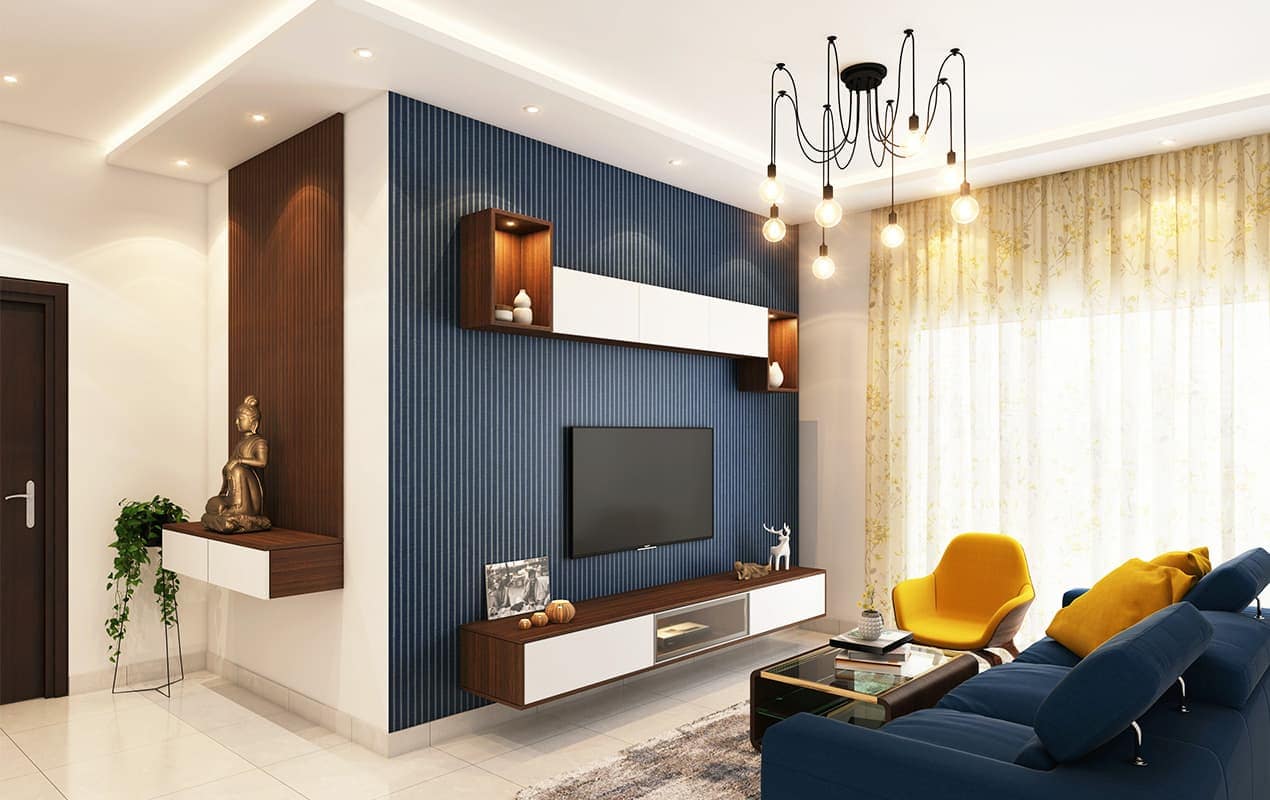 Neutral, Natural, and Navy Blue
The navy color palette is often selected for its calming, soothing feel, and a good way to keep this sense of ease consistent is by choosing to populate a navy blue space with neutral, natural tones. By this, we mean elements of natural wood, wicker, rattan, leather, and even stone, to further sustain a sense of relaxation and ease in your space. 
The colors of the materials above all mesh well with navy blue, but it's important to maintain a sense of contrast to ensure that the pieces get the focus that they deserve in the space. Choose lighter straw-like tones for wicker chairs, go as dark as possible with a leather sofa, and pick a wooden table with a complex grain to ensure the room doesn't feel one note.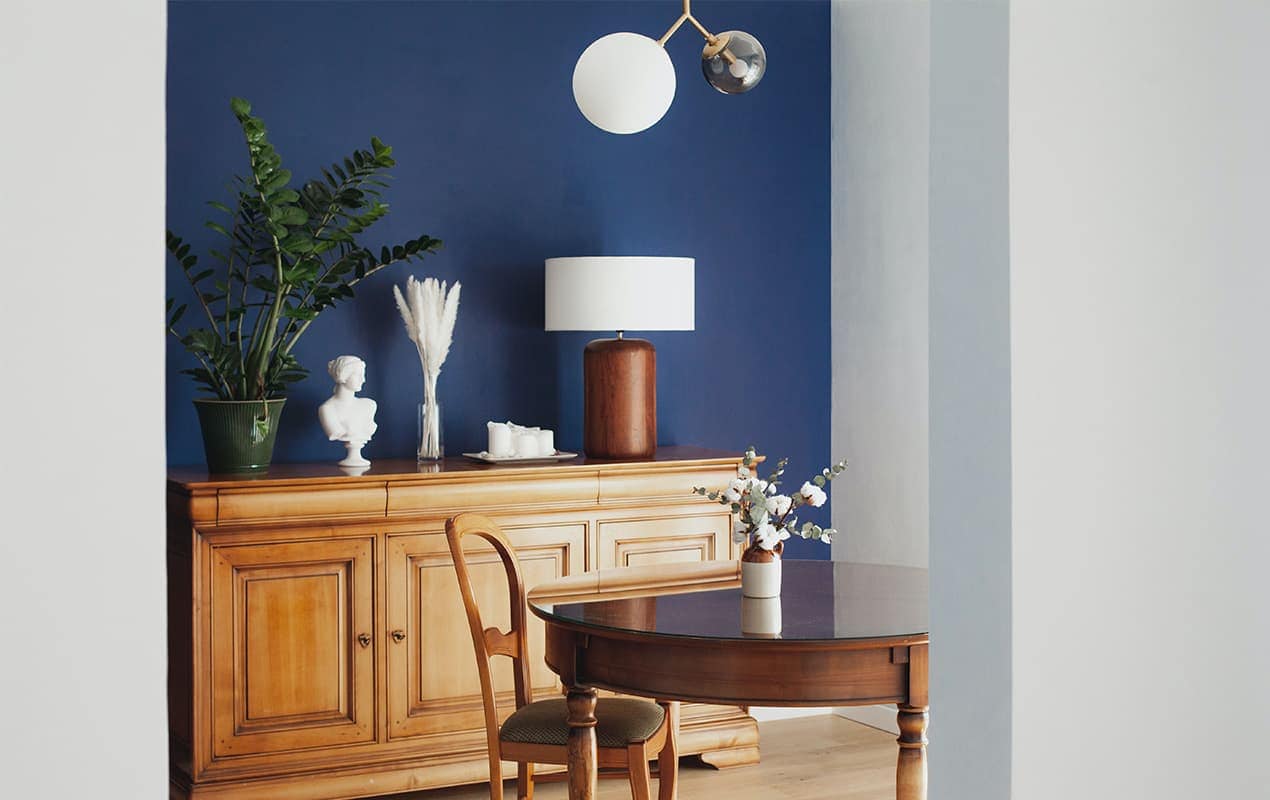 Go Bold with Navy Blue and Gold
When figuring out what style of interior design you connect with, you might feel inclined to lean toward a more regal, glamorous direction, which is where this combination comes in. Accenting a navy blue color palette with golden features is a great way to enliven a space, with metallic golds bringing in a bright, reflective touch that contrasts nicely with bases of dark blues. 
Too much gold in any context is a bit of a nono, but if you pick pieces with careful consideration the flashes of gold will have a stunning effect. Consider tables with golden legs, golden frames for pictures and paintings, or even a gold-rimmed mirror to help increase the sense of space in a room. Don't go over the top, but flashes of gold can have a great effect.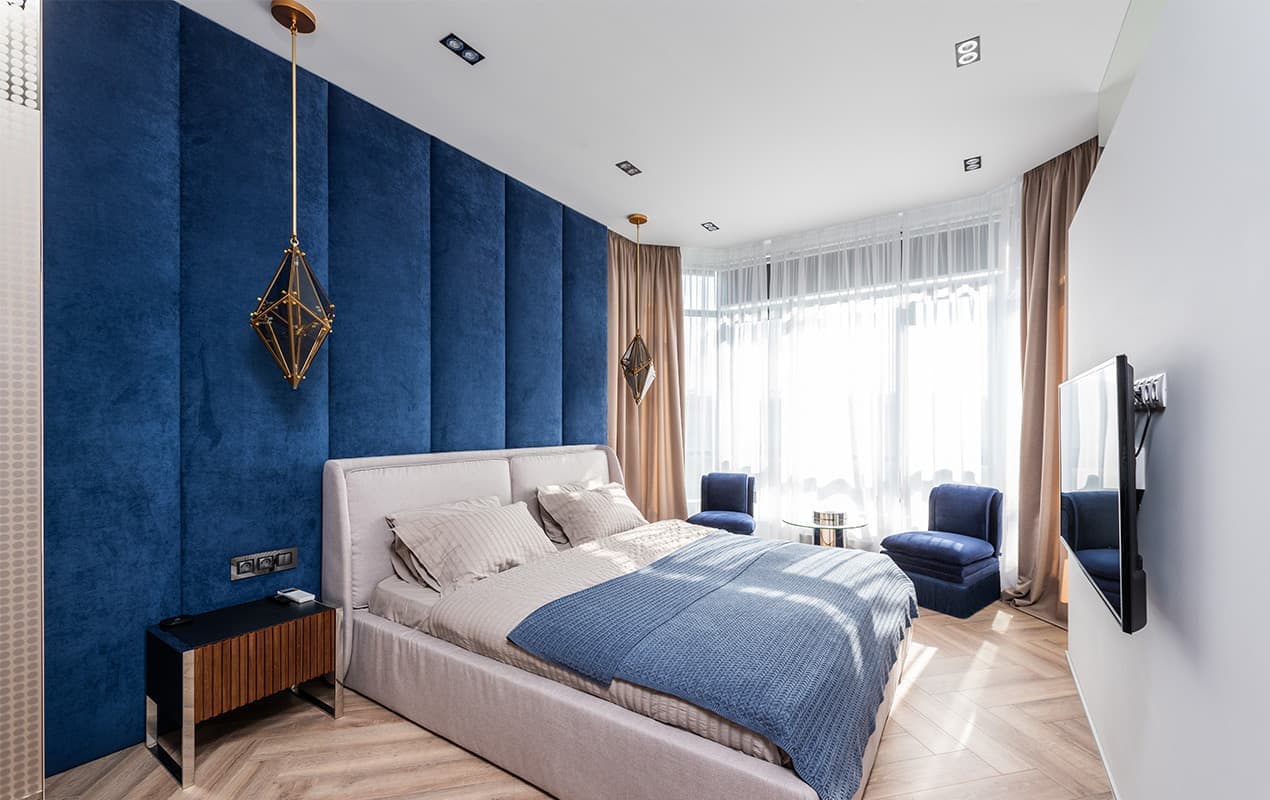 White and Navy Blue for a Nautical Theme
This is perhaps the most traditionally "naval" navy blue color combination, eliciting images of maritime work and nautical imagery. It's a classic for good reason, creating a clean and crisp contrast that lends itself to almost any room of the house. The juxtaposition of the deep tones of navy blue and crisp, clean white shades makes for a very classy, yet comforting effect. 
In a navy blue painted kitchen, white tables and worktops can shine and stand out, while adorning a white living room with rich navy sofas and chairs creates a highly inviting sense for making yourself and any guests feeling comfortable. Blue cabinets, blinds, or even towels can be a great way to make a white bathroom feel less clinical and more balanced, channeling the principles of Lagom design.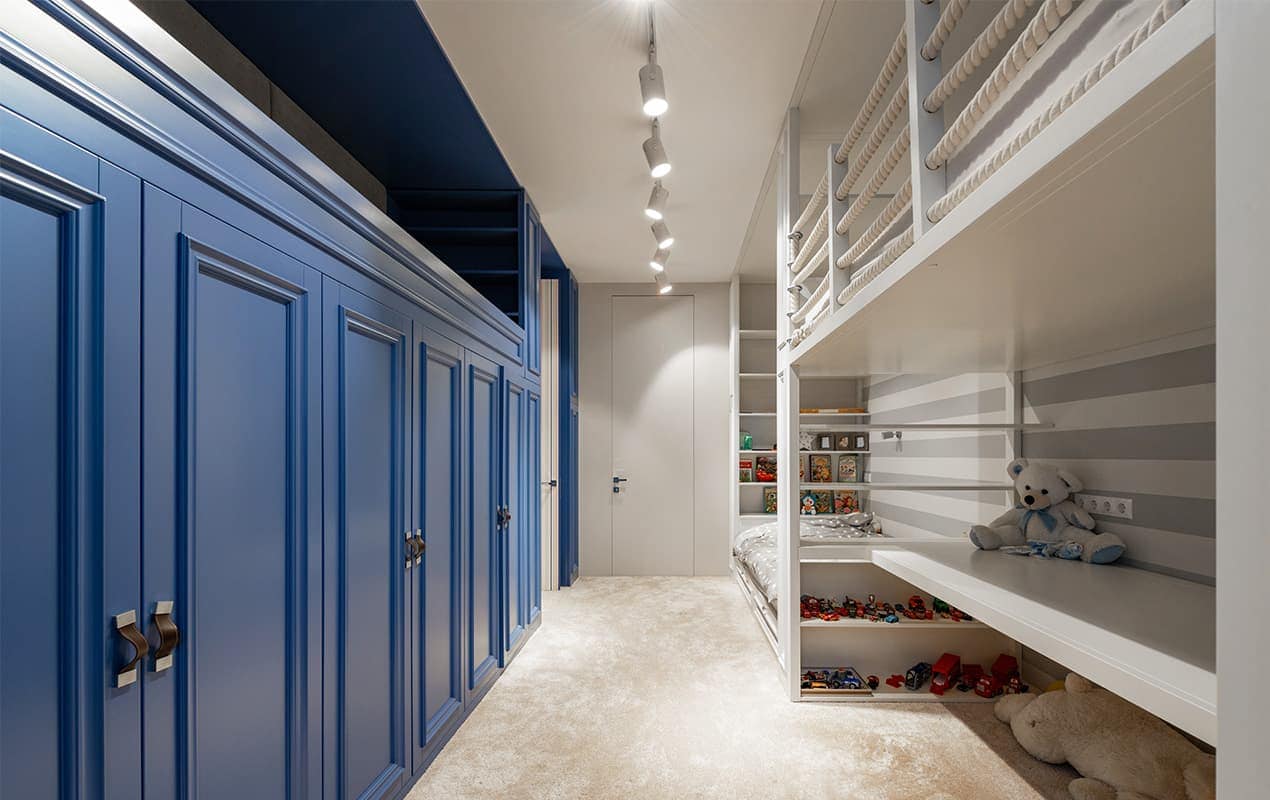 Quick Tip – Consider the vibe: Are you trying to make a room feel glamorous, impressive, and dramatic, or relaxed, inviting, and comfortable? Being able to distinguish between these vibes will inform your color choices.
What Now
Navy blue is a color with multiple different interpretations. It can be at once dramatic and calming, regal and homely, natural and carefully considered. The colors that you choose to surround it with will define how navy blue operates within your home, so make sure that you have a strong idea of what you want to curate before you start populating your home with this deep, powerful color. We hope that by reading this you feel more confident in using navy blue in your home, but if not don't fret, there's a whole world of color out there!