You're in the right place if you want a new, exciting version of traditional furniture. Oval coffee table designs mix the beauty of curved lines along with the benefit of a central furniture piece for the living room. This flexible design lets you be creative with how you decorate your home. The tables offer a unique and appealing centerpiece for hosting intimate gatherings and showcasing your preferred decorative elements. Come along as we discover oval coffee tables – where style and practicality come together charmingly and stylishly.
1. Slat-Style
The slat-style base of this table mixes the natural warmth of wood with a modern design feature. You can find these coffee tables in various styles and color schemes. The wooden top features natural wood or veneer with gold-chromed edges, and the slat-style base could have metal or painted wood. Depending on the design, the slats could be horizontal, vertical, or diagonal.
2. Black Oval Coffee Table
The color black is timeless, and incorporating a black, oval coffee table can add a daring element to any space. The dark tone of the coffee table might contrast while it stands out against the lighter furnishings and décor in the space. This can assist the table in becoming the main attraction in the room while capturing the eye and creating visual intrigue. This fancy coffee table goes well with various colors, materials, and textures.
3. Large Wooden Oval Coffee Table with Storage Solution
Envision a striking centerpiece in your living area with this large wooden oval coffee table. Beyond serving a utilitarian purpose, this item boasts a graceful oval design that introduces an element of refinement to your interior aesthetics. But there's more than meets the eye – the added storage shelf beneath ensures a clutter-free surface while providing a convenient space to stow away essentials.
4. Premium Rock Slab Coffee Table
Immerse yourself in the epitome of refinement with this oval coffee table adorned with a premium rock slab table top. Its smooth, finely polished surface showcases its texture's intricate and natural glamor, adding a touch of elegance to your space. Supported by sleek stainless steel feet, the base exudes modernity while providing stability. With its generous oval table top, this piece promises to be a focal point that seamlessly combines nature's artistry with contemporary design, elevating the aesthetics of your living area.
5. Boat Style
Resembling the graceful contours of a boat, this coffee table exudes the essence of nautical charm. Its robust wood carved in a boat-style design is elegantly juxtaposed against a sleek black-finished metal base, evoking a sense of timeless maritime aesthetics. This design gives it a distinct personality that differentiates it from any other coffee table. Some modest colored sofas can also pair with it, and you can decorate the coffee table with indoor plants or decorative stones to create a more coastal vibe.
6. Antique Coffee Table
An antique-style mahogany coffee table is precisely crafted to emulate the temptation of vintage items, particularly those fashioned from rich mahogany wood. The primary material, mahogany wood, for this small coffee table is known for its rich color as well as its smooth surface. Cabriole legs are common on antique-style mahogany coffee tables. These frequently come with carved or sculpted feet.
7. Kidney Shaped Coffee Table
The kidney-shaped coffee table has an asymmetrical, curving pattern resembling a kidney bean. When combined with metal legs, this design produces a striking contrast between the organic form of the tabletop and the sleek, industrial aspect of the legs. You can make the table top out of wood with a glossy or matte finish.
8. Distinguished Designed Wooden Coffee Table
Discover the exquisite charm of this wooden coffee table, featuring small tapered legs that add a touch of grace to its structure. The rectangular shape is enhanced with rounded corners, exuding a sense of modern refinement. What sets this table apart is its unique construction – the table top is ingeniously supported by a piece of wood that acts as a divider between the upper and lower shelf. This clever arrangement captures your attention visually and serves a practical purpose by helping you keep your essentials neatly organized.
9. The Contemporary Small Oval Coffee Table with Metal Legs
Immerse in the blend of contemporary aesthetics with our compact coffee table featuring an oval shape. This piece is supported by sleek metal legs and embodies a harmonious blend of materials that exudes contemporary appeal. The tabletop, designed in an enlightened gray concrete hue, offers a touch of industrial allure while maintaining a refined elegance. Crafted from wood, this oval coffee table is a testimony to artisanship and design innovation, making it a fascinating addition to your living space.
10. Marble With Metal Base
A smooth marble coffee table with a metal base complements one another productively. The sleek style of the metal base enhances the elegance of the marble. This table also offers a lot of storage space underneath for your things. Combining elements such as marble and metal creates a unique look and feel. Marble is natural and alluring, while metal has an industrial look. Having both can help your home look balanced and pleasant.
11. Ceramic Base & Glass Top
The smooth glass on top exposes, reveals, and contrasts a distinctive circular ceramic bottom. The ceramic base, resembling a masterpiece, elevates the table's prominence. Ceramics, a versatile material, allows for sculpting, dyeing, and texturing in numerous ways. This means you can customize it to match the style of your room on the inside. As the light plays upon the glass of this fancy coffee table and the intricate details of the ceramic base, it creates a dance of elegance that elevates any space.
12. White Oval Coffee Table
This white coffee table gives the furniture piece a sense of minimalism, brightness, and modernism. These coffee tables can include materials such as wood, metal, and even acrylic. The material used might have an impact on the general design and durability of the table. A white oval coffee table will go well with various interior design styles.
13. Kidney Bean with Slats
With its gracefully curving table top, this coffee table features a base composed of slats and delicate, flat wood or metal elements veraciously arranged in an engaging pattern, resulting in an enrapturing design. Because of its flowing design, the table usually appears sleek and trendy. The slat-style base provides a structured, open appearance that complements the curved top. Different materials like wood or metal can make up the top part of the coffee table, and it can have various finishes.
14. White & Gold Oval Coffee Table
A white oval-shaped tabletop positioned on a golden base looks chic, inviting, and attractive. The contrast between the white and gold colors elevates the look while it offers an intriguing element to your living space. Oval tables are safer at home because they do not have sharp corners. Moreover, when a coffee table of such remarkable quality is expertly crafted from premium materials, its longevity is ensured.
15. Antique Style Walnut Finish Coffee Table
Crafted from solid wood boasting a walnut finish and supported by gorgeously tapered legs, this elongated and slender coffee table exudes timeless charm. The rectangular table top features rounded corners and a subtly elevated perimeter reminiscent of a tray. Embracing an antique style, the stiletto heel-shaped legs add a touch of finesse to this exquisite piece.
16. The Oak Crafted Coffee Table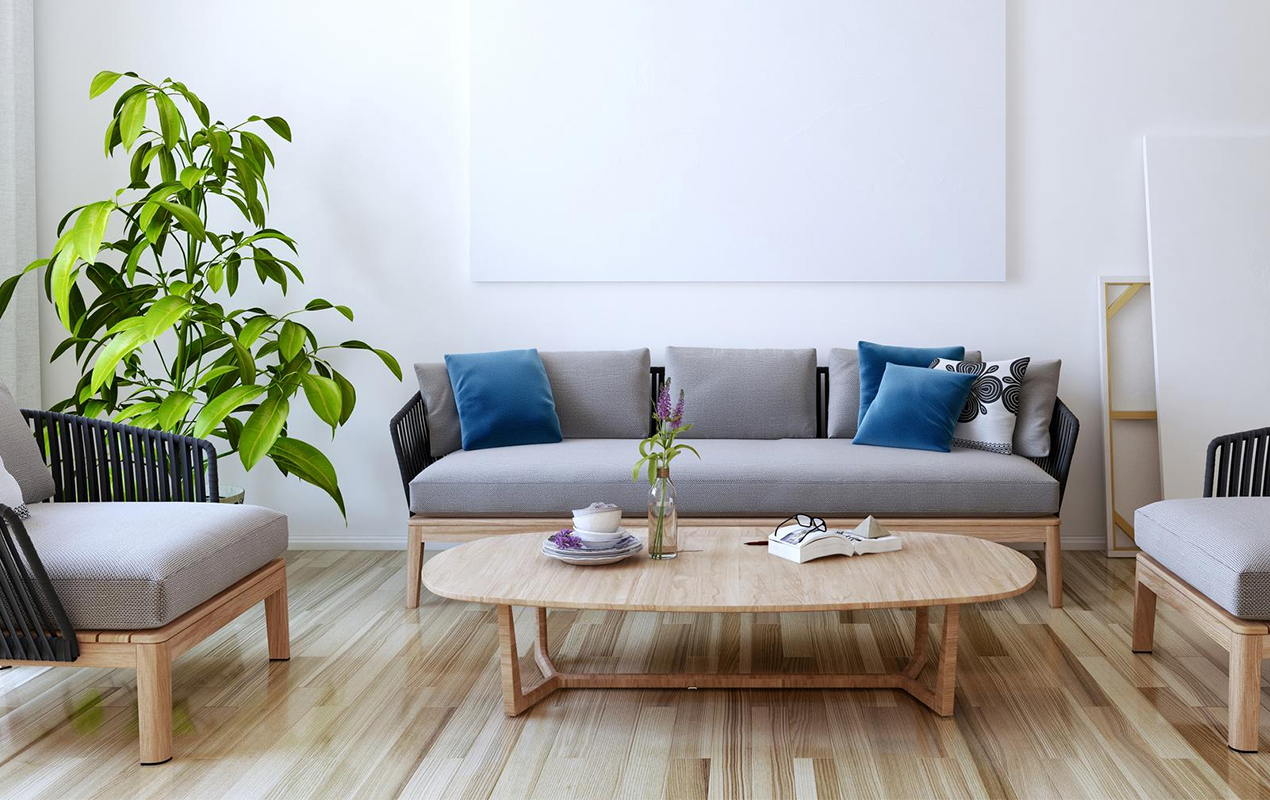 Photo by Pozitivo from Freepik
Experience the beauty of nature's artistry with this oak-crafted coffee table. Its solid construction ensures durability while 'root-like' legs gracefully touch the floor, imbuing the table with a grounded and organic aesthetic. This piece brings a touch of rustic charm and natural enticement to your living space, celebrating the raw elegance of oak wood and the earthy embrace of its design.
17. The Walnut Veneer Coffee Table
Elevate your living room ambiance with the inviting charm of this wooden oval coffee table. The walnut veneer tabletop and solid walnut legs infuse a cozy, natural essence into your space. The distinct grain pattern of the walnut veneer adds a unique and captivating character to the table, making it a true centerpiece. A small under-shelf provides convenient storage for your essentials, enhancing form and function in this exquisite furniture piece.
18. The Mahogany Coffee Table
Introducing the paragon of refined worldliness – the mahogany coffee table. Crafted from rich and luxurious mahogany wood, this table exudes a sense of classic charm that transcends trends. The deep, lustrous hue of the wood adds an air of opulence to any room, while the intricate grain patterns lend a touch of natural artistry. With its sturdy construction and enduring glamor, the mahogany coffee table is a testament to art and enduring style, making it a cherished addition to your living space.
19. Sculptural Base with White Marble Top Coffee Table
Witness a masterpiece of design with this coffee table that rests upon a striking sculptural base. The elongated wooden cylinder, reminiscent of Greek columns, adds an unexpected architectural touch that evokes ancient aesthetics. Topped with a spacious white marble surface, this table symbolizes elegance and timelessness, showcasing the perfect harmony between art and functionality.
20. Circular Triangle Wooden Coffee Table
Experience the perfect fusion of geometric elements with this wooden coffee table. Imitation wood craftsmanship adds a touch of natural enticement, while the unique circular triangle shape sparks visual interest. This simple yet eye-catching cocktail table effortlessly blends aesthetics and function, becoming a versatile centerpiece that adds a dash of contemporary flair to any room.
21. Contemporary Extension: Rectangular Wooden Coffee Table
Designed for contemporary sensibilities, this rectangular coffee table features an innovative design with two distinct sections on its tabletop. The lower section's sliding capability allows for a subtle extension, creating additional surface space when needed. With its tapered legs and wooden construction, this table captures style and practicality seamlessly, making it an ideal addition to modern interiors.
22. Silver-Dyed Madrona Burl Oval Coffee Table
Indulge in the captivating charm of artistic handiwork with this oval coffee table crafted from silver-dyed Madrona burl. Its cloud-like swirls bring a unique and compelling visual appeal, creating a perfect canvas for displaying art books and vibrant fresh-cut flowers. The beech wood base and legs accentuate the coffee table's oval shape, merging form and function into a stunning piece that complements your decor with its distinctive character.
23. Natural Wood Grain Coffee Table
With its captivating style and a harmonious two-tone color palette, this oval-shaped wooden coffee table makes a stunning yet understated style statement for any home. Crafted from solid wood, its enduring design ensures its longevity through the years. The innate charm of natural wood grain adds a touch of organic glamor, creating a piece that seamlessly balances minimalism and striking aesthetics.
Final Thoughts
The oval coffee table effortlessly blends form and function, gracefully bringing a feeling of smoothness and balance to living spaces through its gently curved edges and elongated design. The versatility of this furniture piece makes it a convenient surface for holding drinks and reading materials while acting as a central point for conversations and social gatherings. The unique form adds a hint of refinement without overpowering the area, rendering it a superb option for those in search of both visual charm and functional use. The oval coffee table exemplifies interior design's ability to create a lasting impact through a modest departure from conventional shapes.