The classic color combination of black and white has long been associated with kitchen design. There is something clean and organized about black and white kitchen decor that sets our hearts aflutter, spanning the decades from the 20s through to the modern day. If you're looking for inspo, you've come to the right place. We'll run through some exciting ways to ramp up your kitchen style, from retro kitchen decor that uses pops of red to modernizing your kitchen with minimalism and stainless steel appliances.
Go Industrial With Stainless Steel
Minimalist kitchen design can be seen in many German kitchen designers' work, with clean lines, unobtrusive cabinet openings, and invisible appliances par for the course in their search for clean, efficient interiors. 
Industrial designs bring with them a mix of materials, from metal accents in the form of silver-toned and black stainless steel to wooden veneer cabinets that are reminiscent of 80s media units with hidden touch-close doors. Choosing Wenge-style wooden cabinets will give your kitchen an exotic matte black surface whose hidden grain is revealed when natural light sources hit it.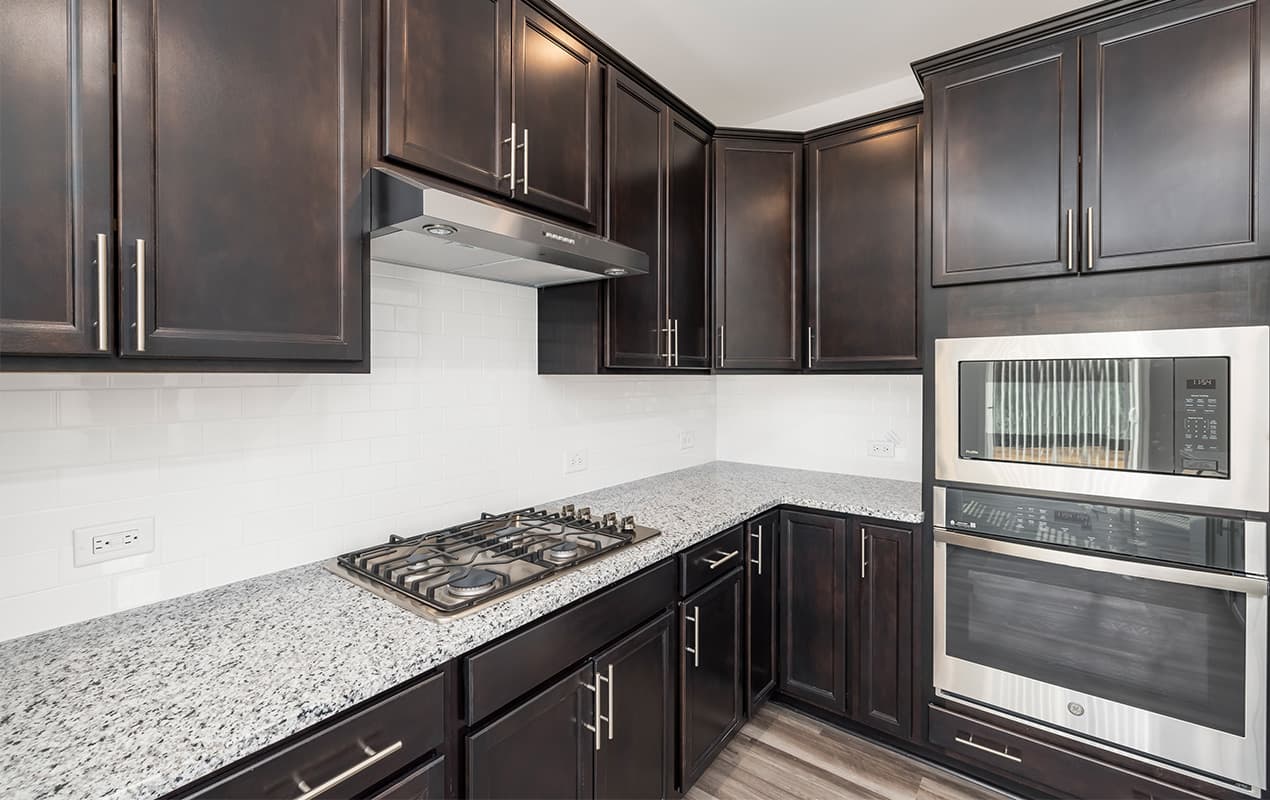 Quick Tip – Using classic design elements such as checks, stripes, and arches gives your home a timeless feel.
Add Bright Pops of Red or Pink
Staying on the vintage theme, we just had to mention a retro diner kitchen design. While checkered floors look great with this design, adding black herringbone kitchen floor tiles can contemporize the look, stopping it from straying into kitsch territory. Red or pastel pink appliances and accessories will bring your retro kitchen scheme to life while ensuring that the design stays timeless and fun for years to come. Just remember to embrace the curves – this is not a design that favors hard lines or kitchen islands. 
Adding chrome accessories, such as a shiny kitchen blender for making retro milkshakes will ensure that light reflects in the space, but be prepared for extra polishing in the kitchen!
Or Try Traditional Style With Island Living
Kitchen cabinets come in many shapes, but if you have the space, kitchen island cabinets, particularly those with storage, are very useful items that serve as a meeting point for friends when bar stools are perched against it, as a place to store recipe books for future use, and as a handy catch-all for wayward kitchen utensils. Adding power points to your kitchen island gives it yet another purpose, enabling extra work surface space to use kitchen appliances such as microwaves, blenders, and food processors and increasing the workability of your kitchen. 
Opting for a black or white kitchen island should ensure that the furniture piece doesn't age quickly, particularly if you choose a hardwearing, natural material as the countertop surface. We recommend marble with black, white, and grey veining if you are in search of a classic furniture piece or opt for brightly colored composite varieties if you're happy to change your countertop every time you change your wall decor.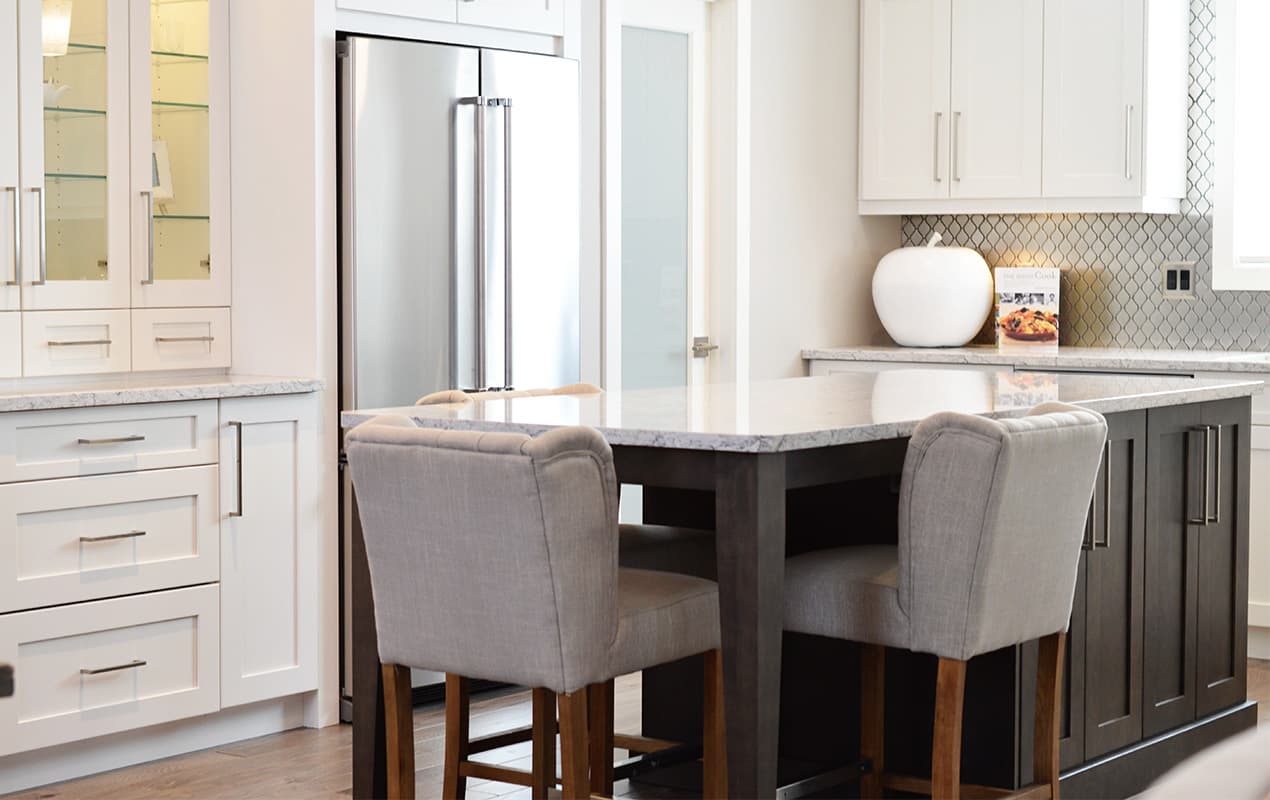 Quick Tip – Islands are great for storage but don't neglect the spaces above appliances or at the side of cabinets for extra nooks and crannies.
Think Retro With Checks
Add a touch of nostalgia to your home with retro black and white checkered kitchen decor. The vibrant monochromatic design lends itself well to ceramic floor tiles that are easy to keep clean and look stylish, too. You can soften the look with a washable rug by the kitchen sink, which will cushion your feet while you do the dishes. For a truly 60's inspired interior, extend your black and white tile patterns out to the kitchen backsplash for a food prep area Twiggy would be proud of. 
If you're going for bold check patterns, be sure to keep the rest of your black and white home decor neutral. Choosing white kitchen cabinets stops the black color from overwhelming the space.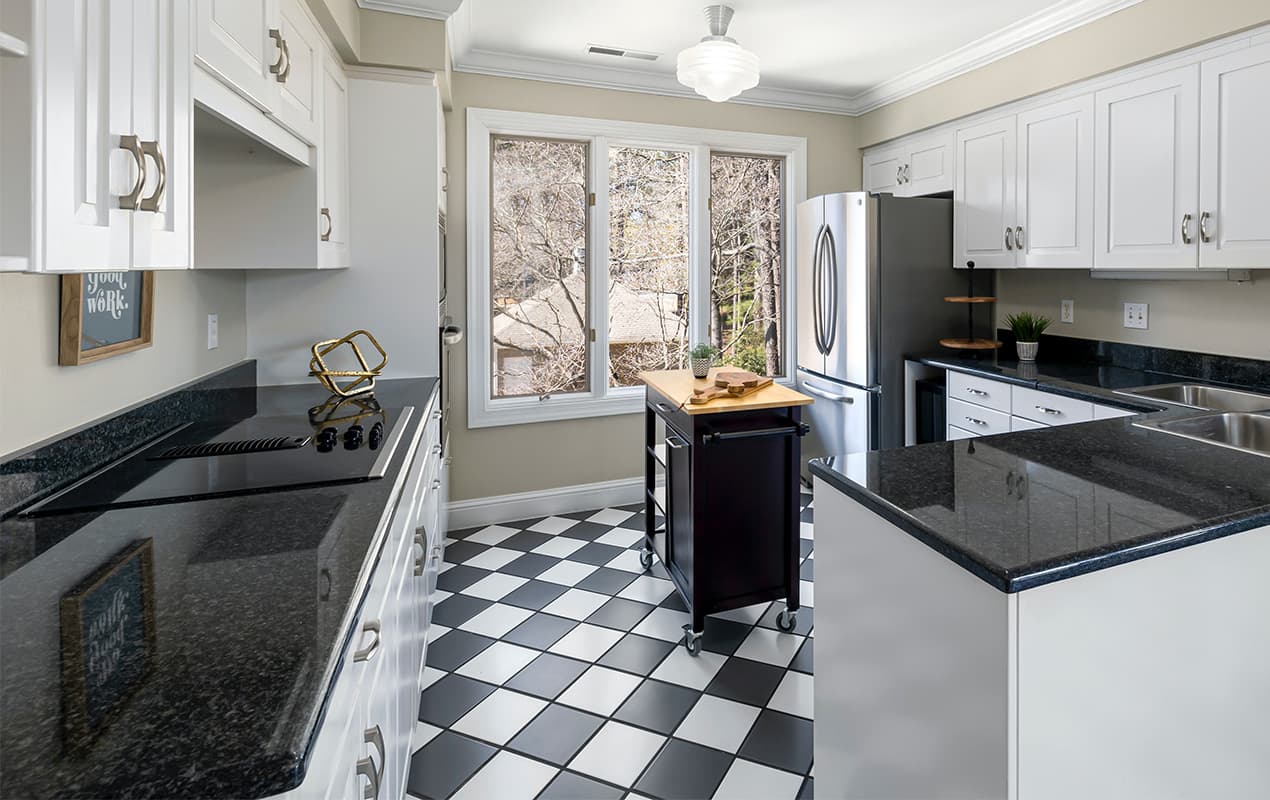 Victorian Style
The herringbone floor tiles we mentioned earlier will blend well with Victorian kitchen styles which favor simple, elegant lines that complement a small galley kitchen. While black and white are obvious choices, period brick-style tiles of the time would also add an old-world charm to your home without too much effort. These can be sourced from reclamation yards and antique dealers throughout the country, but do be sure that you purchase enough tiles in your original batch as colors can vary from load to load.
The black and white color palette was favored by the Victorians, particularly after the death of Victoria's husband Prince Albert, when the country went into mourning. Black was no longer seen as a color to stray away from, possessing elegance and formality in any setting. 
White or milk glass tiles make an excellent backsplash for cooker tops and have the added bonus of being easy to clean. When combined with black kitchen cabinets with brass handles and white marble countertops, as well as traditional brass faucets and fittings, this black and white kitchen decor style is timeless, and can be added to with original artwork from the Victorian era and a traditional Belfast sink to wash crockery in. If you've got space, a large painted dresser or pantry can be lined with shelves, housing your tins and non-perishable goods within easy reach to make meals easier to organize and prepare.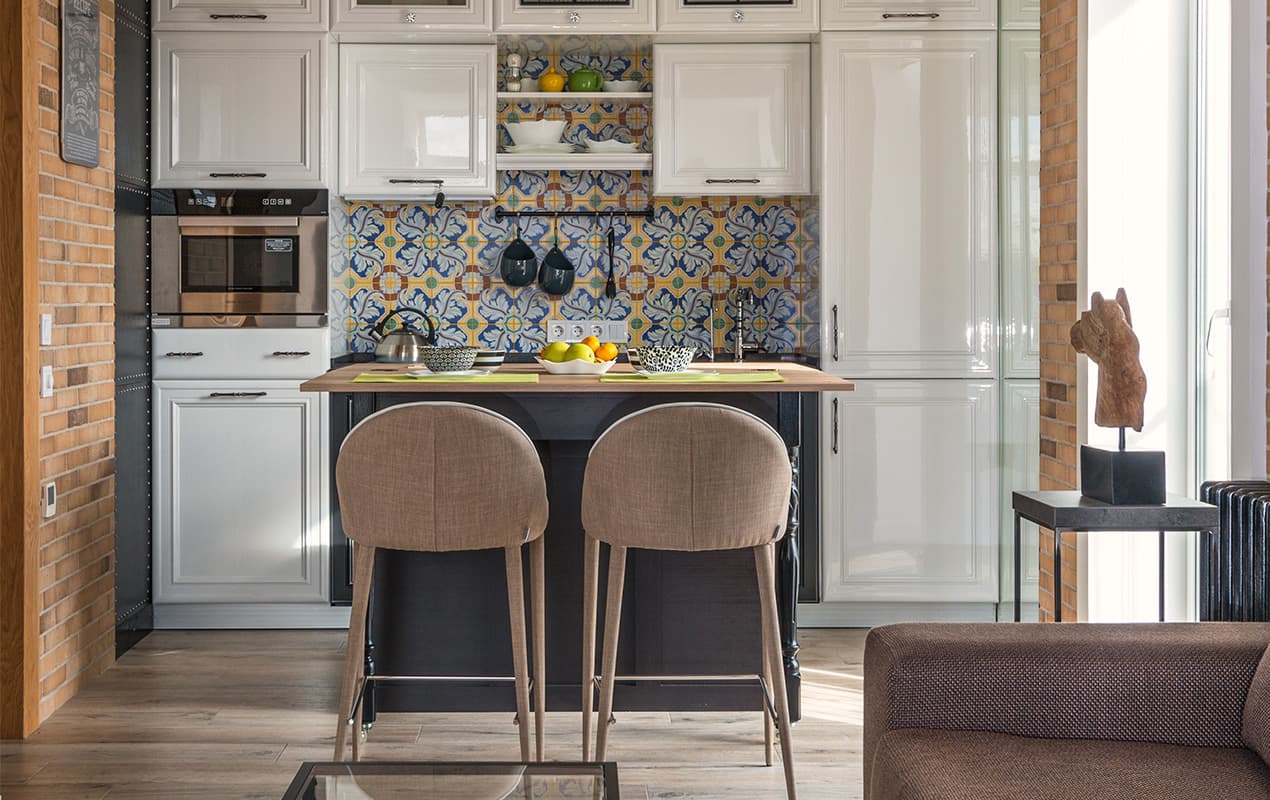 Quick Tip – Take your time decorating your home to ensure it reflects your personal style and you enjoy the process.
What Now
Victorian elegance, modernist minimal design, and retro styling are just three black and white kitchen decor inspo options at your disposal, but sometimes the best designs don't follow a particular trend, and instead, rely on items that inspire joy in your heart. By using a mix of materials such as metal, which can reflect light easily, wood for warmth and ceramic for hardwearing, easy clean surfaces alongside your black and white color palette, you can truly create the kitchen you've always dreamed of.