There's no better time to re-decorate and rejuvenate your home interiors than in the spring. It's the season of renewal, blooming flowers, and sunshine, and it's also the perfect time to invite some spring rejuvenation. Getting rid of the old and transforming your space to be new, fresh, and beautiful will enhance your home and help lift your mood. So, be sure to celebrate this time of the year with our easy spring decor tips and ideas.
Use Pastel Colors
Color can make all the difference in your home. From adding a coat of fresh paint to your wall to changing the bed linens to be brighter and more vibrant, colorful interiors add a decorative touch to any room. Pastel palettes are especially suitable for springtime as they complement the changing colors of nature. From summer dresses to easter eggs, peach, lavender, pink, and soft blues radiate spring like no other tones. 
A great way to incorporate color in your home is to paint furniture, for example, your lower kitchen cabinets. A sunny yellow or fresh green color can add interest and complement an otherwise simple, natural space. Plus, given that pastels are less saturated than primary colors, they offer a soft, calming atmosphere and a touch of sophistication.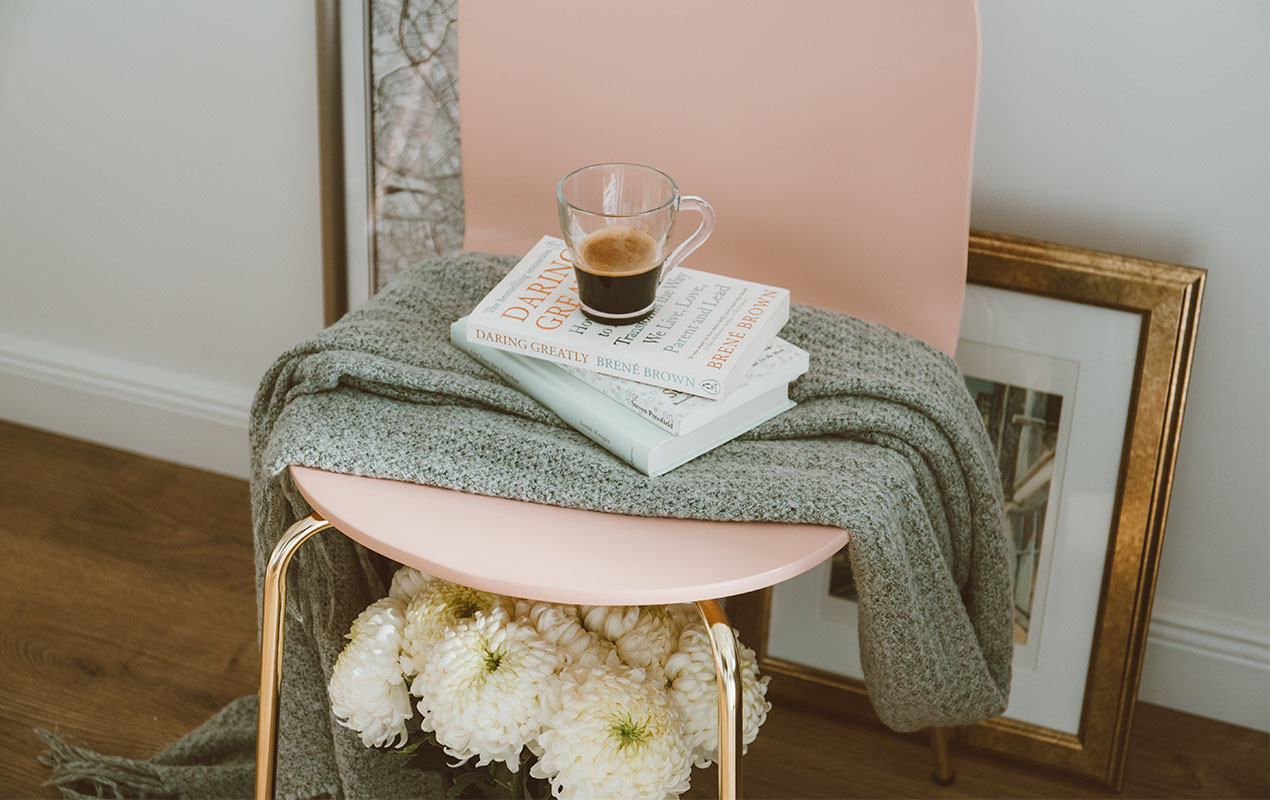 Change Your Pillow Covers
Accent pillows always spruce up a space and provide an easy way to change your home decor. Once winter passes by, swap dark colors and winter textures like faux fur and wool with lighter and brighter ones, such as coral-colored cotton covers. White upholstery and maritime designs in the living room are an excellent way to welcome spring, as are pastel and solid pillow covers.
Spring Decor: Add a Floral Touch
Since spring is the season of fresh flowers, it's also the best time to bring out floral designs. Whether in your clothing or your interiors, most floral patterns will do the trick. Choose a variety of floral pieces like bold artwork, large bed quilts, and small subtle kitchenware like plates, mugs, and glasses. You can sometimes find inexpensive vintage floral pieces at second-hand marketplaces or online. Fresh flowers in white or pastel-colored vases also add color to your home and spruce up your place.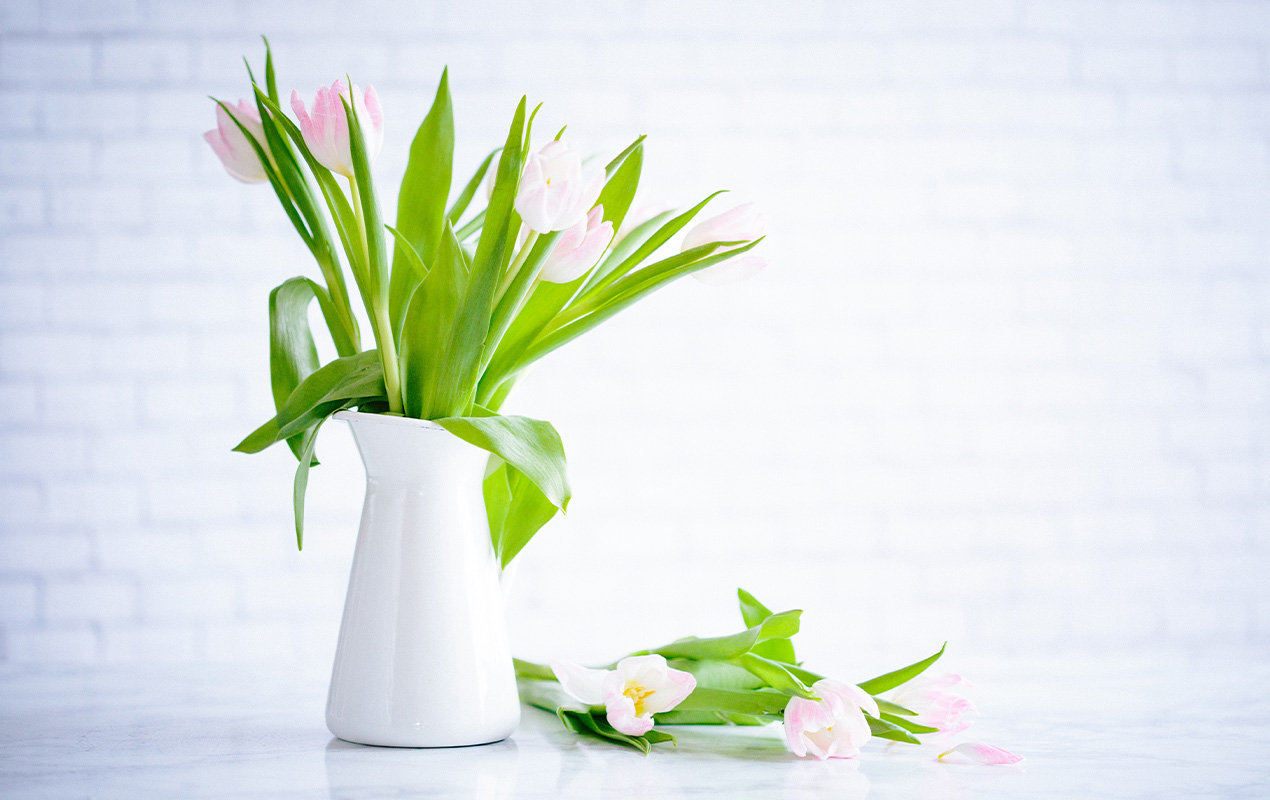 Quick Tip – Get Outside: The best way to get inspired by spring is to experience it in real-time. Go outside during the spring months and absorb all the sights, smells, and sounds to figure out what you want to bring inside!
Style Your Bookshelves
Organizing your books by color makes your shelves look cleaner and more cohesive. You can also add book displays in spring colors and small sculptures and trinkets to add visual interest. Just make sure you have some good reads in there! 
Spring Decor: Display Wooden Bowls 
One of the most inexpensive ways to enhance interior aesthetics is by displaying colorful fruit in wooden bowls. Predominantly yellow, green, and orange citrus fruits arranged in big, beautiful wooden bowls can give your kitchen or living room a fresh spring look. They also make handy storage areas, serving as the perfect place to house your all-time favorite fruit or small items like your keys and other personal belongings.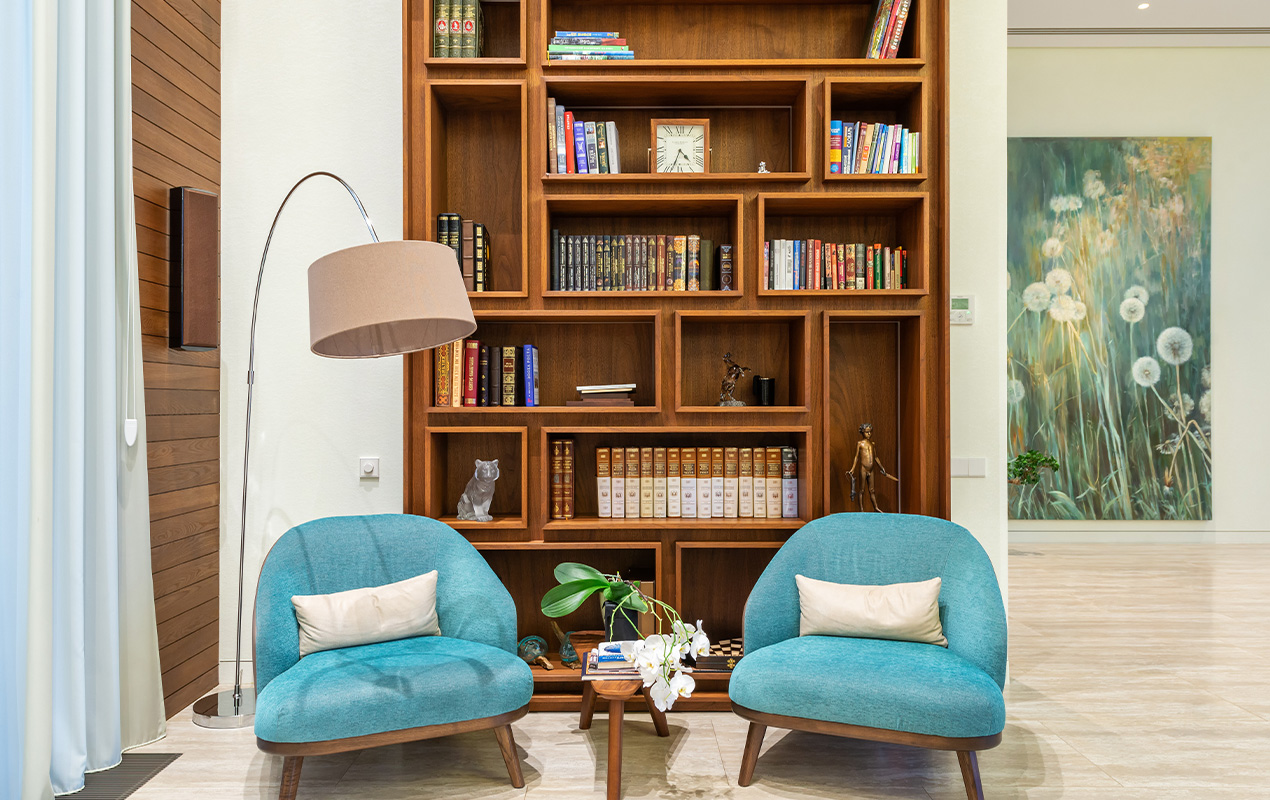 Quick Tip – Follow Suit with your Clothes: Beyond making your home look and feel as if it's in a state of perpetual spring, why not embrace the spirit with your clothes as well? Channel the same energy with your wardrobe.
Create a Green Centerpiece
Spring is the best time to decorate your home with leafy greens. Buy a range of flowers and greens at a floral shop or pick them up in your garden to create a beautiful, natural, fresh centerpiece for your kitchen countertop, dining room, or coffee table.  
Spring Decor: DIY Crafts 
From paper flowers to mason jar projects, there are countless DIY projects that you can take on to decorate your home in an inexpensive but fun way. Gather your girlfriends to make an event out of it. All you need are a few mason jars, wrought iron coat hooks attached to small wood panels, and some jute rope to wrap around the jars. Attach the wood panels to the wall, hang one mason jar on the hook, and add flowers or greens to decorate your wall with fresh spring blooms.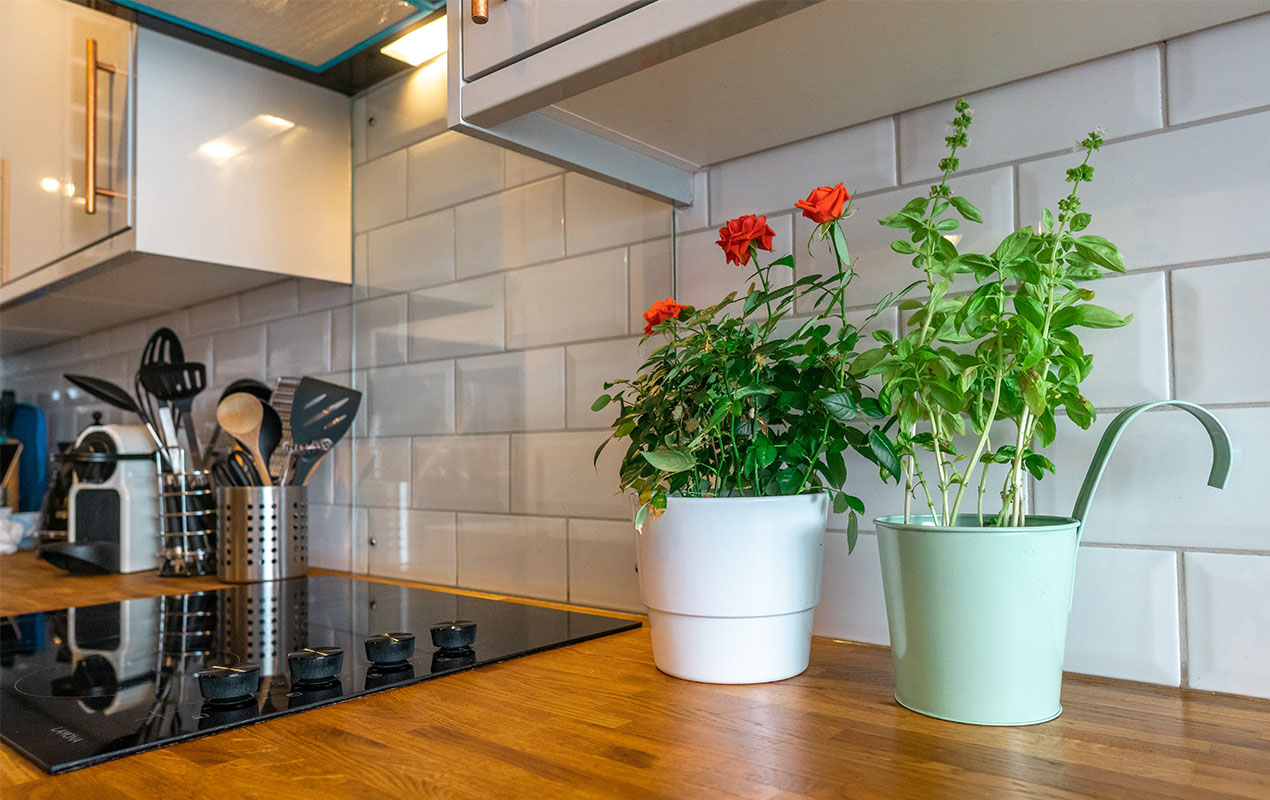 Quick Tip – Embrace Smells: Beyond simply placing flowers around the house, enjoy the smell of spring with things like potpourri, scented candles, and seasonal air fresheners for a multisensory experience.
Spring Collage
Creating a collage from old magazines and papers is an easier way to decorate your home spring-style. Simply cut out beautiful motives, arrange and glue them to a paper base, and put them in a vintage frame. It's a quick and fun way to create a mood board for your hallway, kitchen, or living room.
Watering Can Flower Arrangement 
Another budget spring decor idea involves using a watering can as a flower vase. You may find an old, unused one in your basement or at a flea market. Simply clean it, fill it with water, a piece of wet foam placed at the center of the can, and arrange twigs from your garden or fresh flowers. It's an easy, cost-efficient, and effective way to decorate your interiors or exteriors with a vintage aura.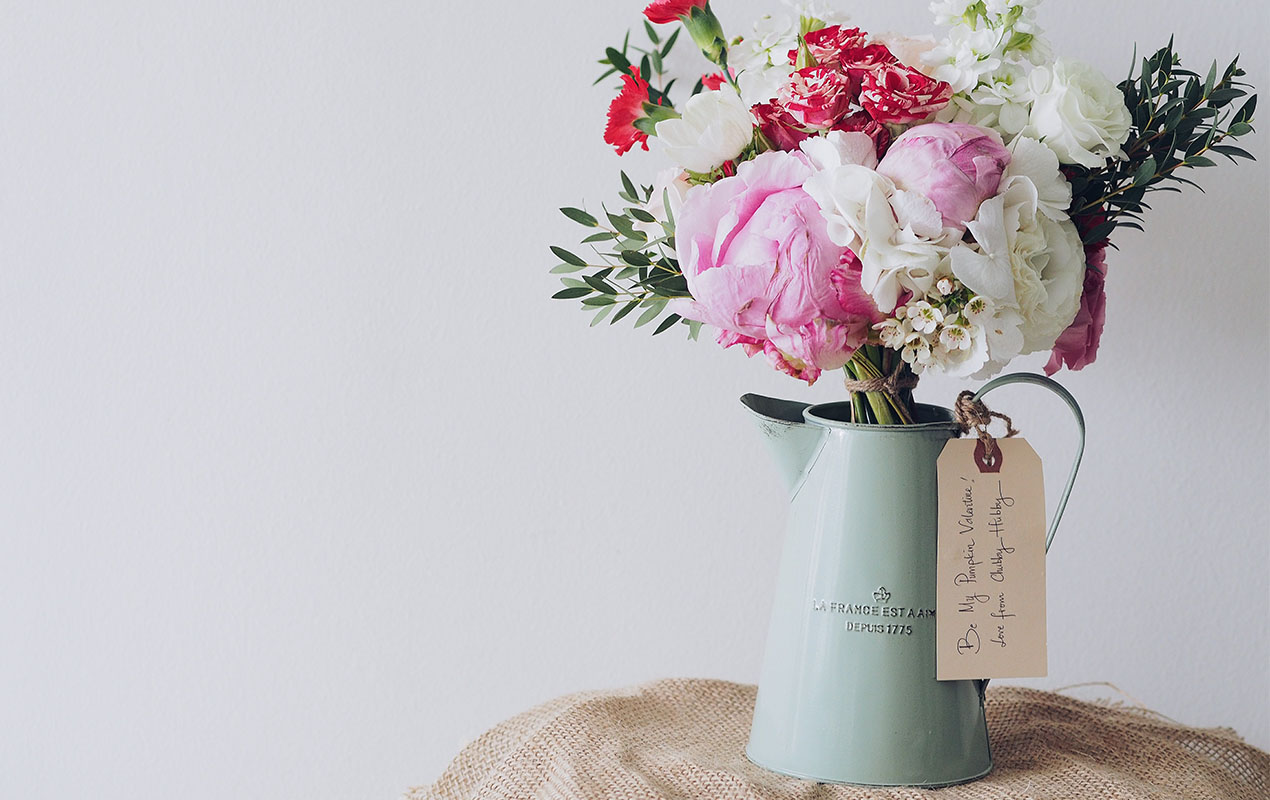 Spring Decor: Decorate Your Entryway
Your main door and entryway should not be neglected, so here are some ways to decorate your outdoors: a beautiful store-bought or homemade floral or grapevine wreath can quickly embellish your door. Adding multi-level stoop displays, sculptures of animals, evergreens, or pots filled with tulips will enhance your home's curb appeal. And lastly, a personalized doormat or one that reads "Welcome" is an elegant way to greet your guests right at your doorstep.
Enhance Your Home in the Best Way Possible
Ready to spruce up your home with beautiful spring decor? Bespoke and ever-evolving home decor, such as timeless lighting and decoration options, are vital components of a well-styled home, so you should take care to select the options that work best for you.