Everyone appreciates a good coffee table, but more often than not a side table is reduced to being the home for the remote control, the empty cup of coffee, and the tired old lamp that you should really replace by now. If you're looking to reinvigorate your living room, bedroom, or even bathroom, decorating a side table is a great place to start. 
We've put together this guide of seven great side table decor ideas and tips, so you can begin the process of decorating your bedside, sofa-side, or bathroom side tables with a new sense of purpose and logic. 
Keep a Visual Theme in Mind
Theme is the friend of interior design in any context, of course applying to side table decor. This step is also easier to put into action if you've already got a theme in mind for the room, or your home in general, however, this isn't essential. You can use a side table as an island of individualistic expression or alternatively use it as an extension of the wider decor choices around it. If you're going for something more sentimental and kitschy, it might be better to choose photos of memories and family heirlooms, while minimalist sculptures and serveware work well in a sleeker room aesthetic.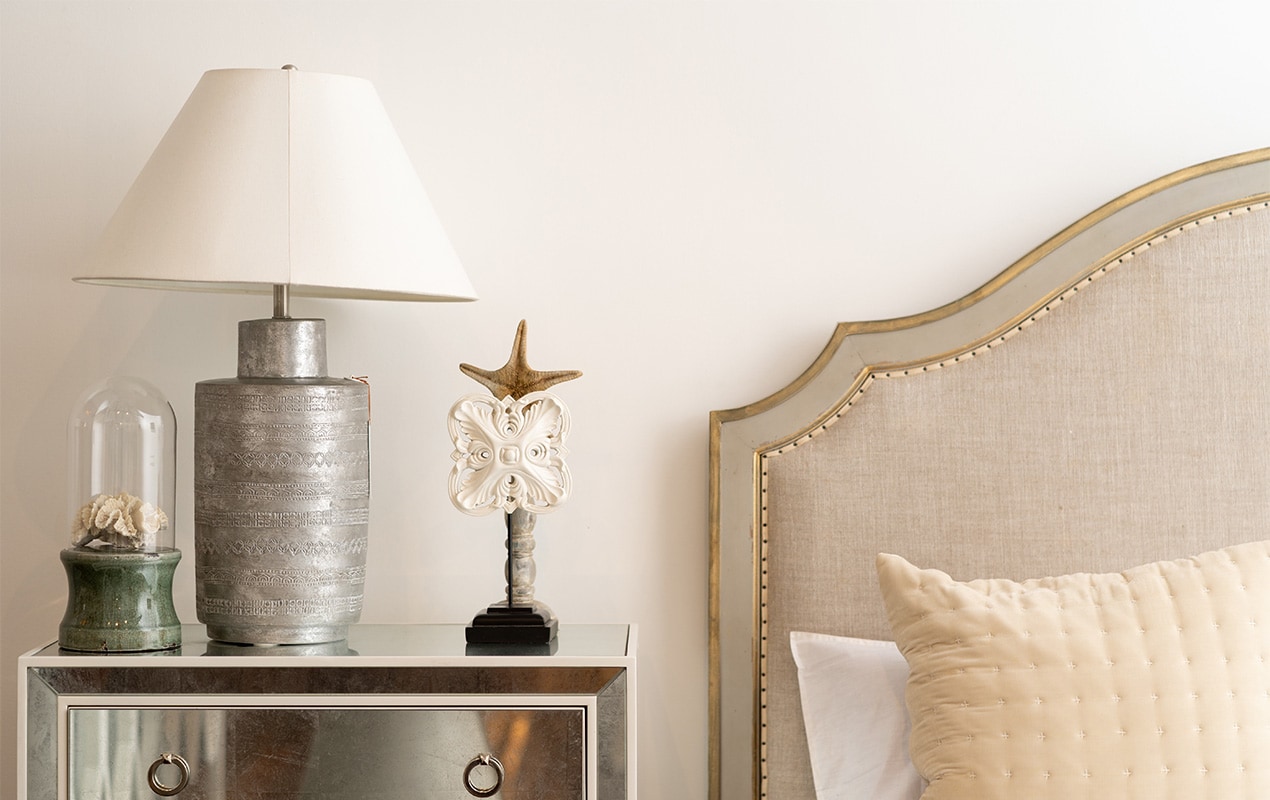 Quick Tip – Feel free to experiment: If your side table decorations aren't feeling right, don't fret! This is one of the easiest aspects of home decor to experiment with, so take your time. 
Focusing on Smells for Sensory Enticement
Your bedside table decor doesn't have to be purely focused on sight alone, with the table having the potential to be the home of a multisensory feast. A great way to get started with this is by putting an emphasis on scents, which can be a welcome addition to the living room, bathroom, and bedroom. 
If you have trouble sleeping, a lavender candle can be a smooth and stylish way to help get your eyes shut in the evening. Some sort of citrus diffuser never goes amiss in a bathroom, while a bowl of potpourri is a classic in a more traditional living room. These elements can have sleek, stylish designs whilst also vastly improving the sensory atmosphere.
Use Lighting & Lamps to Brighten It Up!
If your end table decor ideas don't include lamps, then consider this the switch being flicked in your head! Bedside and living room tables should always carry at least one stylish lamp, as this will improve both the aesthetics and the functionality of the table unit as a whole. While natural lighting is king, having the option to make enjoy your space in the evening without the harshness of a ceiling light will make the table and its room feel all the more versatile. A world of relaxed evening drinks, late-night reading, and cinematic atmospheres will be at your fingertips.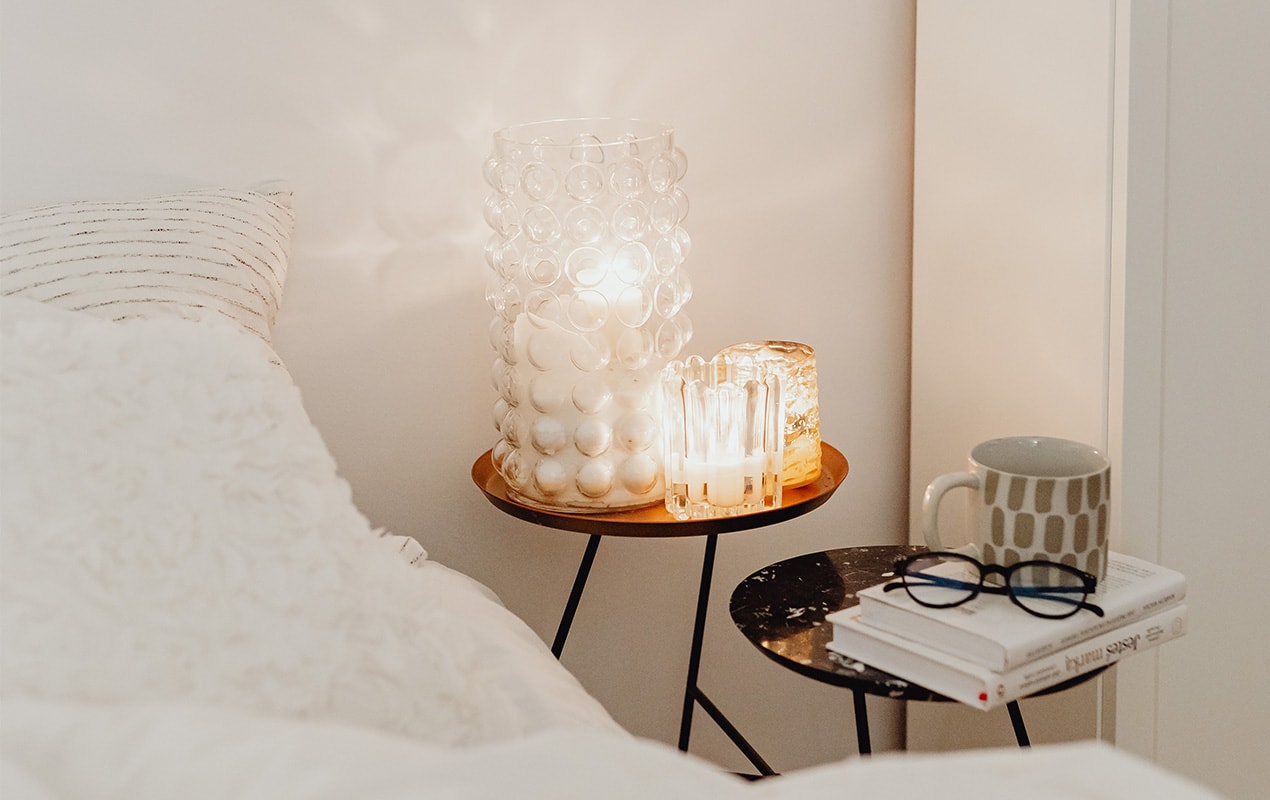 Quick Tip – Play with the location: A side table is only a side table in name. You can place these tables wherever feels right for you, even clustering a few of them together as a sort of coffee table. 
Use Books for a Homely Feeling
Whether you're an avid reader or not, books make for great decoration, and this is equally true when it comes to end table decorating. Having books on hand is always useful, whether sitting in an armchair, laying in bed, or even doing your business on the toilet, but with the right, tiered piece, they can act as side table decor, almost like a miniature bookshelf. 
Books make your home feel more lived in, but without feeling like a mess, contributing to a cozy, rustic atmosphere. Be smart with your selection, especially depending on the room they reside in. Light reading belongs firmly in the toilet, accessible, yet respected writing should go in the living room, and your bedside table can of course hold whatever suits your taste!
Use Plants to Bring New Life to Tables
We are strong advocates for making use of plants as decor in any situation that you can, and we see no reason why mother nature's bounty shouldn't make an appearance in our side table decor list. With a wealth of colors, shapes, smells, and textures to choose from, this is the perfect place for you to go wild with your creative instincts. If you're working with a smaller space and side table, then your best bet might be a collection of smaller succulents or cacti, which will pair nicely with the sandier tones of natural wood and stone, while a larger table could call for something more lush and extravagant like a Calthea.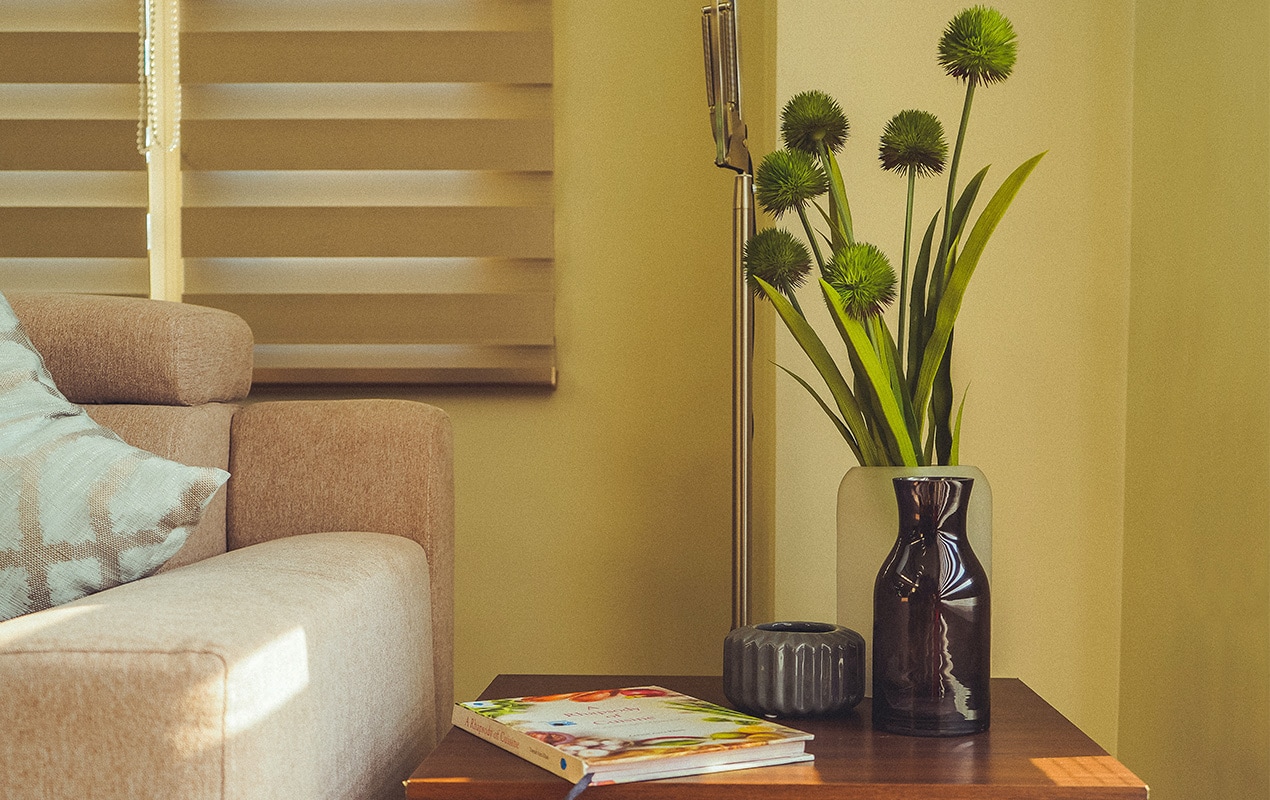 Go Global with Travel-Inspired Pieces
Whether you've traveled or not, going global is a great way to source inspiration for side table decorating ideas. In a semi-bohemian fashion, you could take pieces of sculpture art and decor from all over the globe, either from your own travels, reading, or research, or you could dedicate a side table to the art and trinkets of a country or city that you've truly connected with. 
Options for these sorts of things include Russian nesting dolls, African-inspired serveware, or things as quaint and simple as a nice New York City snowglobe. Don't limit yourself to personal experience and adorn that table with whatever pieces you connect with!
Bonus: "Decorating" with Bathroom Supplies
This one isn't the most exciting suggestion on the list, which is why despite being the best of our bathroom side table ideas, we've counted it as a bonus. Organizing some essential items, such as toilet rolls, wet wipes, sprays, and toothpaste onto a side table is a great way to maintain a clean, classy, and inviting atmosphere in a stunning white bathroom.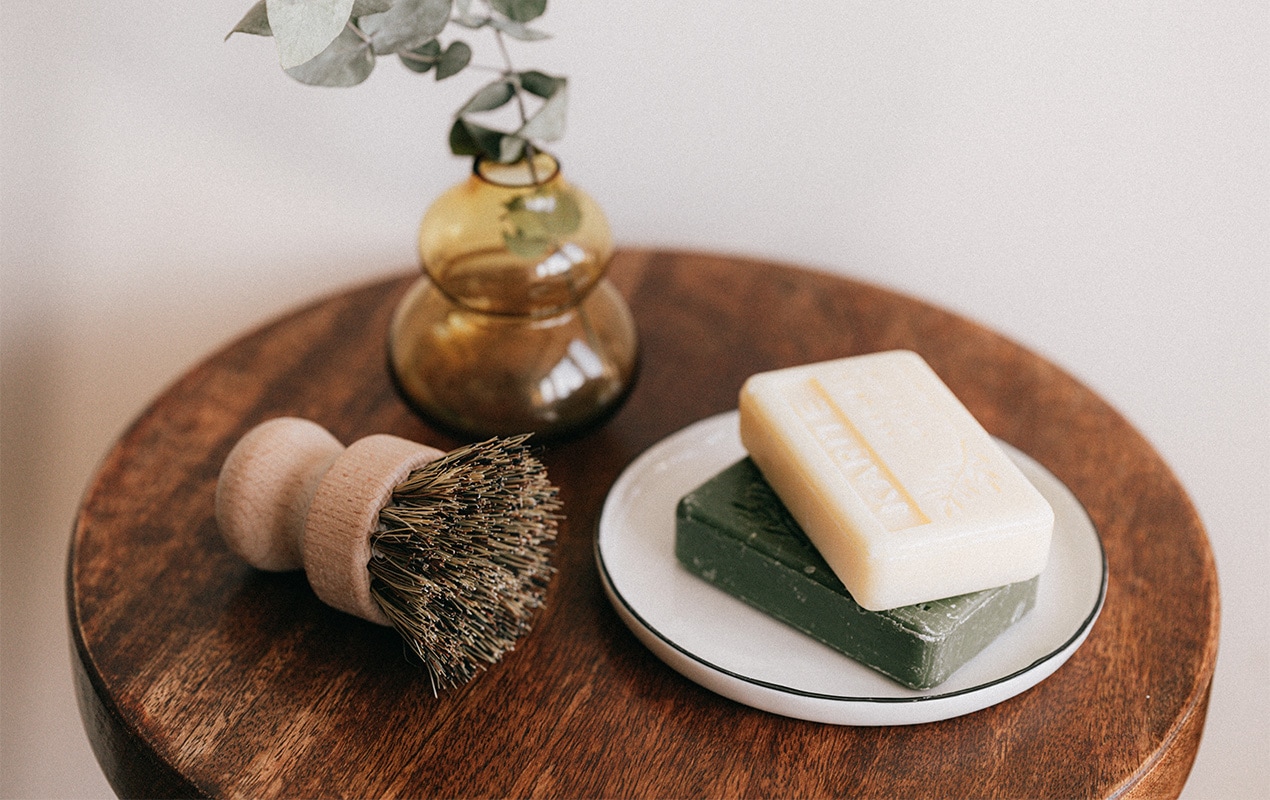 Quick Tip – Choose your table wisely: There are plenty of great things to put on your table, but remember to choose the table itself based on style, function, and your planned decorations. 
What Now
A side table might feel like something of an afterthought, but it doesn't have to. You can use these smaller tables at the ends of beds, sofas, and chairs to express a wealth of personality and flair, whether you lean more decoratively or more functionally. Hopefully, after reading this, you should now feel more comfortable than ever in approaching the decorating of end tables in various rooms of the house, so get browsing and find the pieces that you like!