Knowing how to decorate a living room with a fireplace isn't always easy, but it does offer the advantage of giving the space a clear focal point for you to work around. You might associate fireplaces with a certain brand of homeliness and old-fashioned decor, however, in the modern day there's a multitude of directions that you can go in with the fireplaces you choose and the decorations that complement them. We've put together this guide on how to decorate living room fireplaces, along with the decor and furniture arrangements that surround fireplaces in the living rooms themselves. 
Choose a Cozy Rustic Timber Mantle 
This is arguably a more traditional way to approach living rooms with fireplaces, but traditions exist for a good reason. If you're trying to curate a farmhouse feel in your home, then going for natural timber elements is always going to be a smart move, and there's nowhere better for it than the mantle!
Cover a mantle such as this with family photos, kitschy trinkets, or some sentimental memorabilia to cement the cozy feel. Fill the room with comfy seats, rocking chairs, and plenty of tartan blankets, and before you know it you'll be in the cabin living room of your dreams.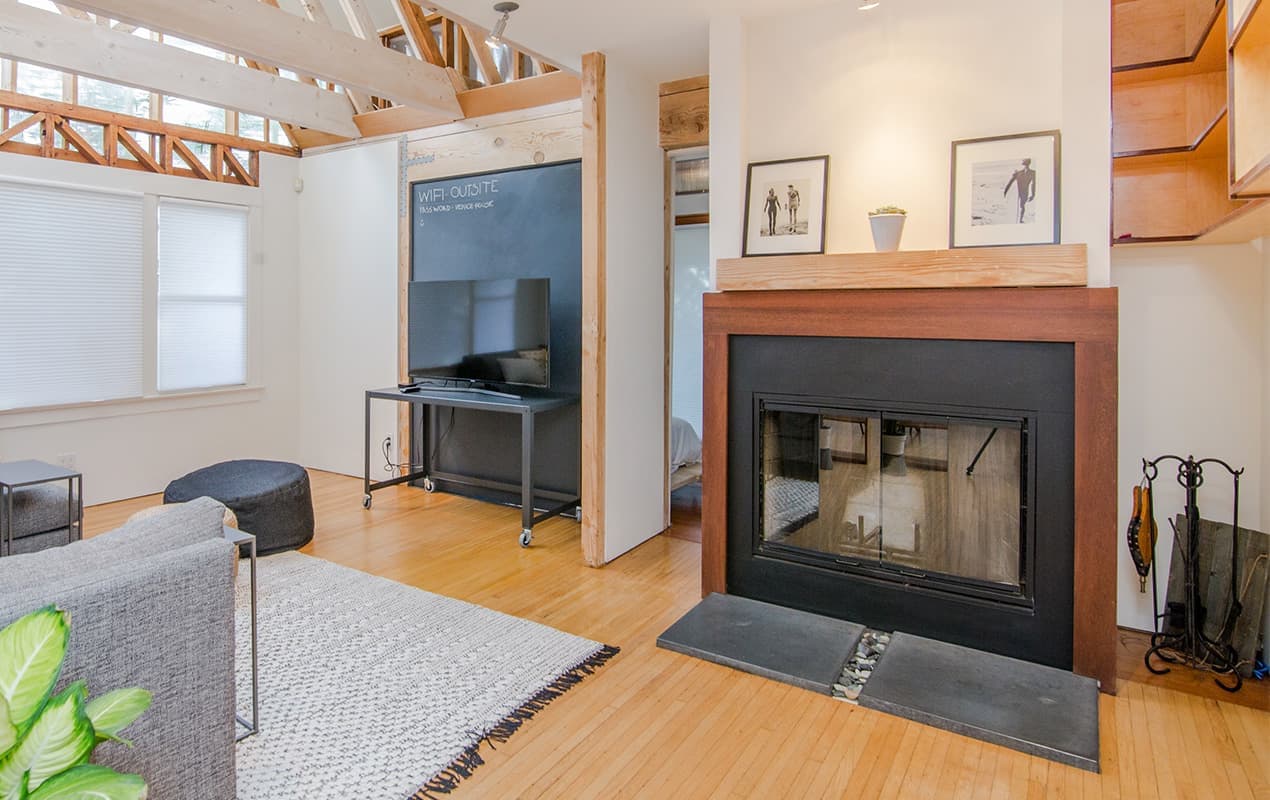 Utilize Bright Pops of Color
A fireplace can sometimes feel quite dour and formal, but it doesn't have to. Whether installing one in brand new or giving a pre-existing one a new lease on life, consider using pops of bright colors that you might not immediately associate with fireplaces. Retro bright colors such as yellow, pink, mint green, and blue are all great choices for a living room fireplace, helping it to look more modern and on-trend. Bold bright colors will naturally draw in the eyes, accentuating the fireplace as a focal point. Alternatively, you can choose a dark color to increase the sense of drama in the room as a whole.
Just make sure your color choices mesh with the rest of the room's decor!
TV Placement
One of the tougher questions asked when figuring out how to decorate a small living room with a fireplace is where should the TV go? The fireplace itself creates a clear focal point in the living room, around which most of the furniture will naturally find itself centered, but you can't exactly watch the fireplace during the dead of summer. 
For smaller living rooms, we'd suggest wall-mounting the TV directly above the fireplace, creating a double-decker focal point for the room to center around. In a room with more space, we'd say to place the TV in the corner of the room, creating zones of sorts, separate for conversation and entertainment alike.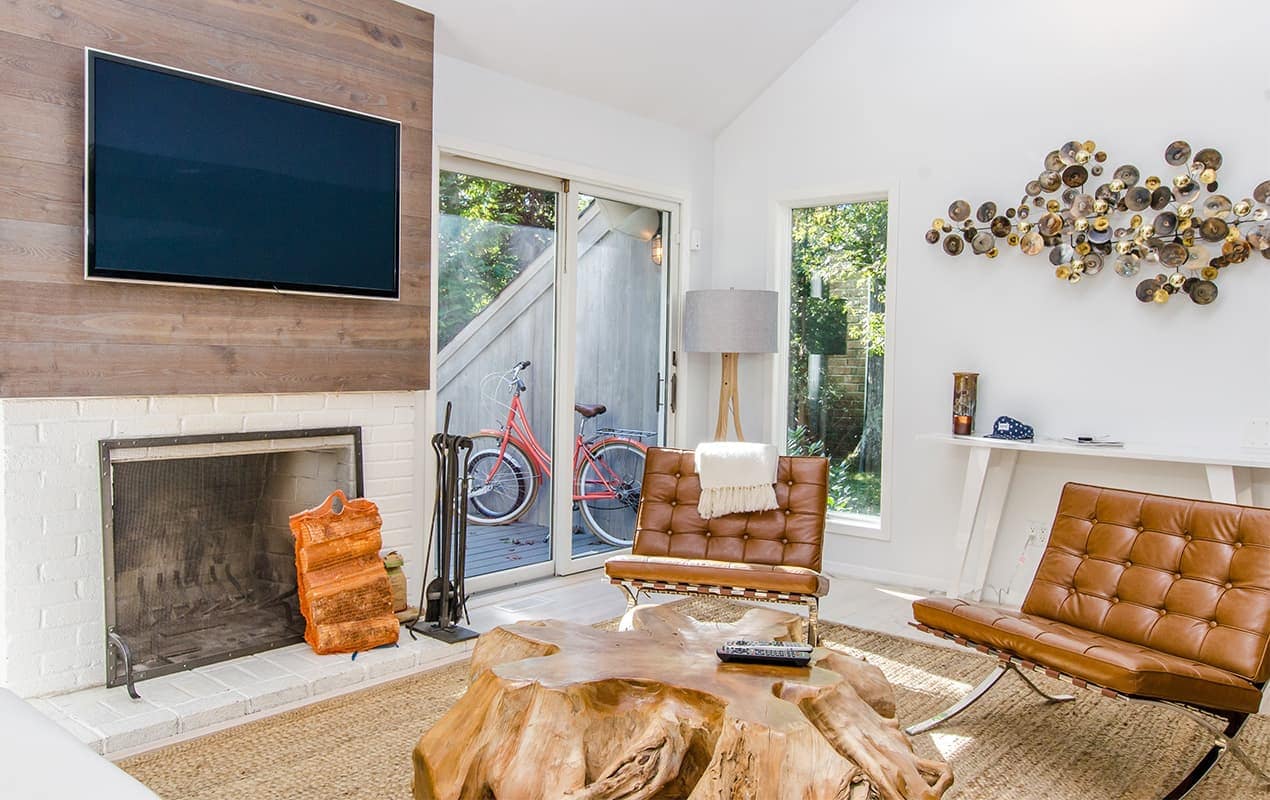 Quick Tip – Inactive fireplaces are OK: Many homes without active chimneys feature living room fireplaces. If this is the case, or you just don't fancy using it, feel free to treat it as purely decorative.
Place a Large Mirror Above It
Another of our great fireplace ideas for small living rooms and larger spaces alike is setting up a large, statement mirror above the mantle. Much like positioning a TV above the fireplace, a large mirror will act as a secondary element to which eyes will naturally be drawn. Extra points if you can source a mirror with a frame reminiscent of the fireplace itself. 
Along with with the stylistic benefits, mirrors are always a good choice for smaller living rooms, as they can help create a sense of space, which can have great effects on mental health. Mix the cozy warmth of a fireplace with something that increases scale and scope.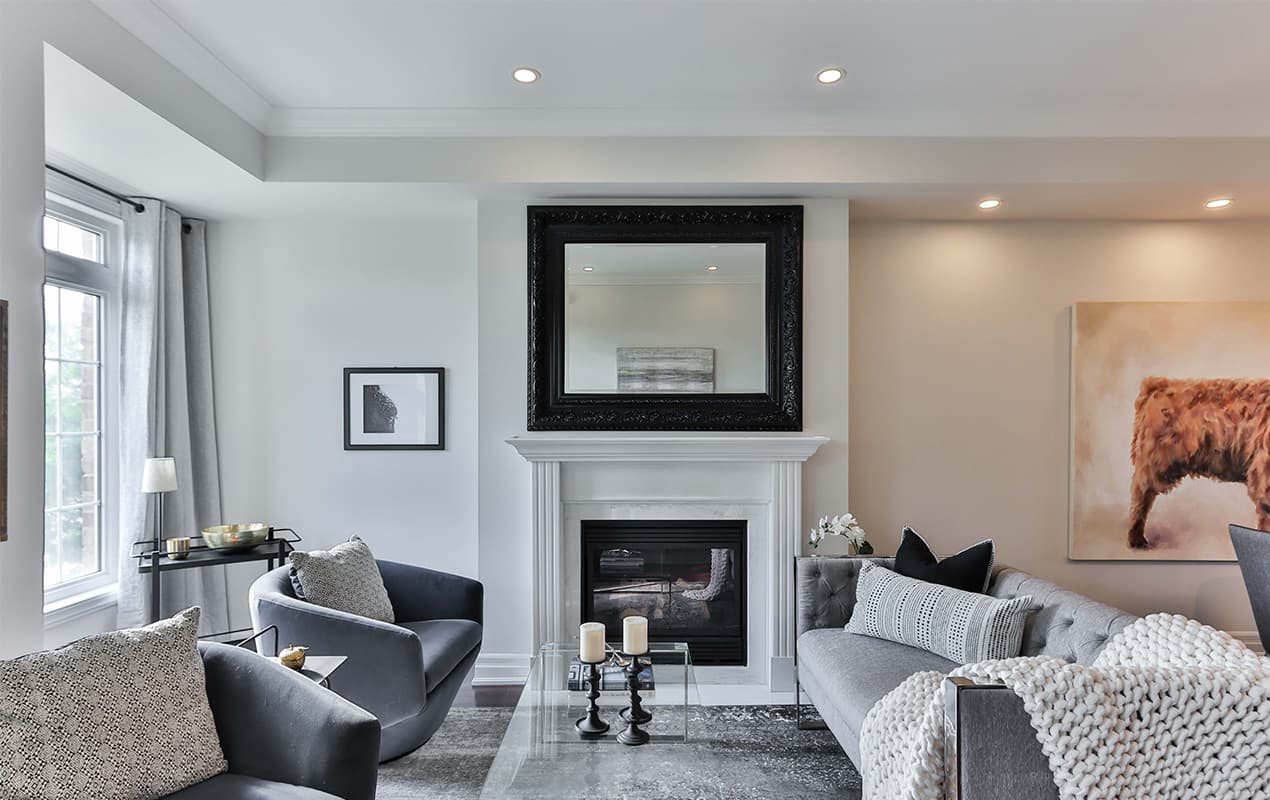 Quick Tip – Position your furniture smartly: Of course, you want to accentuate the fireplace, but things like foot traffic, comfort, and overall function still need to come into play with your arrangements. 
Position Art Around It
When decorating a living room with a fireplace, you can either let the fireplace dominate the space or meld it into a wider decor scheme. If you're leaning towards the latter, then populating your walls with art, be it photographic, portraits, landscapes, or abstract should definitely be a part of your plan.
Art is a guaranteed way to showcase your personality in your home, and if you can find pieces that you connect with that also fit nicely with your fireplace and the room's decor as a whole, then you're definitely doing something right. Position the pieces above, around, and to the side of the fireplace to create a statement wall for yourself, your family, and your friends to marvel at.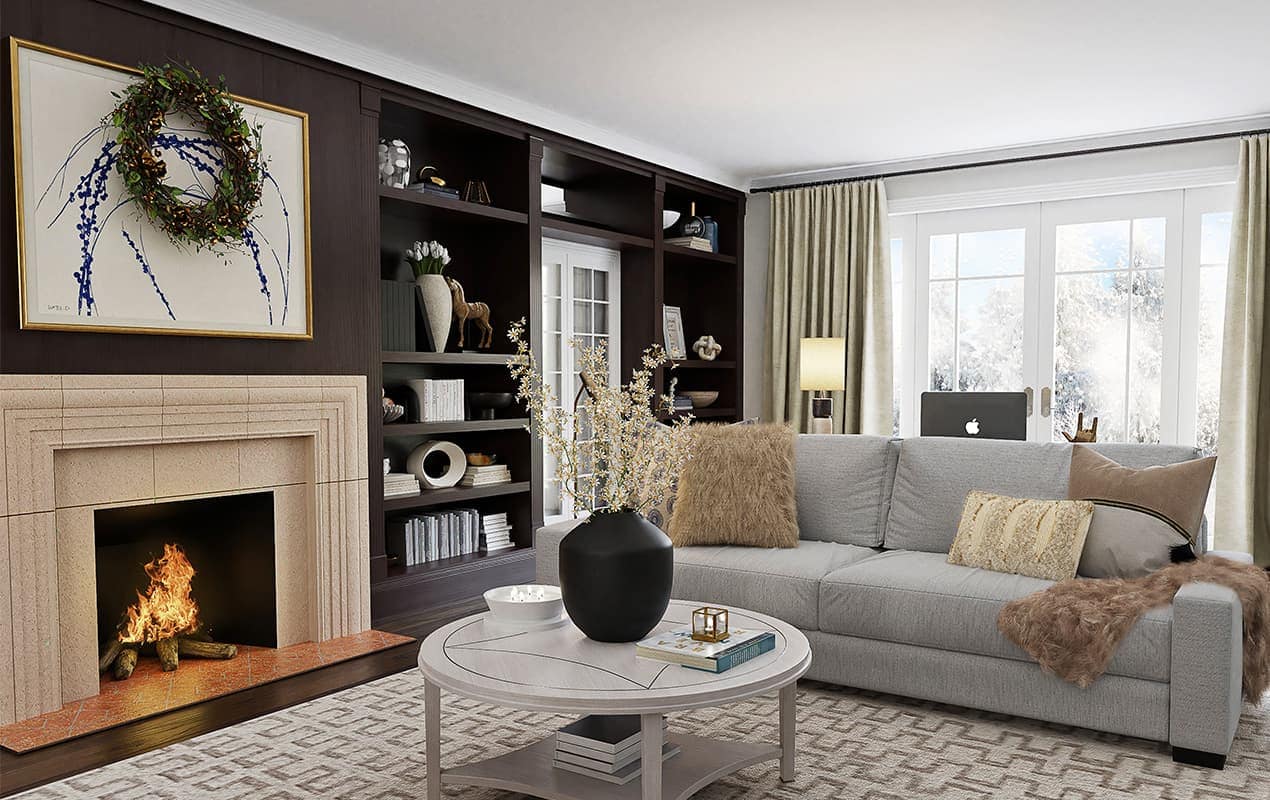 Integrated into the Wall
If you're trying to push away from a former decor style and have plenty to invest in major redesigns, then going for a more space-age, integrated fireplace might be the perfect choice for you. While most fireplaces are essentially sunken into the wall to some degree, many newer ones are seamlessly installed, often with glass viewing windows and discrete doors. 

A living room modern fireplace option, this is the kind of thing you should look into if trying to truly revamp the decor of your home with structural remodels and slightly more drastic work. However, if you don't have this luxury, you can also create similar effects by removing the borders of the fireplace and surrounding it with a new coat of paint, or simply painting said borders to match the color profile of the room.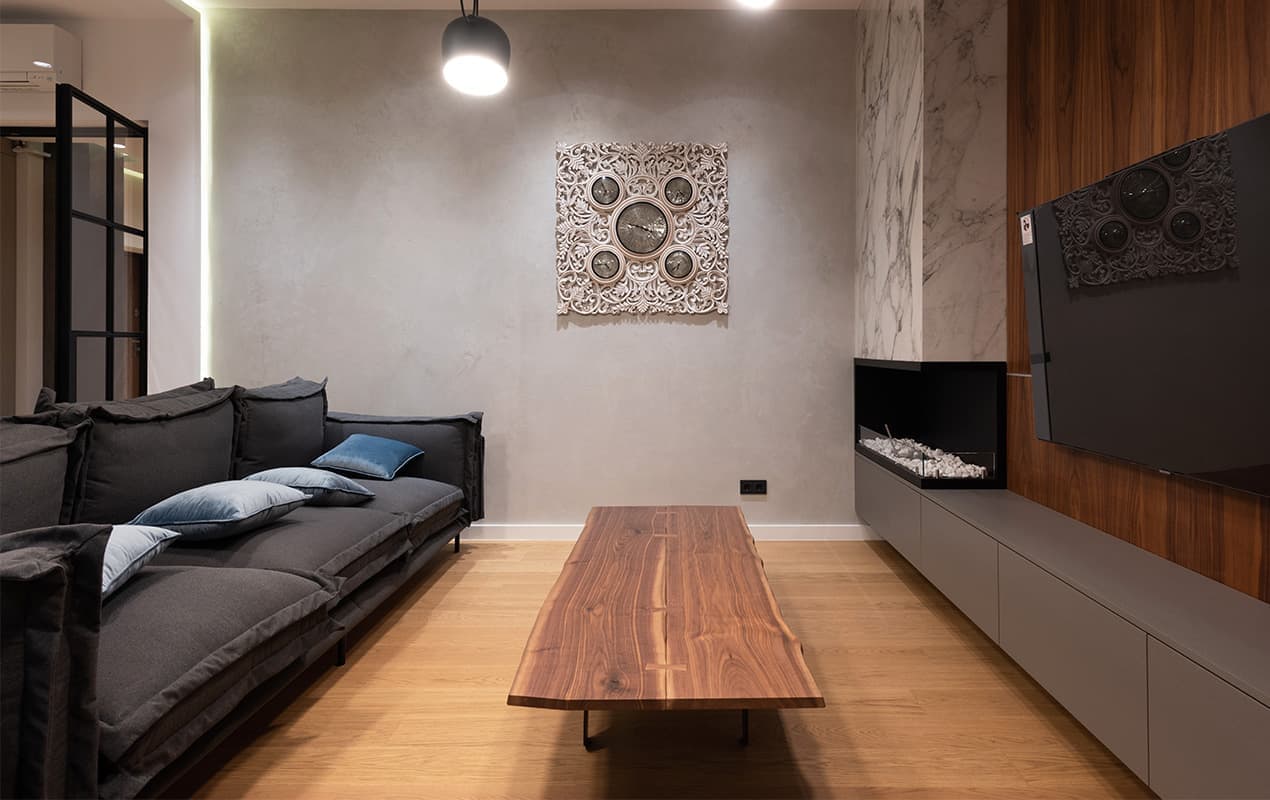 Quick Tip – Keep wood or coal nearby: If you plan on using the fireplace, make sure to keep the fuel nearby. Well-arranged wood and coal also make for good fireplace living room decor.
What Now
Now you should be more than ready to settle in for a nice evening curling up next to the warm glow of the fire, confident that your choices were as stylish and suitable as possible. A night by the fire can be the baseline for a number of great memories, whether family-focused or ravishingly romantic. Do the luxury of a fireplace justice and ensure that it and the space around it look as stunning as possible. Use these living room fireplace ideas to level up your lounge!
Based in the UK? If you live in the industrial Midlands, you may know that professionally maintaining chimneys in Coventry is a necessity in the region. We're aware of the damaging effect that soot and smoke can have on personal health and room decor if your chimneys are not swept professionally. Consider professional services to preserve your health and prevent corrosion in your home.