Using plants as decor is a great way to infuse freshness and energy into your home, with biophilic elements proven to positively affect your mental and physical well-being. However, decorating with houseplants in a way that truly suits your home layout and other interior design choices can be a bit of a challenge, especially if you're new to it!
We've put together this guide of 8 easy tips so you can decorate with plants confidently, enjoying all the oxygen, color, and new life that houseplants bring with them. We've also included some examples of plants you can work with, along with tips, so you can better understand what to look for at the garden center.
Read more: How To Incorporate Biophilic Design Into Your Home
Consider Your Containers
Decoration plants are stunning for their natural features, such as the colors, shapes, and patterns that different leaves and flowers take on. However, you should still pay some attention to the containers they live in, as they'll play an essential part in the visual profile of your plants' spaces. Are you trying to create a more bohemian sense in your home or going for something more minimalistic? Most plants can fit into any interior design style, but the container needs to align more coherently with the rest of the decor. 
Also read: Great Bohemian Interior Design Tips for this Year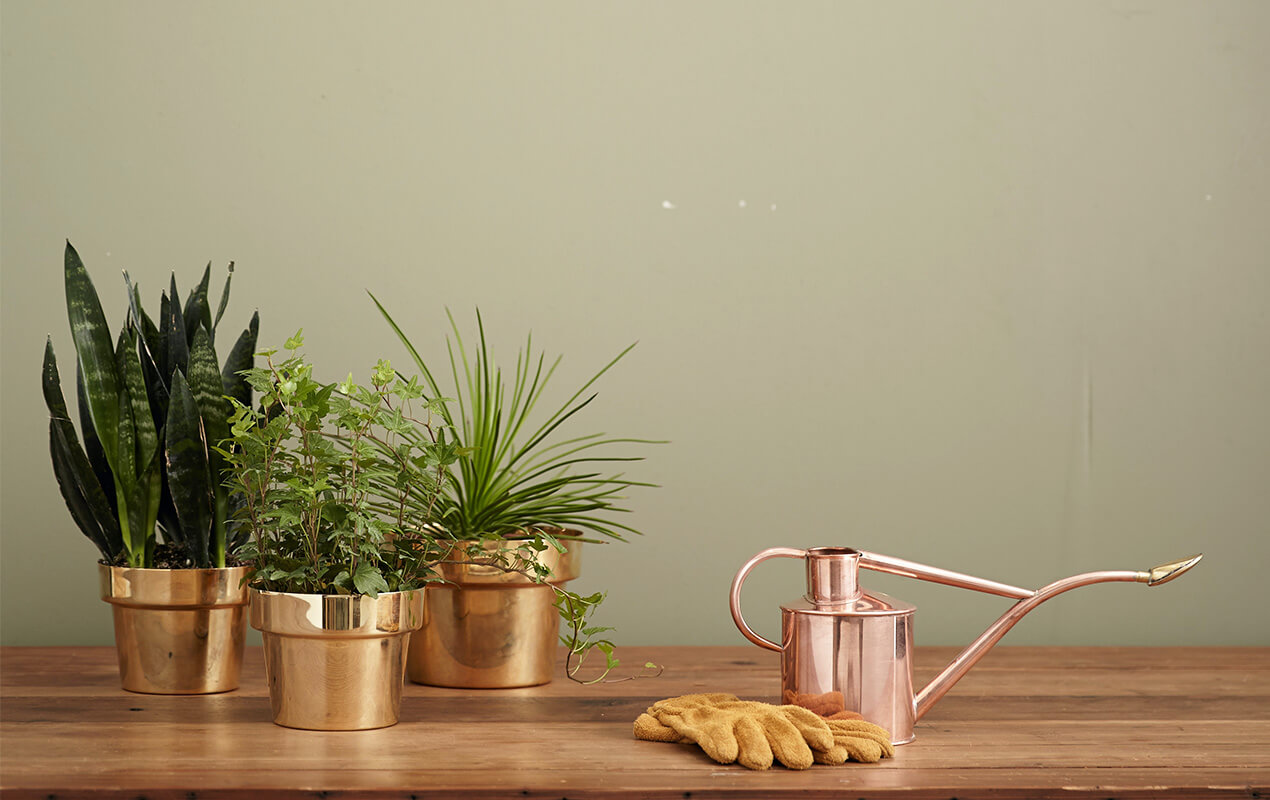 Decorating With Houseplants: Start Small, but Go Big!
This is a two-part tip, as it contains contradictory points, but each point only works if used in conjunction with one another. What we mean by this is that you shouldn't start by buying out the stock of your nearest garden center or houseplant store, but rather take time to pick the first few plants to set the tone for your newly invigorated rooms with plants.
Then comes the going big! Once you've started to fill your house with some more plant life, you should follow the principle that more is more, granted with a sense of care and consideration. Give your plants plenty of company to create the lushest spaces possible.
Fill Your Shelves
Shelving units can hold a massive variety of items, from kitchenware and cookbooks to sports almanacs and old trinkets picked up on adventures long since passed. They are also an excellent venue for plants! It's good to fill shelves with smaller, less needy plants such as miniature succulents and cacti. These plants require less care and attention, making them more suitable for areas slightly crowded with other items.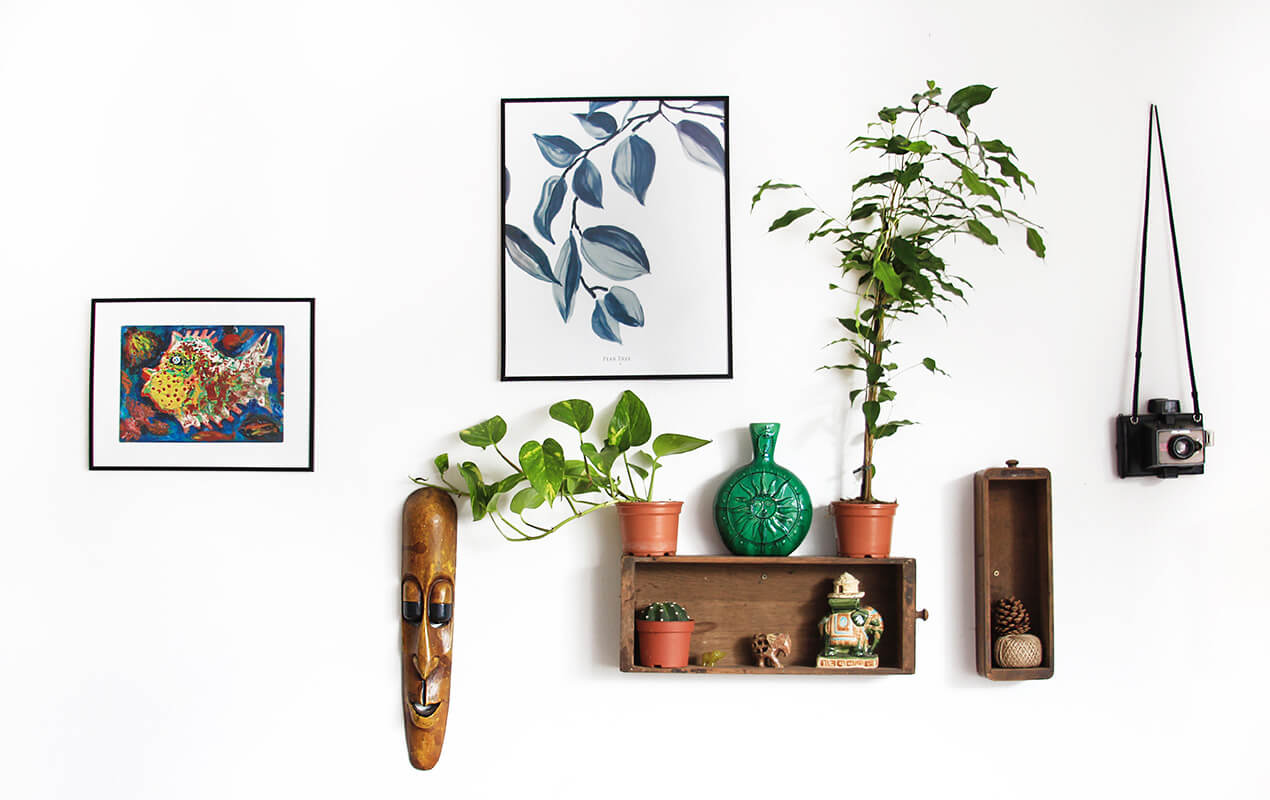 Decorating With Houseplants: Don't Neglect any Rooms
This is a simple but valuable piece of advice that truly speaks to the versatile nature of houseplants. You might feel that plants belong in the living room or bedroom exclusively, but you should experiment with them in every room of the house! Kitchens and bathrooms can feel a little too showroom-esque when perfectly maintained, even having a slightly clinical or anti-septic feeling. Injecting a little bit of new life into them with houseplants is a great way to humanize your spaces. We're not saying to turn your shower room into a greenhouse, but a little bit of greenery never goes amiss!
Oversized Floor Plants
Perfect for the corners of living rooms, bedrooms, and basically any room in the house, oversized floor plants are a great alternative to floor lamps. When decorating with houseplants, it can be tempting to choose smaller, windowsill-friendly options (more on that next), but a larger plant in an admirable clay or china pot is a great way to make a statement. Some great options in this field include Money Trees, Parlor Palms, Fiddle Leaf Fig plants, Rubber Plants, and Chinese Evergreens, among many more.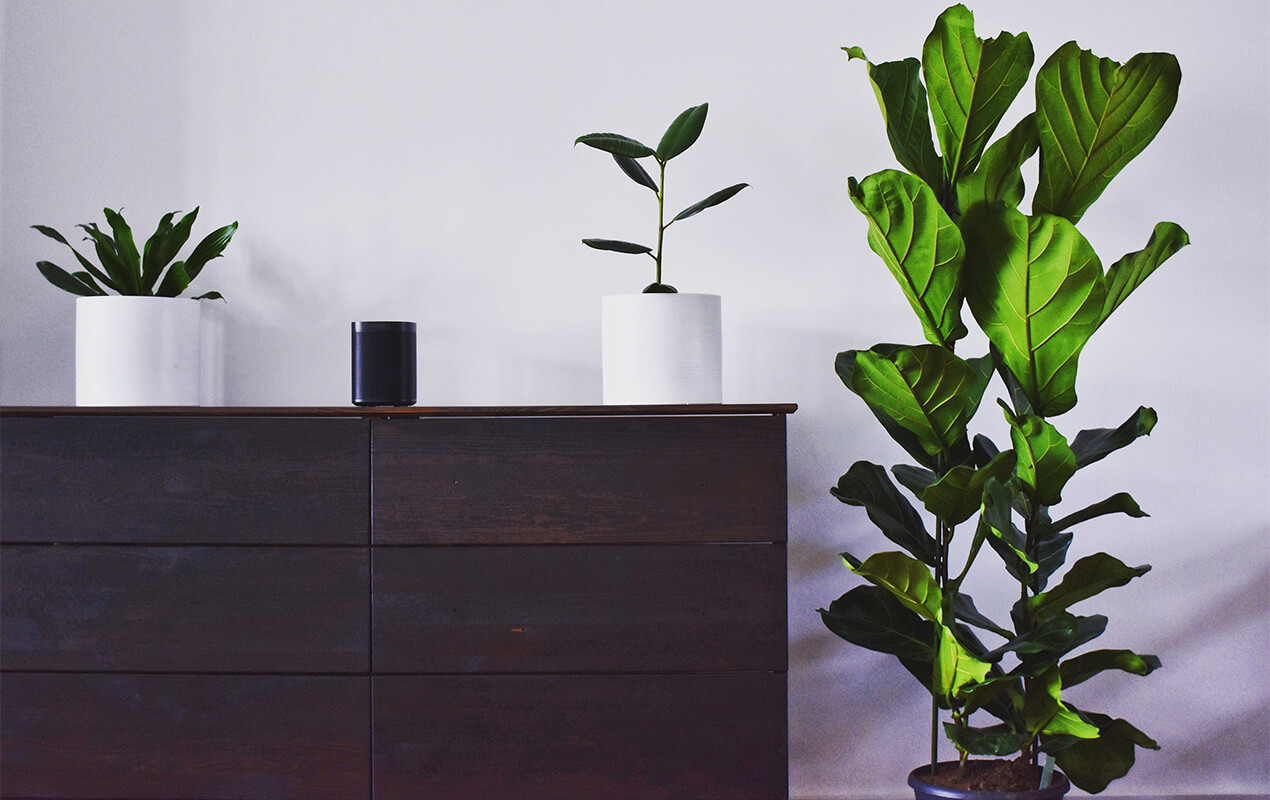 Quick Tip – Don't Forget to Care for Them: Now you know how to decorate with plants, make sure you can care for the plants themselves, otherwise, your keen eye will have been for nothing.
Decorating With Houseplants: Look Beyond Green
When figuring out how to decorate with plants, it can be easy to stay in the realm of green, leafy options, but there are plenty of vibrantly colored, flowering plants that look great indoors. With a broader variety of colors, you'll add complexity to the visual profile of the space while also increasing your potential to feel mental benefits from the decor. Some houseplants that feature colors other than green include Anthurium, Arrowhead Vine, and Christmas Cactus plants.
Windowsill Filling
While shelves are an excellent home for less needy plants and corners make perfect homes for larger floor plants, there's a lot to be said for lining a windowsill with smaller plants to give them consistent access to natural light. Windowsills can be a little drab and boring to look at, so enhancing your window-side decor with plants is a fantastic way to give them a new lease on life. Echeveria, Calathea, Venus Flytrap, African Violets, and edible herb plants are all great choices for growing on a window sill.
Related article: Smart Ways to Utilize Natural Lighting in Your Home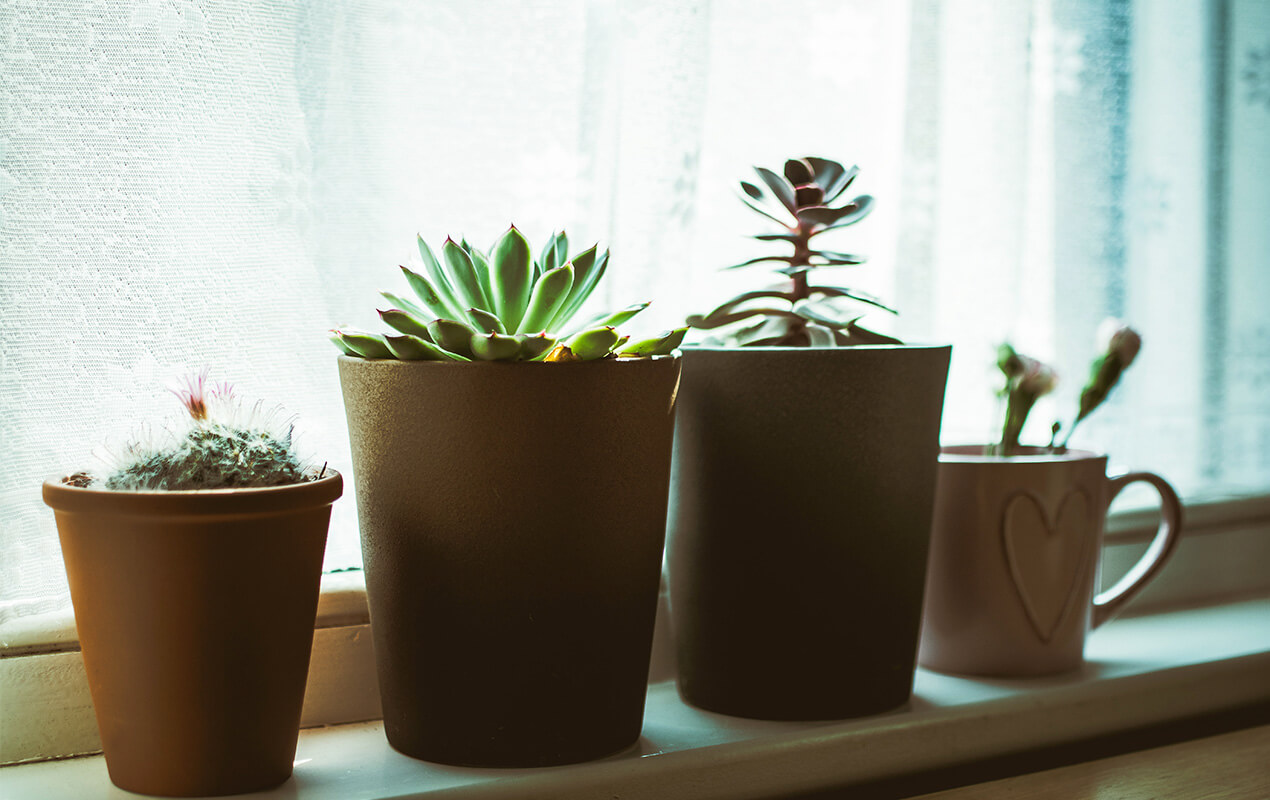 Quick Tip – More is More: Without overcrowding your spaces, pack as much plant life as you can or want into your home. You'll be struck by the positive impact it has on your mental health!
Decorating With Houseplants: Hang Some Up!
No surface? No problem! A wall decorated with plants in hanging baskets, or even plants that hang from the ceiling, like fans or chandeliers, are a great way to add texture and excitement to a space. This also lends itself to a wider tip of experimenting with the levels in which you position your plants, with the occupation of different spaces in your eyeline increasing the immersive nature of your choices. Spider Plants are great for these kinds of setups, as are English Ivy plants, but anything with draping vines or leaves is perfect.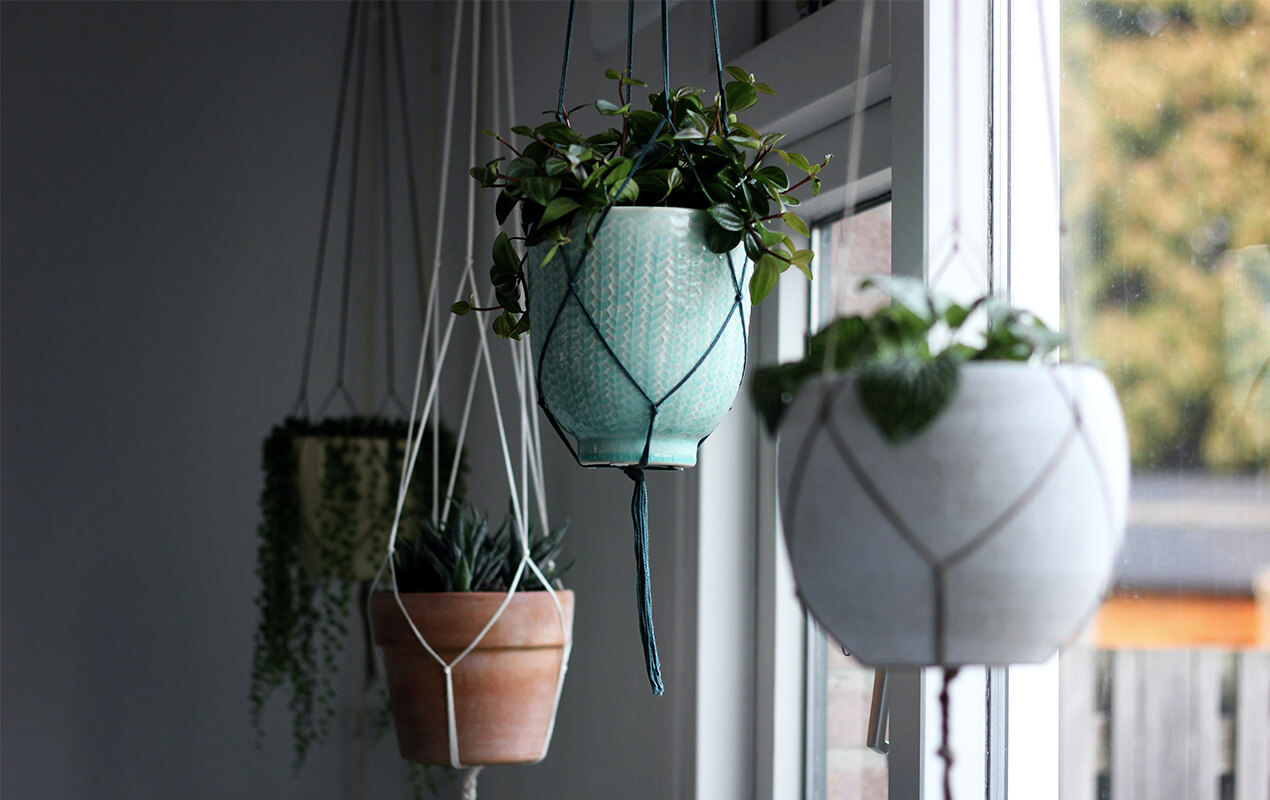 Quick Tip – Experiment: Don't be afraid to switch up styles of plants, pots, containers, elevations, densities, and combinations. Variety is the spice of life, and that applies when using plants as decor.
What Now
With these top tips and the fundamental principles we've laid out, making your home a greener, fresher, and happier place by decorating with houseplants should be a breeze! The beautiful thing about plant life is that it genuinely does mesh with any interior design style, meaning you can improve the visual profile of any room in your house without agonizing about your choices. More is more, don't hold back on creating a more lush environment for yourself and your family. Just make sure to choose your containers wisely!