Everything You Need to Know About Futuristic Interior Design
Trends come and go, but you don't have to worry about your futuristic interior decor going out of style. Put your home a cut above the rest by predicting future patterns and trends with innovative accessories and mind-blowing designs. The future is now, so take your decorations to the next century for a style that won't fade.
Above all, futuristic interior design marries modernism and minimalism, presented in a clean-cut way with a splash of space decor. Not sure if futuristic home decor is for you? Keep reading for a brief history, an outline of its features, and six futuristic accessories you need in your home
What is Futuristic Home Decor?
Futuristic interior design is characterized by originality and flair. Structures that represent motion are popular, as well as content with an underlying theme of dynamism, rhythm, and color. The stark contrast of transparency and vibrant colors send the decor into the future. Attention to detail is key with futuristic decor, and a messy corner or overloaded desk could bring a distracting element of clutter to your home features.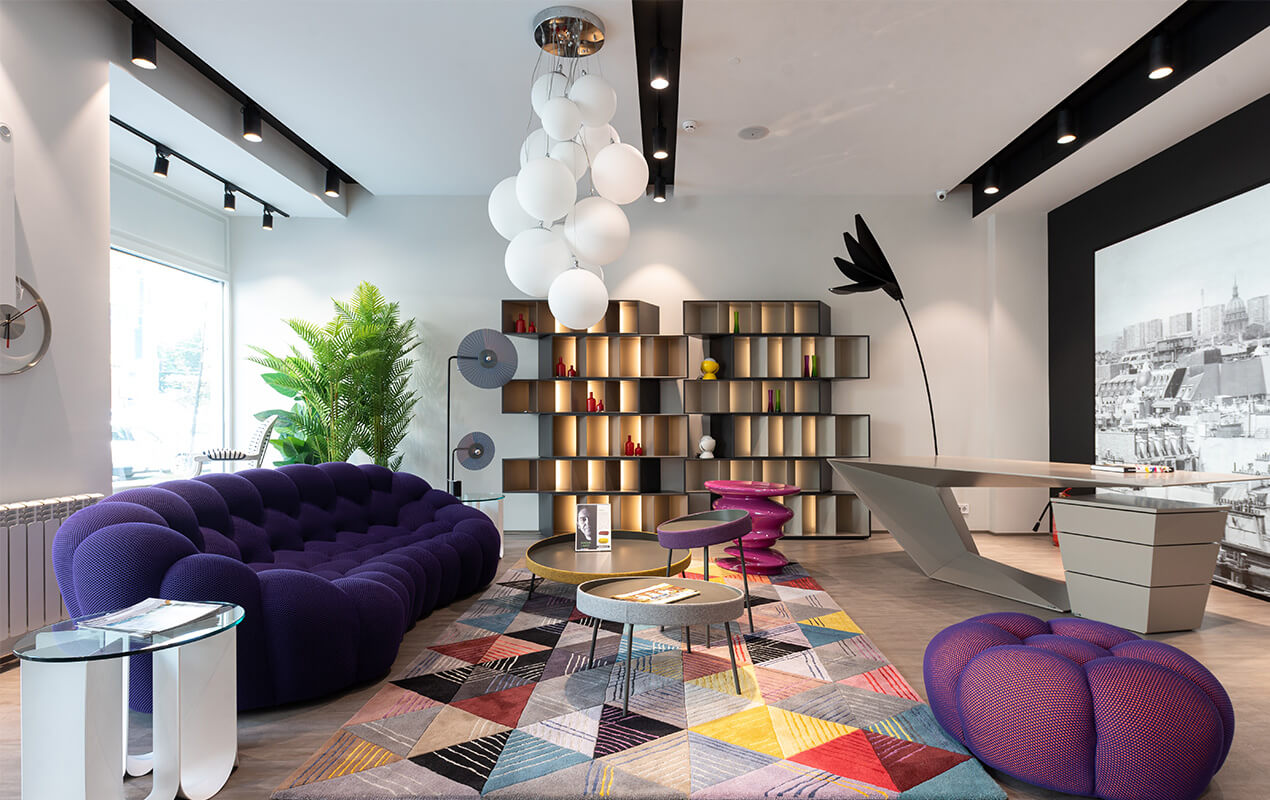 Quick Tip – Have some fun while creating your futuristic home decor with some of these cool home features. If you have multiple rooms to play with, why not plan an extreme futuristic room and a more laid-back space?
When Did Futuristic Home Decor Begin?
As futuristic decor features countless nods to space and technology, the starting point was the intrigue and excitement spurred by the landing of man on the moon (1969). This momentous occasion was incredibly significant for our society and launched humanity into a new era where anything felt possible.
Features of Futuristic Decor
Ready to embrace the space decorations, minimalist designs, are sharp lines of futuristic room decor? Include these features to transform your bedroom with space decor, innovative designs, and more.
Minimalist Color Scheme
Stick with two or three shades to create a futuristic coherence that is sharp and contained. Think spaceship decor when choosing your shades, and steer clear of anything too bright or cutesy. Less is more with futuristic decor, so give playing with reflections and textures a go in place of busy patterns and bold tones.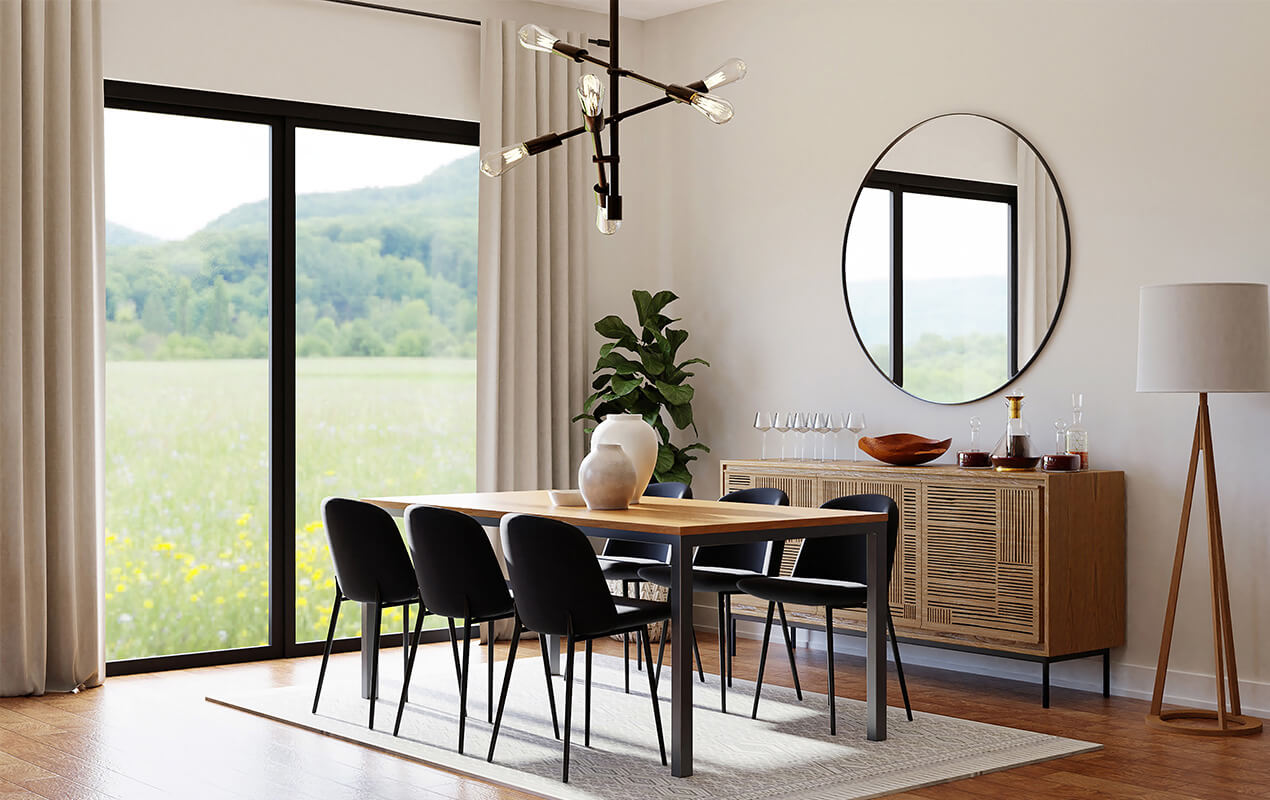 Quick Tip – Create the ideal environment with backlights to highlight your furniture pieces. Stick-on LED light strips are a great place to start, and there are funky options with color-changing party modes.
White, Bright, and Light 
Open spaces that let in maximum natural light will produce optimal lighting for futuristic interior design. To achieve the desired modern effect with ambiance, embrace white LED lights in your home. Sprawling windows that span the length of the walls will help your home have ideal lighting while creating a futuristic vibe.
Mosaic or Tile Designs
Opt for mosaics and tiles instead of wallpaper and paint to achieve the desired clean look for your futuristic wall decor. The light will reflect off your glinting symmetrical designs without bringing any mess or chaos to the room. Choose patterns set along straight lines, embracing geometrical patterns in a color that complements your lighting.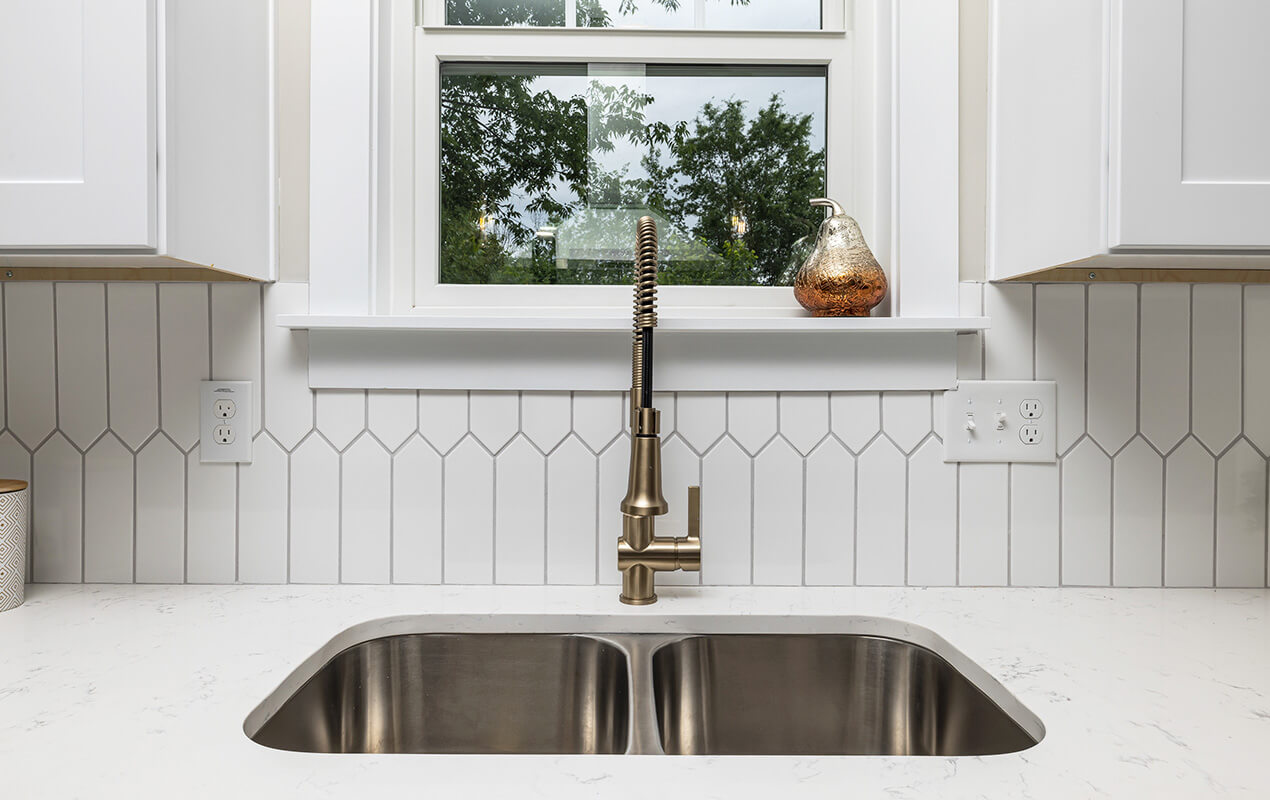 Awe-Inspiring Innovation
One of the core elements of futuristic decor is smooth, innovative features that are comfortable and functional. Make your life easier while impressing your guests with some of these accessories for futuristic decor.
1. The Hidden Tap
Install this secret faucet in your bathroom and let the water come to you. Your friends and family will be in awe of this convenient feature that makes washing hands a breeze. Check out this list for more futuristic faucet ideas.
2. Nesting Egg Chairs
Say no to clutter and yes to efficiency with a set of nesting egg chairs that take up almost no space at all. This handy design will ensure you are ready for guests without sacrificing your crisp and clean home environment.
3. A Modern Telescope
Are you serious about your space decorations? Investing in a quality telescope to view the planets and stars whenever you need is a must. This cool piece of home decor will spark a genuine interest in the universe, helping you get serious about your astronomy hobby.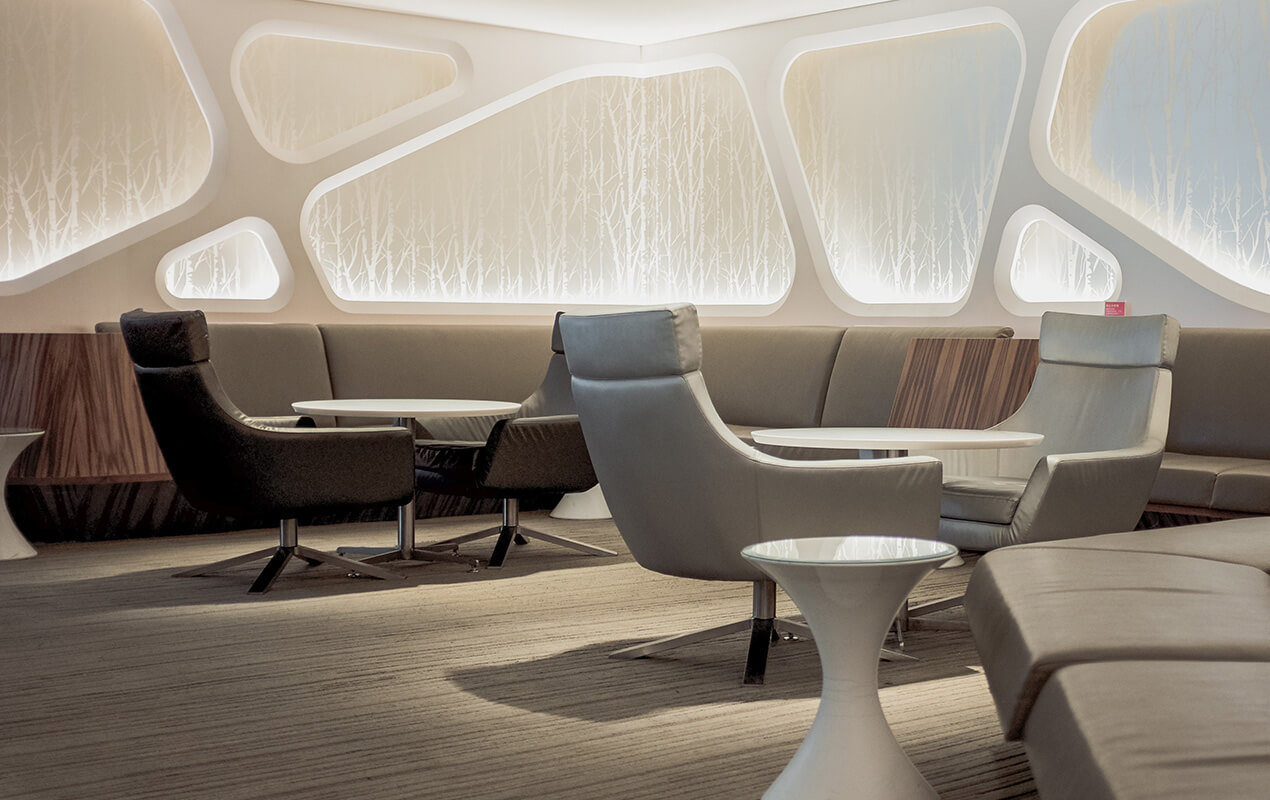 Quick Tip – Keep your home feeling like your space by incorporating personalized features like a bookshelf with your favorites and some plants to energize the room. If not, your design may appear clinical.
4. Wall-Mounted Toilet
An impressive toilet is a crucial component of a bathroom in a futuristic-style home. A wall-mounted toilet or sink with a simple shower will highlight your aesthetic ambitions. Don't forget to pick curved furniture forms as well.
5. Galaxy Room Decor
Bring space into your bedroom with a galaxy projector. Send yourself to sleep or relax in peace and quiet while feeling like the stars are surrounding you. Imagine everything the future has in store while resting with your space room decor.
6. Wall Art Prints
When it comes to futuristic art, there are several styles to choose from. Abstract sci-fi, surreal worlds, and geometric designs are popular pieces that think outside the box, but cityscape scenes that look into the future are a favorite too. Find your futuristic art here.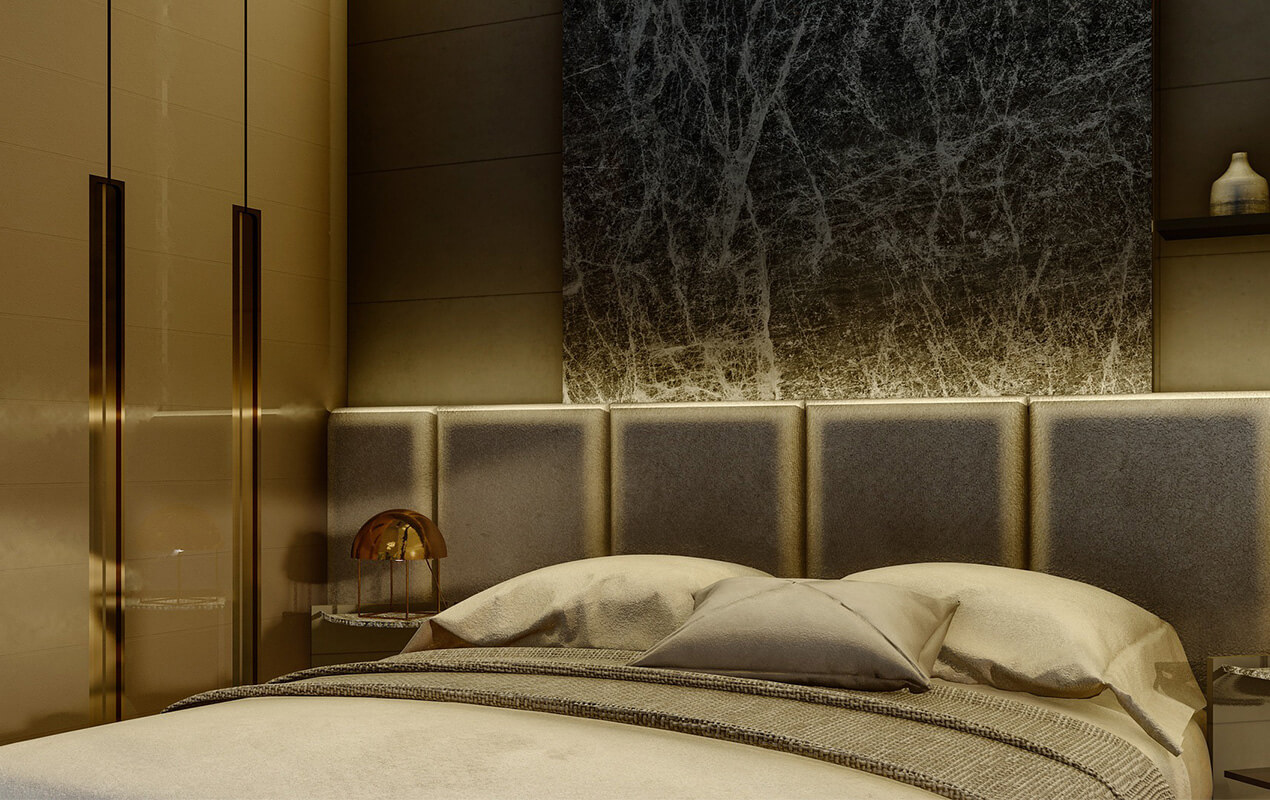 7. Remote-controlled Blinds
Impress your guests by raising, tilting, and closing your window blinds from your smartphone or remote control. Learn more about Smart Home features by visiting Avisio (https://avisiouk.com/)
What is Retro Futuristic Decor?
The side of futuristic decor more associated with art is retro. Retro futuristic decor has room for a little more fun and expression. It blends humor and whimsical decor, looking to the future through the lens of the past. Modern-day meets futuristic technology and iconic symbols from the past with retro-futuristic designs, often featuring quirky prints and thought-provoking art pieces.
How to Get Started
Switching to futuristic decor can seem daunting, but you don't need to plan before you start experimenting. By practicing more thoughtful decorating processes, you can begin to explore futuristic decor, peppering a few pieces throughout your home. Still not sure if it's for you? Try taking a softer approach toward futuristic decor and borrow from minimalism and modern interiors.