How to Elevate Your Interior Design With Modern Chic Interior Design
Decorating your home is an exciting opportunity to let your creativity shine. Choosing a style and sticking to it will ensure the energy in your home feels coherent and connected. Less is often more when it comes to interior decor, but modern chic is a favorite that allows a little room for imagination. Don't be shy – splash your personality across the room with a touch of modern chic decor.
When you think 'modern chic' think bright and bold, light and spacious. It leaves room for artistic appreciation while lending a nod to the power of sharp contrasts. A chic and modern home design features well-placed accessories that lean towards asymmetry, building a disordered kind of balance. Uniform, organized decor is nothing more than boring when viewed through a modern chic lens.
The History of Modern Chic 
Modernism as we know it today was born in the 1940s, as the previously stripped-back approach of the 30s opened itself up to geometric patterns and industrial materials like glass, metal, brick, and plywood. To make it modern and chic, interior decorators began incorporating classy accessories and abstract art pieces into the spacious minimalism.

Today, modern chic continues this theme with pops of color or blasts of art featured against an unassuming background. 'Greige' is the core color scheme of chic modern decor, allowing the bold pieces in your home to take center stage. Investing in a few quality pieces will help you embrace the essence of chic modern. Quality over quantity are words to live by.
Quick Tip – Choose minimalist colors for your walls (white, black, cream, brown, gray, beige, greige) to let your accessories and art pieces do the talking.
Ambiance, Lamps, and Lighting
It is no exaggeration to say that lighting is everything. An aggressively white light will make your home feel more like a hospital than a haven, while a dimly lit den could feel a touch too intimate for outsiders. A modern chic living room should be spacious, bright, friendly, and welcoming, so the lighting you choose is essential. Check out this blog for ways to embrace your natural lighting to take the pressure off your lamp choice and create an open environment.
Asymmetrical lighting pieces that draw on geometrical patterns like circles or diamonds will transform your room's lighting solution into an artistic focal point. Warm light is the most appealing, and you can add a dimmer setting to create that intimate environment when needed. Large tall standing lamps add a spotlight to a particular zone, like a reading chair or study desk, while small accent lamps placed correctly will accentuate your wall decor with shadows and colors.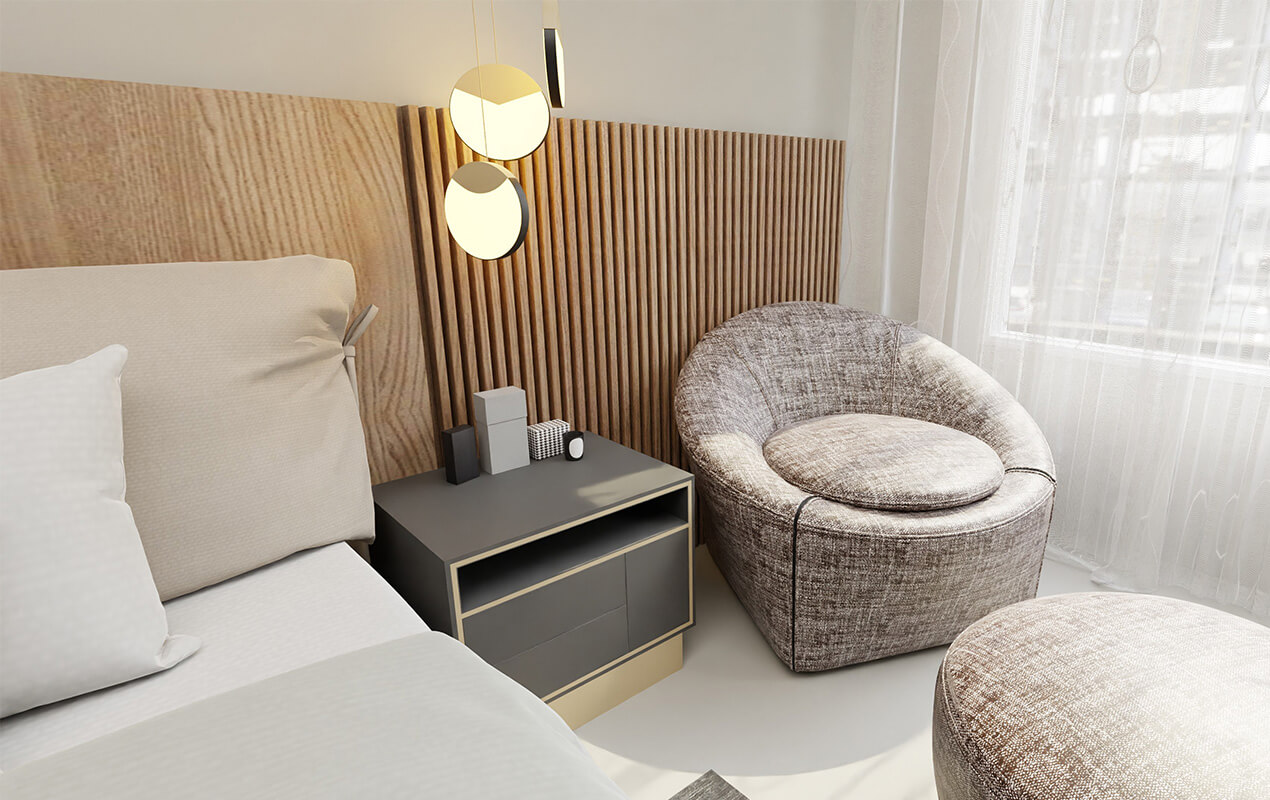 Quick Tip – Select a striking centerpiece for your modern chic living room, whether it's an abstract fruit bowl, an elegant candle cluster, or a vase of eucalyptus leaves. Place it in an off-center position to add an edgy touch to the room.
Artistic Placement of Pieces
When choosing artwork for your modern chic bedroom, the good news is there is a lot of freedom. Choose a large and brightly colored piece with sharp abstract lines to add a pop of excitement, or cluster several small prints to build a more detailed art wall. Just make sure they complement each other's color scheme and theme and let your creativity take control of the rest. Pick three medium-sized prints to display side-by-side, or postcard-sized pieces to create a chaotic cluster.
Instead of art prints, why not play with the beauty of reflection and choose a stylishly irregular mirror to catch eyes on one of your walls? Mirror puzzles and mirror wall collages add light to your home while providing artistic intrigue to your guests, creating art from the shadows and impressions in the room. A well-placed mirror can work wonders for creating space and balance in your home.
Quick Tip – One source of light simply isn't enough. Combine bold and overarching lamps with smaller, more intimate lamp-shaded designs to add depth to your space.
Rugs, Throws, and Finishing Touches
Create an inviting feeling in your modern chic living room with cozy furnishings like a shaggy rug or a warm blanket. These finishing touches are essential when completing a modern chic interior design scheme, as the muted colors could otherwise come off as cold and unfriendly. Don't fall into the trap of minimalistic frostiness – learn more about building a welcoming and homey space here.
Selecting a rug is much like browsing for an art piece, so don't be afraid to think outside the box with something a little more daring. As the essence of chic modern decor is muted shades, you get ultimate freedom when choosing accessories. Add comment-worthy features that catch the eyes of your guests and get people talking to complete your home design. (Think abstract cushions, draping throws, and patterned rugs).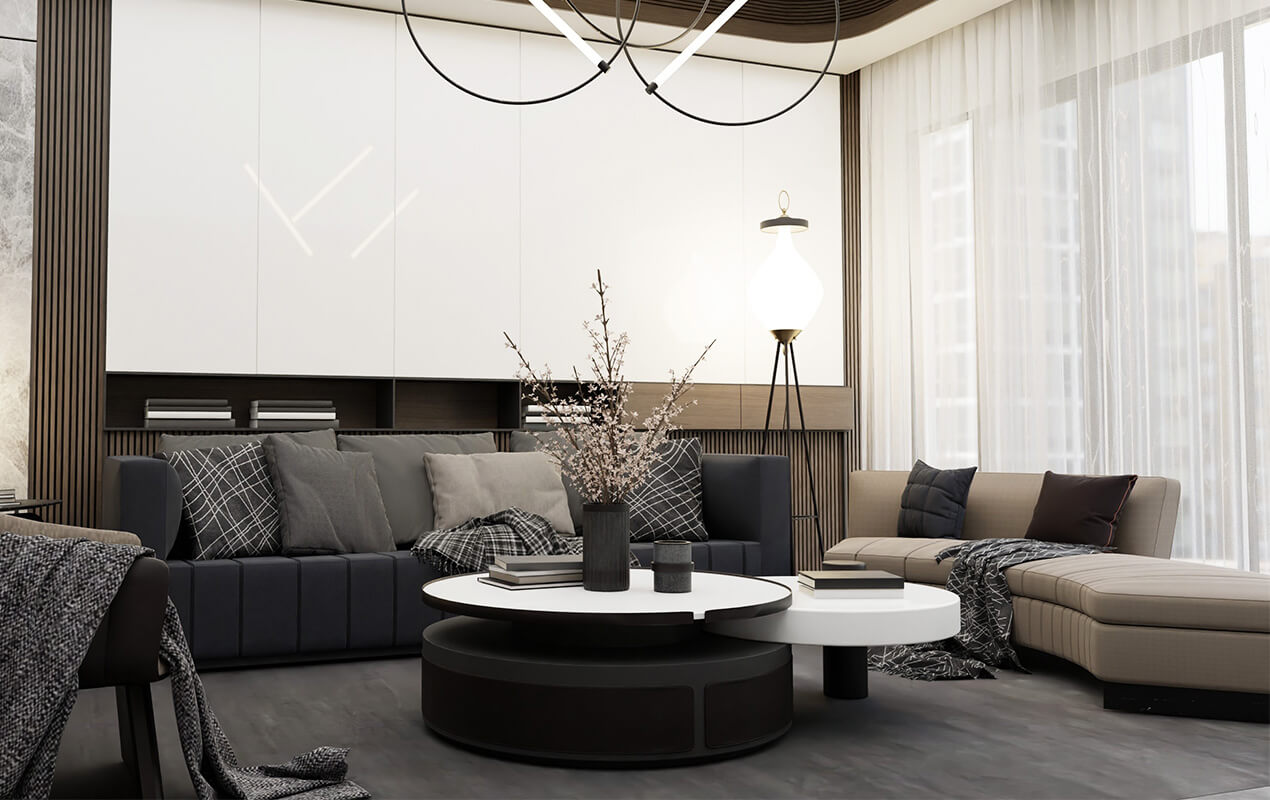 How to Get Started
If your home is currently a blank slate and your interior design experience is minimal, don't worry. You can get started on your modern chic bedroom ideas or dining room designs today. Firstly, clear the clutter. This is a must for any clean-inspired home decor, but try observing your room with fresh eyes to see what's throwing your style off. Decorations that look homemade are a no-go for modern chic, so ditch the magazine cuttings and printed photos in favor of fewer, higher-quality pieces.
You might not have a lot of cash to splash, which means you have to work with what you have already got to hand. That means that some pieces of furniture are there to stay, but you can always cover hideous colors with a bit of creativity. A cream-colored throw can mask an old sofa, and a black and white abstract painting transforms ugly green paintwork into a feature wall. Embrace slow decorating by working with what you've got to build on your interior design at a pace that suits you.