If you're unfamiliar with Boho home decor – there must be a few of you out there surely – then welcome! But if not, strap in, sit down and get ready to read about the trend that refuses to die. While Boho homes are hardly new, the way we use the boho trend has developed over the last few years to include influences from all over the globe, from Moroccan floor tiles to minimalist modern Boho living room designs inspired by Scandinavian influences. 
But is it still popular to layer your rugs and shun the bougie lifestyle in favor of a simple boho home decor style? Or should we say bye to the tassels, florals, and bright colors Boho homes are known for? 
Read on to find out!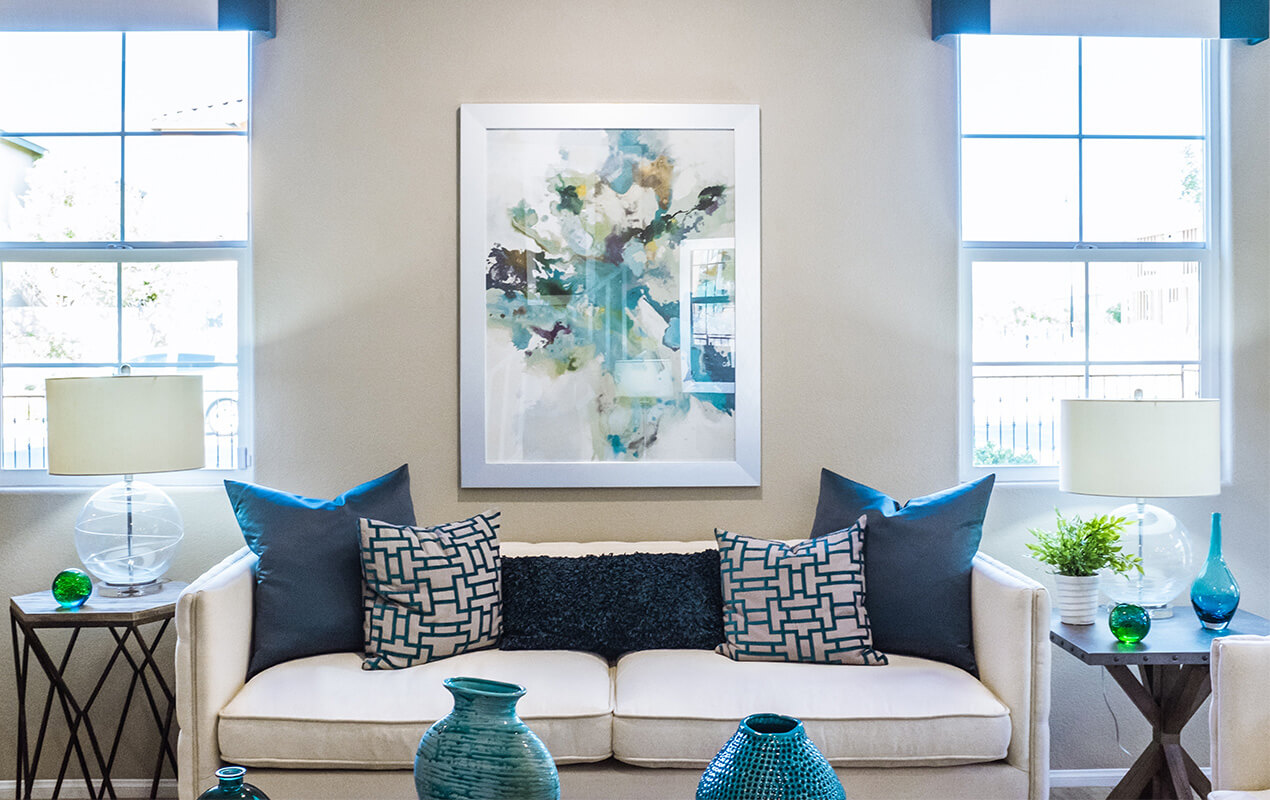 Quick Tip – Try to add balance to your Boho decor with lighter colors to counter brighter shades. This will stop a smaller space from feeling cramped and claustrophobic.
Boho Home Decor? Should I Ditch It?
Boho home decor encompasses a lot of different style elements, taking inspiration from different textures, colors, and even continents in its pursuit of home decor domination. While some elements have fallen out of favor – there are only so many giant pom poms we can hand make in a lifetime – other elements, such as Bohemian maximalist decor have only become more popular, thanks to the global pandemic.
While we were all stuck indoors, we as a world seemed to decide that more is more, and less is a bore – a term used by the wonderful designer Iris Apfel to describe her maximalist style that incorporates Bohemian and other transient elements into its core qualities. What Apfel and we discovered is that surrounding ourselves with things we love, whether they are patterns, fabrics, furniture, or artwork, can help create a colorful, happy place to be. Something which we all needed when we were locked down in our homes.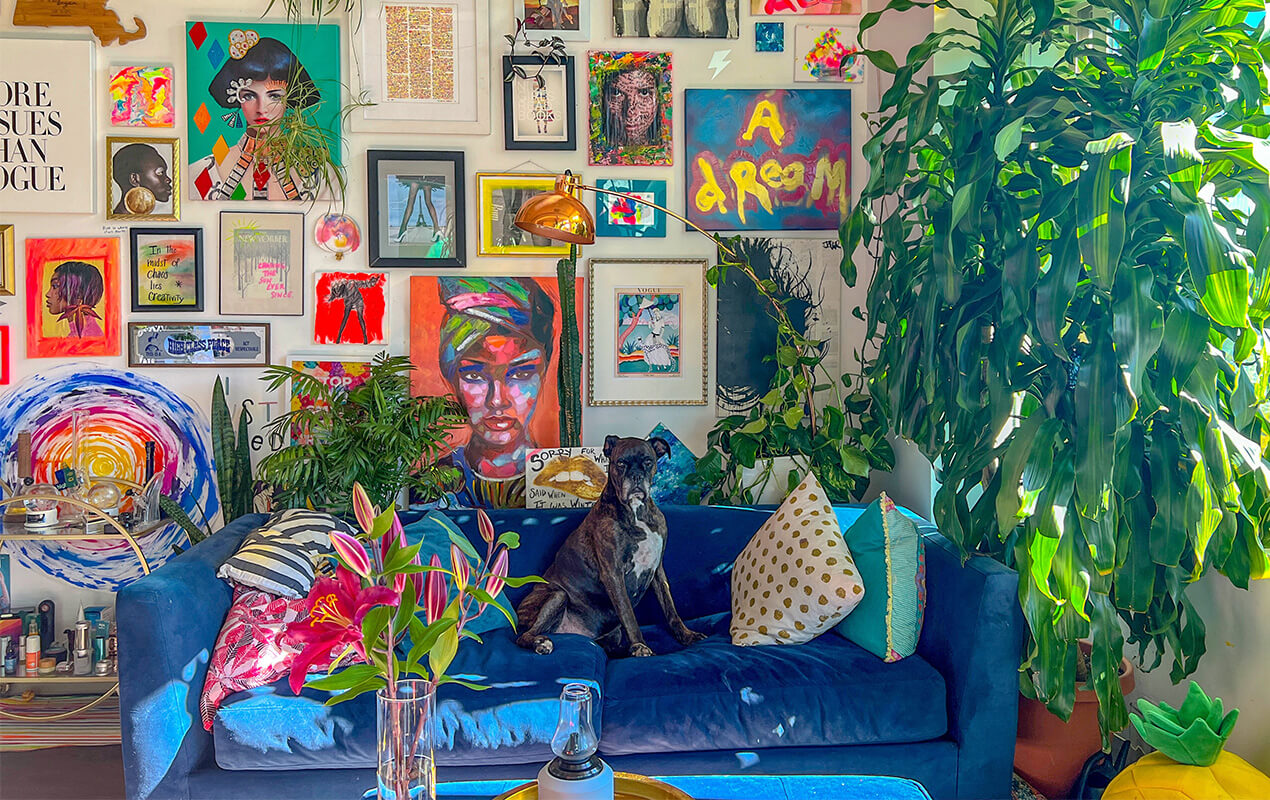 Quick Tip – Opting for natural-shaped furniture such as curved tables and willow branches adds Boho chic to any space.
Opt For Bold Colors and Patterns
Boho style has some amazing color options, such as the teal, maroon, and oranges found in the layered rugs that have become synonymous with the maximalist Boho style; but few color combinations get us going quite like black and white. The classic black and white color scheme was once renowned for Art Deco furniture and interior elements but looks elegant and sophisticated when used for grand patterns such as those found on Moroccan floor tiles and striped rugs. 

Bold shades such as contrasting black and white can add interest to the floor, making the space appear larger, and can draw attention to an otherwise overlooked space. Using light-reflective surfaces such as mirrors will keep your space from feeling claustrophobic, and natural elements such as cane, bamboo, and even wicker can be used for clever furniture for small spaces to marry together even the most ambitious of Boho home decor ideas.
Our Pick
Feizy Home Lorrain Rug - Noir
The Lorrain Collection utilizes a technique similar to tie-dying. Monochromatic tones are represented in bold patterns and in hues of varying saturation to create a watercolor effect. These breezy pieces are hand-hooked and suited to a variety of casual living spaces.
Pros:
Easy Care

Pet Friendly

Stain Resistant

Water Resistant

Fade Resistant
Buy Now
Reviews
Quick Tip – Boho is an anything-goes kind of style, so don't be afraid to express yourself.
Layer Rugs and Materials
Nothing says Bohemian luxury like layering rugs of different sizes and thicknesses to add comfort to your space. We like to keep it simple by adding a large plain rectangular rug to the floor in a neutral color such as oatmeal and top it with a smaller, vibrant patterned rug in our accent colors. Faux hide, Persian and Moroccan-inspired patterns and Indian Paisley designs grab the viewer's attention and ensure that your floor isn't an interior design afterthought.
For the best results, opting for woolen rugs or vintage rugs that have a lived-in feel will add to the authenticity of your Bohemian space, but will need additional care to keep them looking clean and tidy. Alternating top rugs and keeping your plain base rug down while spot cleaning is easy to do, and also means you don't have to compromise on cozy toes while your floor covering is being restored to its former glory.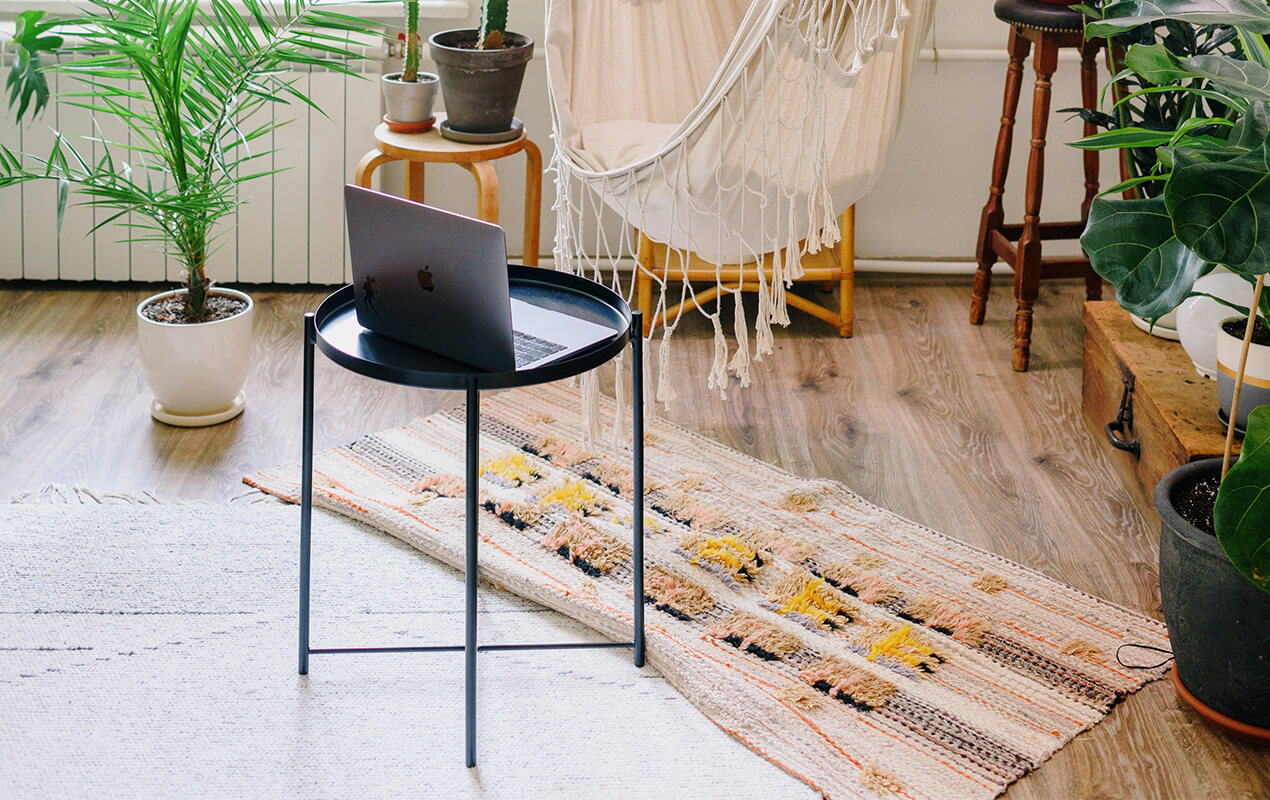 Use Biophilic Design to Add Greenery
The biophilic design takes all of your favorite bits of the outside world and incorporates them into your home design – think beautiful wicker baskets, sturdy oak furniture, the softness underfoot of woolen rugs, and the cool comfort of a linen blanket. In short, biophilic design brings the outside in.
One of the easiest ways of using biophilic design to renovate your Boho home is to incorporate plants into your design. Plants are good for the health of those in the home, increasing the oxygen levels in the spaces you inhabit and reducing anxiety.
A bright green lush plant or two is also very nice to look at. The variety of colors plants come in can complement a wide range of color schemes and decor choices, and with Boho home decor often incorporating colors that naturally flatter green – pink, yellow, orange, black, and white, they are a great and cost-effective way to add decor to your home. Just don't forget to water them regularly!
8% OFF
Siam Chinese Evergreen Kokedamas
The Siam Chinese Evergreen Kokedama Ball (Aglaonema 'Siam') is a lovely tri-color tropical evergreen plant that has vibrantly-colored pointed leaves in a dazzling display of green and white variegated foliage, each dramatically stained in varying shades of dark pink to red along the margin, throughout the leaf and along the leaf stems!
Pros:
No Repotting required

No container required

Versatile Display Options

Air Purifying Plant
Cons:
Specific Care Requirements
Buy Now
Reviews
Marry Other Styles Together
Indoor and outdoor Bohemian decor takes influences from many eras, including the 70s. Add that lived-in Bohemian charm to your living room or dining room by adding a vintage sideboard to store your knick-knacks in to keep your room clutter-free. 
At Decasa Collections we're a big fan of using a lower sideboard as an impromptu Boho home office desk when waxed to bring out its woodgrain or painted in a vintage tangerine shade for an eye-catching focal point. Not only are sideboards sturdy storage pieces, but their size is ideal for keeping all of your office stationery organized, too.  
Conclusion
Of course, the right interior decor style is the one that not only meets your needs but makes you feel joy when you look at it. With the Boho style, the emphasis is on cozy fabrics, natural furnishings and pieces that set your heart aflutter with color and pattern. While your personal style may incorporate Boho home decor ideas, it doesn't have to be rigidly set within the guidelines of the Boho trend. Many people find that an eclectic mix of styles, colors, and patterns resonates with them more closely.