Make Any Room Look Bigger With Model Home Decor Ideas
What is a Model Home?
Also called a show home or display home, a model home is something a lot of us have seen in new neighborhoods. It is the house that has been dressed – or staged – to help sell the new build homes to prospective buyers, to show them how their final house could look in terms of feel, layout, floor plan, and potential ways of living in the home. Eventually, once all the homes have been sold, the model home will be sold as well, often with the home staging in situ. 
They are often very beautiful because they have been dressed by professional home stagers. But what space-creating model home decorating ideas can we take away from these ready-made designs? 
Let Us Show You Around 
You could take the opportunity to look around a model home for yourself – it will certainly be an opportunity for inspiration – but if you have a busy life or don't know where to look, we can show you around a virtual, imaginary home to give you tips we have picked up about model home furnishings and decor tips that will create the illusion of space. Come on in!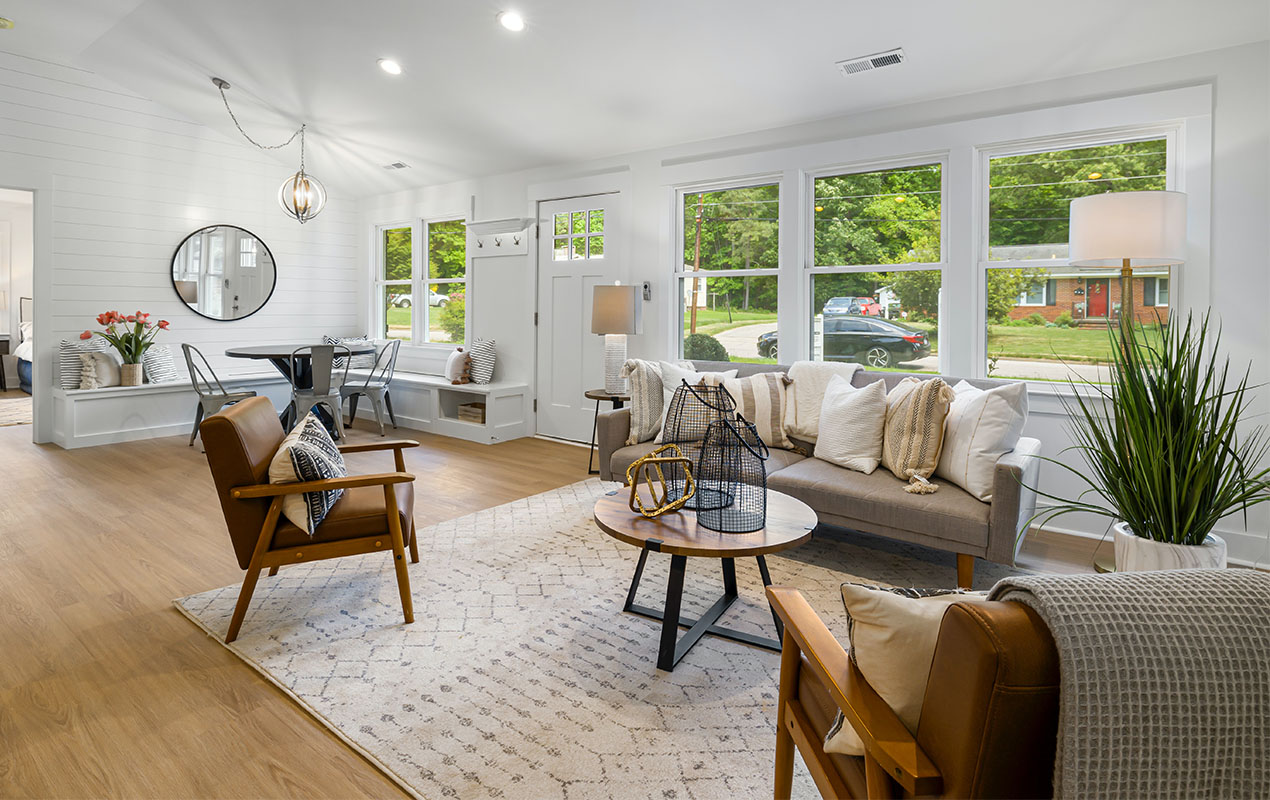 Quick Tip – Make the most of spaces you don't normally look at, such as ceilings, with vivid color and great lighting.
Our Top Space Creating Tips, Inspired by Model Home Interiors 
Take Your Time  
The question of how to make my room look bigger certainly will not come from rushing out to buy brand new furniture because you thought it looked nice. If you have not heard of the concept of Slow Decorating, it's all about taking the time to curate your own space. Make yourself familiar with it – what do you need to keep exposed, what will fit in the recesses, and do you really need that enormous sculpture? Home stagers are trained to look for all these things quickly, but they still take all of them into account carefully.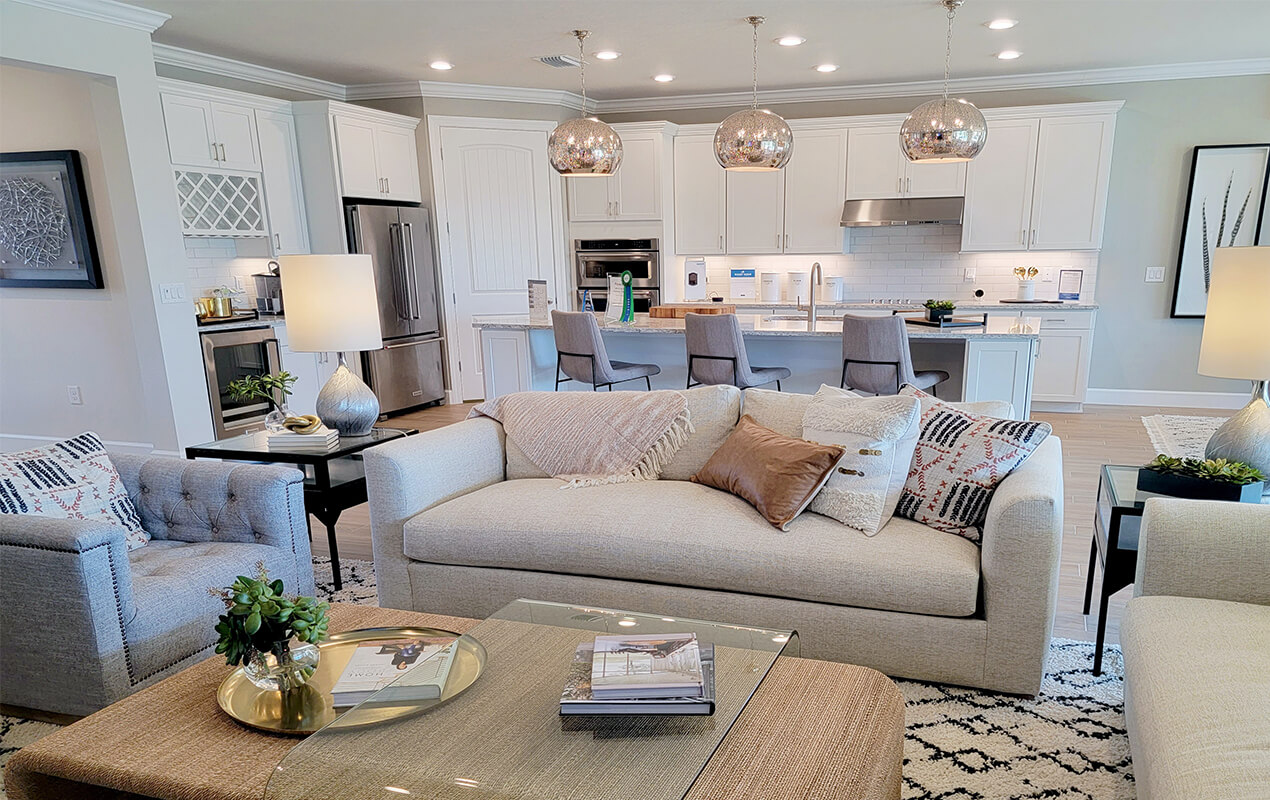 Quick Tip – Start with your floor decor so that you won't want to fill the room with too many items.
Add More Light
One thing you might notice if you visit a model home is the amount of light that is often in the rooms, which makes sure that the space feels bigger. Take inspiration from this and include more light in your home – you can keep things cozy by adding more low lighting, and also keep things feeling natural with amazing inventions like solar tubes, which many model homes now have – they carry light from an outside source directly down a pipe and into your chosen room: dazzling! 
Don't Be a Wallflower 
Model home interiors often make the most of a space by making it as multifunctional as possible, which allows the viewer to imagine living there. One of these ideas is to create a room within a room – for example, move the seating away from the wall to create a snug corner, so that an office desk or small dining area can also be accommodated in the same space. We think it is worth taking these model home decorating ideas into your space to maximize usage and make sure you do not have any redundancy.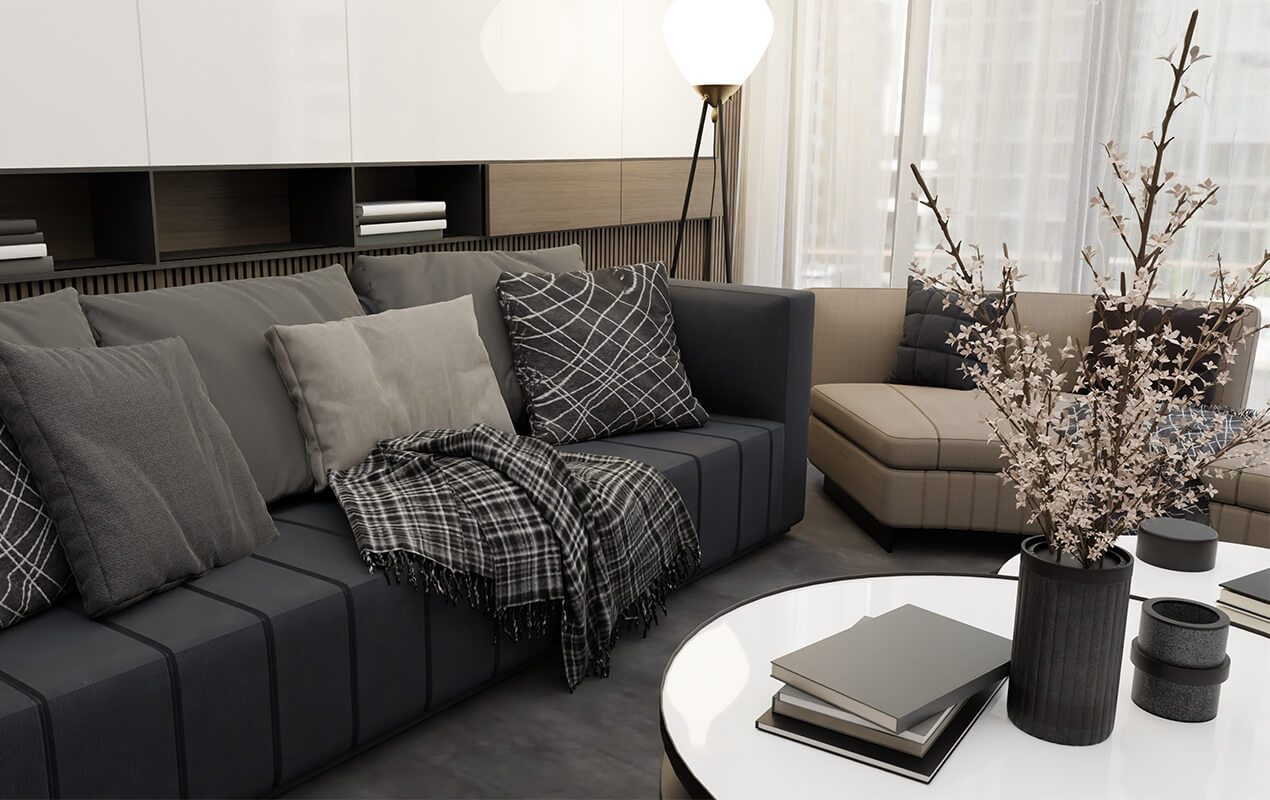 And Don't Be Afraid of Color! 
Model home decor can be strategically adventurous with bright colors and patterns, tastefully dotted about here and there. A bright feature wall will emphasize tall ceilings and highlight darker areas of the room. So why not have fun with color? If you decide you don't like a color you can always paint over it again – fun interiors should not be something 'other people do.'
Remove Clutter 
Clutter can make or break the feel of a room and how productive we feel in it – likewise, minimalism is seeing a downturn in popularity because of its lack of coziness. There is a happy medium, though, and it can be summed up in one Swedish word: lagom. It means 'in moderation' and refers to the idea that enough is as good as a feast.
Keep your space clear by putting emotionally valuable pieces into storage and having a yard sale for things you'd like to go to a new home! Having more storage space will help with reducing visible clutter at home. You can install cabinets and drawers if you don't have enough already, and depending on what you'll be storing in them, make sure to use the right hardware, like knobs, handles, and drawer slides, to ensure optimal functionality.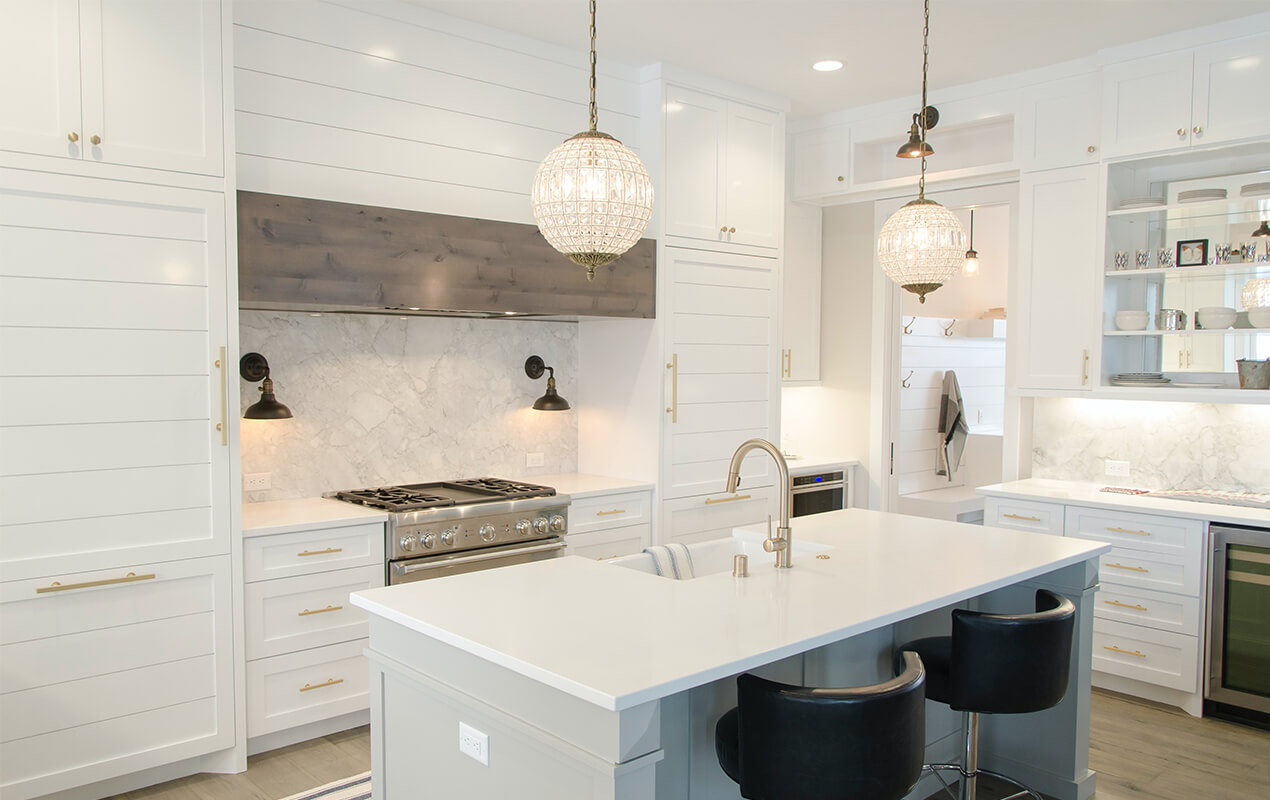 Focus on the Finish 
Possibly one of the first things we notice in a model home is the amount of care and attention that has gone into the little things – the tiles above the stove or sink, the carefully placed candles in the bedroom, and the flourish of a beautiful window embellishment. Decorating a home should include the final cherries on top as well as the big ticket items, so make sure you budget for the dressing part and include them on your shopping list. Keep the focus on one or two features and don't overstuff the space. 
Remember the Unloved Places 
Places like the staircase, washroom, and utility room can end up looking very unloved, because a lot of the time we forget that they are there, despite using them every day. One of the key model home decorating ideas we have taken away from our travels is to remember the unloved places too. Highlight the fantastic amount of wall space you have on the stairs to create a gallery wall, for example. You and your visitors will love to admire them as they pass and it will highlight the area you have there!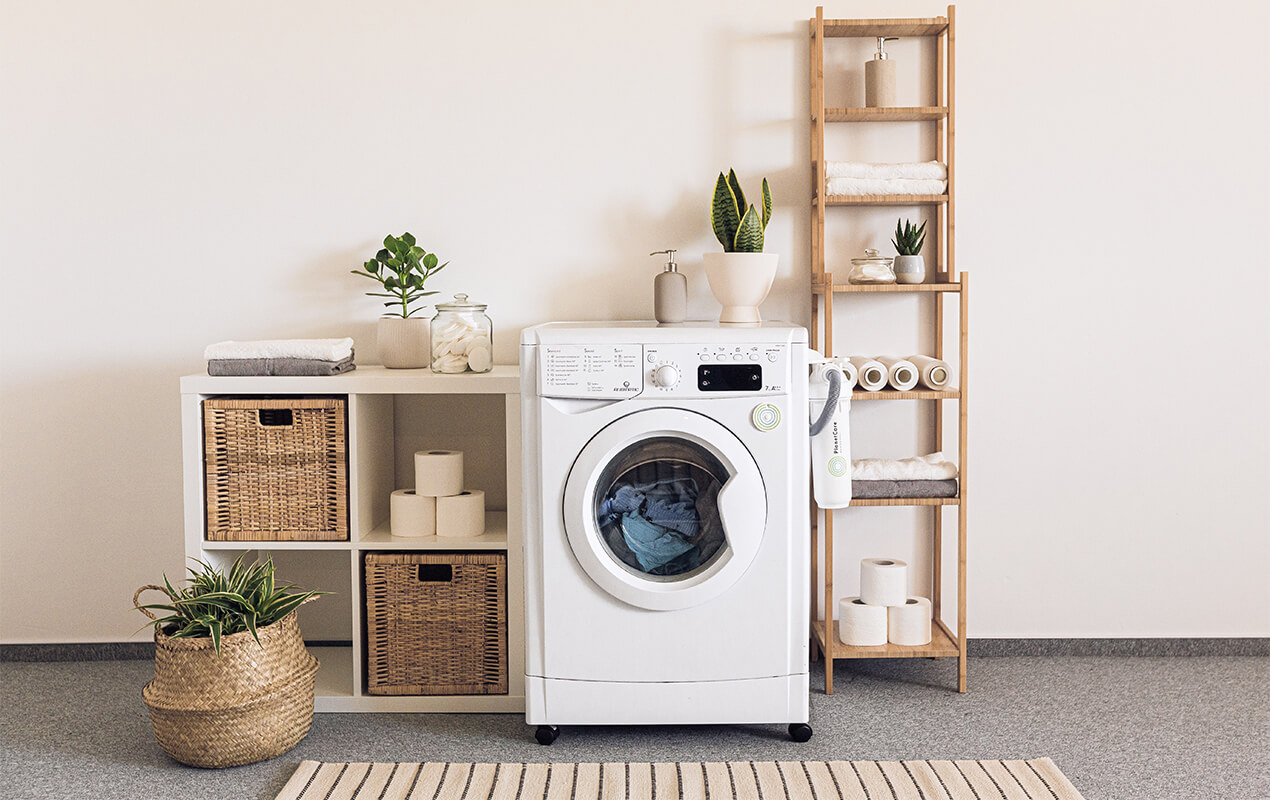 Some Words of Warning! 
You've heard the do's, now here are the don'ts! When it comes to model home decor, we recommend you don't do things you couldn't live with, such as complicated ornamental displays, hard-to-clean items like fabric headboards, or a big, undressed window that will allow passers-by to look in. Think about how you like to live and how much space you really have to decorate your home.
Cozy It Up with Pillows and Art 
We have rarely visited a model home that didn't feel cozy – from the scatter cushions and pillows on the bed to the carefully chosen artwork on the walls to the tiles in the model home kitchens, every detail makes you want to live there. So take note from the professionals and make sure your home is not so perfect it feels unreal – take heed of Lagom, show your home some love, and snuggle up.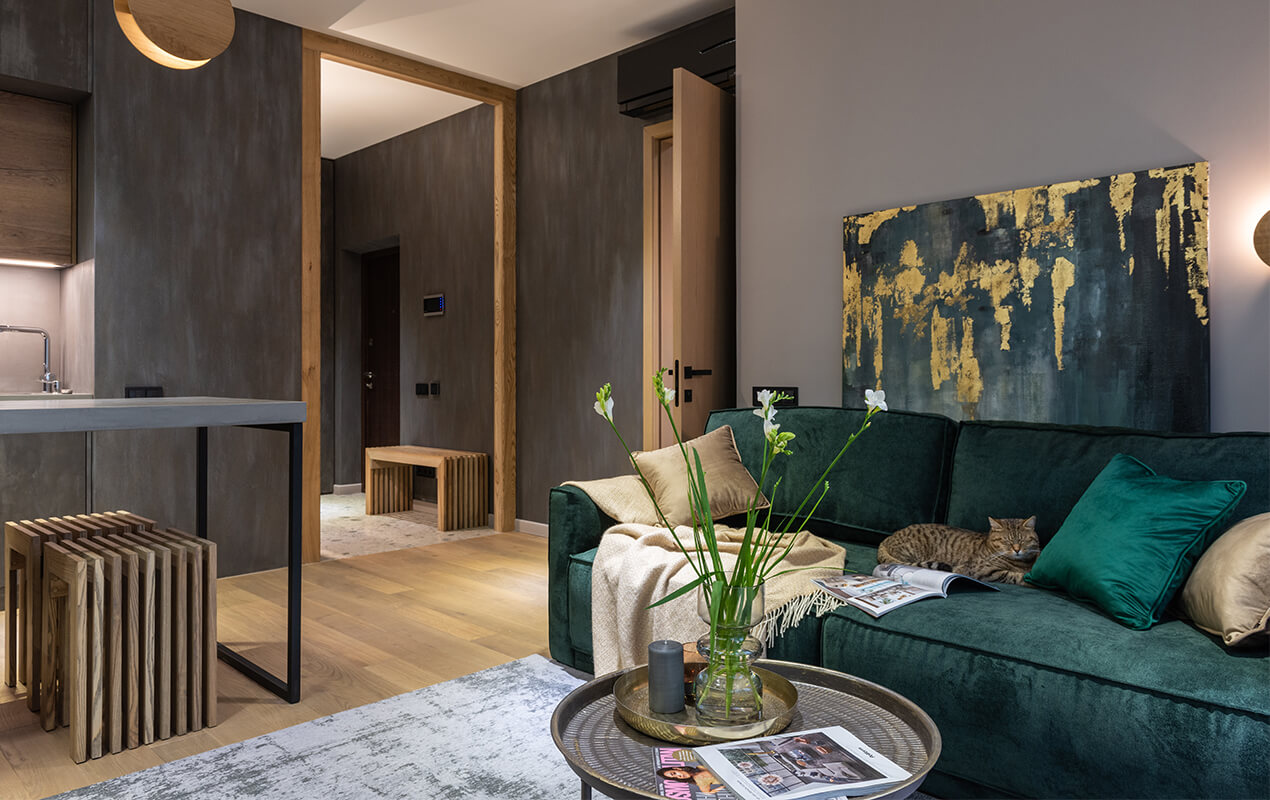 Quick Tip – Resist the temptation to fill recesses by the fireplace with lots of shelving – keep them open if you can and dress with your favorite art.
Model Home Decor Makes the Best of Your Space 
We can learn a lot from the professional stagers who take care of model home kitchens, living rooms, bedrooms, and all the little nooks and crannies in between. The illusion of space can only come with careful planning and a good decluttering session, so we recommend starting there and then looking for more ideas on top design blogs.