They say that size isn't everything, and we're here to prove it. When it comes to a home theater room, even the smallest of spaces can be converted into a place for the whole family to scrum down and watch the latest releases. But how do you ensure that your small home theater room is a success? With our small home theater room design ideas, that's how.
We'll show you how to decorate this gathering space with media room furniture that looks great and keeps all of your brood entertained in comfort. Read our latest small home theater room design ideas for inspiration, today!
Go For A Traditional Dark Theater
If your home theater room is in a basement or in a downstairs room that doesn't get much light, it's natural to stray towards darker movie room decor. Not only does this recreate the traditional feeling of the movie theater with its dimmable overhead lighting, and darker wall colors, but it also creates an intimate setting, which can be just the ticket if you crave the glamorous aesthetic of old-school movie theaters with their warm metal accents and curved furniture. Draw your inspiration from the art deco period, where chrome, gold, and copper were used to great effect alongside beautiful black and white interiors. 
When combined with traditional pillar box red seats from the movies, you can re-enact the thrills of taking your loved ones to the cinema without the need to purchase overpriced popcorn. Sounds like a win to us! 
Quick Tip – Opting for a basement room with little natural light can prevent glare on your theater screen.
Check Out Where Your Outlets Are
Before you get onto the planning of any small movie room idea, you'll need to decide which space you are putting your cinema room in. Will it be upstairs in the attic? Or how about down in the basement?
Once you've decided upon a location, you'll need to map out your power outlets. Their location will dictate the layout of your room and also inform you of any building or electrical work that may need to be undertaken to bring your home cinema room into creation. Ideally, your movie screen or projector should be on a load-bearing wall where there is easy access to the power outlets. Load-bearing walls allow you to easily mount your flat-screen TV or movie screen directly onto the wall if you wish. 
For difficult-to-organize rooms, or for rooms where you would prefer a more put-together look, opt for built-in media room furniture, which can be added to the wall with the most power outlets. This will help you conceal unsightly wires and unwanted items safely from view, giving your room a clean, professional finish.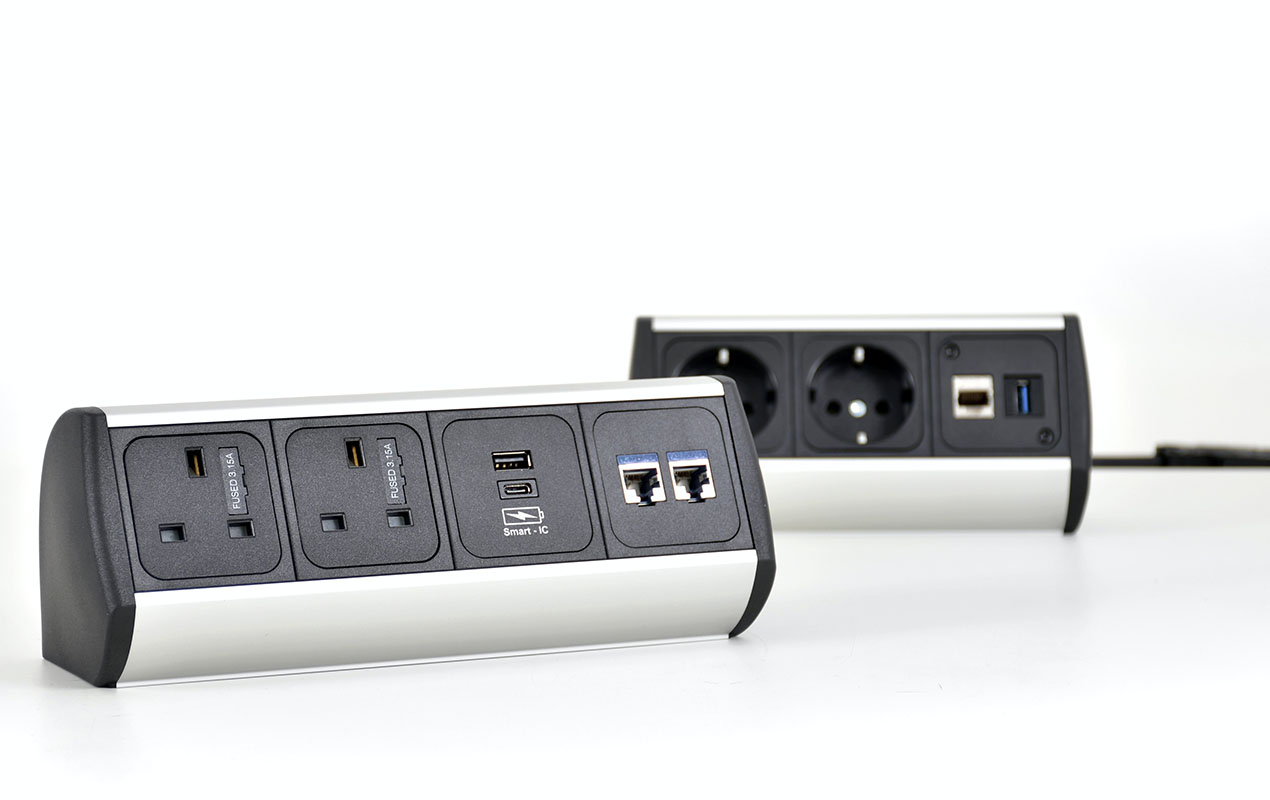 Quick Tip – Always hire a professional to wire up your sound system and screen to ensure they meet safety standards.
Or How About Modern Media Room Decor?
There has been quite a lot of research into interior design's effect on the mood, particularly when combined with certain aesthetics or color combinations. When applying this to movie room ideas, it's important to know that the design of a space and the lighting it uses can positively or negatively affect emotions. Blue light, for example, has been shown to negatively impact sleep, so exposure to this is best avoided as much as possible in your home movie theater.
While the exposure from TV screens cannot be avoided in a movie room, using specialist smart lighting overhead that can recreate other colors such as vibrant red, reinvigorating orange, or even pure white can help minimize its impact. Smart lighting can also be used to create 'zones' in larger media rooms with specific lighting patterns above the seating and different patterns around the flat-screen TV or movie projector screen to provide visual appeal.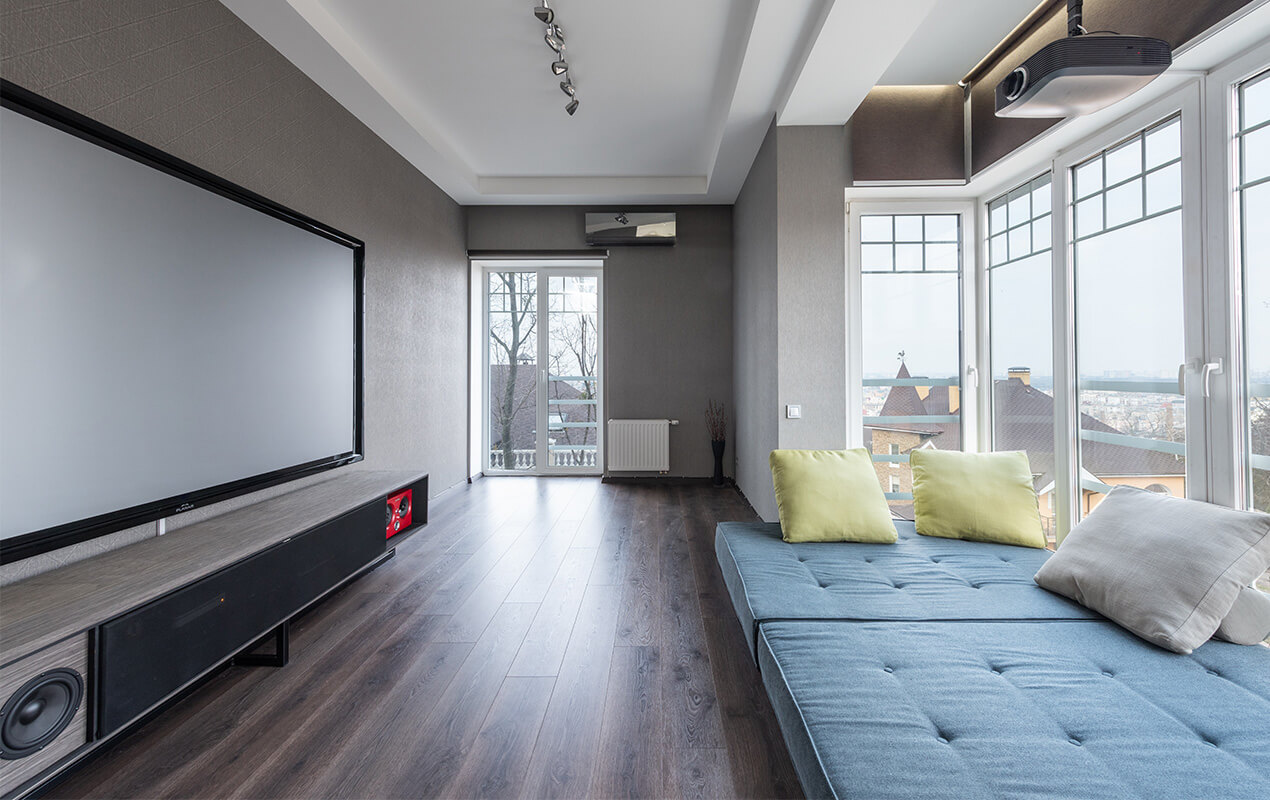 Make The Most of Every Space
Your budget will dictate which luxuries you can and cannot afford in your home theater room, but even if you have minimal finances for decor, organizing suitable storage for your budget home theater room can help you keep it tidy, clean, and inviting. 
If using built-in media storage furniture, ensuring that there is plenty of hidden storage for movies, snacks, and blankets for colder weather will ensure that family movie night is a big success. You can also safely tuck away any remotes you need to operate your movie screen projector or large screen TV where you can easily find them.
Wall space can also be utilized to give your home theater room character. Filling the walls with old movie posters, neon lights, and film memorabilia will provide plenty of talking points and set the mood for an entertaining evening.
Food and Drink on Tap?
We love the idea of creating an actual movie theater inside our home, so if space allows, believe us, we'll be adding a popcorn cart and soda machine to your list of must-haves. If your budget doesn't quite stretch to added kitchen appliances then how about relocating your movie room next door to the kitchen? Creating access to snacks and making your movie space snack-friendly by choosing easy-to-clean modular furniture will make mopping up unexpected ketchup stains a breeze.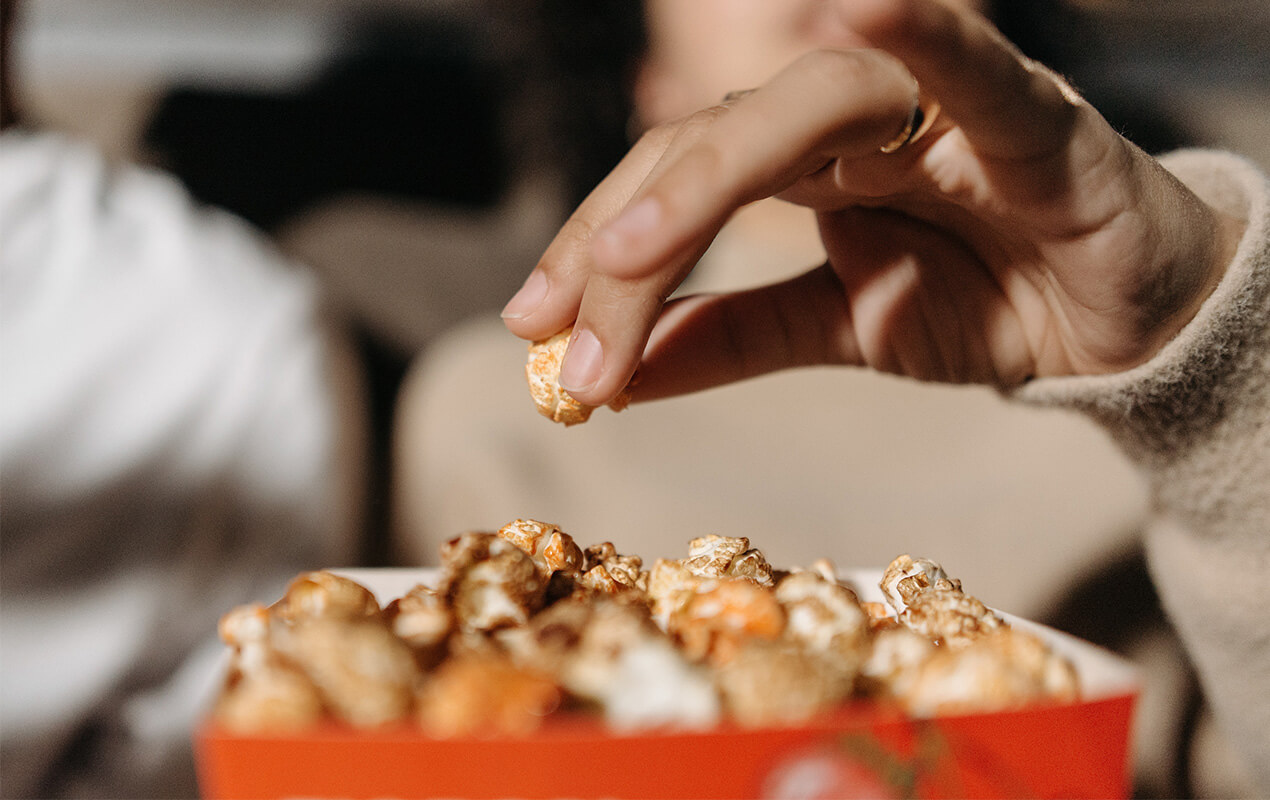 Quick Tip – Consider sound when choosing the location of your movie theater room. If near kids' rooms, soundproofing may be an option to stop little ones from hearing content that is not suitable for them.
Conclusion
We hope we've helped you with our small home theater room ideas, which have incorporated some of the cleverest small home theater solutions we've seen. While your small home theater may not be grand in size, we've shown that you can still add plenty of features to make the most of your space. From adding food and drink areas to recreate the experience of going out to catch a movie to the tips and tricks you can use when planning your space like arranging your room around your electrical outlets. 
Before you go, be sure to check out our latest blog posts – think of them like the cut scenes after the end credits have rolled. They're full of tips and tricks to make the most of every area of your home, no matter how small your space is.