When you move into a new place, you often have to adapt your ideas for layouts and furniture based on the floor plan that you have to work with. Something that a lot of people find tricky is working within the confines of a long living room, worrying that it will feel too much like a hallway or a space with no depth. But designing and decorating a long living room can also be an opportunity to get creative with your choices for decor. 
We've written this blog to give you some guidance on how to properly contend with a long narrow living room layout, so you can still make the most of the space and fit in all of your must-have furniture. 
Keep the Space Clutter-Free & Tidy
Really, you should aim to keep things tidy in any room of the house, but clutter can mean a lot more than just litter and "mess". When figuring out how to decorate a long living room, your focus shouldn't be on packing as much into the space as possible, with a better approach being a bit more sparing with your pieces of decor and home accessories. 

This isn't to say you can't infuse the room with plenty of personality, but opting for slow decorating rather than packing in as many trinkets and knick-knacks as you can from day one will do you some favors. The narrow nature of long living rooms doesn't lend itself well to overcrowding, and clutter can affect your brain and body negatively. Let your creativity flow, but be cautious of going over the top with your choices.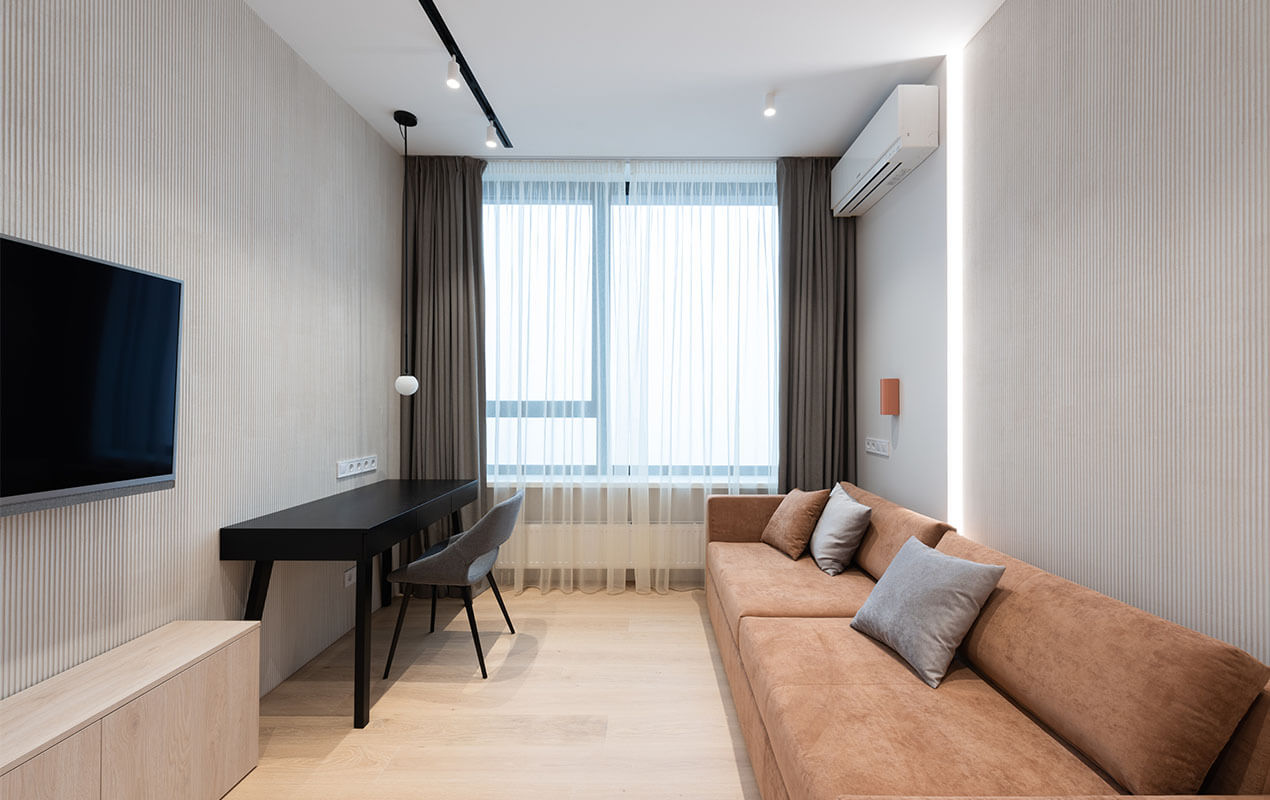 How to Furnish a Long Narrow Living Room
The go-to method when furnishing long living rooms is usually to purchase the same sorts of things you would fill your average lounge with, but realistically, this isn't the best way to go about it. There are some smart and easy choices you can make when furnishing the room which will help to curate the space that you desire. 
When it comes to sofas, chairs, and tables, you need to consider the space they take up, both literally and visually. A big chunky sofa surrounded by big lounger chairs centered around a big, solid coffee table will only serve to make the room feel more narrow and claustrophobic. 
Instead, you should lean towards slightly smaller pieces, allowing each item a little more space to breathe, and saving valuable space. In a more visual sense, choosing seating and tables with exposed legs is a great way to open the room up, allowing for more free space and light to pass through, making the room feel a bit wider. If you want a larger piece, an L-shaped sofa is a great way to use the space, drawing eyes and tired legs to the corner of the room.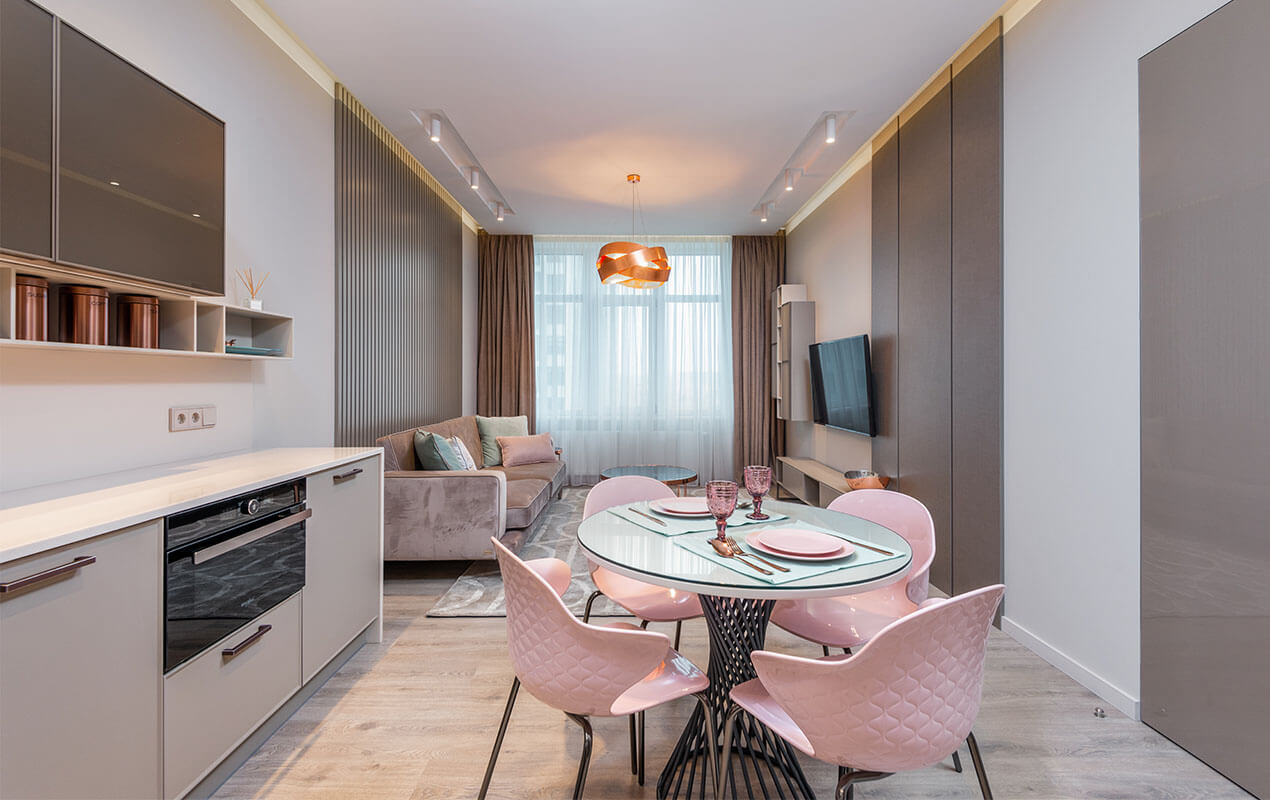 Quick Tip – It's not a hallway: remember to put an emphasis on widening the visual profile of the room, otherwise it will feel too thin, tight, and closed in.
How to Arrange the Furniture
When approaching your living room plan for furniture arrangements, there are multiple directions that you can choose to go in that will affect the feng shui of the space. The most obvious choice can be to pack your sofas, chairs, entertainment center, and bookshelves up against the walls, however, this can make the room feel even more narrow and closed in. 
Consider arranging your furniture perpendicular to the walls, as this will "push" the walls outwards in a visual sense, making the room feel wider. It's also a smart practice to ensure that there are different groups of furniture throughout the room, rather than bunching everything together around a television. By spreading the furniture around the room, you can create S-shaped foot traffic, rather than having everyone funnel straight through the space.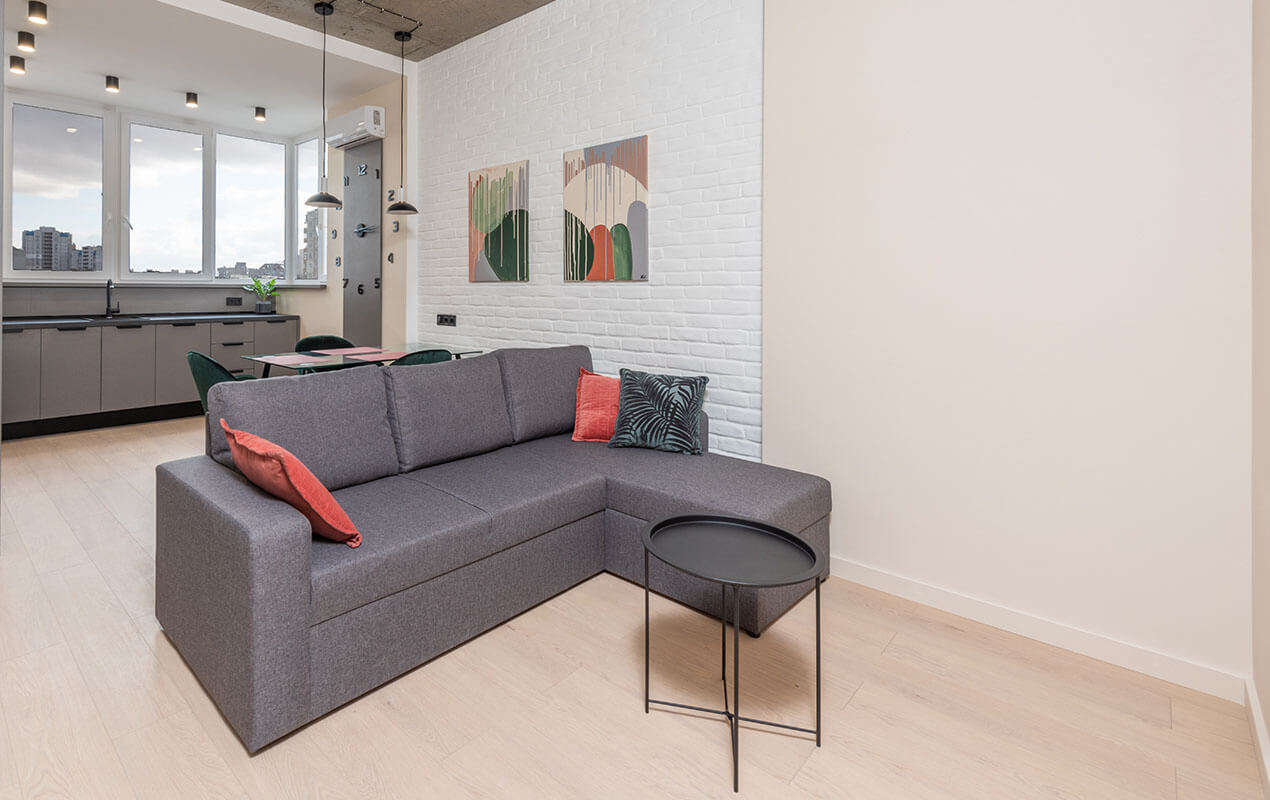 Quick Tip – Less is more: in the case of long living room ideas, you're going to have more joy with a sparing approach than with a lush, overfilled space.
Zoning
As an expansion on clever arrangement strategies for long living rooms, the practice of zoning is something that we'd recommend for making the most of any living room. By using different styles of furniture and decor, along with clever visual markers, such as rugs and throws, you can essentially build rooms within the room, to utilize the space more effectively. 

Perhaps on the far end of the room, you'll arrange a sofa facing the TV, while in a corner a small comfortable chair and a nice lamp can become your reading zone. You can also place a coffee table by the window to make for a lovely conversation or breakfast nook, perfect for visitors to your home, or just a morning cup of something hot.
How to Use the Walls in a Long Living Room
When decorating a narrow living room, the limited width means that walls are going to be a major focus, but there's a right and a wrong way to go about it. It can be tempting to try and cover the walls with as much art and as many family photos as you can, but much like cluttered floor space, a cluttered wall will only serve to make the room feel more tightly closed-in. 
When hanging paintings or art, opt for one or two larger statement pieces and then hang them low on the ends of the room, rather than on the longer side walls. This will help draw eyes down, making the room feel wider and more spacious. 
Contrastingly, a good choice for the side walls is a nice big mirror, which will help to spread out any natural light, while also creating the illusion of a larger overall space in the room. Also, experiment with the colors of the walls, as a darker choice for the ends of the room can help to increase the space's visual width.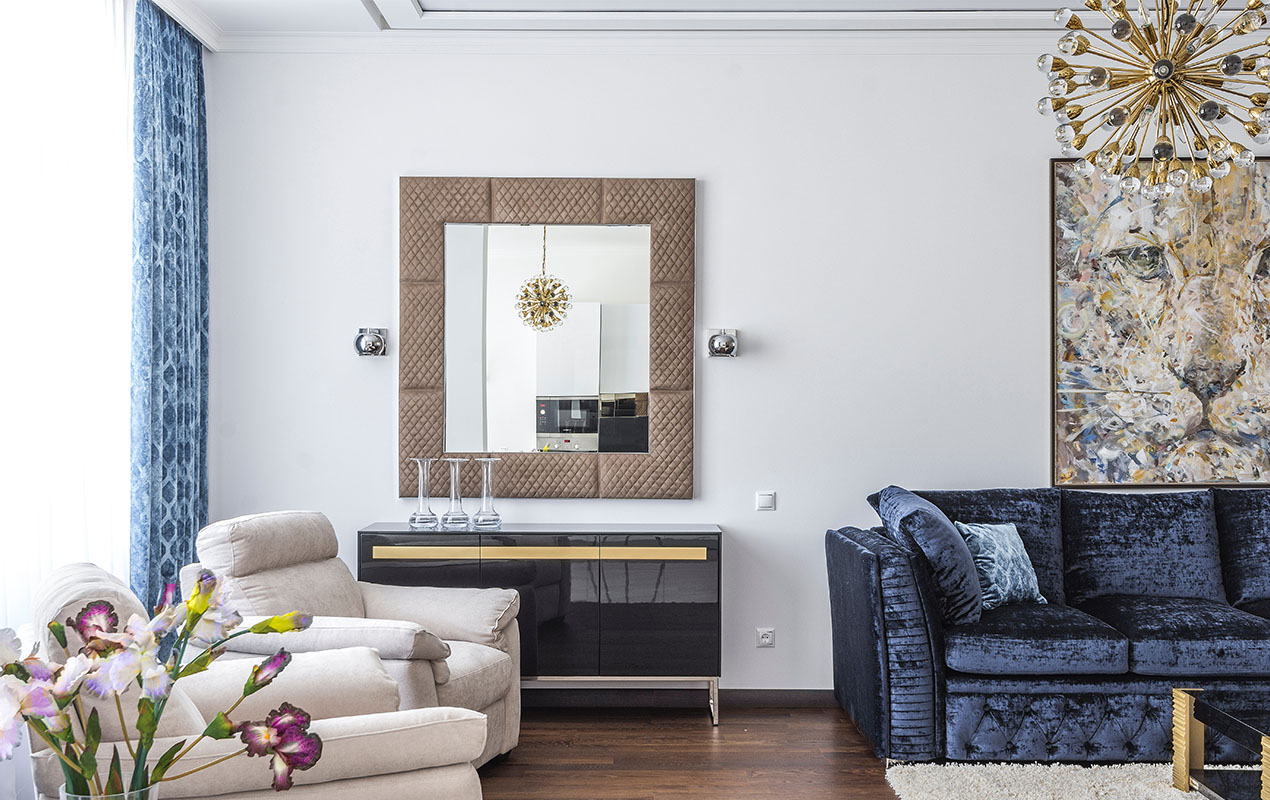 Quick Tip – Focus on foot traffic: Whenever laying out your room or selecting pieces, one of your primary focuses should be considering the way people will be moving through the space.
What now
Hopefully, with all this advice, you should feel much more confident in approaching your new long living room! Remember, just because it's not necessarily the living room shape that you're used to, that doesn't mean you can't make it work in the same way. In fact, this format for a living room forces creativity, which means the results will be all the more personal and rewarding. Use these tips in isolation or together to produce the best long living room possible.