10 Creative Interior Door Covering Ideas 
Have you ever wondered how to decorate a door in your home? Besides painting it, it can feel like there is little room for creativity or fun when it comes to doors. But this doesn't have to be the case. When done right, doors can be a source of excitement and entertainment in a room, adding a touch of color (or even humor) when needed. Your interior door covering ideas can be practical and aesthetically pleasing, so keep reading for our top ten door decor ideas that do both.
1. Door Decor Ideas: Splash of Color
If the rest of your wall decor is neutral and natural, a pop of a bright and cheery shade will inject your space with life and energy. Make your at-home portals stand out with a bold hue to contrast against the rest of your interior decor. Bold shades can complement patterns in more muted colors, enhancing the artistic element of your wallpaper. Use your door to draw out certain shades showcased on your wall decor.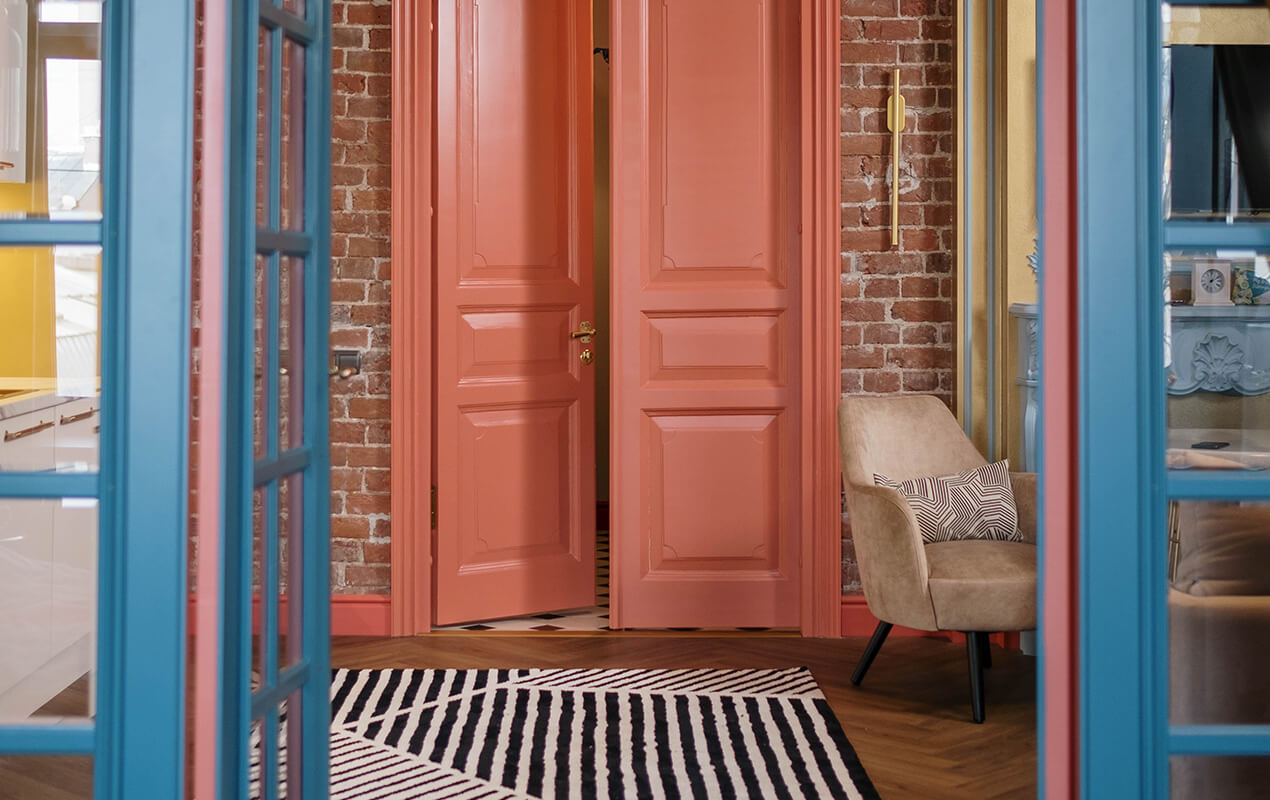 Quick Tip – Don't be restricted when choosing your curtain materials – any tapestry or wall hanging can be repurposed on a rail!
2. Vintage-Style
Bring your vintage style to life with an antique-look door. Take some sandpaper to the edges of the door to distress the edges, creating a look that sends you back in time. This interior decor style is all about minimal fuss and neutral tones, so paint the door a pastel or calming color before roughing up the edges for an antique look. Complete your style with this guide.
Read more: Cozy Rustic Home Decor Ideas
3. Door Decor Ideas: Wallpaper Extension
Bring your door decor into the rest of the room by creating a theme that blends into the walls. You could paint the door into your wallpaper pattern or include a more subtle link between the art on the wall and the creativity on the door. Don't simply use the same wallpaper on your doors, though, as this will create a closed-off, claustrophobic feeling in your home. Plus, it's just a little bit boring!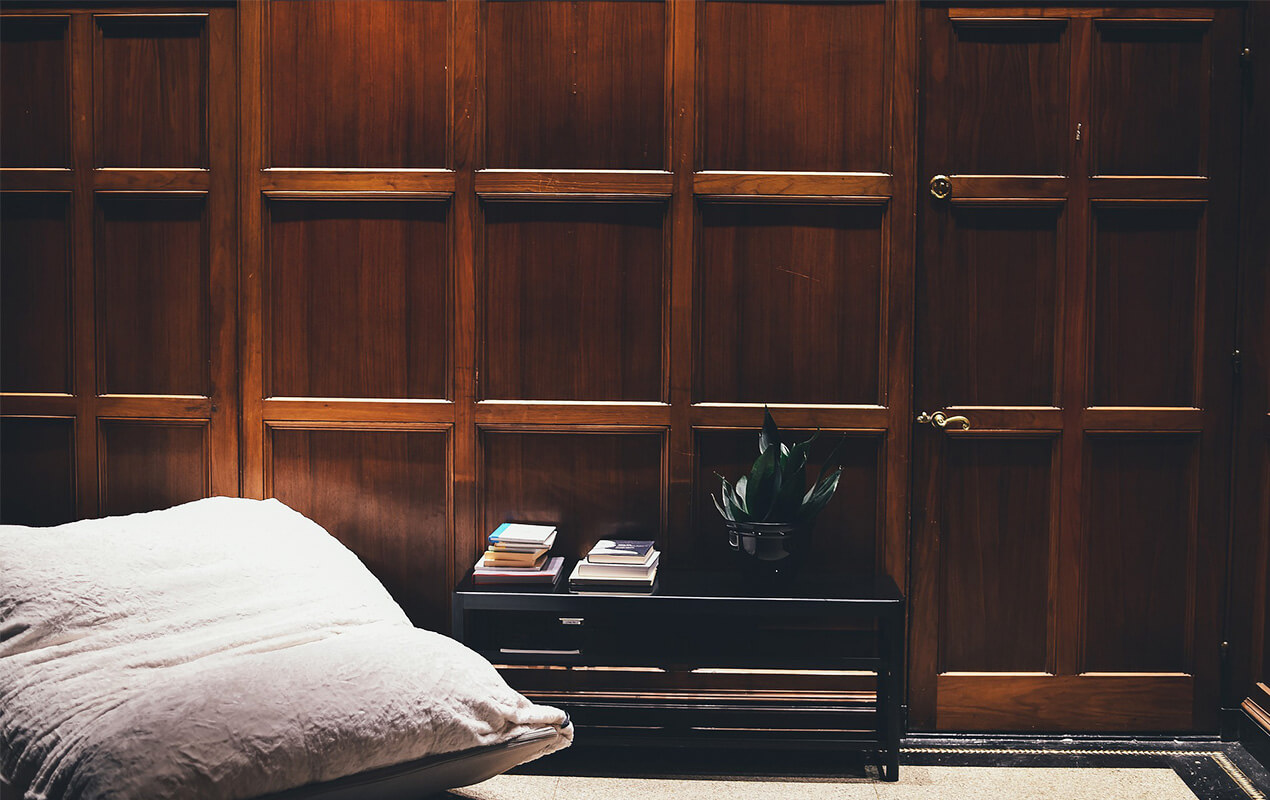 4. Scenic Touches
You may have heard of a feature wall, but do you know about feature doors? Select a gorgeous image from nature, like a thick pine forest or a cascading waterfall, and use your door as the canvas to display it on. If the rest of your home decor is quiet or minimalistic, a feature door is a perfect way to add an exciting touch to the room. Vogue highlights how nature-inspired designs are on the up, and a door is way less of a commitment than a feature wall.
5. Door Decor Ideas: Geometric Patterns
A simple pattern repeated repeatedly is one of the most effective door decorating ideas. Choose classic black and white, or step it up a notch with bright colors and daring shades and create a mesmerizing door. It's OK to have a little fun with your interior door-covering ideas. Let loose with your home designs with a decorative interior door.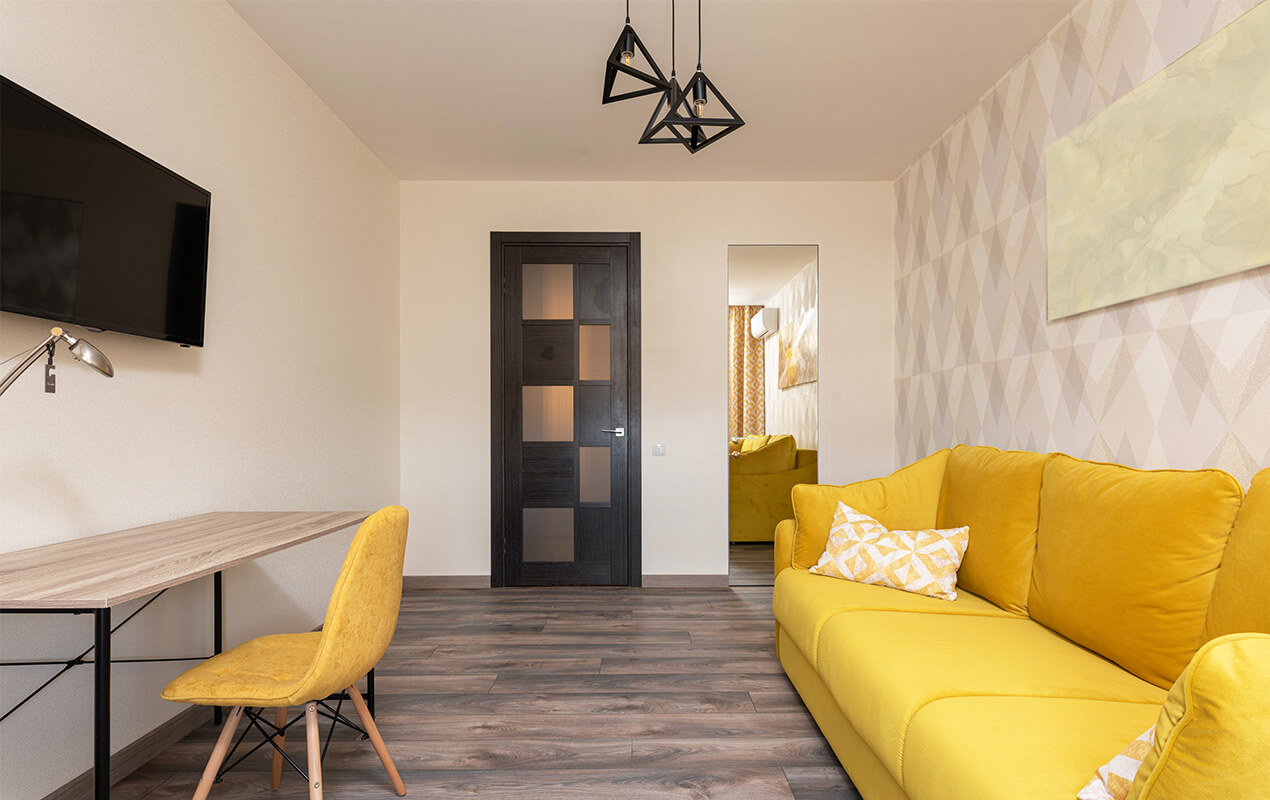 Quick Tip – Add intrigue to your ideas for decorating a door by making the entire door a place for doodles and notes. Choose a see-through glass or plastic material and stick a marker pen nearby to let your artistic side shine.
6. Get Organized
Think outside the box and use your door for more than decoration alone. Stick a whiteboard or chalkboard onto your door cover so you can write notes when necessary. Use it to write inspiring messages that will make you smile each day or as a to-do list on the go to keep you motivated and productive. Place it at eye level so you won't forget a thing.
7. Door Decor Ideas: Floral Features
Flowery patterns are a classic choice for home decor, as they bring warmth and beauty to a room. The versatility of floral designs means plenty of ideas to play with, from a simple bouquet displayed in the center of the door to a pastel pink rose pattern. Adding a touch of nature to your home will enhance a feeling of calm.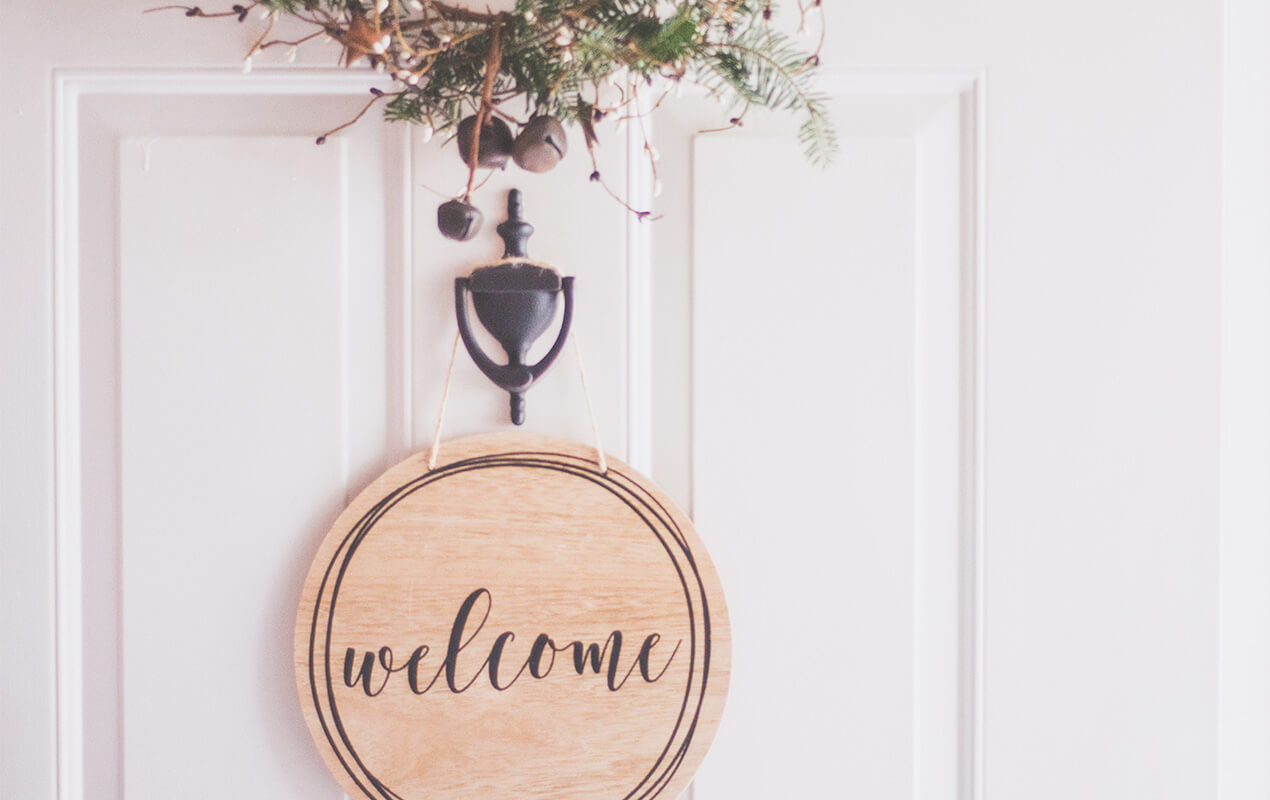 Quick Tip – Let your personality shine when choosing your interior door decorating ideas. Getting creative with the process using stencils and paints will make covering your door a fun process.
Related article: Simple Ways to Add Personality to Your Home
8. Cute Curtains
Enhance feelings of safety and security at home with a portiere to cover the door. Door drapes switch up the textures in a room, making you feel warm and protected while inside. Curtains that reach the floor are one of the best interior door covering ideas if you have a draught in your house or a window on the door. Choose a single piece of fabric and display it above your door for a cute curtained-off feeling for your room.
9. Door Decor Ideas: Door Frames
Does your door have panels with decorative squares carved into the wood? Make the most of this exciting design by embracing the shapes in your door. Place an image or cut out of wallpaper into a square or rectangular shape so the entire door becomes the photo frame. Work with the details of your door to create a collage-style design.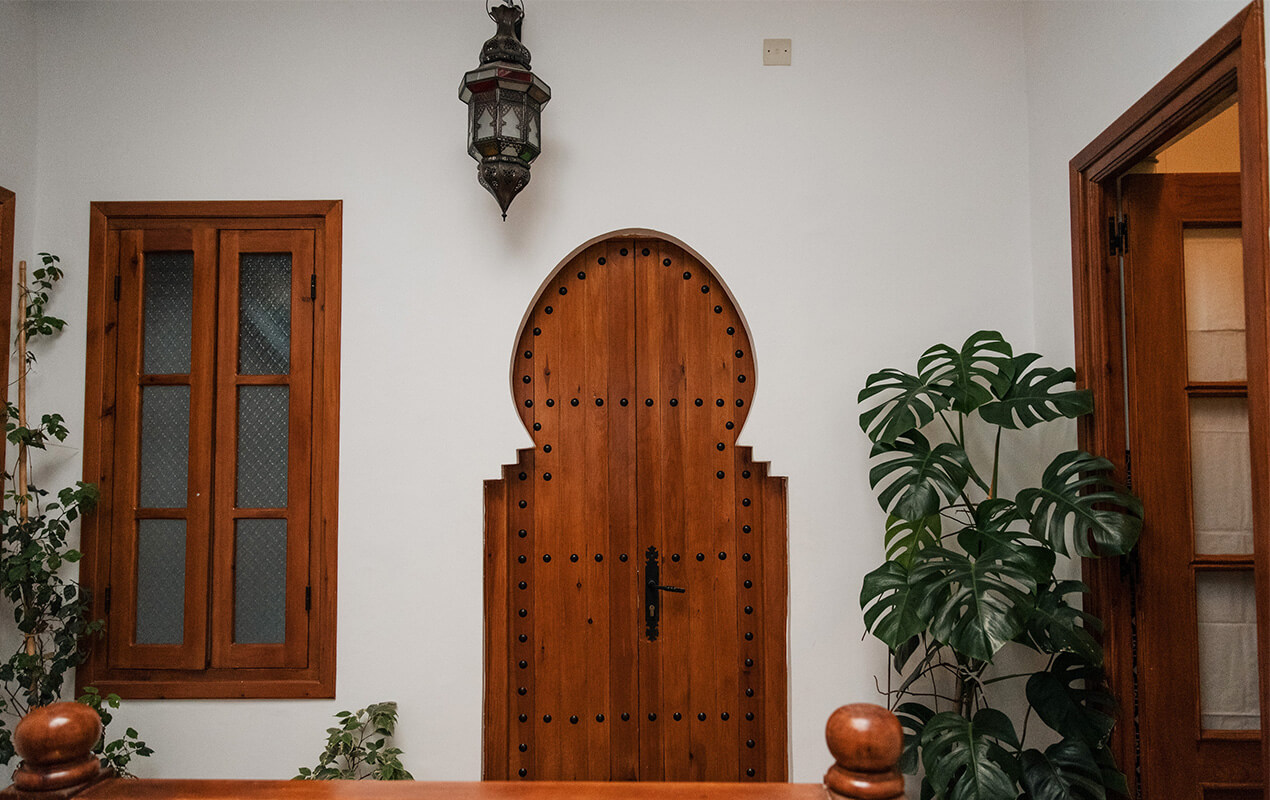 10. Squares and Borders
Another way to work within the boundaries of the door is to highlight its shapes with different colors. For example, you could paint your door a shade of pastel-mint green but outline the patterns engraved in the wood with black. This creates a work of art with depth and texture while respecting the architectural design of your door.
Final Thoughts
Don't let an interior door go to waste – use these door decor ideas to transform your home doors into mini displays of their own. If you rent and are cautious about changing the walls too much, read this blog for landlord-friendly tips. Any room can feature well-designed and thought-through door decor, but bedroom doors are the most decorated.