How to Pull Off Lush and Super-Comfy 70s Home Decor  
When it comes to decor, the first two decades of the twenty-first century have been pretty empty: sparse rooms, bare floors, and white everything have dominated the interior design landscape. So, here in 2023, it's about time that plush, lush, comfortable 70s interior design should come, crash-landing into our lives like a Star Man – bringing fun and color with it. 
But wait – before you head off to the vintage stores to scoop up absolutely everything from the 70s section, there are a few tips and tricks to bear in mind if you want to do this thing in style. Here's our definitive list of dos and don'ts for this awesome vintage trend. 
70s Interior Design: What to Do With Gusto!
Here's your official green light for the best in retro living…
Cool Geo Patterns
One of the most fun things about the seventies revival is the geometric 70s wall decor and fabric designs that you can splash about the place. If you are feeling dedicated, go full-on with geometric wall decor – just one or two walls work fine if you feel shy – or if you are still experimenting, go for a shorter-term option such as cushions and fabrics. Make sure the size of the pattern is to scale with your room so that you don't feel too disoriented! 
When it comes to colors, you can stick with classic retro shades of brown like caramel, chocolate, and latte – warm, calming, and if you remember the seventies the first time around, very nostalgic!
Quick Tip – Color is Everything: Tones like rust, avocado, earthy brown, and mustard yellow defined the 70s color palette. Consider pieces with these colors to create a subtler 70s atmosphere.
Soft fabrics
If there is one thing the seventies were great at, it was providing you with a hug every time you sat down in front of the latest episode of Columbo. We are delighted at the return of soft, luxurious fabrics like corduroy and velvet – so inviting at the end of a long day. If you don't want to change all your current furniture, you could find some cushions and throws or even an on-point seventies bean bag, to take the harder edges off your modern decor. But if you really want to indulge, a corduroy sofa is the ultimate in cozy, vintage living.
Rattan 
Easy-going, practical, and stylish – rattan was a popular style of furniture in the seventies for a great reason. Rattan is actually named after a type of palm tree but has become shorthand for the cool furniture, shelving, and seating that has been crafted from it for centuries, culminating in a rattan boom in the seventies. It can actually be anything from bamboo, cane, and willow and as a result, it feels natural and exotic. 
The key thing with 70s interior design, though, is not to overdo it – choose a rattan chair here, a shelf there – even go focal with a rattan coffee table centerpiece if you like – but do mix it up with other textures. When it comes to living with this fabulous stuff, just make sure you run feather duster over its textured surface regularly, to stop the dust from settling into the grooves.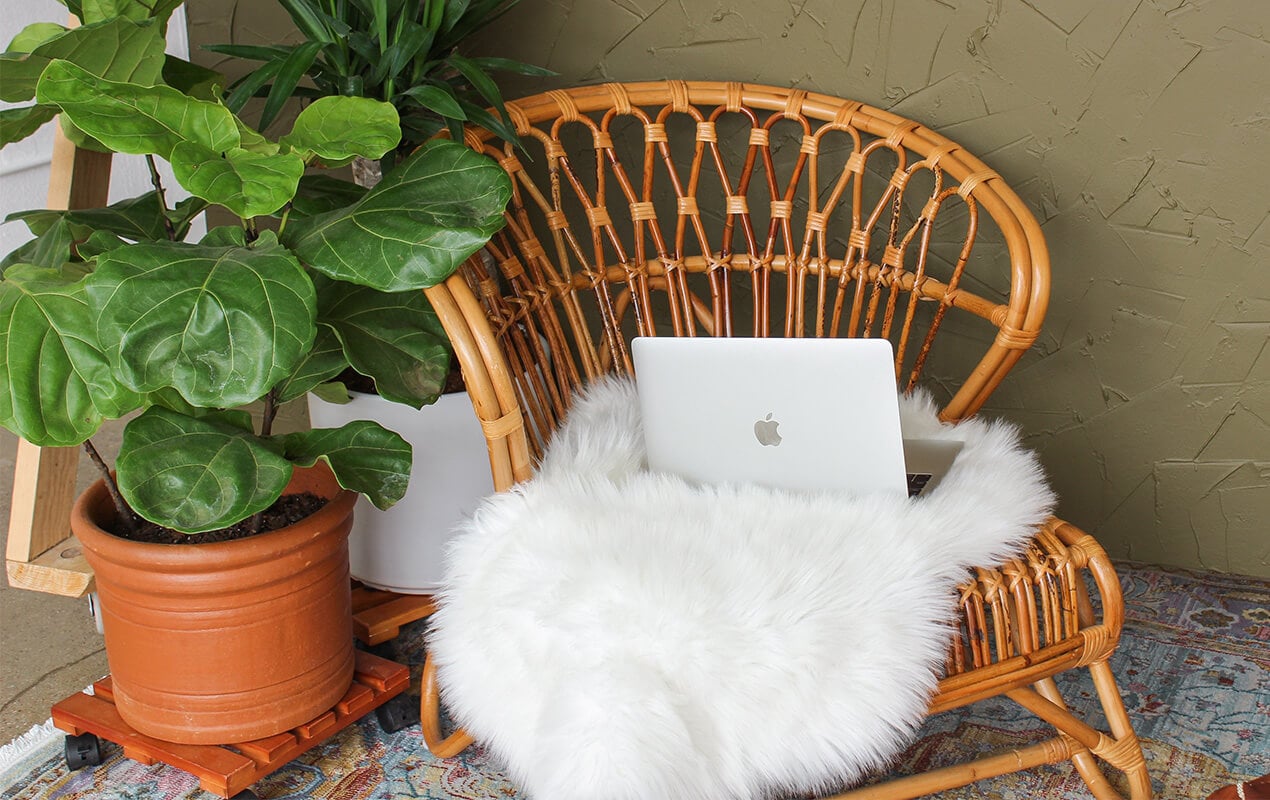 Quick Tip – Think About Art: Along with your 70s furniture and decor, consider some pieces of art that will help to maintain the vibe you're going for. This can be as simple as posters or it could be paintings and prints that capture the spirit.
70s Decor: What Not to Do…
There is such a thing as too much of a good thing – here is what we recommend avoiding when doing 70s interior design.
Headache-Inducing Rooms
So, we have established that geometric 70s wall decor and amazing patterns look great. Our advice is, just don't go too crazy with different colors and prints that cause a headache – you can use a little twenty-first-century understatedness in the mix. 
A combination of styles works amazingly, like a neutral wall with a piece of art that bursts with warm, retro earthy tones, perhaps add a faux animal print rug to your wooden floorboards – or why not introduce a bold design to your ceiling with a fab lampshade (what could be more retro than a huge lampshade?). The great part of this mix-and-match approach is that you can have fun and experiment with some key items and build from there!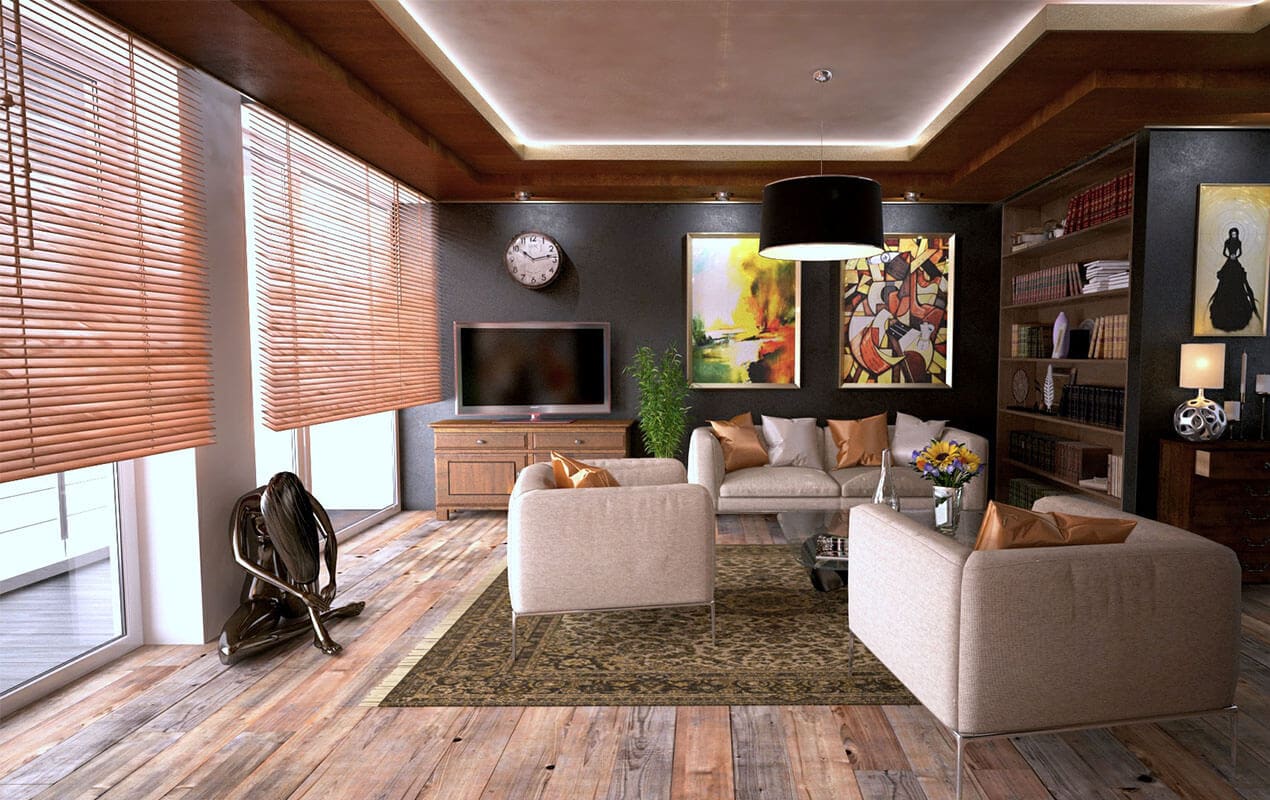 Shag Pile Carpet
This one has split opinions across the online interior design community – some people love the decadence of a soft rug under their feet after years of laminate flooring, but some feel that this is a step too far. 
For us, a shag pile carpet is something to avoid – certainly when it comes to the whole floor full – unless you have the time and tools to keep this longhaired creature preened and clean, stick to a shorthaired geometric patterned or animal print rug. But if you really want to feel like a true 70s-style Ron Burgundy legend, you could opt for a cozy little faux-sheep-skin rug in front of the fireplace and see how you get on. 
Clutter 
Now that there are fifty years between us and the actual 1970s, we can use a little modern thinking to keep things in check. One of the things we are more enlightened about in 2023 is clutter. Thanks to many books and articles about decluttering your home for a much more fulfilled life, we can say a firm 'no' to anything that doesn't make us happy or has no meaningful purpose.  
The seventies trend for nick-nacks can stay in that decade as far as we are concerned – we no longer have the time or the inclination to spend days cleaning fiddly items, or feeling outnumbered by ornaments that do nothing for our feng shui.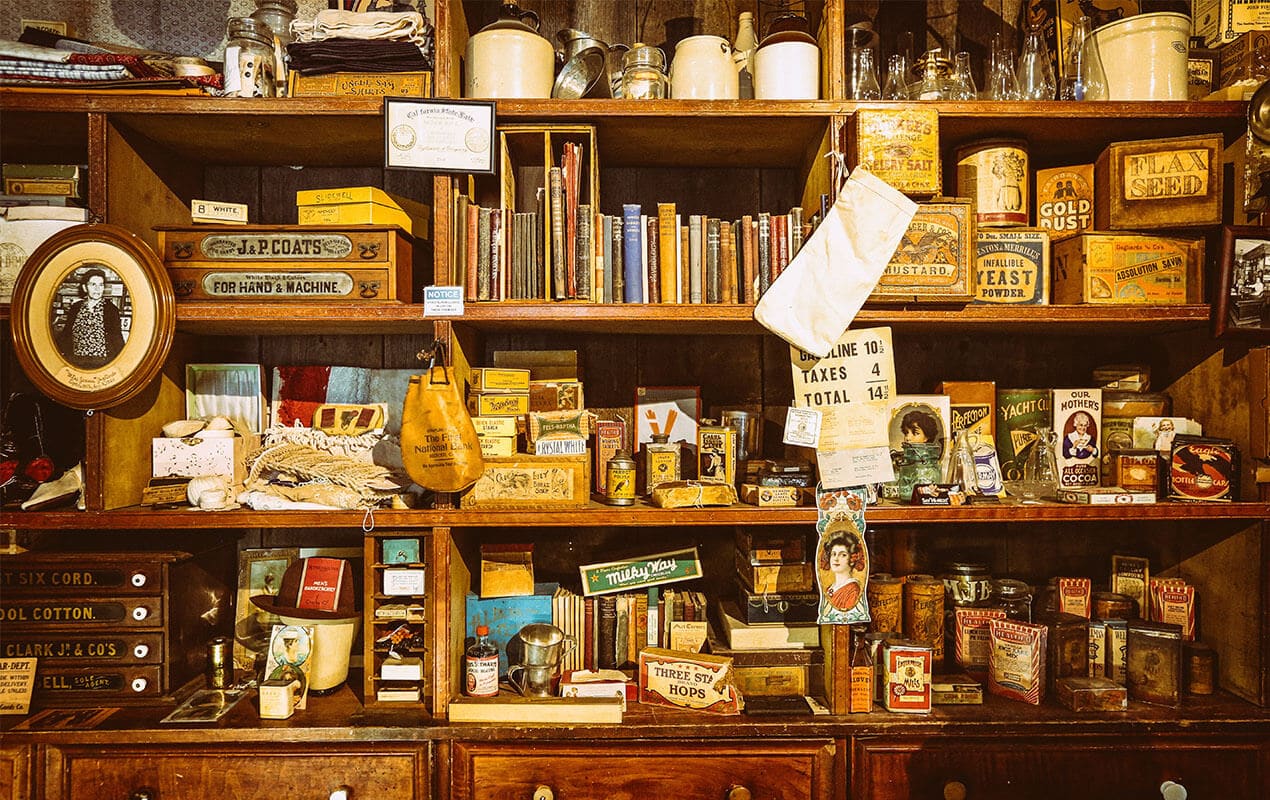 Quick Tip – Older isn't Always Better: Vintage style doesn't necessarily mean choosing vintage items. Older items can add character to your home, but can be expensive and break easily. Look for 70s inspired pieces rather than items from the 70s!
Interior Design Trends 2023: It's all about vintage
In the end, seventies decor is about fun, being bold, being comfortable, and doing it your way – but if you can take one piece of advice away today it would be to start with one key item and build up. The great thing about the seventies home style was its desire to have fun in the company of other people – so bring friends round to lounge with you on your soft throws, have a drink next to your rattan coffee table, and feel like the retro-cool cat you are!