Get Inspired by Our Top Flooring Tips For 2023 
When it comes to floor and decor, gone are the days when the surface under our feet was there simply to hold the furniture up. As homes went a little more minimal earlier in the 2000s, flooring underwent a revolution and became the focal point of the room. Now that there are so many ways to have a beautiful floor, we want to share with you some of our favorite floor design ideas that will change the way you think about flooring forever!
#1 Resin
When it comes to great flooring tips, resin is a family-friendly option for your floor – it is hardwearing, easy to clean, won't scratch or mark as easily as other options, and unlike tiles, it won't crack under pressure. Until quite recently, resin was something we were used to seeing in a commercial setting, but there's an air of the retro about it, so many stylish homes are adopting this look. You can go for poured resin, which can be done right there in your home space, much like concrete would be poured – and as a great bonus, it comes in many fab colors too.
Another great option is epoxy flooring, created by mixing resin and hardeners. Once mixed, the liquid can be poured onto a concrete surface and hardened into a durable, long-lasting surface. This floor type is popular in residential applications because of its durability and easy maintenance. They come in various colors and designs, making them versatile for any space.
#2 Vinyl 
Vinyl is becoming very popular again, after its twentieth-century heyday, because it is an attractive and practical choice for your floor decor. With its many options for great floor design ideas, vinyl is perfect for all members of the family due to it being slip-resistant, and it stays warm, so you don't feel the nip of cold on bare feet like you might with tiles! It is easy to install and has unbeatable water resistance too, making it great for kitchens and bathrooms.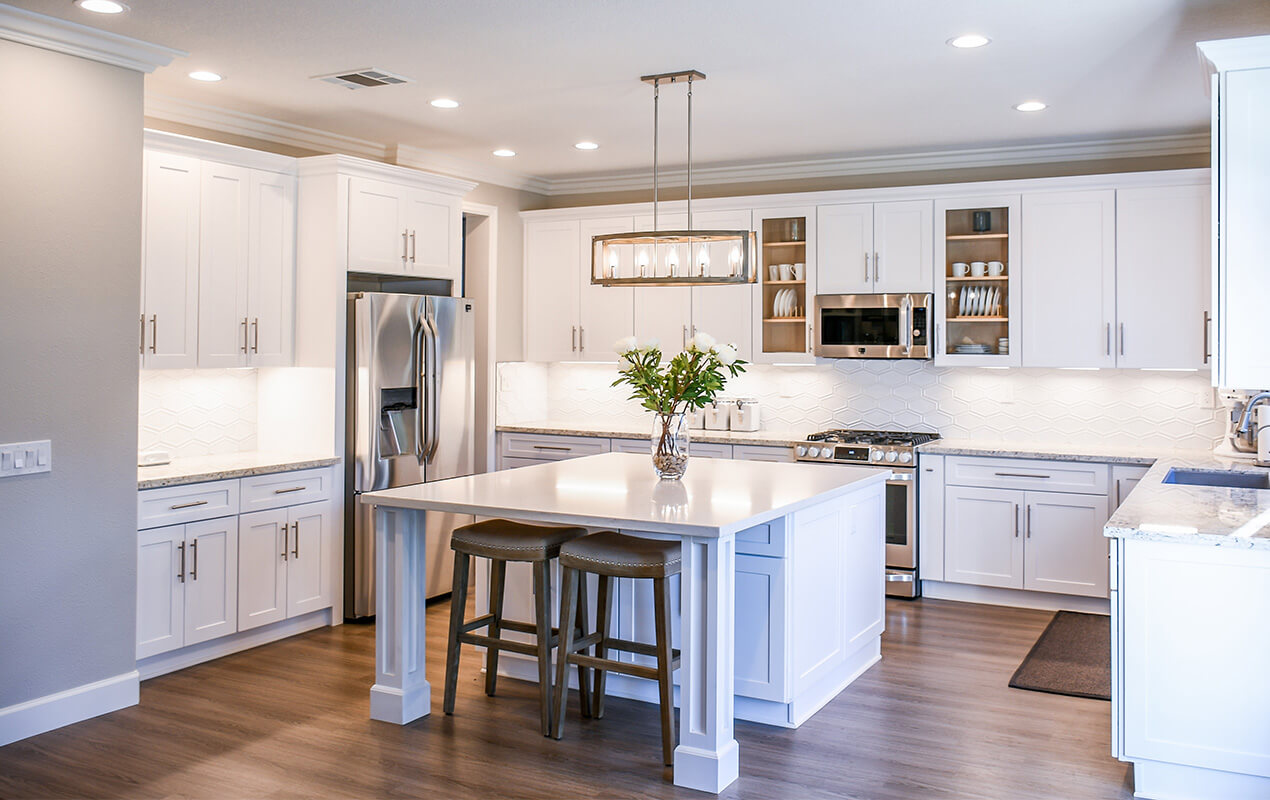 Quick Tip – If you find it hard to imagine or design your ideas yourself, visit a model home for some great flooring tips!
#3 Lino 
Lino might seem like a throwback to your childhood kitchen for all the wrong reasons, but like vinyl, it offers style, warmth, and practicality that other floor design ideas may not provide. And did you know that linoleum is made entirely from natural ingredients like linseed? So you can have a durable, safe, secure, and beautiful floor that does not harm the environment! Bonus. 
#4 Wood/ Reclaimed Wood 
Wood provides warmth and an organic aesthetic that has been popular among home dwellers for centuries – sometimes out of necessity but nowadays absolutely out of choice. Reclaimed wood is a fantastic option for those who like a rustic or shabby chic look, as well as those who want to recycle. Some of the most popular choices include as wine crates, retail flooring, and packing pallets. Parquet has a wonderful vintage feel, and many people are using old school or gym floors for that! This looks particularly great with a white aesthetic.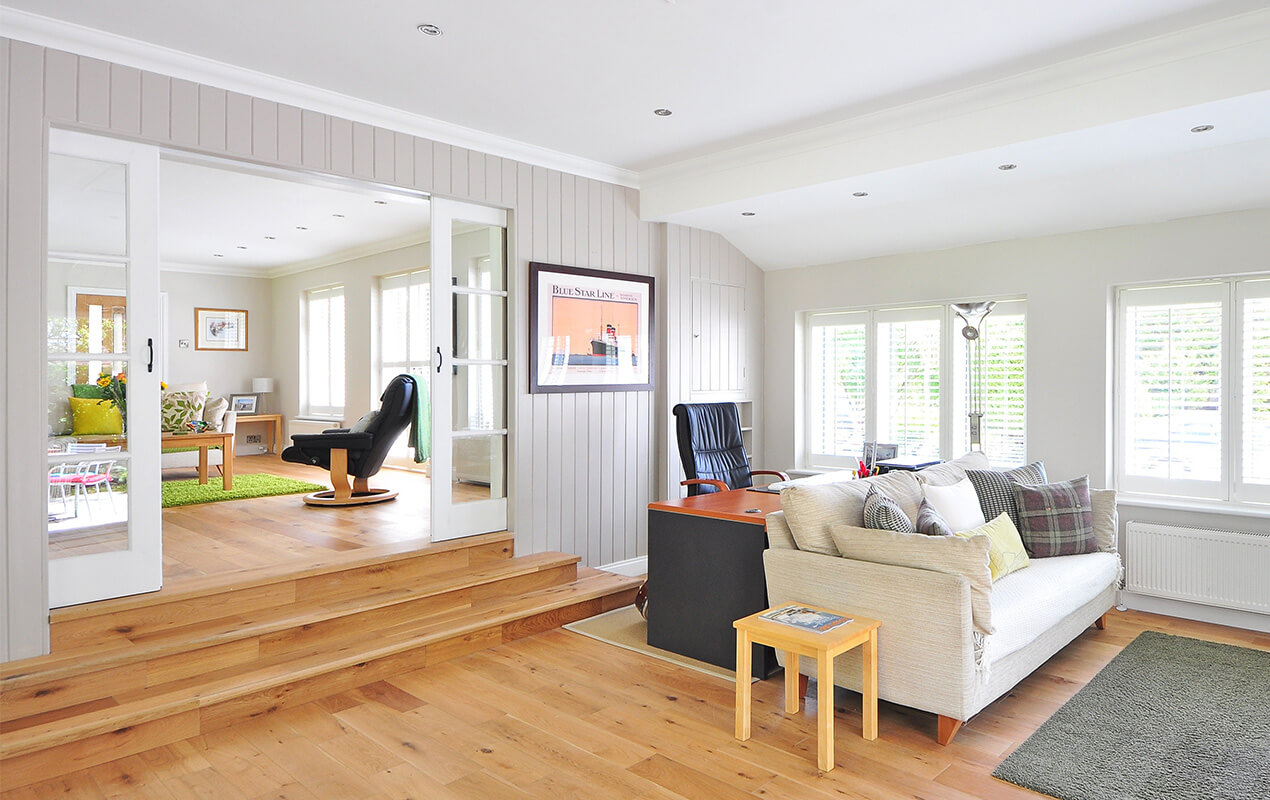 Quick Tip – If you have a patterned floor in mind, draw some designs first and take some time to really think about them. It's fun to have a makeover but do be sure of what you like.
#5 Imitation Wood
One of our favorite floor and decor inventions of the modern age is imitation wood tiles – because wood is a living thing that needs care and attention, imitation wood tiles have a less needy, more practical bent and still look as attractive. They come in a whole host of realistic-looking wood types, and because they are tiles they are hardwearing, easy to clean, and stylish in any room of the house.
#6 Makeover What You Have!  
If in doubt, get the paints out. While some shops are selling pre-colored wooden floorboards and of course, ready-designed tiles, you can do it yourself if you have a good idea of what you enjoy. Go research some small changes like how to change the color of your grout, or how to change the color of your hardwood floors – you will be amazed at the different ways you can change things up yourself.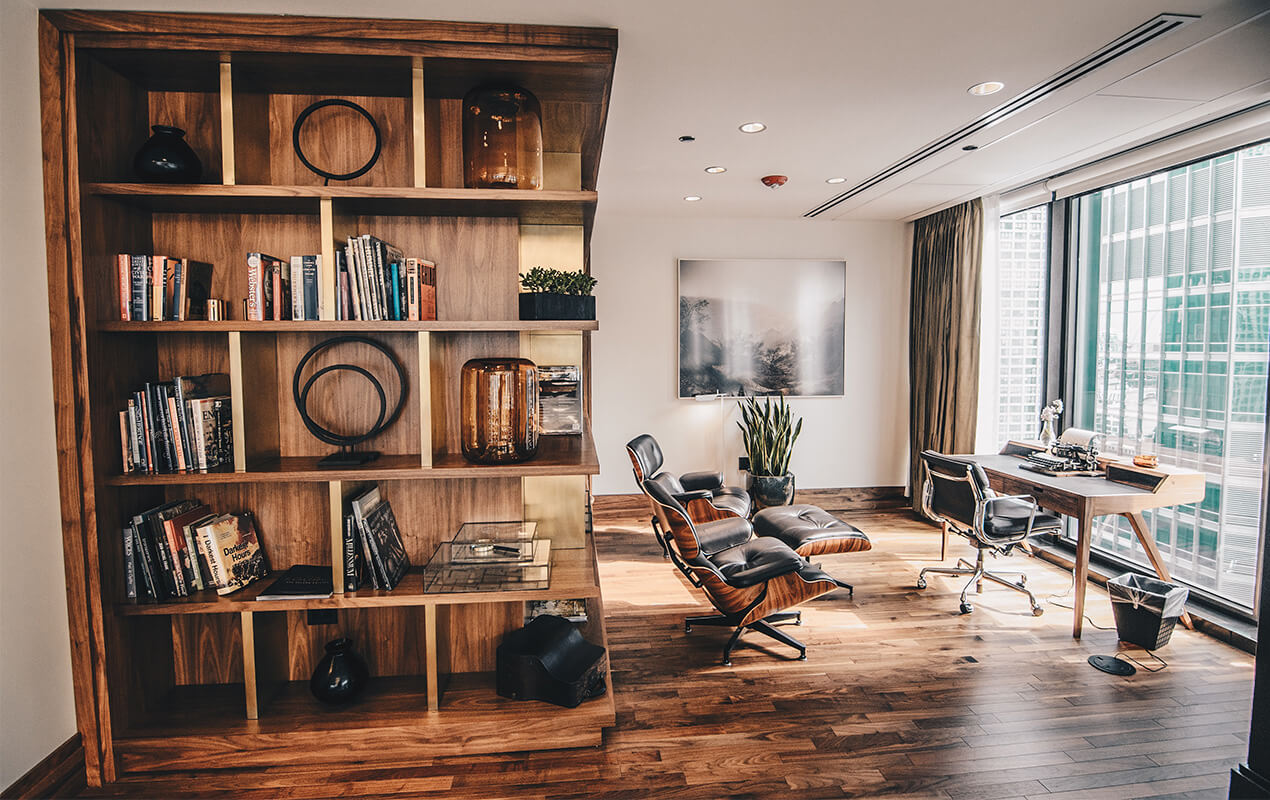 Quick Tip – Bear in mind the floor plan of your furniture – you don't want to spend time decorating an area of the floor that will never be seen!
#7 Continuity from outdoors
Let's get a little bit eccentric here and suggest you bring the yard indoors – one way to do this is by having pot plants and other greenery, but how about a grass or pebble patterned vinyl floor in the hallway or entrance of your home? One of the more distinctive floor design ideas, you can get your hands on some amazing designs that give a fun and vibrant feel to a room where let's face it, not a lot happens! Easy, practical, and a lovely way not to take yourself too seriously. 
#8 Tiles 
As we have just seen, wood effect tiles offer practicality to a room and come in a vast choice of colors and styles. But tiles need not only be practical or wood effect – slate, terracotta, or porcelain are stars in their own right and if you mix up materials you are in for an interior designer's dream! If you already have tiles and are wondering, 'can I change the color of my tile floor?' – you most certainly can. It is one of the easiest surfaces to paint over, but you will need specially formulated tile paint to do the job. Once you have your chosen color, grab a roller and get creative!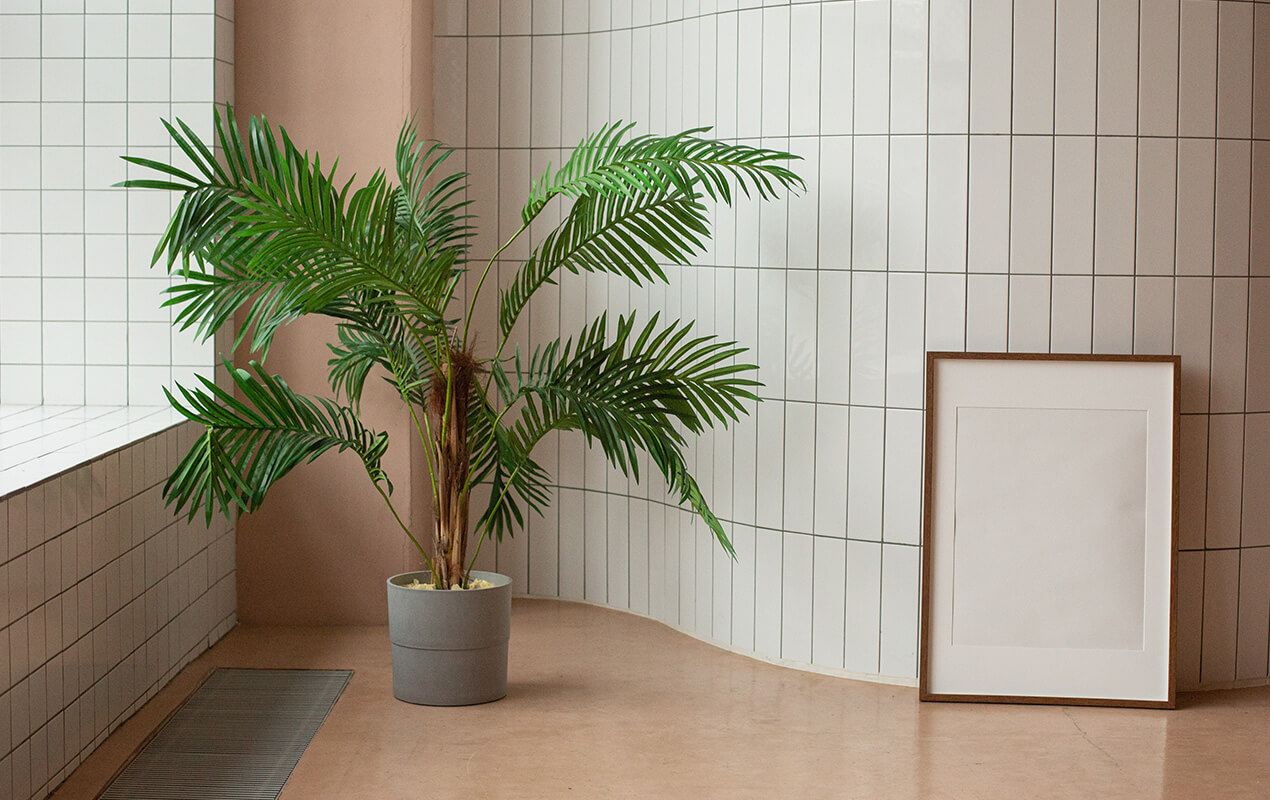 #9 Carpets and Rugs
Many people are stepping out of the modern and minimalist world, into a brand new world of comfort, luxury, and decadence. A rug is the ideal non-committal way to add softness, warmth, and even a little more quietness into your room – so you can have fun with sheepskin, faux fur, patterned rugs, and tons of other styles. And don't be too quick to shun a great carpet – another floor design idea that has a bad reputation thanks to over-patterned piles of the seventies and eighties, but you can find some rather wonderful minimalist designs on the market that are made with modern, easy-care fibers.
#10 Dress with Accessories  
Simple ideas are often the most effective and if you have floor space you want to spruce up without the effort or expense of a complete replacement, we say: dress it up! A particularly wonderful living room floor design idea is to clear a space and add a floor lamp that brightens up a dull corner, add large pot plants to highlight natural shades of wooden floors, or stand a giant piece of art against a wall for people to admire. Let your imagination run riot!