Ways to Adorn Your Bedroom Door
Rebalance the ambiance in your bedroom by transforming your door into a statement decorative piece. Make the portal to your room show an insight into your mind by adding cute touches that let your creativity shine. Don't stop at the living room – add personality to your bedroom door with these cute bedroom door decoration ideas that anyone can use.
1. Fabrics
Is your door worn out, painted an odd color, or straight-up ugly? Fabrics for your bedroom door will be your new best friend. Cover your unsightly door with a tapestry or piece of textured material to add depth and intrigue to your bedroom door decor without making any permanent changes (this is ideal for renters!).
If you've already tried traditional fabrics, why not mix it up with made to measure blinds? These can be a great way to introduce a different aesthetic into your bedroom. Choose a blind in a bold color or pattern to make a statement, or opt for something more subtle if you're after a minimalist look. The beauty of made-to-measure blinds is that they can be customized to fit your door perfectly, giving you full control over how much light and privacy you want in your room. This is the perfect way to decorate your bedroom on a budget, or if you want a general revamp!
2. Curtains
Curtains or hanging beads for your bedroom doorway will make entering your room a special moment. Choose bamboo, macrame, or a beaded design, and enjoy the tinkling sounds as you walk through the door. And these double as a deterrent for flies and other bugs, keeping critters out of your bedroom.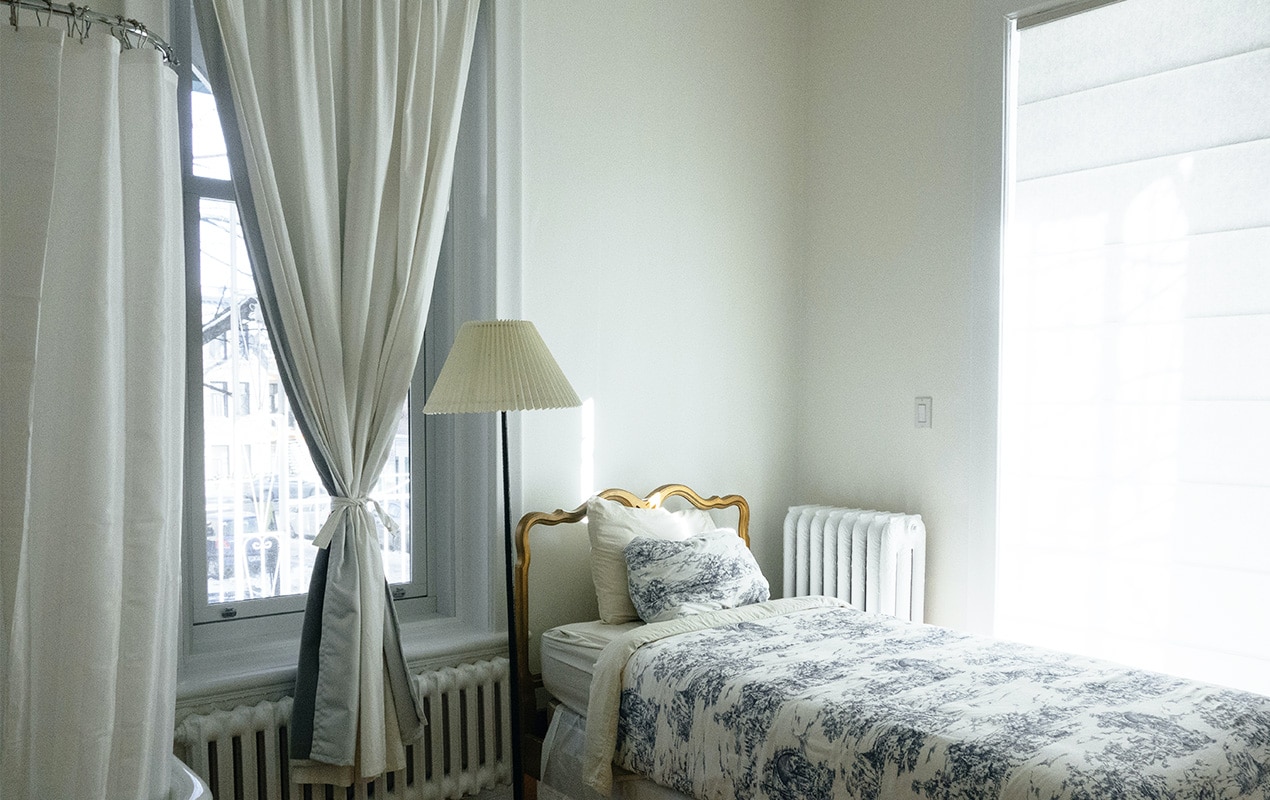 Quick Tip – Use a polaroid camera when out with your friends to make creating a picture collage door a breeze.
3. Nature
Take it even further than a floral stencil and add some flowers and plants to your door design. Attach a planter to the back of your door with a climbing plant inside to drape over it, or create a wreath with wicker, twigs, and pressed flowers. No, wreaths aren't just for Christmas – add a natural touch to your room all year round!
4. Photos
One of the best bedroom door decoration ideas is transforming it into a collage of your life. Print photos of friends, family, and memories, and assemble them into an aesthetic design on your bedroom door. Express yourself through your bedroom door decorating ideas.
5. Mirrors
Mirrors are an interior decor must for smaller spaces, as they amplify the light and expand the size of the room. If your bedroom is a little cozy, stick a mirror to the back of the door to create the illusion of a larger size, and check out this blog for more tips on making the most of your space. And, you'll get a glimpse of your face every time you leave, helping you avoid embarrassing hiccups.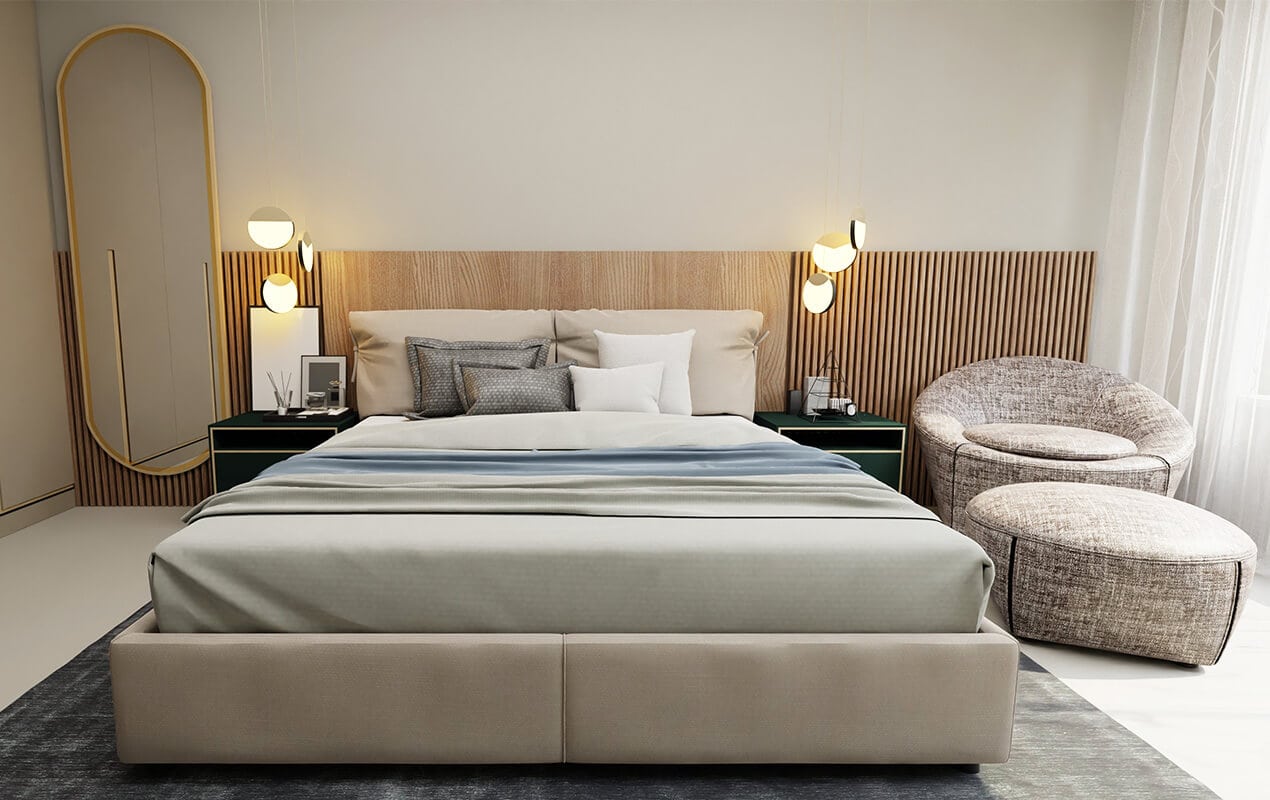 6. Quotes
Do you have a favorite inspirational quote or segment from a poem? Write it on the back of your bedroom door with a permanent marker pen, and see your mantra daily. Trace out the lines with a pencil before going in with the pen to avoid any messy mistakes in your door design.
7. Cuttings
Create an artistic collage with cuttings from your favorite magazines for a scrap-book style door that you can update as often as you like. Let your interests take center stage and choose stand-out pieces featured in any magazine, from fashion and beauty to cars and luxury living.
8. Wallpaper
Effortlessly elevate your bedroom door with a sheet of wallpaper to add an intriguing pattern or splash of color to your bedroom interior. Read this article for the most popular shades in 2023, and make sure it matches the other walls in your room. Covering your door with wallpaper can work like a mini feature wall in a smaller space.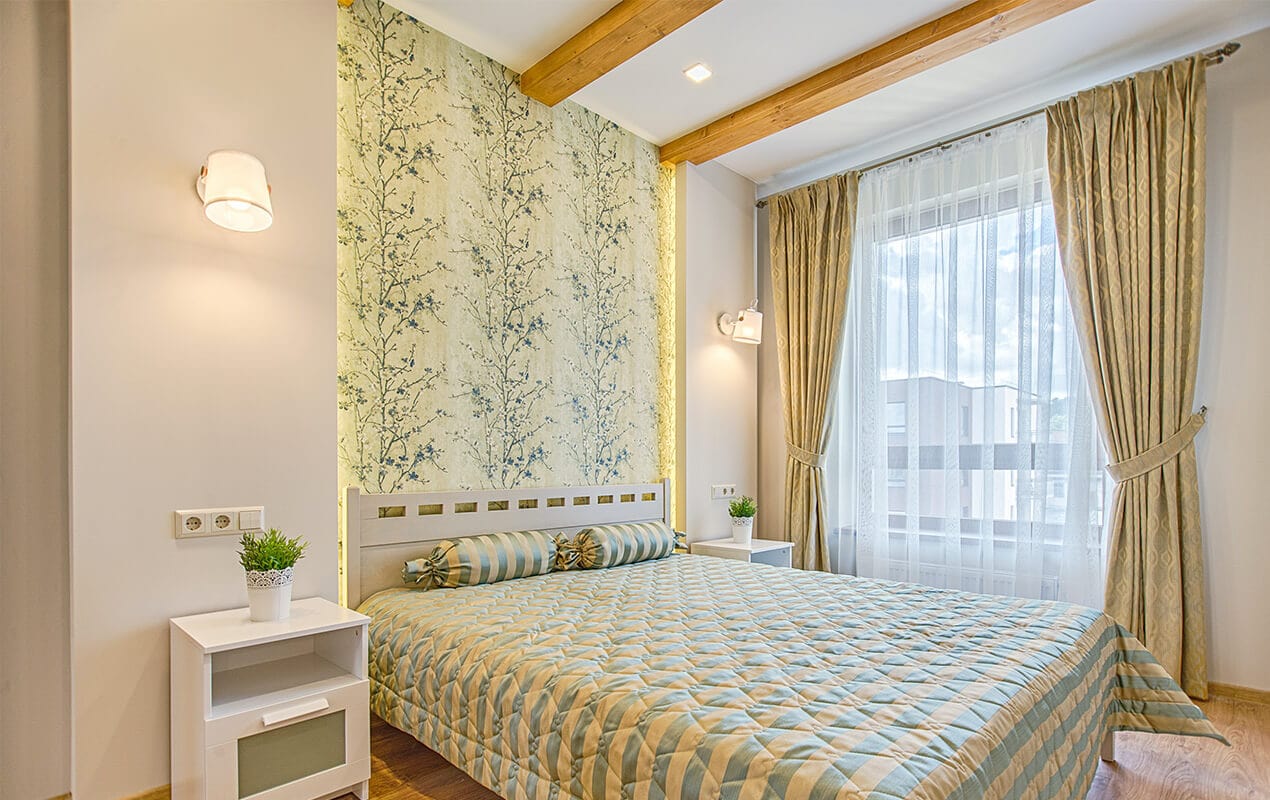 Quick Tip – The sky's the limit with bedroom door decorating ideas, but don't overdo it or your door could become crowded. Remember to use your wall space too!
9. Gloss
If you'd rather not have your reflection staring back at you with a mirror on your door, you can achieve a similar space-creating effect with a glossy finish. Use a high-pressure laminate (HLP) sheet for sleek and minimalist interior bedroom decor that adds valuable space to your room. More spacious interior decor could even improve your mental health.
10. Stencils
You don't have to be an artist to get creative with your decorating bedroom door ideas – stencils let you draw with confidence. Paint a geometric pattern directly onto your door or try out a simplistic floral design using a stencil to guide you as you paint or spray the door.
11. Panels
Instead of decorating the entire door, many cute bedroom door decoration ideas involve selecting a panel or section of the door to decorate. This way, the edge of the door becomes the frame for the pattern inside, and it can create a powerful contrast with the walls.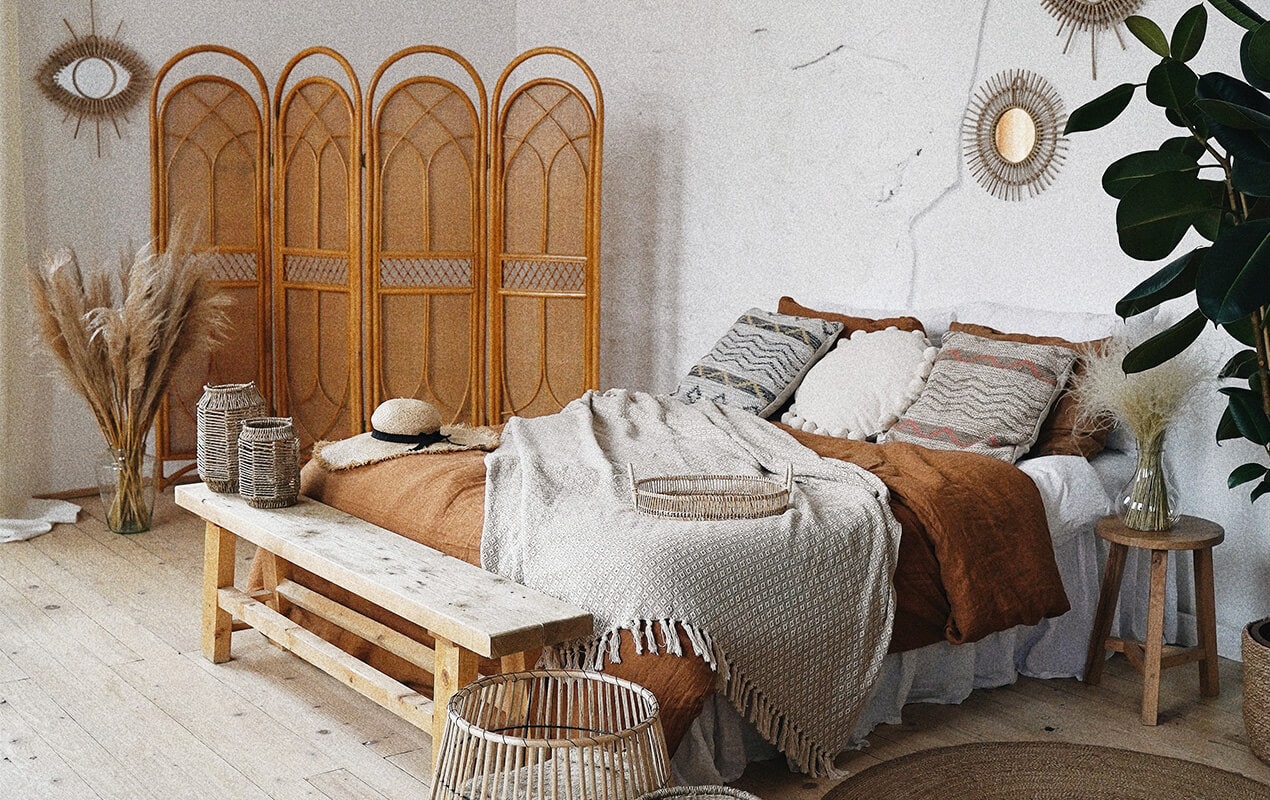 12. Distress
If rustic is your style, distressing your bedroom door will complete your interior decor. Use sandpaper to rough up the edges of your door, following the grain of the wood for a naturally aged look. Or you can paint the door with a base coat and cover it with a thinner, more natural shade.
13. Stickers
Collecting stickers or decals from your favorite cafés, brands, and artists is a cost-effective way of making your bedroom door more alluring. Instead of a blank canvas, your door can become an artistic collage of your interests and hobbies, but make sure the door is clean before you get sticking!
14. Organizer
There are cute ways to decorate your bedroom door while organizing your life too! Use a cork, chalk, or whiteboard for your to-do lists and weekly planning, and have it conveniently positioned on your door. Write or stick the essential things you need to remember on this board, and you will never forget a thing again.
Quick Tip – If you are indecisive and want to make sure you have the best wallpaper in mind, order a small piece of each one and try them out on the door. You will soon know which is right for you.
What Now
The truth is, there are no limits when it comes to bedroom door decorations. You can adapt your bedroom door decorating ideas to match the seasons or pick a theme and firmly stick to it. Choose a method from these 14 cute bedroom door decoration ideas, or several to mix and match, and make your bedroom a space that's your own.