White living room decor appears simple on paper. You collect a series of white furniture, paint your walls white and then add white accessories. The notion is simplicity itself. Yet, bring these elements together and chances are your room appears flat. What exactly is missing, and how can you correct the errors you've made?
We're here to show you exactly how to make your white living room ideas work – yes, even minimalist decor – without the stress.
Embrace New Minimalist Decor
True minimalist decor has moved on a little since it was first introduced in the 1960s. When it was created, it was seen as an antidote to the bright colors and bloated curves of the previous decades. Simple white design was in, and with it ushered a new wave of home renovations.
Today's minimalist decor takes a more relaxed approach, introducing color variations and accent pieces to an all-white interior to stop it from looking bland and uninviting. Soft, white couches are plumped with muted-toned pillows and throws that remind us of the outside world the pandemic lockdowns took from us. Sage green, terracotta, and oat shades sit happily among crisp white color notes to add warmth and contrast.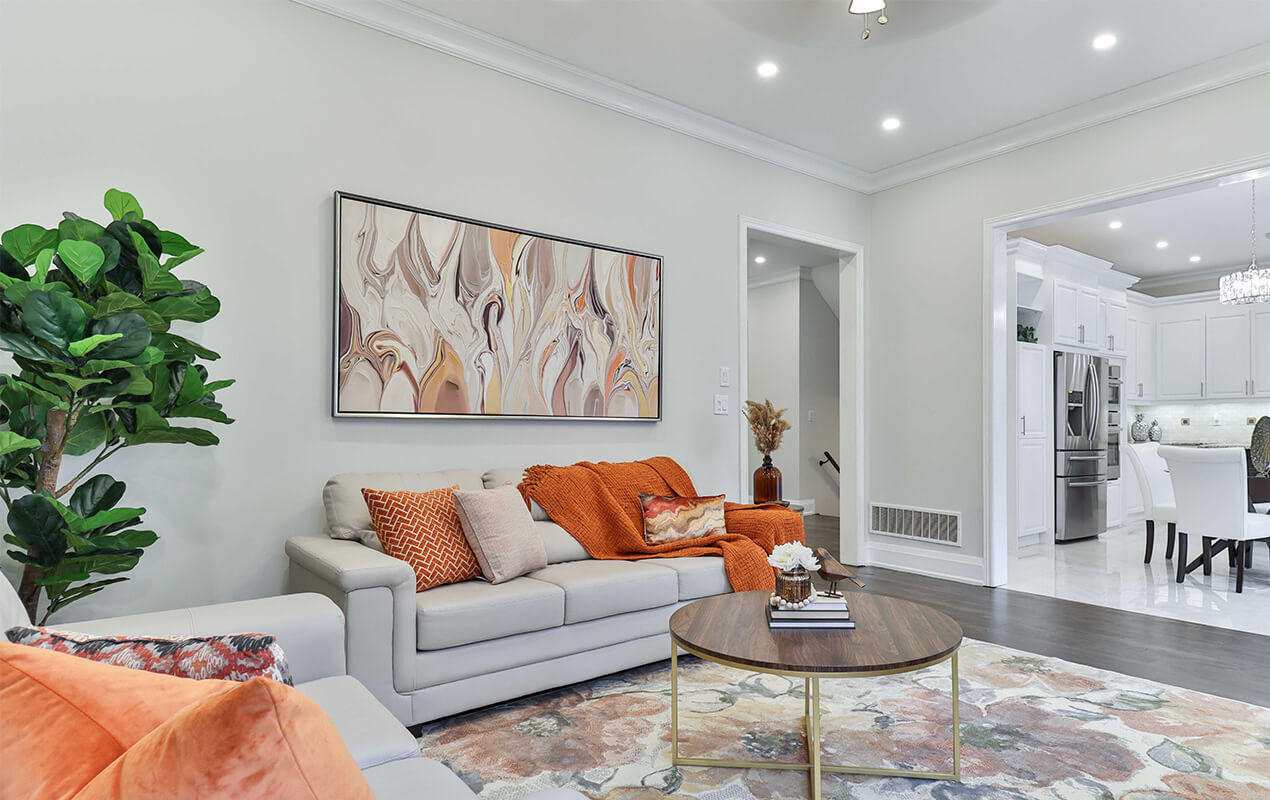 Quick Tip – Use hard-wearing, easy-to-clean surfaces and materials if you have children or pets.
But Stop It Looking Dull!
There is nothing wrong with seeking out an all-white room, but understand that there are many shades of the same color on the interior design color wheel. Cool-toned whites work well if your room is filled with lots of natural light all day long, giving warmth to a shade that could look dull in the absence of the sun's glow.
If your room is on the shady side, warmer-toned whites which sit towards the cream side of the spectrum will remove the gloom, and look great alongside warm-toned accents, too.
Should I Use Silver or Gold Home Decor Accessories?
This leads us to the question of accessories. One of the swiftest ways to add light and interest to your interior space is to add shiny things! Humans are drawn to gold and silver tones, and which color works best in your room is down to the white spectrum you are working from. Cool-toned whites with blue or grey undertones work best with silver home decor accessories. Gold home decor accessories look better with warm-toned white shades with undertones of pink, red, or yellow.
Quick Tip – All-white interiors are not easy to live with, particularly if you hate cleaning.
How Else Can I Add Light to My Room?
If a lack of window light is making your room appear dull, an option is to add artificial lighting to recreate the look of a brightly lit space. Smart lighting which can be programmed to thousands of colors, including various cool and warm white shades is a great option here but stick to the minimalist aesthetic if you want to keep your room decor sleek and streamlined. Stick lighting instead of grand chandeliers, and tall, thin task lighting meets the 'less is more' ethos the minimalist aesthetic movement embodies.
Can I Start With All-White Living Room Corner Decor?
If you're worried about introducing an all-white room into your house, how about trialing the idea first with an all-white living room corner instead?
By introducing white decor on a smaller scale you can see if a clean white living room is a room you could live with long-term. We recommend trying a white corner in an area where you can introduce other white elements easily, such as white living room curtains or white couches (inexpensive ones can be picked up on Craigslist for little money) to see how practical long-term white living is for your lifestyle.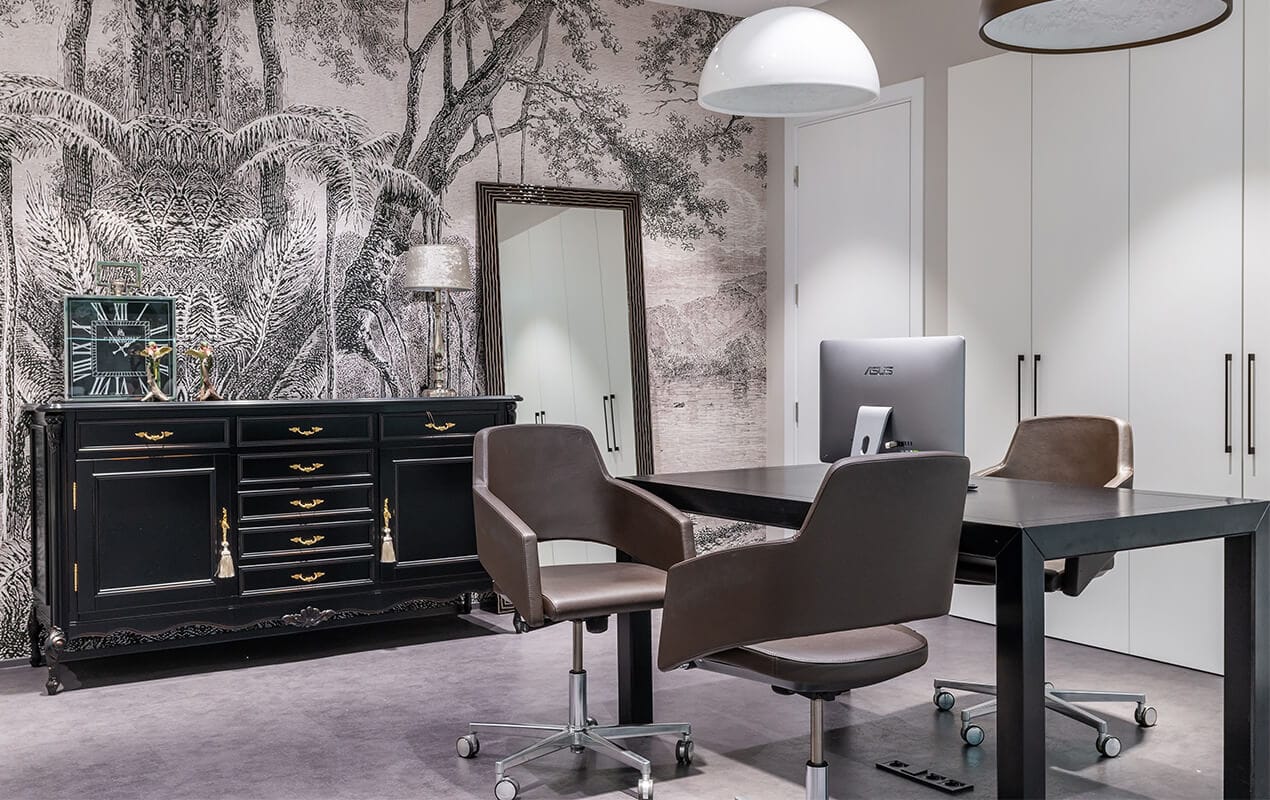 Add Pattern and Texture
Textured walls are big this year, as are striking wallpaper patterns that draw the viewer's attention. While clean white living rooms are all about subtle decor, adding an aesthetic minimalist wallpaper that mimics natural stone, marble veining or even concrete wall tiles can add sophistication to your space while not drawing too far away from the white color palette used as the main decor color.
Introducing Wooden Elements
The global pandemic made the whole world reassess how they lived, bringing us a new-found love for the natural spaces all around us. As a hangover of those days stuck indoors, our interiors have changed to introduce biophilic design – the art of incorporating nature-inspired elements such as natural wood furniture, indoor plants, and clay ornaments into our homes.
Wooden elements work very well with an all-white color scheme as light and airy white living room wall decor provides a perfect backdrop to showcase the natural wood grain of high-quality wooden furniture.
Dark wood flooring provides a striking contrast against white walls, particularly when other darker shades are incorporated into a white room design to balance the space. Look for charcoal grey and silver chenille throw pillows and blankets to warm up a cool interior space with snuggly charm.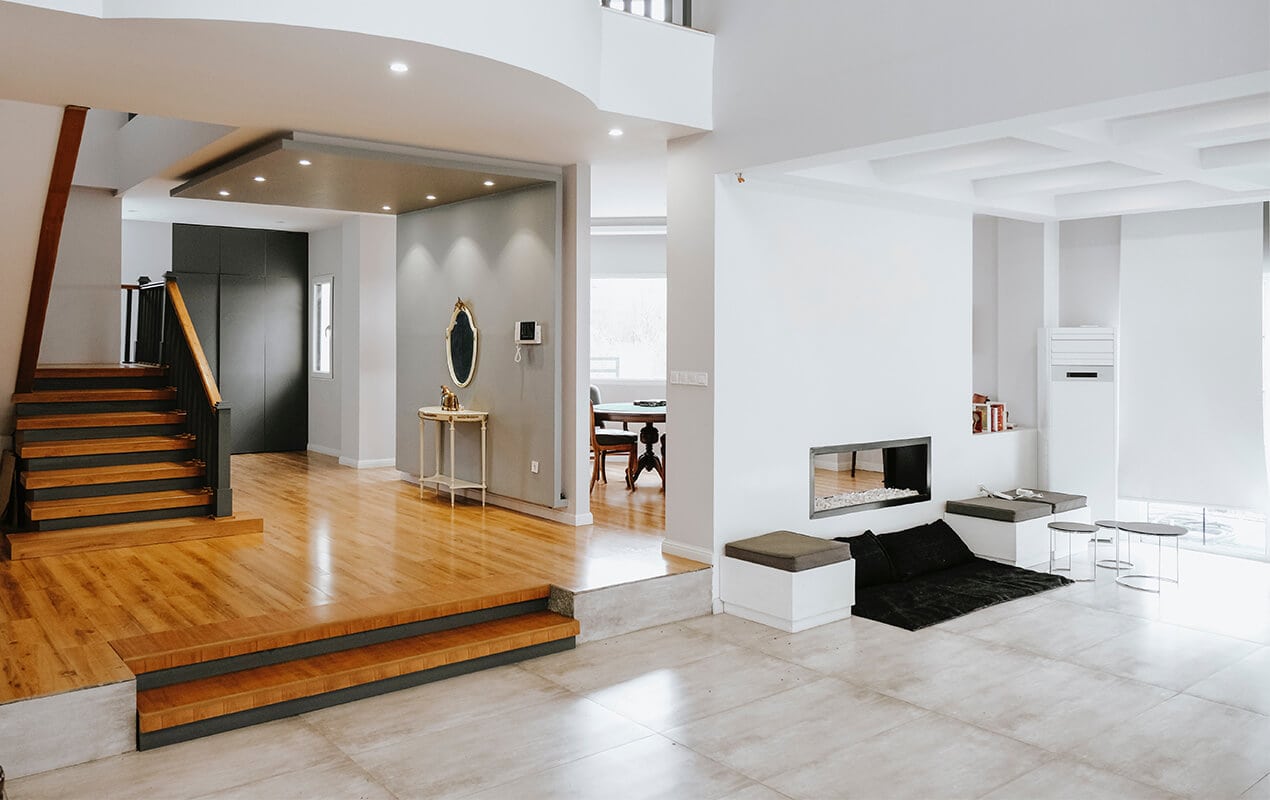 Introduce Personality To Your Space
Whatever decor style or color palette you work with, your living room should always reflect your personal style. Too many people decorate their homes based on current decor trends or what they think their friends will appreciate, forgetting that they are the person inhabiting the space.
If you're naturally the messy type, an all-white living room is unlikely to suit you. The same can be said for a maximalist home if you like smooth, straight lines and uncluttered surfaces. Staying true to your sense of style helps you curate a space filled with things you love and with colors and furniture that inspires joy. At the end of the day, that's the whole point of interior design.
Use Clever Storage Solutions
Adding hidden storage furniture in your all-white living room design enables you to store away unsightly items, ensuring that your living room stays sleek, uncluttered, and minimalist. Furniture is also a great way of adding pattern, color, and texture to your space by carefully choosing the furniture finish to suit your decor. Glossy surfaces help to reflect light, adding brightness to a dull area tucked away from windows, whereas curved or scalloped furniture edges will add texture to your room design without adding additional colors to the mix.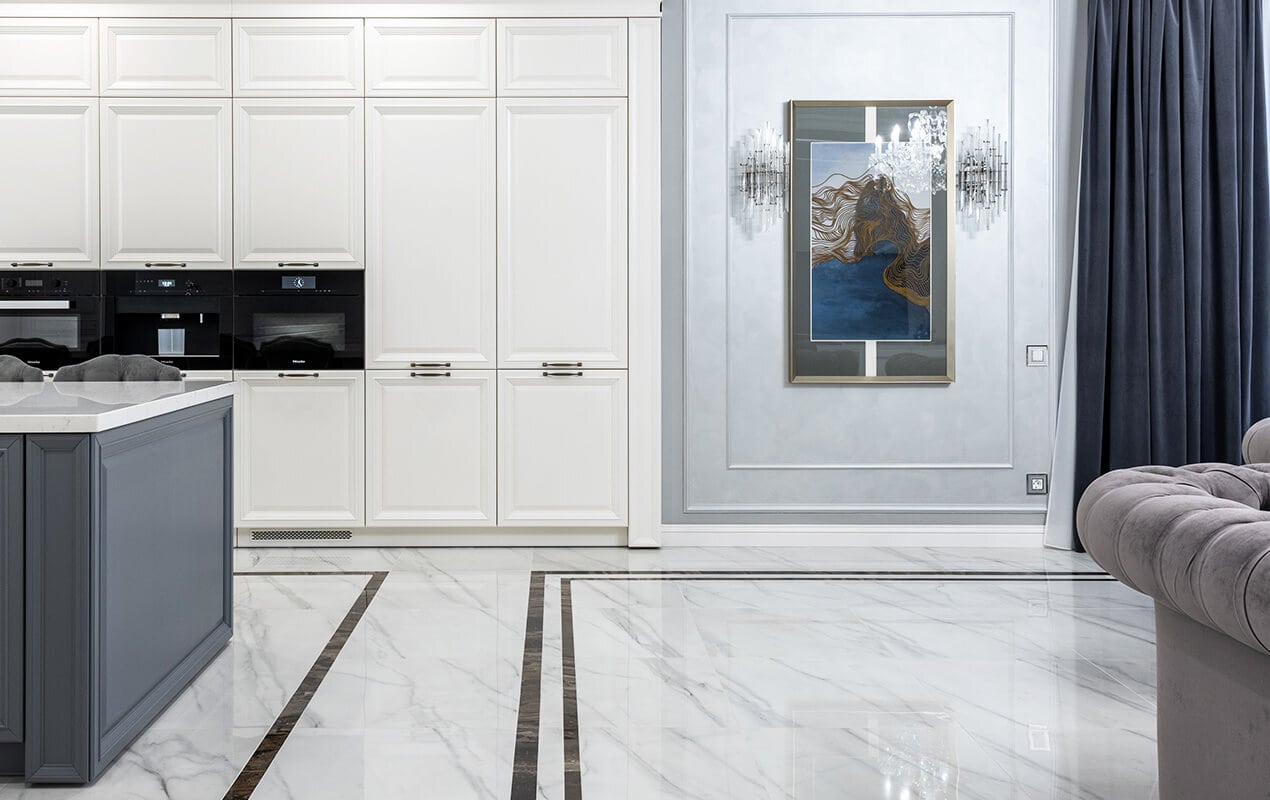 Quick Tip – Don't be afraid to stray away from traditional minimalism through the use of botanic elements.
What Now
While all-white interiors do have a rep for being difficult to manage, there are many ways to minimize the burden an all-white minimalist decor brings. While white can be sterile, adding interest through pattern and texture can give your space depth and introduce tactile elements. We also explored the possibility of introducing wood, which gives warmth and contrast, particularly when used as a floor covering.