In With the Old, Out With the New
Nowadays, new stuff is overrated – it is antique and aged items that steal the show! Home interior vintage decor adds character and charm to any room, making your space one-of-a-kind. Blend quality wooden furniture with unique artistic features and patterned rug designs, and complete it with strong layered lighting and a touch of nature. Or, place a modernistic glass coffee table atop a thick vintage rug for another contrasting look. The possibilities are endless when blending vintage interior design into your home. Keep reading for a guide on how to decorate with vintage decor, and the five themes to include in your home design.
1. Welcome a Blast From the Past
Incorporating furnishings, accessories, and color schemes from a bygone era is essential when designing and decorating your home in a vintage style. This versatile style has influenced many interior design trends, from shabby chic and mid-century modern to French-country and art deco. Any style that nods to an earlier period incorporates vintage (or vintage-inspired) furnishings and accents. 
Home interior vintage is incredibly versatile, as it changes significantly depending on the time frame. For example, one particular vintage interior design trend reflects the romantic nostalgia felt in the 1940s and 50s, while Victorian-era vintage décor pays tribute to the grandeur of 1800s interior design. The beauty of this is there is ample room for creativity and self-expression. Learn more about interior design through the ages here.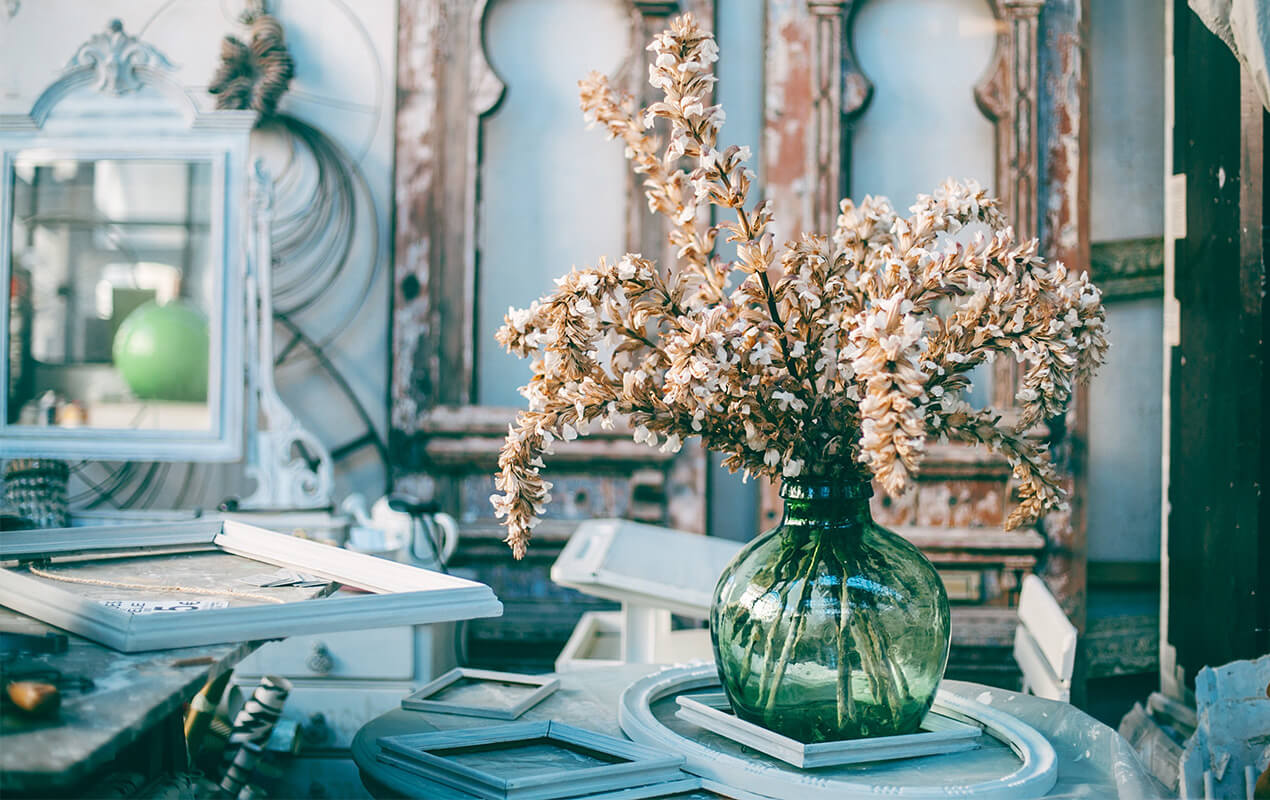 2. Include Some Fancy Furniture Pieces
Vintage decor has an old-fashioned elegance, often expressed through luxurious furniture pieces. Statement chairs with regal backs and soft upholstering might take center stage in a dining room, or a chaise lounge could be an iconic feature of your vintage living room. While these pieces don't have to be in tip-top condition, vintage home interior products should be classy and extravagant.
According to Vogue, vintage furniture was the hottest interior decor trend in 2021 and is still on track to dominate the popularity scales. Mass-produced items for homes lack a certain degree of charm that people are seeking to reclaim, and vintage décor offers just that. As the vintage style celebrates thrifting and repurposing, it leaves room for authenticity and individuality to shine. Revisit your hand-me-downs and family heirlooms for any missed treasure you can repurpose as a vintage centerpiece!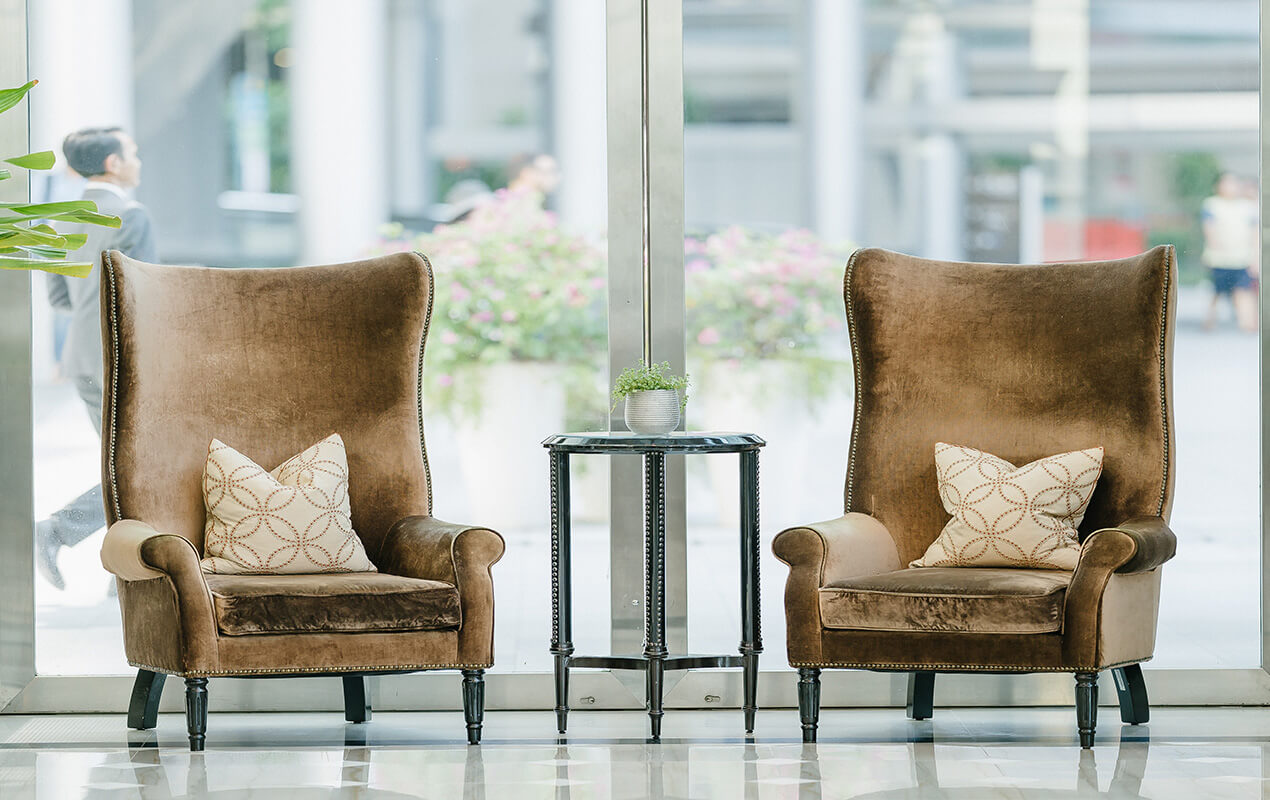 Quick Tip – What is an old briefcase to one person becomes a table to the vintage designer. Stack up any old suitcases or travel boxes and transform them into a makeshift vintage side table that is sure to get your guests talking.
3. But Keep It a Little Rough Around the Edges
When we imagine vintage, aged wood and rustic style designs also come to mind. That's because old pieces of wooden furniture are a staple of vintage decor and are some of the most popular today. If you can't get your hands on genuine antiques or vintage pieces – don't worry. Artificially aging your door to blend with your decor doesn't require much more than some sandpaper.
Blend dark mahogany and oak wooden furniture with paler vintage pieces for the perfect contrast. Include color and patterns, of course, but save it for your furnishings like rugs, cushions, and artistic wall hanging pieces. A bold and bright rug adorning the floor will bring your vintage bedroom to life while the simplicity of wooden furniture will keep it feeling authentically vintage.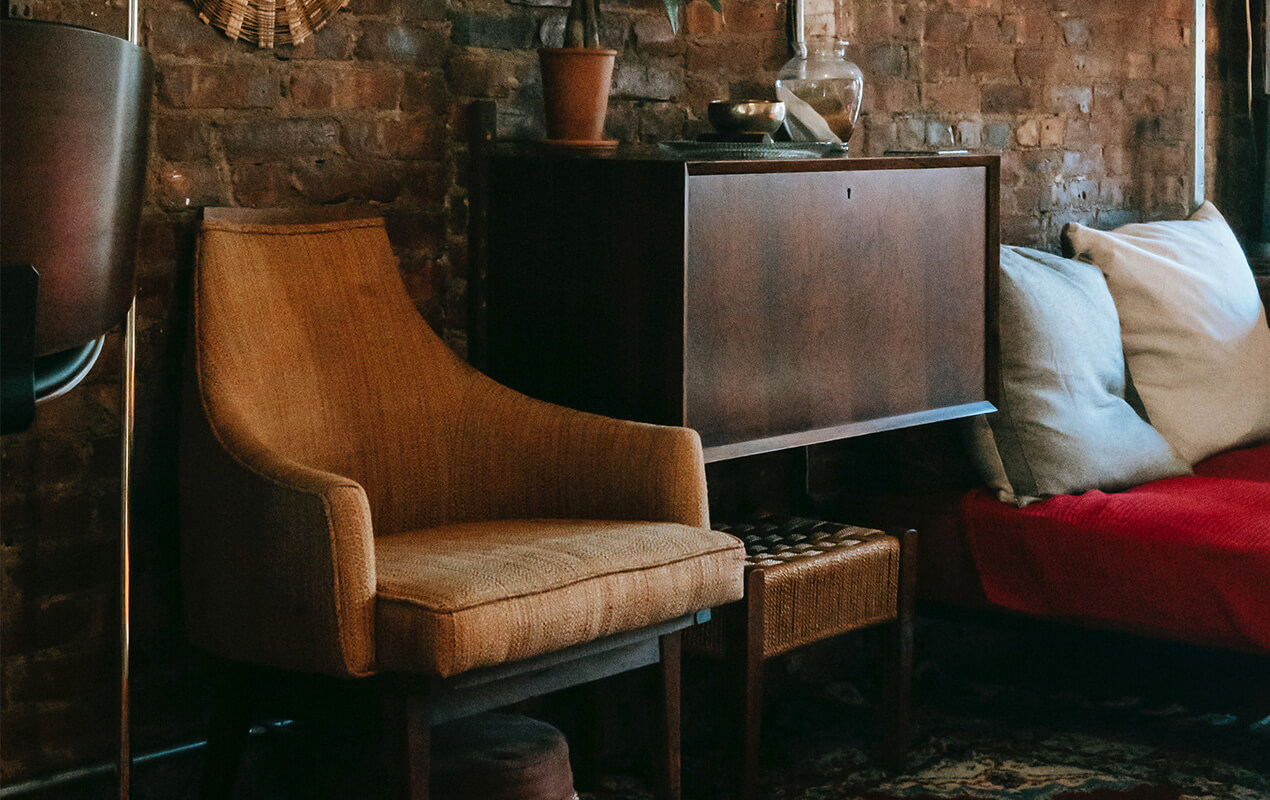 Quick Tip – Have some fun with your planters by repurposing old rusty items and DIY-ing them into your new favorite plant pots. Check out this guide for more ideas on how to turn junk into a whimsical garden feature.
4. Choose Soft and Feminine Colors Where Possible
Vintage color schemes tend to be delicate and feminine but with ample room for experimentation. Blend soft grays and pastel hues like duck-egg blue, sweet pink, and floral lilac with neutral shades like white, cream, and beige. Add an accent wall with a flowery wallpaper pattern to enhance a straightforward color scheme and give the space an even more vintage feel.
Add a feature wall to your home's interior vintage designs using a calming pattern in muted shades. Remember that if the patterns and colors are too modern or out there, the style becomes more retro than vintage. Retro interior design blurs the lines between old and new in a different way to vintage, and is known for its bold, bright, and daring color palettes. Explore matching shades, and your dream vintage color scheme here.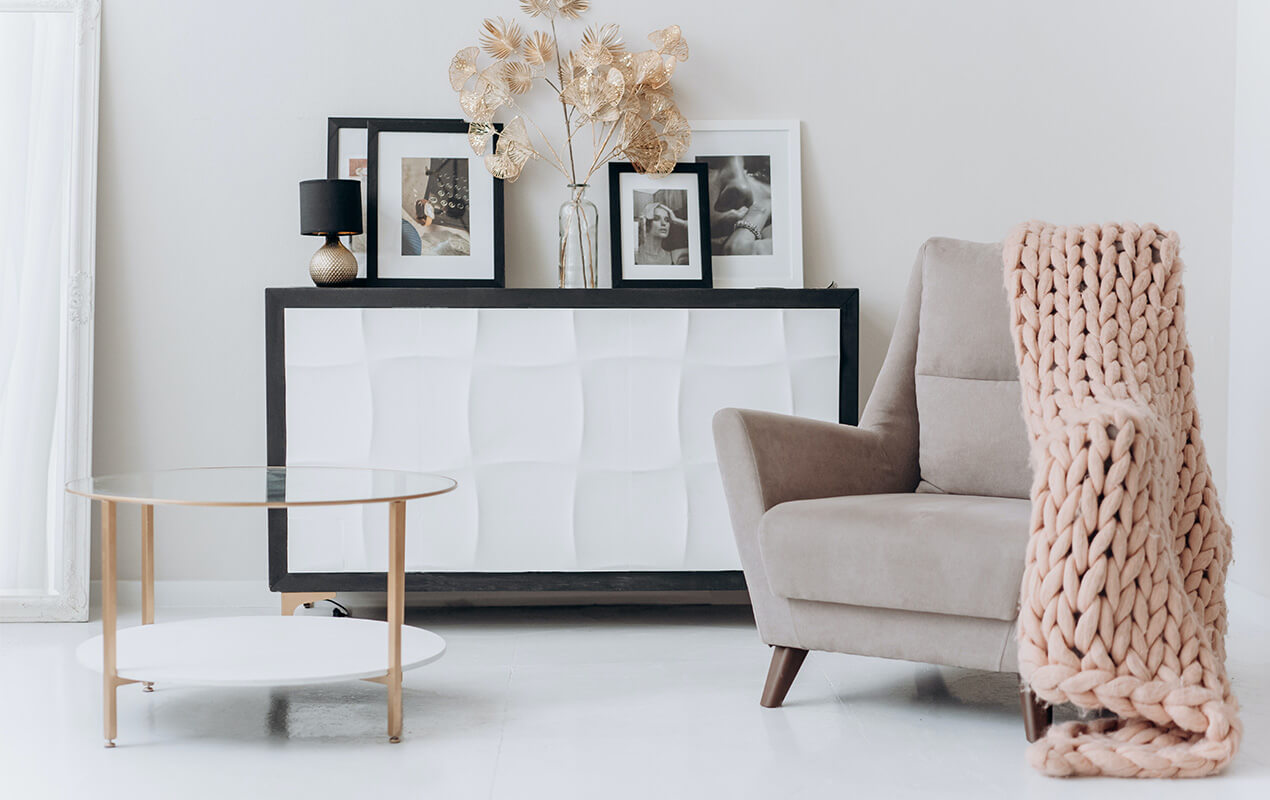 Quick Tip – Use books as decoration in your home by sorting them by color. Create a gradient in one big bookcase, or scatter different color schemes throughout your house on mini shelves.
5. And Don't Forget About the Fabrics
Fabrics add a different texture to the room, making it a cozier space for you and your visitors. Incorporate flowing antique curtains for a graceful touch, add delicate lace napkins to nightstands and dressers, and complete the look with accent pillows and throws. When picking out your bedding, use something made of vintage linen.
Incorporating a mixture of fabrics allows you to get creative, so choose patterns and colors that reflect your personal preferences. Fluffy pillows, soft blankets, and squishy rugs will add a sense of safety to your home, allowing you to relax while spending time at home. Keep comfort in mind when designing your vintage room, as creating a cozy and welcoming space is key when decorating your home.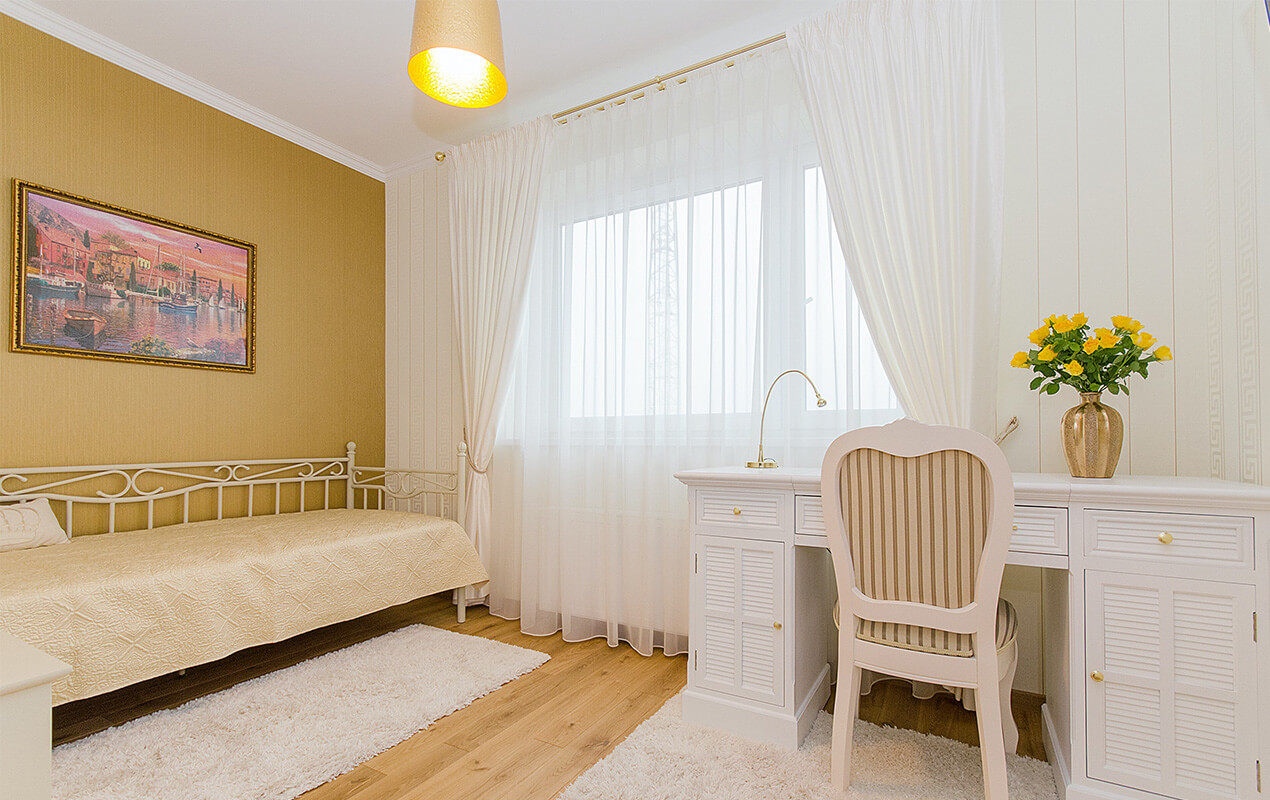 Start Styling Your Space Now
Are you ready to transform your home with a vintage vibe? Start today by distressing your furniture by hand or taking a look at local thrift stores to see what furniture you can pick up today. Just pepper a few vintage pieces around your home and feel inspired to embrace the beauty of the past. Take a second look at old pieces of furniture. Could they be repurposed as something entirely different? Live sustainably and decorate authentically vintage by embracing old pieces and reusing them in your home.