The corners of your living room space can easily be forgotten, but for us, they're some of the best little hiding nooks of all, filled with wonder, color, and just a few low-light houseplants. If you've got a quirky, small, or odd space in your living room that you need to dress, or you're just looking for living room corner ideas for future renovation projects, this blog post is for YOU!
Add A Foldaway Bar
Adding a small rollaway top bar or drinks cabinet to a corner space is a perfect way to entertain your friends during the evening. Just don't forget the seltzer to clean up in case things get a little messy.  
Add Open Shelving to a Corner Space
Open shelving is a great way to showcase a feature ornament or beautiful items that bring you joy. In Scandinavia, they call filing your home with carefully selected decor pieces Lagom, a principle of living simply and with meaning. We don't know about you, but we think we could all do with a bit of Lagom in our lives.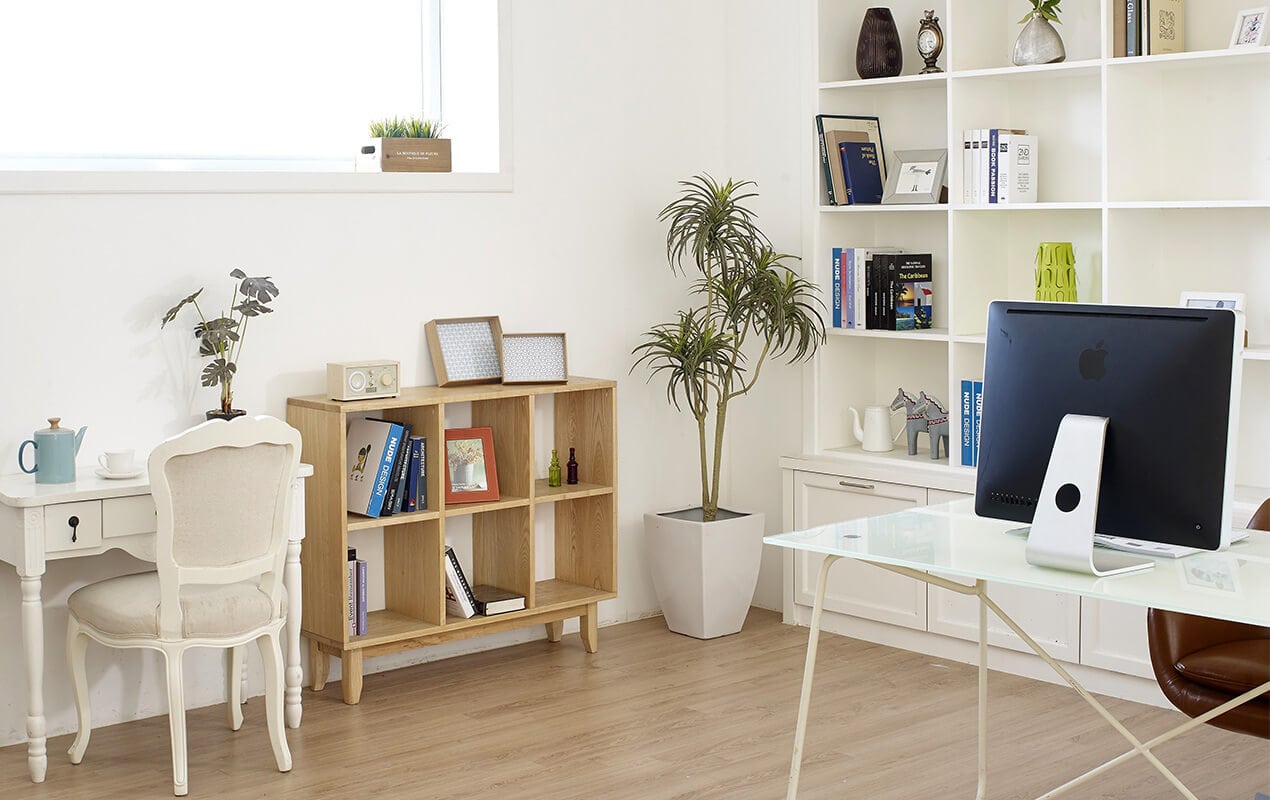 Quick Tip – Displaying kids' artwork, your fave opera poster, or other things that make you smile can improve your mood.
Add a Window Seat Bench To A Discreet Nook
Window seat benches provide excellent seating for larger gatherings, and can fit into discrete nooks on either side of your living room chimney breast when not in use. Opting for cushioned seating with under-seat storage will make the most of a small room layout, allowing you to store scarcely used items when they are not in use.
Create Your Very Own Corner Gallery Wall
If Lagom isn't for you, and instead you prefer the maximalist style, using a corner space as your very own gallery wall can be the best way to showcase your favorite art pieces. To stop your corner spot from looking cluttered, pick art prints, paintings, or posters that follow a similar theme or color palette and mount them in matching frames to ensure they look organized.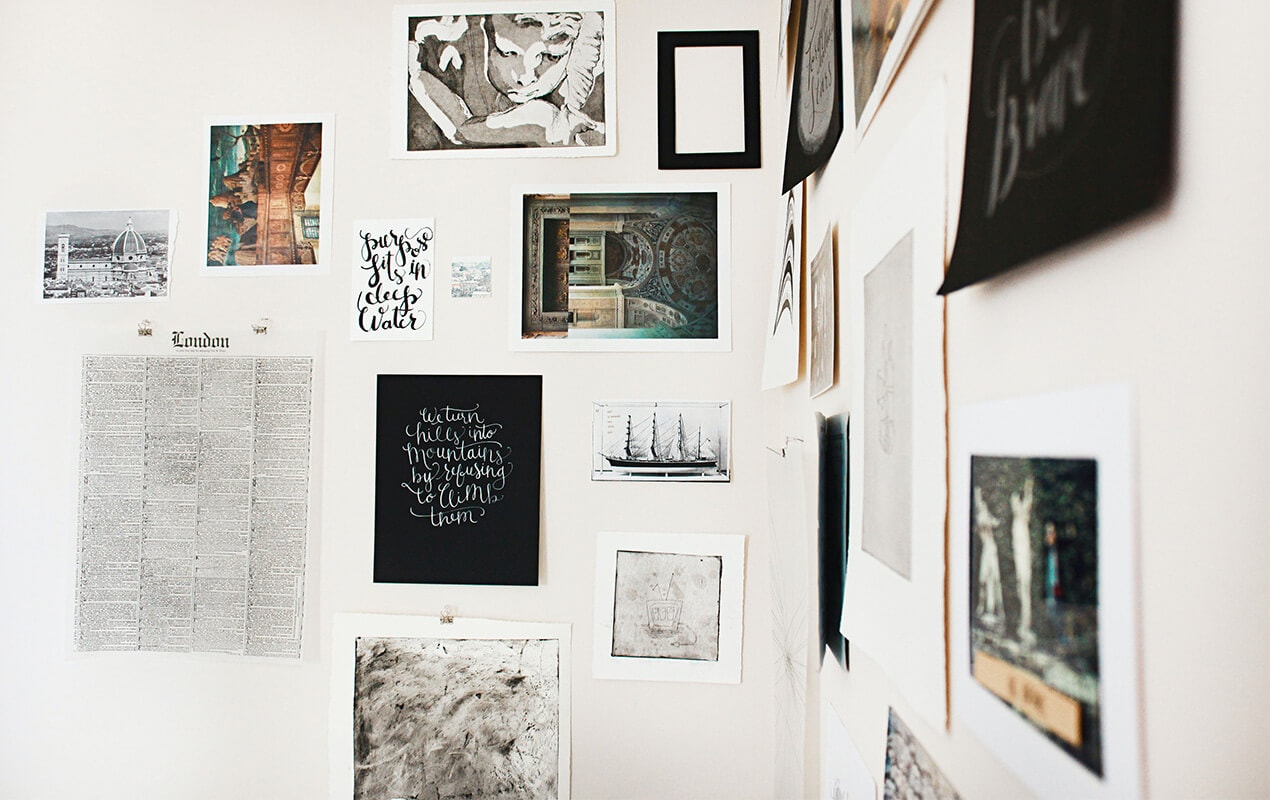 Quick Tip – Decorating your corner living room space in a different color differentiates from work and fun areas.
Devote a Corner to Home Entertainment
Home entertainment systems such as video game consoles, sound systems, and wireless devices can ruin a vintage or carefully curated aesthetic where clean lines and wire-free spaces are desirable. A built-in media center can get rid of this problem while also adding much-needed storage for controls, remotes, and other media and peripherals.
Create a Homework Space For Your Kids
As parents, we all want to create a safe, clutter-free space in our home where our children can study for their class assignments. Adding a small homework space to a chimney breast niche or a remote corner of your living room for a desk, a lamp, stationery, and a sturdy chair gives your child the perfect place to perch while they perform equations.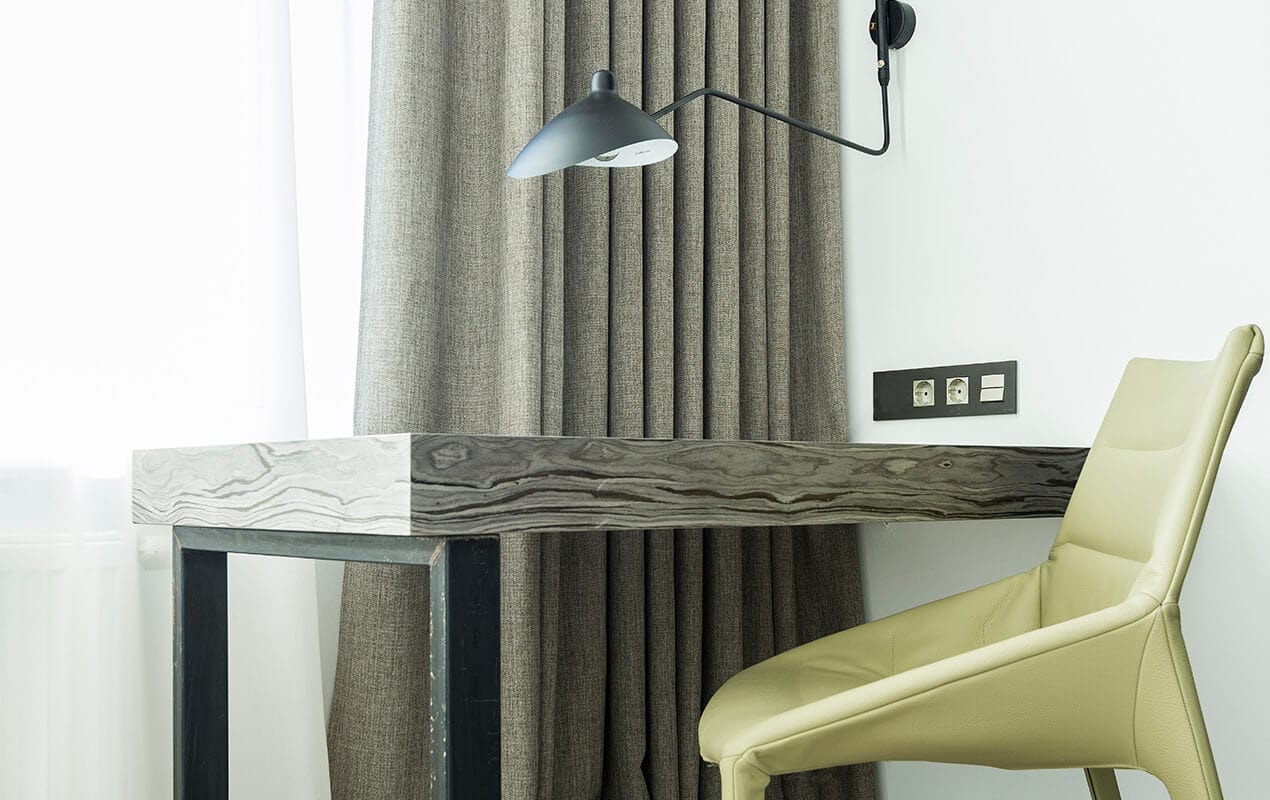 Use Narrow Lighting In Compact Corner Spaces
A tall floor lamp, like those found in our mid-century style blog post, is ideal for small, narrow corner spaces next to couches or behind large sitting room chairs as a reading light. Opting for curved varieties, such as arc lamps allow you to easily adjust their position to direct light around the room, ensuring that you're never in the dark with one of them around.
Add Low Light Houseplants to Brighten Up Your Room
The 2020s biophilic design elements saw us introducing more plants to our homes than ever before, and opting for low-light houseplant varieties means that maintaining their health is child's play. 
Low-light houseplants, as the name suggests, need very little light, relying on watering and light TLC only. They are ideal plants to sit at the side of couches, in corners by the drapes, or even displayed on the corner shelves we mentioned earlier. These hardy plants provide plenty of color, even if they don't flower, adding lush green foliage to your living room that complements most interior wall colors.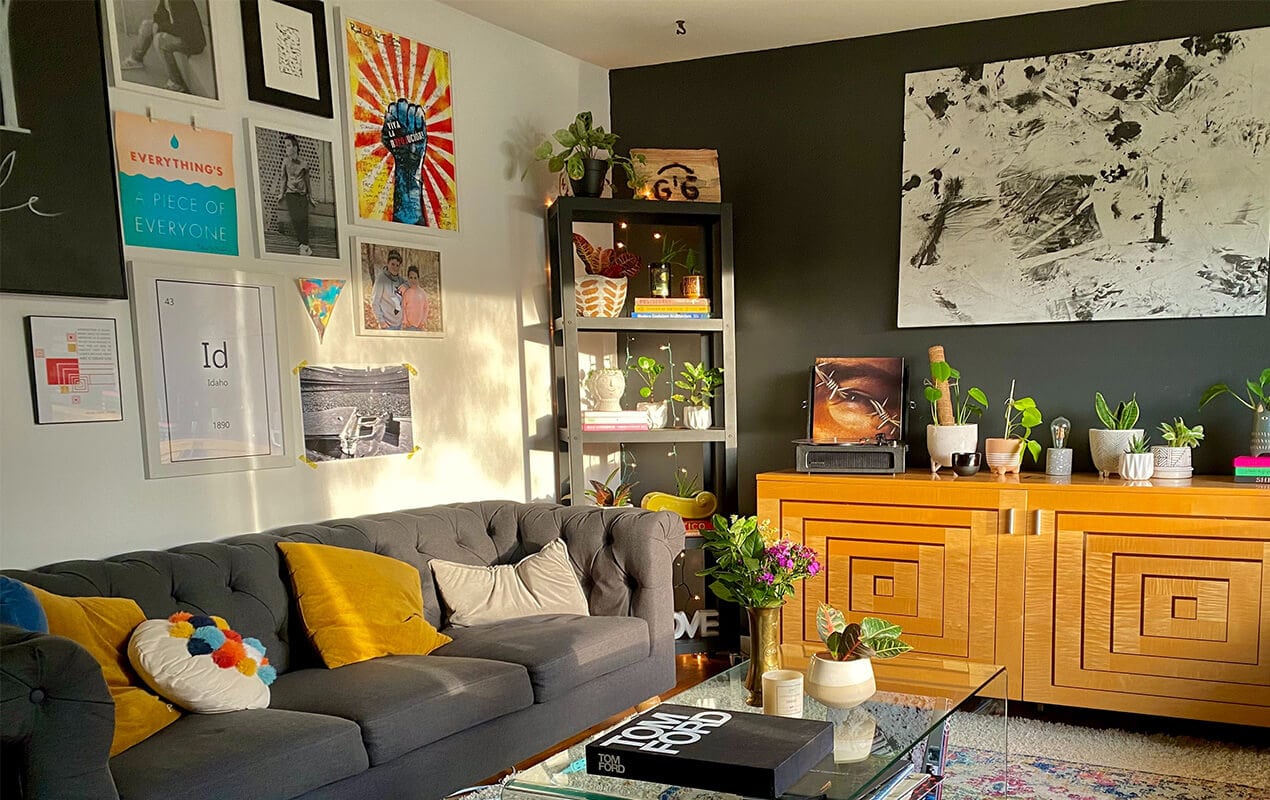 Make a Home Library With Floor to Ceiling Bookshelves
If we had a dollar for every time we wished we had a home library filled with floor-to-ceiling bookshelves, we'd be very rich indeed. But while floor-to-ceiling bookshelves are a pipe dream for us here at DeCasa, we'd hate for you to miss out on this striking living room corner idea.
Adding tall, slim bookcases in the alcoves on either side of your fireplace, or building in a small concealed bookcase on the wall behind your couch is a great way of showcasing your love of reading, and adding color to your space. Book covers come in a range of colors and designs, allowing you to organize them by specific shade for a stunning living room aesthetic.
Add a Focal Point With A Brightly-Colored Freestanding Cabinet
If your corner space is too small for large bookcases, how about storing your favorite novels in a freestanding cabinet? Painting a solid vintage cabinet in a brightly-colored jewel tone such as ruby red, emerald or a deep aquamarine blue will draw the eye to the vibrant corner space, making the cabinet the ideal place for sparkling treasures or your best spotty teapot.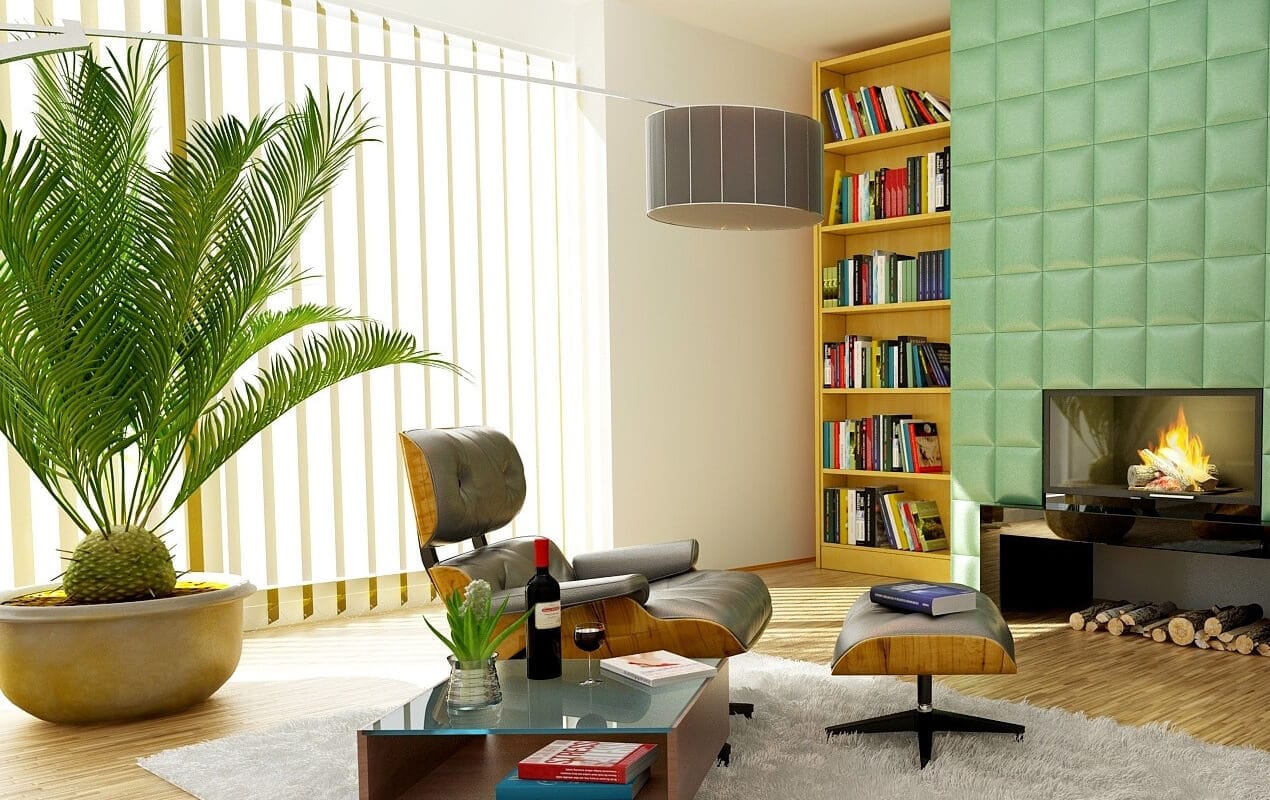 Find a Hideaway Desk Spot For Home Working
There has been much documentation on the importance of interior design in a person's mental health. Of these reports, it was found that when working at home, those who gave themselves a functional working space that was separate from the 'fun' areas of the home such as the living room, the bedroom, and the media room had better mental health than those who worked from their couch.
Creating your own hideaway desk away from the TV, the couch, and other distractions will put you in the right mindset to work from home, with the bonus of being able to store your laptop or PC away when the working day is done.
Create A TV Niche With Storage
A TV niche with storage underneath or to the side operates as a mini media center without the need to create a built-in piece of furniture to house it. Set your TV on a small media cabinet, such as those found in IKEA, and keep your wires out of view with their cable organization tools to hide them with ease.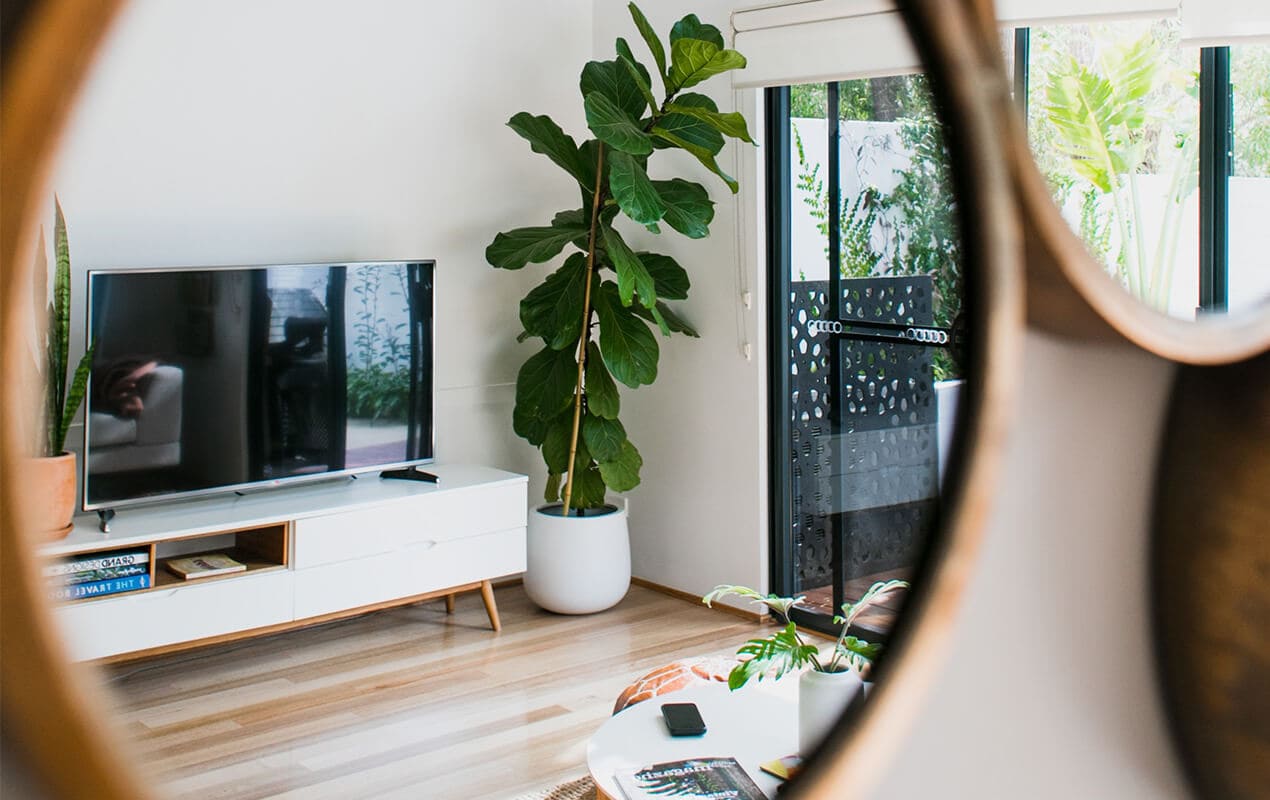 Quick Tip – Think about what you want from your corner space. Do you want a fun place to show your personality or functional storage for items you use every day?
Make the Most of Corner Space With an L-Shaped Couch
A living room corner space benefits from L-shaped furniture which fits perfectly into the space without much fuss. Contrary to popular belief, even small living rooms can benefit from L-shaped couches, particularly storage varieties, or pull-out sofas for added space functionality. Just keep the space light and airy with a pale furniture color choice to prevent your room from looking too cluttered.
Display Your Souvenir Collection
If you're an experienced globe trotter, finding a space to display all your travel souvenirs can be tricky. But adding built-in shelving or storage cabinets into a corner space can give you plenty of room to show your world experiences. Not only are travel souvenirs interesting, but they make great conversation starters for visitors, too.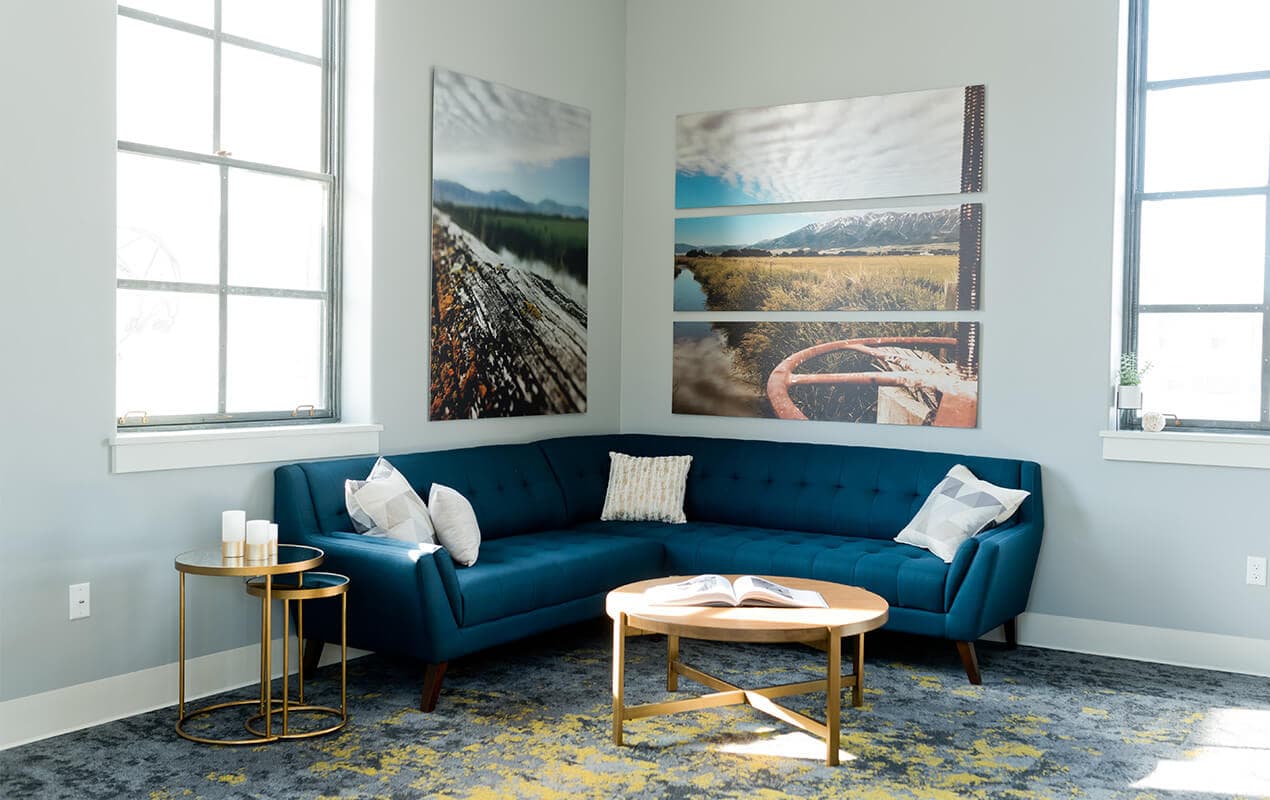 Add Color Interest With Wallpaper
If you prefer to keep your corner spaces clear of collectibles, but still want to add a vibrant pop, consider using a special vintage wallpaper from a thrift store or paint the niche with a bright color such as this year's must-have deep green shade to add a quirky room feature. 
What Now
We have plenty more tips on the blog section of our DeCasa website, so whether you're a minimalist Mabel or a maximalist Martin, love vintage decor, or strive for modern perfection, you'll find interior design ideas to suit your tastes. But for now, let's recap some living room corner ideas. 
If you're a fan of collections, dedicating a space in your home to your passion not only fills your home with personality, but can also give your mental health a boost; be sure, though, that any space you dedicate for 'clutter' is away from your work areas for maximum productivity. A hideaway desk that can be easily set up for home working or browsing the web is a perfect addition for those who have a busy home life, and can also double up as a functional piece of storage furniture if picked carefully.