Welcome to the world of low coffee table designs, where functionality meets aesthetic allure in perfect harmony. These coffee tables, characterized by their low-to-earth sizes, offer a unique perspective on interior decor, emphasizing comfort, style, and versatility. This exploration will delve into a diverse spectrum of low coffee table designs, each with its distinct personality and visual appeal. From minimalist and modern creations that embrace clean lines and simplicity to rustic, this collection covers a wide range of styles to suit various tastes and interior settings.
The low setting of the tables creates an intimate and inviting atmosphere, ideal for casual gatherings, relaxation, or simply enjoying a cup of coffee. With a focus on craftsmanship and material choice, these coffee tables serve as functional surfaces and represent artistic statements within your living spaces. Join us on this journey to discover the charm and versatility of low coffee table designs, where form meets function in the most captivating ways.
1. Wooden with Black Tempered Glass Top
Presenting a contemporary addition to your living space, this wooden coffee table boasts a sleek design. The table's square form exudes modernity while seamlessly fitting into various interior styles. The table's surface features a black tempered glass tabletop, lending an air of sophistication and reflecting the surrounding ambiance. This adds a subtle visual contrast against the warm wooden frame, creating an eye-catching focal point. With storage space accessible from all four sides, it provides convenience and a unique aesthetic.
2. Stainless Steel Frame Polished Top
The foundation of this square coffee table is crafted with a sturdy stainless-steel frame, lending it a modern and resilient structure. The tabletop features wood with a polished finish to complement the framing, marrying the elegance of wood with the sleekness of metal. The stainless-steel frame serves as a robust base, providing both stability and a contemporary aesthetic. Its clean lines and metallic finish establish an enthralling contrast against the natural warmth of the wooden surface.
3. Black Set of 2
The round table tops resemble suspended trays atop this black coffee table. Made from black eucalyptus wood, they feature a radial motif achieved through seamless slab joining. This distinctive technique adds charm and glamor to the tables, and the load-bearing structure echoes the tops' elegance. This maintains coherence and emphasizes natural hues, and through the fusion of form and function, they yield an alluring vibe achieved through meticulous design and material innovation.
4. White Stone Low Coffee Table 
Crafted from white marble, this low coffee table boasts an exceptional profile. Its foundation rests upon two sturdy stone legs, ensuring stability and elegance. Enhancing its pull, the tabletop boasts sloped edges that exude refinement, with the inclined edges serving as a visual highlight and a practical consideration. They create a distinctive look while maintaining a smooth and consumer-friendly surface. Enhance your living area with this modern coffee table, where the charisma of white marble meets meticulous craftsmanship.
5. Small Wooden Low Coffee Table
Presenting a compact and robust addition to your living space, this small solid coffee table stands on three sturdy wooden legs. Crafted entirely from wood, it showcases a seamless and natural aesthetic that effortlessly integrates into a range of interior preferences. Reinforced with a solid build, the tabletop assures stability and durability, accommodating daily use without compromise. The three legs create a balanced foundation, while the table top's thick, robust design is appealing, making it a reliable addition to your living area.
6. Oak & Metal
Introducing an urban rectangular coffee table, a seamless fusion of oak and metal elements that exudes contemporary charm. The coffee table's light brown hue resonates with modern aesthetics, offering a delightful visual contrast. Fashioned from oak, the tabletop introduces a note of warmth and inherent grace. In contrast, the base is formed from sturdy metal, providing a solid foundation that ensures solidity and lengthy shelf life. Embrace the modern charisma of this coffee table, where the marriage of oak and metal captures the essence of contemporary living.
7. Marble With Storage Solutions
Boasting modern neoclassic attributes, this rectangular coffee table captivates with its refined detailing and stunning stone top. The sleek marble tabletop serves as an impeccable platform for books, magazines, snacks, and drinks, providing practicality and style. With four substantial drawers and a divided open shelf, the table offers ample storage options to keep everyday essentials neat and clutter-free. The design incorporates double drawer storage at the front and rear, while the open shelf side storage features three shelves for added organization.
8. Walnut
Fashioned from walnut solid wood, this triangular coffee table showcases a distinctive and rare appearance. The table's wooden surface boasts rusticity, engrossing with its unique charm and character. This table exudes a delicate yet sturdy aesthetic supported by three slender legs. The combination of the robust walnut and the opulent design formulates an intriguing collocation, and with its minimalist design, this triangular walnut table seamlessly complements retro mid-century interiors.
9. Bronze Pillar Stone Top
Introducing the striking bronze pillar coffee table, an exemplar of contemporary design. This table stands on a foundation of two robust bronze pillars at its core, forming a bold, eye-catching base. The table's top is adorned with a stone slab, infusing an element of originality into the composition. The stone top, boasting its distinctive texture, introduces a touch of sophistication, amplifying the modern design aesthetic. With its fusion of materials, the bronze pillar coffee table bridges the gap between modernity and natural accents.
10. Live Edge with Hairpin Legs
This coffee table boasts a natural wood slab with an exceptionally heighted table top. Supported by four hairpin legs, it couples rustic charm with a modern approach, creating a balance between character and practical benefits. The wood top, showcasing its natural grain and imperfections, adds a touch of raw entice to your living space. With their sleek and minimalist design, the four hairpin legs provide stability without overshadowing the wood's natural appeal. Experience the allure of this natural wood slab coffee table, where the simplicity of design meets the richness of rusticity.
11. Pine Low Coffee Table
Allow us to introduce the pine coffee table, a flexible enhancement for your living area. Crafted from robust pine wood, this coffee table emanates an authentic and rustic aura. The wood's warm and inviting colors work together to establish a feeling of coziness and calmness. Thanks to its sturdy build, it can handle daily wear and tear, making it an ideal option for bustling households. Its adaptability means it can function as a dependable surface for your daily necessities while also serving as a focal point that injects personality into your space.
12. Rustic Low Coffee Table
Crafted with a robust metal frame, thiscoffee table features a rustic wood top that exudes charm and durability. Its lower shelf, also crafted from wood, adds valuable storage space, offering purpose and style. This layout maximizes space and creates an intriguing visual element in your living space. The metal frame provides sturdy support and pairs cohesively with the rustic wood top and lower shelf.
13. Mahogany Wood Black Finish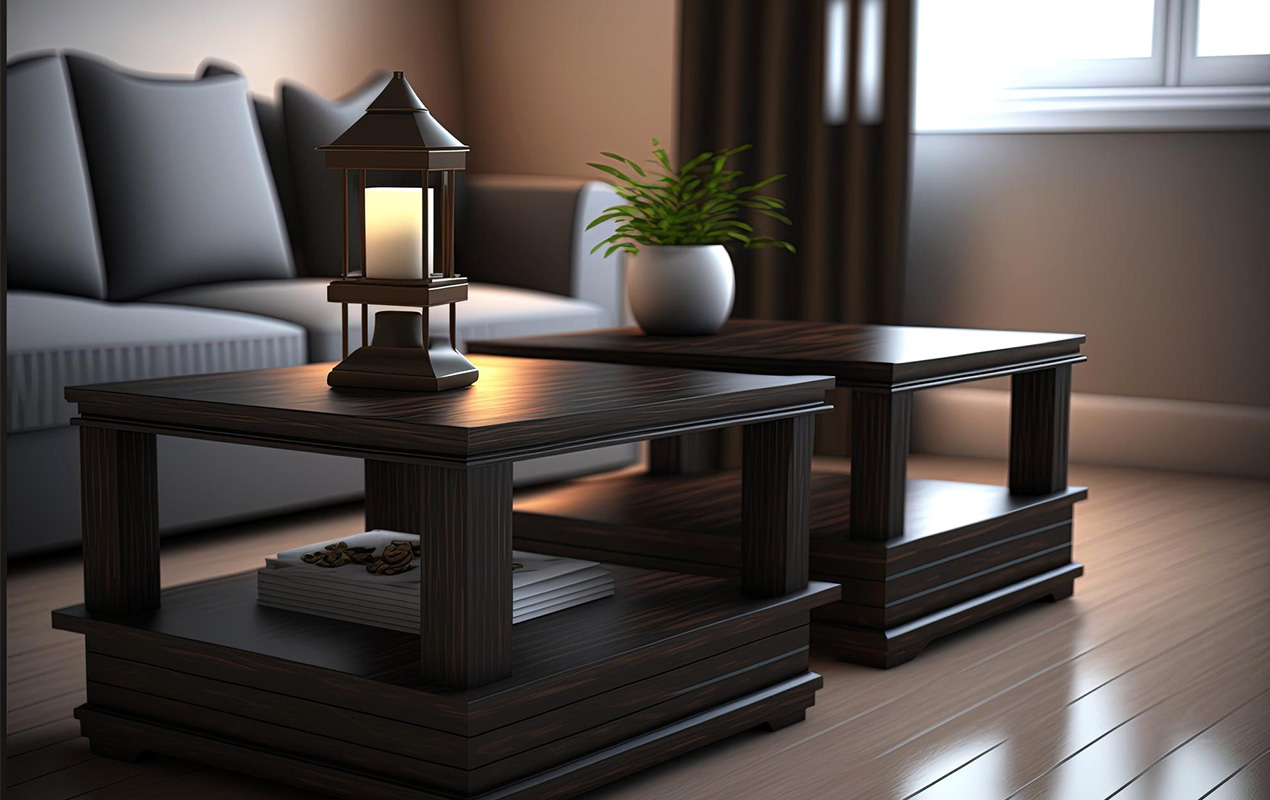 Photo by Domainik from Freepik
Crafted from natural wood and adorned with a rich mahogany finish, these coffee tables exude timeless grace. They feature ample storage space, with full-length open shelves providing practicality while maintaining a sleek profile. The base of these wooden coffee tables is constructed from layered wood, with the composition enhancing their robustness, making them reliable for everyday use. Topped with a black paint finish, the mahogany wood elevates its aesthetic appeal, adding warmth and sophistication to the living space.
14. Marble & Wood with Melamine Top
Crafted in a classic rectangular design, this unique coffee table boasts a tabletop fashioned from laminated black marble design melamine particleboard. Beneath the tabletop, a convenient open shelf awaits, providing a practical solution for keeping daily essentials within arm's reach. This design adds purpose while maintaining a sleek and uncluttered appearance. Experience the charm of melamine particleboard, all in one attractive and functional package.
15. White Cement Pedestal Coffee Table
This petite pedestal coffee table is crafted from white finished cement, exuding a minimalist vibe. The use of white cement as the primary material not only assures a premium shelf life but also contributes to its modern, clean aesthetic. Its compact size makes it perfect for snug corners or as a stylish accent in more spacious surroundings. This pedestal coffee table makes a strong style statement despite its size, radiating understated elegance and forming an enchanting centerpiece.
16. Black Oak Veneer
Constructed from black stained oak veneer, this coffee table showcases a striking oval shape that adds a touch of erudition to any room. It features an unusual base composition consisting of a wide wooden slab leg paired with a slender pillar-style leg. This wooden coffee table imparts a rich and luxurious aesthetic and ensures longevity. The table's oval shape and soft edges provide a distinctive focal point, adding a touch of timeless charm to your living space.
17. Distressed Wood
The distressed wood coffee table stands as a testament to rusticity and character. Crafted from weathered wood, it exudes an authentic and vintage aesthetic that adds depth to the living space. Each distress mark on the wood tells a story, creating a unique and captivating narrative within the room. The table's imperfections add to its appeal, fostering a sense of nostalgia and warmth. Its timeless design harmonizes effortlessly with a variety of interior styles, providing a touch of history and authenticity to your home.
18. Drum Style Low Coffee Table
Crafted with rustic drum-style aesthetic wood, this coffee table embodies the essence of farmhouse living. The table's construction exudes authenticity and a sense of wistfulness, as each plank contributes to the piece's originality. This coffee table goes beyond being just furniture; it showcases the artistry behind its creation. Its handmade quality guarantees that each table is one-of-a-kind, detailing skill and creativeness.
19. Lift Top Low Coffee Table
This small Lift-top coffee table offers storage and a clever table transformation, impressively fulfilling multiple requirements. At the front end, a small drawer accommodates remotes and small items, while a larger hinged cabinet at the back provides additional storage. The tabletop cabinet also has space for storage and beneath lies even more room for magazines or a spot to store blankets. However, the true showstopper is the lift-up top that raises and extends to create a table over your lap, the epitome of convenience.
20. Marble with Perpendicular Base
Presenting an oval coffee table that exudes lavishness with its complete marble construction. This luxurious piece boasts a striking design, supported by two rectangular marble bases perpendicular to one another. The use of marble throughout affirms perpetuity and radiates a luxe vibe. Its oval shape adds a touch of finesse, making it a standout centerpiece for any living space, with two rectangular marble bases providing stable support and introducing an architectural touch with such precise placement.
Final Thoughts
Exploring the world of low coffee tables unveils a rich tapestry of styles and designs that cater to diverse tastes and preferences. These coffee tables, characterized by their proximity to the ground, offer functional utility and serve as artistic focal points within living spaces. Each style carries its distinct narrative and personality across various designs, spanning from minimalist and contemporary to rustic and farmhouse-inspired.
Their ability to seamlessly integrate with different interior aesthetics sets low coffee tables apart, whether contemporary, vintage, or eclectic. Their low-set characteristics foster a sense of coziness and intimacy, creating inviting spaces for relaxation and gatherings. Whether it's a low wooden slab table, a marble masterpiece, or a sleek metal-framed creation, these coffee tables epitomize the perfect blend of form, function, and style in the heart of your home.