Is your home in need of a makeover? Whether you've been dissatisfied with your home look for a while or have just recently gotten bored with it, sometimes some new home decor can be just what you need to reinvigorate your passion for your pad. We've put together this article to offer you some ways to revamp your indoor aesthetic and truly make your house a home you feel proud of once again.
1. Make the Kitchen a Space for Entertainment
There are plenty of ways that you can transform your kitchen into a hub for entertaining friends and loved ones. A larger island in the middle of the room can add a central meeting point, perfect for laying out snacks and drinks for visitors to congress around. Other potential features include countertop wine glass holders and exposed bottle racks, to let your friends know that party time is always around the corner.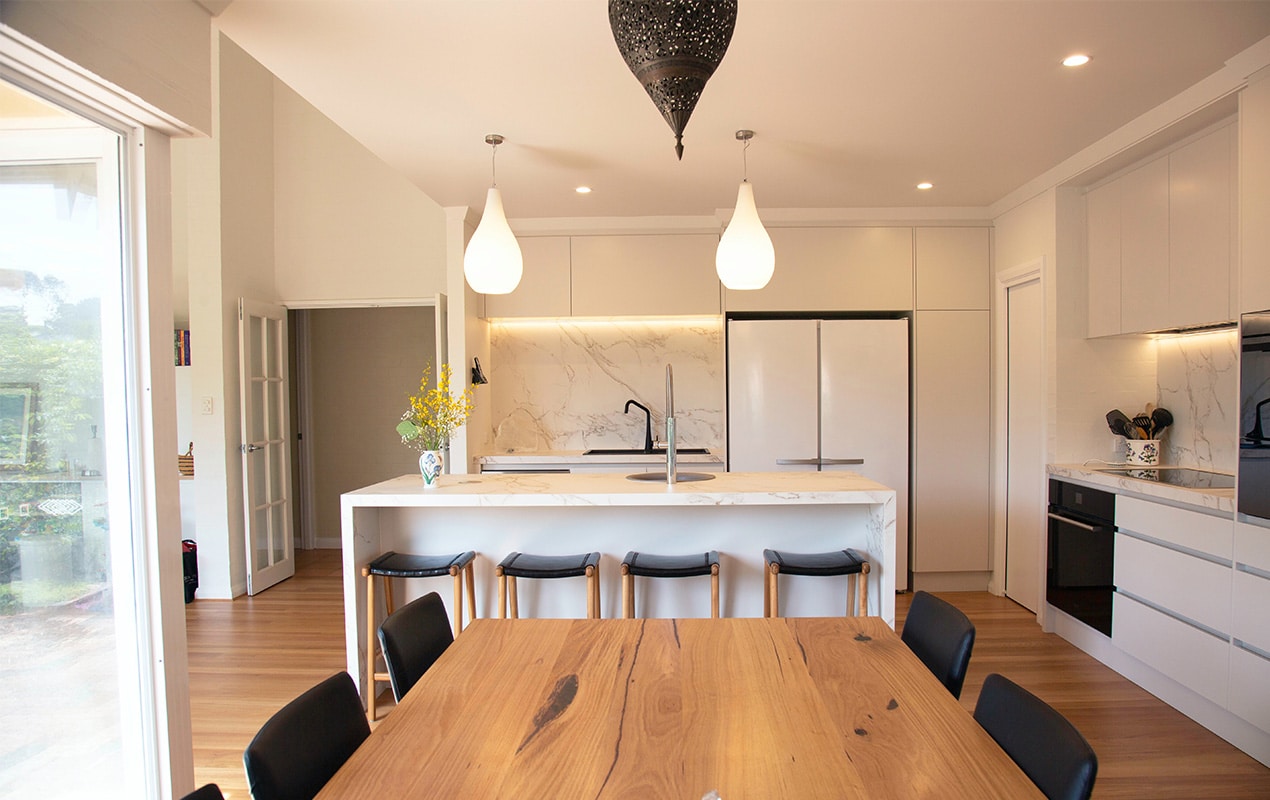 2. Go Minimalistic
While biophilia might be the right choice for some, if you prefer a clean and simple aesthetic for your modern new-look home, making minimalist choices might be the perfect option for you. This can mean simple block shades, blacks, whites, and greys, but in essence, it is about sidestepping flashy things for a "less-is-more" approach. Stick lighting instead of chandeliers, simple tables instead of chunky nightstands, and sharp shelves over bodacious bookshelves.
3. Introduce Greenery & Biophilic Design Choices
If you're wondering how to modernize your home without taking the route of harsh lines and endless white surfaces, consider biophilic interior design. Biophilic design is the process of bringing natural elements into your home, be it through cleverly placed plants, interior vine integration, or even setting up uniform synthetic plants to create a sense of nature nearby. Nicla D. Interiors have a portfolio with various examples of well-used biophilic design choices.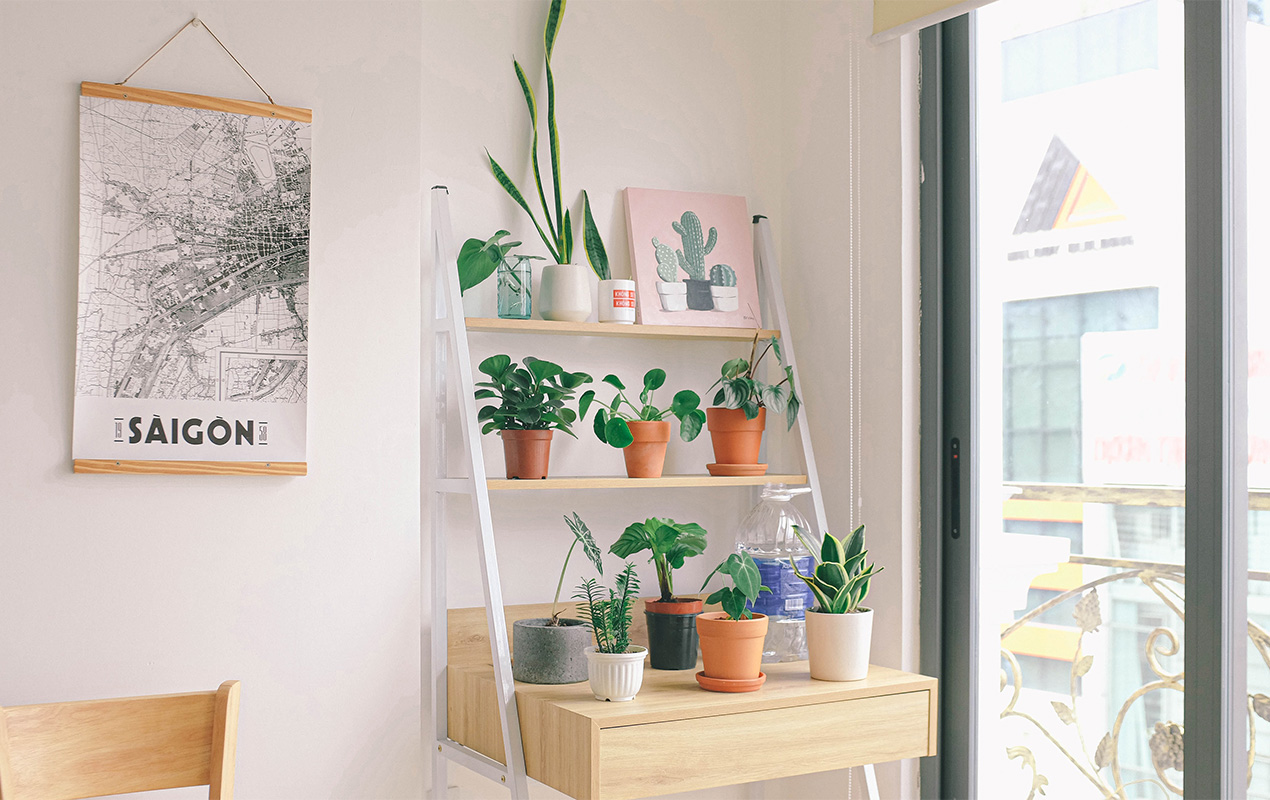 Quick Tip – Work to a Theme: If you're giving your home a new lease on life, it's important to make sure that the developments feel coherent. Even if these means the considered chaos of bohemian design, consider the house as a whole.
4. Create a Breakfast Nook
Sometimes the dining table can feel a little too formal for a smaller meal or coffee break. Creating a small nook in the corner of your kitchen can be a great way to curate a casual, relaxed space to enjoy a cup of something warm and a croissant. Think high stools, slim tables, and maybe a little bit of plant life.
5. Think Wicker
Take a look beyond baskets, and consider bringing in some trendy wicker furniture for your home. Chairs, sofas, and side tables are all wicker features that you can use to add some much-needed character to living spaces and bedrooms. With the addition of wicker furniture, you can achieve a marriage of rustic appeal, a relaxing atmosphere, and even a semi-exotic holiday feel, right in your own home.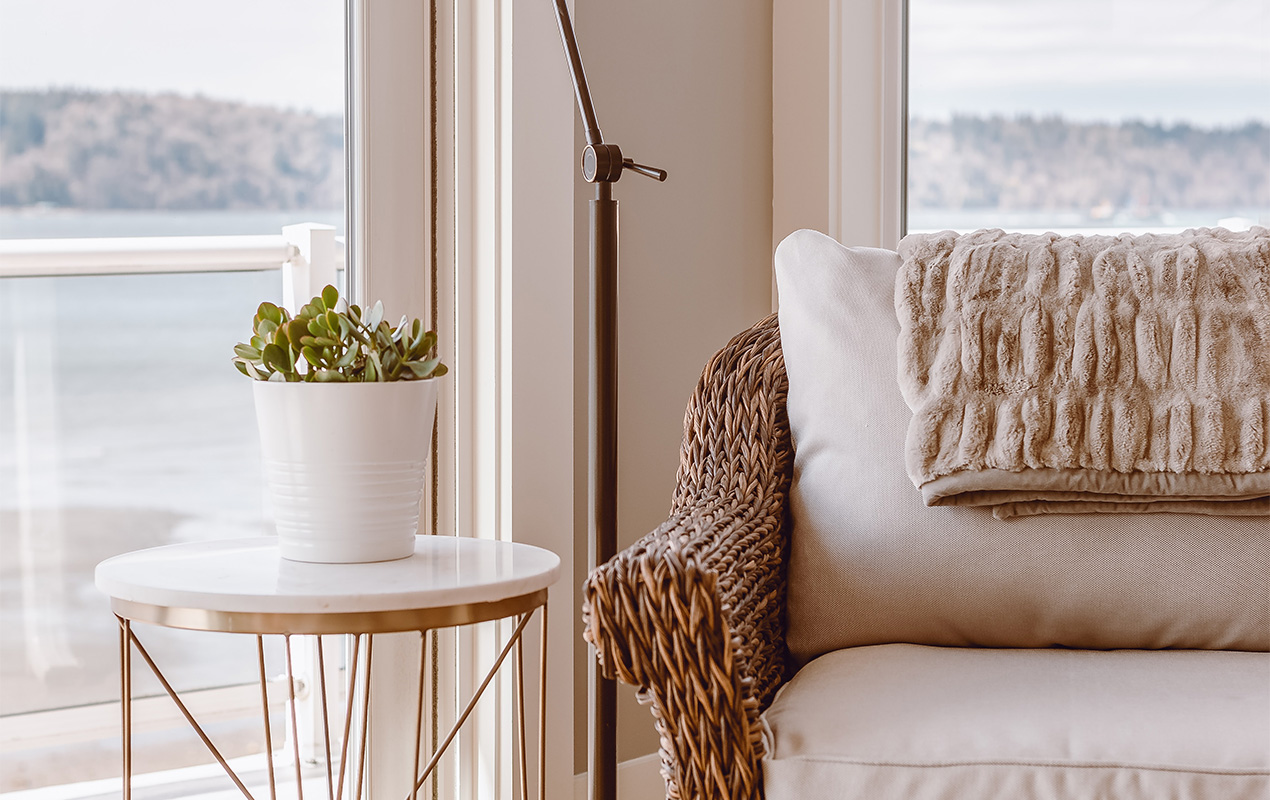 Quick Tip – What's Your Home For?: When trying to shed the skin of your old interior design, consider what your home is for. Is it a family home or your personal sanctuary? Answering these questions will help you plan your next move.
6. Use Industrial/Repurposed Items as Furniture
This is one of the more ecologically-minded tips on this list, as it not only creates a distinct look and feel for the home but also makes use of elements that may have been otherwise abandoned. Table legs made of old bits of pipe, tall metal lockers, barrels as tables, and machinery gears as pieces of wall art are all effective options for industrial interior design. For more inspiration, check out this thread on Pinterest.
7. Choose a Stylish Floor Lamp/Lamps
When it comes to home decor ideas, this isn't revolutionary, but that doesn't make it any less of a good idea. In every larger living space or bedroom, you can find a corner that needs a little bit more brightness, but there's no rule that you have to go with a standard run-of-the-mill floor lamp. Choose something unique and artistic and bring a piece of functional, visually exciting decor into your home.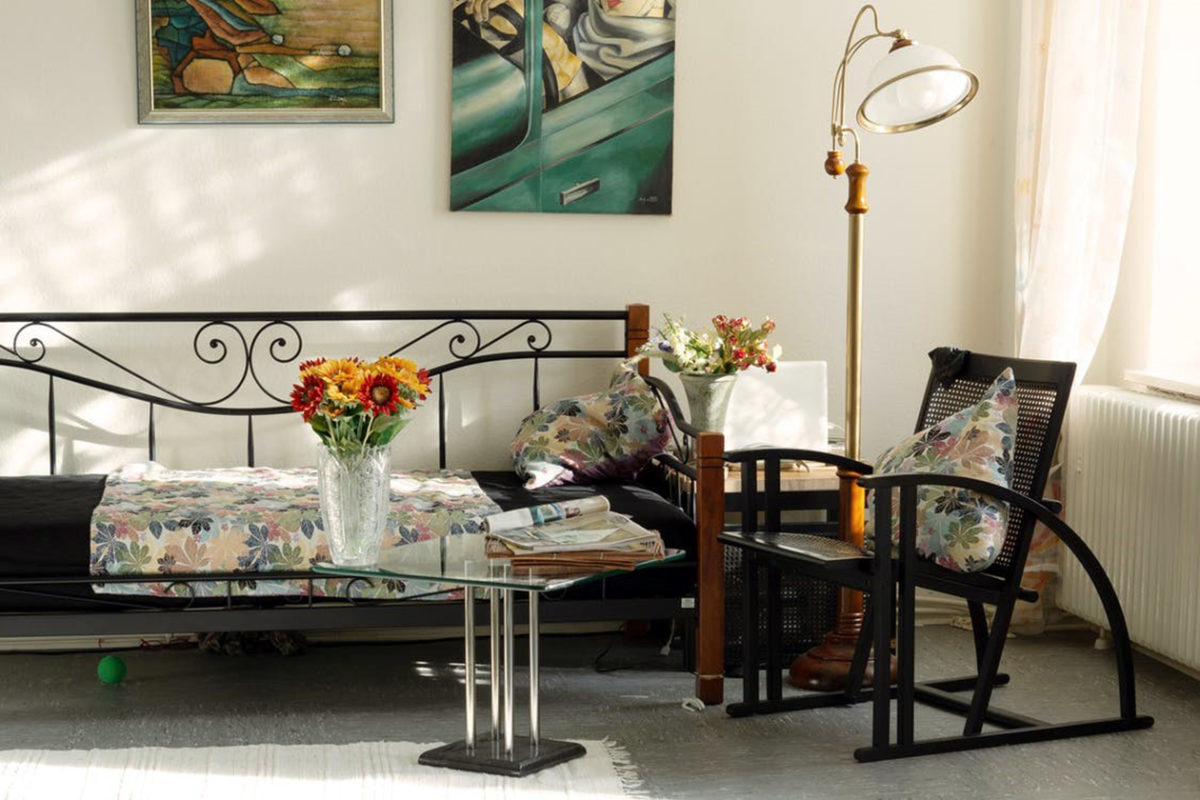 8. Use Bold Colors Wisely
If you want to create a sense of unique home decor without going too mad on spending or initiating a full-scale redesign, bold colors could be your best friend. With this option, it's important to place and choose wisely. Overcrowding a space with too many bold colors can feel like a little too much to be able to relax effectively, but something like a cleverly placed lime-green throw and some matching sofa cushions can do wonders for a living room or bedroom's visual profile.
9. Go Wild on Your Coffee Table
The standard square glass unit in the middle of the sitting room is all but played out, why not take things to the next level? There are a number of unique, interesting coffee table choices that you can make these days, whether you go for something with an unconventional silhouette or something more natural. Certain wooden coffee tables can look as if they're collections of roots and branches pulled straight out of the ground, while still offering a great space for hot beverages and tired feet alike.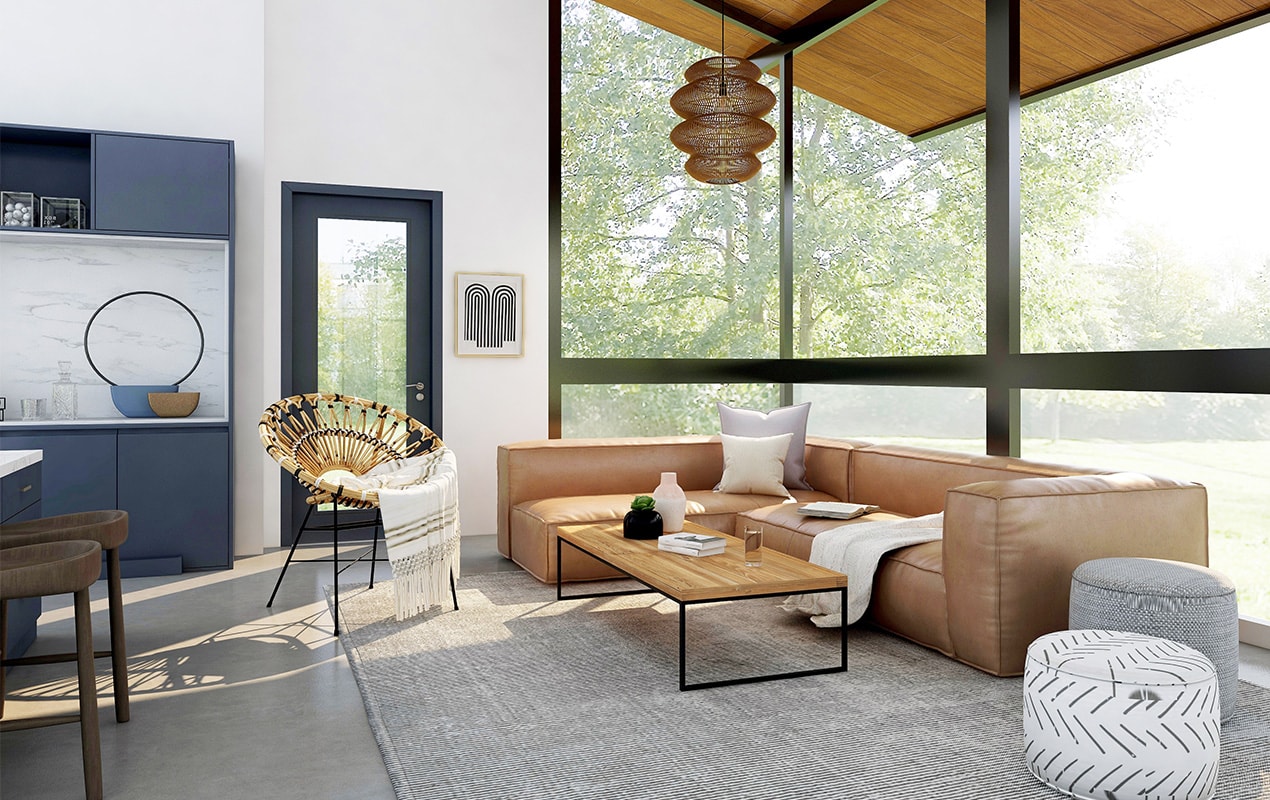 Quick Tip – Acknowledge Your Limitations: Creating a fresh and exciting space in your home can be harder when you're limited in terms of space and budget, so make differences where you can with smaller items that channel big ideas.
10. Upgrade Your Outdoor Space
Summertime is for barbecues and evening glasses of wine in the garden, so why not make the effort with the furniture? A nice nesting table and chairs is a great choice for a deck or patio, while options for outdoor sofas have only gotten better over the years. With a good protective box at the ready for cushions and the like, there's no reason that you can't make your outdoor space one of the highlights of your home.
Where to Go?
If you're interested in sourcing yourself some new items to distance yourself from your old home decor ideas, look at a bunch of different design blogs to gain some inspiration, along with checking out some great decor and furniture suppliers. This will illuminate the pieces that really speak to you. Happy designing!