Recently updated on February 13th, 2023 at 01:01 am
Serving trays are a great piece of multifunctional decor, being great for everything from cocktail nights to permanent dining table centerpieces. They can be used to consolidate your favorite decorative pieces of decor, provide a stylish base for the kitchen, or even for serving your special someone breakfast in bed. But why are trays with handles the best of the bunch?
We've written this article to break down why handles for serving trays are such a great addition to the format, benefitting trays in functionality, versatility, and much more.
Why Serving Trays are Essential
Regardless of the added appeal that handles give to trays, it's important to recognize why they're so important to a house in even their most basic forms. Serving trays are an important part of a home decor plan, offering you a decorative item that can actually be used for a variety of purposes. With a nice design, a serving tray can fit into any room of the house, but not all serving trays are created equally. So why are handles such a vital element?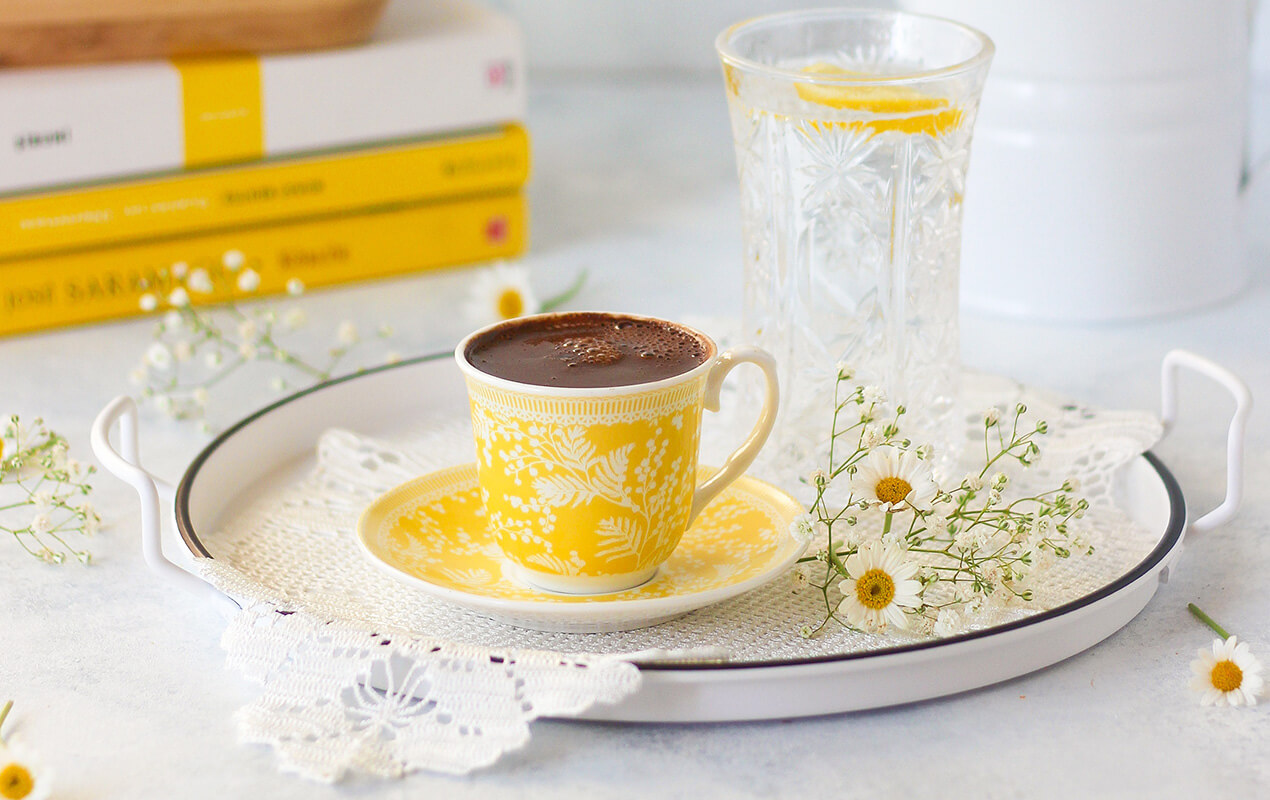 Quick Tip – Go round: We're big proponents of round trays over rectangular. Round trays are more versatile and generally fit into home decor plans more seamlessly, which applies equally to trays with handles.
Trays with Handles are Effortlessly Elegant
When you read the words "serving tray", elegance isn't likely to be the first thing that comes to mind, probably due to memories of hospital breakfasts, school lunches, and plastic TV dinners. However, when you consider the undeniable stylishness of a round tray, made from solid, polished wood, with a pair of sleek metal handles, the elegance oozes through, even from the description alone.
The inclusion of the handles not only adds a degree of style, but also does wonders for the functionality of the tray. In a smaller dining room where you need to keep your more decorative pieces together, it's handy to be able to move your display tray on short notice, be it for a function or special occasion. Elegant serving trays with handles make this much easier, truly encapsulating elegance in both style and usage.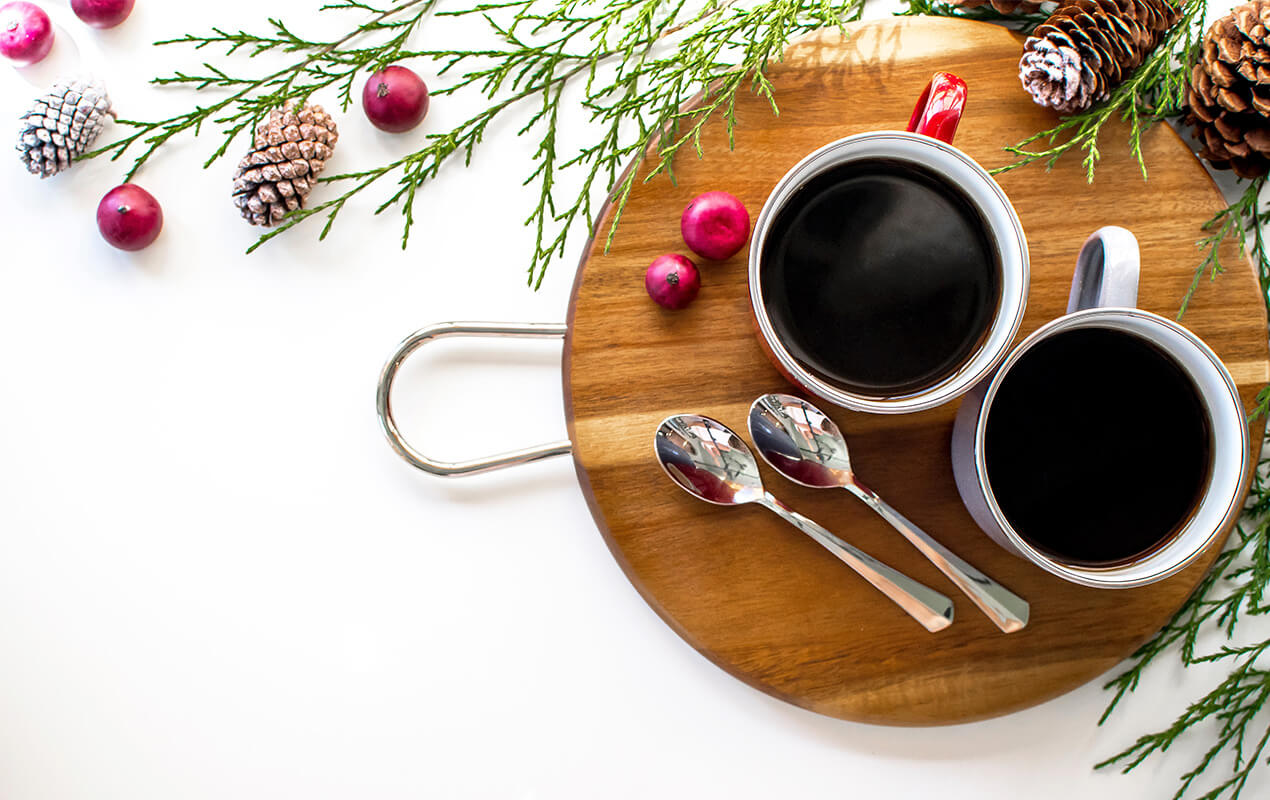 Quick Tip – Choose wood: Wooden serving trays are better than plastic for a number of reasons, including their natural attractiveness, durability, and lessened environmental impact, among many other aspects.
Trays with Handles are Highly Versatile
When it comes to all the various things with handles that you can purchase for your home, serving trays are undoubtedly one of the most versatile. With or without handles, serving trays are perfect for all manner of needs, whether providing coffee to friends or displaying all the travel trinkets you've collected over the years. The addition of the handles only makes them more versatile, in terms of where you choose to display or carry these things.
The best serving trays are excellent pieces of decor as they can be stylish and functional in and of themselves, but one of their key appeals is the capacity to change what they're being used for. When switching out the contents of a tray, it's easiest to take the entire unit aside, otherwise, you might have to deal with limited space or increased clutter. With handles, the process of changing out a tray's contents is much smoother.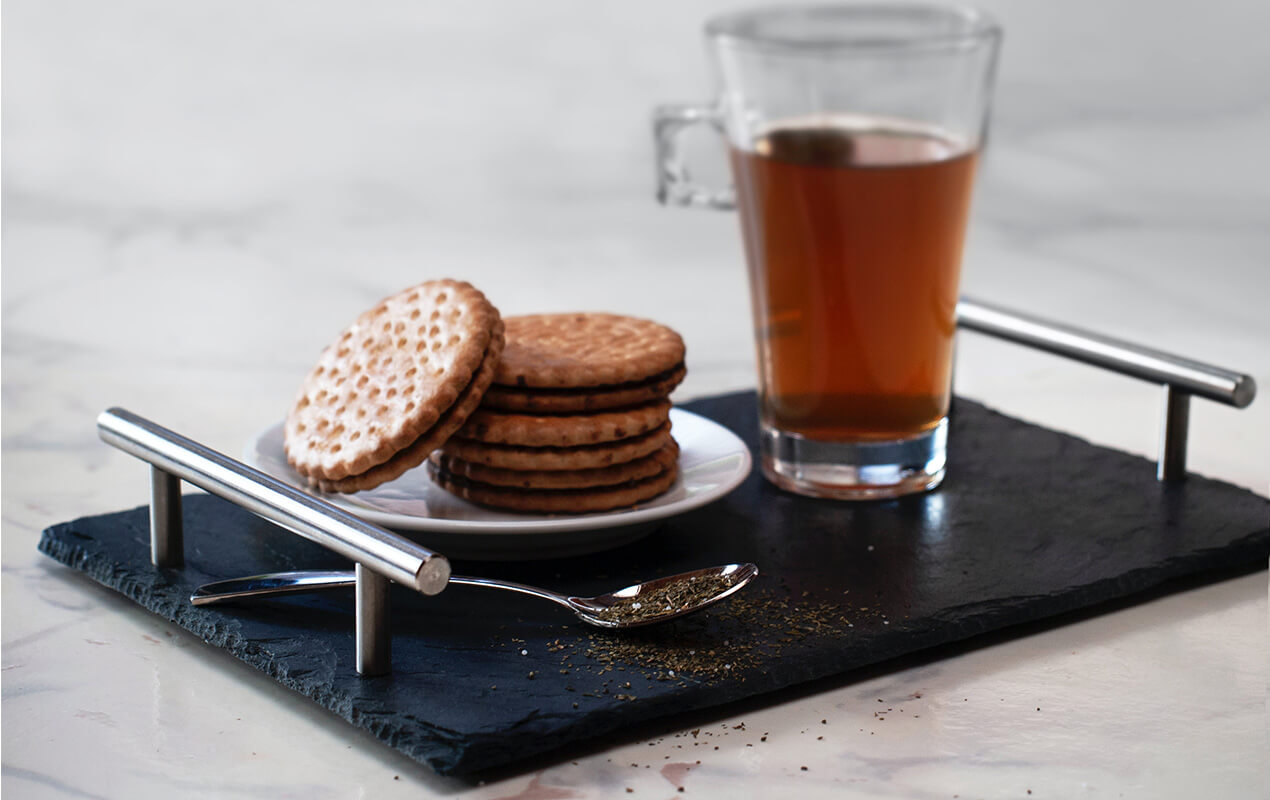 Quick Tip – Choose craftsmanship over style: There's no point choosing a handled serving tray if it's going to fall apart within a few uses. Make sure to choose a reliable brand and strong make over style alone.
Trays with Handles make Serving Food & Drinks a Breeze
With all the emphasis we put on decor and design, it can sometimes be hard to remember that serving platters exist primarily as food-carrying trays. With this in mind, you have to wonder why any tray wouldn't be made with handles. Without handles, trying to serve up main meals, nibbles, and snacks would be a tricky balancing act, with weight distribution and hand placement becoming more difficult than they need to be.
Opening the perfect dinner party with a platter of olives, potato chips, and dips is a standard procedure, but it's most certainly not the thought that counts if you drop the Hors D'oeuvres onto one of your hungry guests. Why make life more difficult for yourself by using a tray without handles? Choose a serving tray with handles to streamline your starters.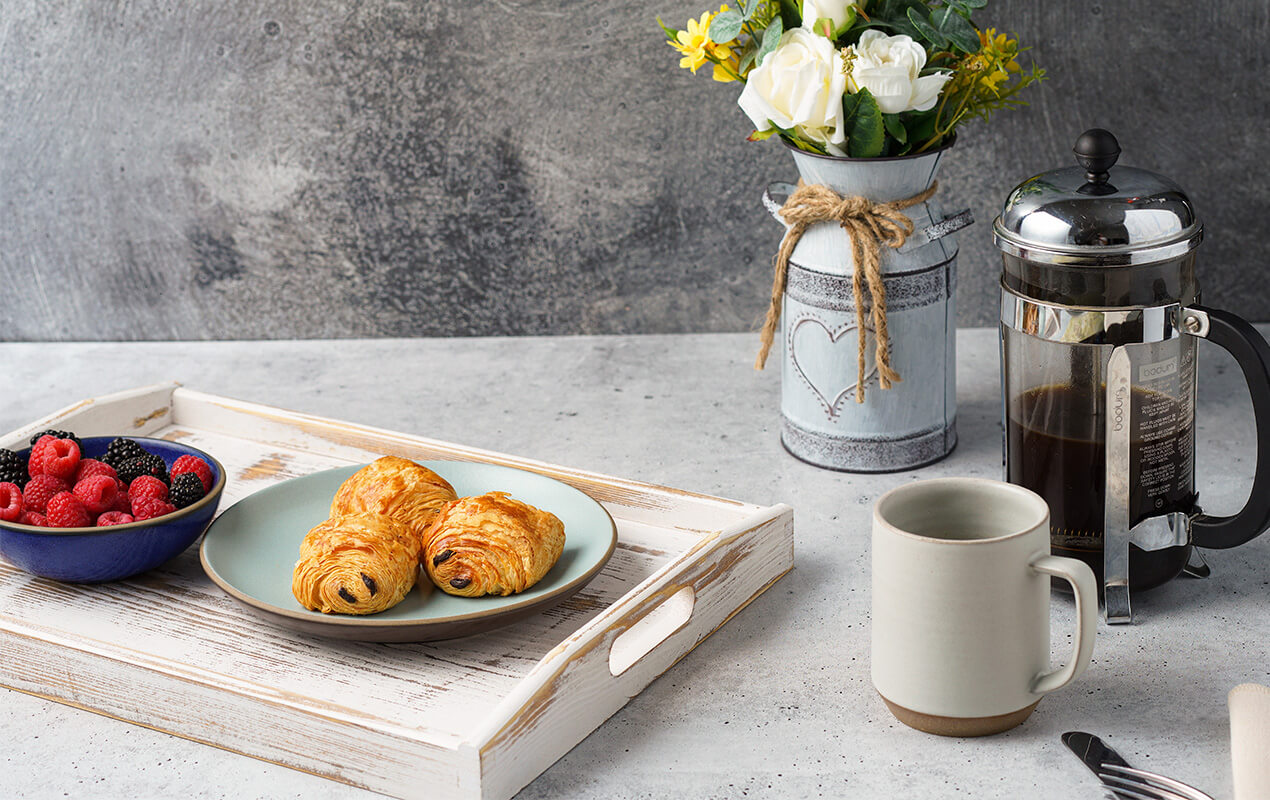 Trays with Handles are Safer and Cleaner
As a direct extension of the ease that comes with handles on serving trays, they're also much safer and cleaner, whether holding food, drinks, or items of decor. As we stated above, it can be very difficult to carry a loaded tray with sufficient balance if it doesn't have handles. If you're holding food and drinks it can cause a serious spill, either onto the tray or worse, onto the floor. With trinkets, it could cause a potentially dangerous mess in the form of fragments and glass.

Choose a serving tray with strong handles, otherwise, you risk causing mess or damage to your trendy new kitchen or dining room. Even if your tray is resistant to staining and marks, it's frustrating to have to wipe it down regularly, as is mopping and sweeping down soiled floors. In short, lightweight serving trays without handles can tip and tumble with ease, so handles are a necessity.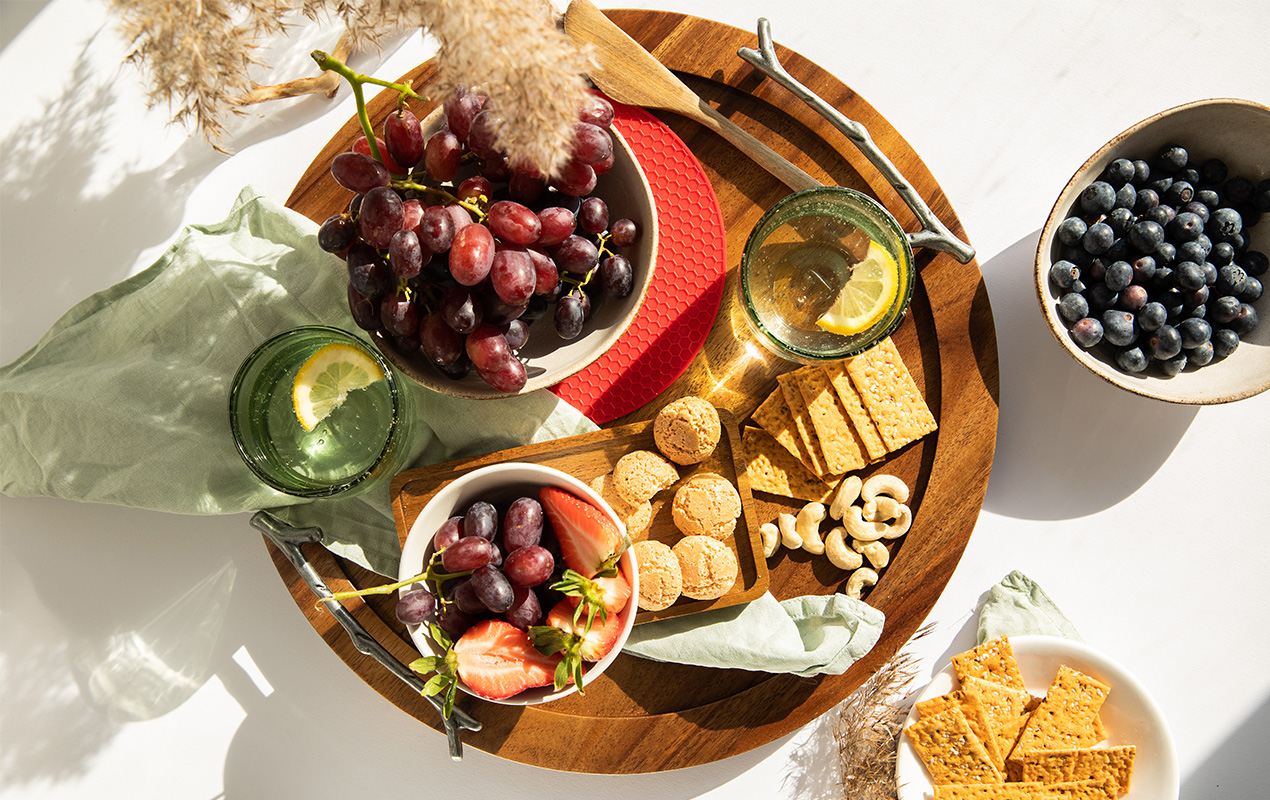 Trays with Handles are Easy to DIY
Of course, there aren't many things more enjoyable than unwrapping a brand-new piece of home decor, but the satisfaction of working on something with your hands is similarly incomparable. In the case of adorning serving trays with handles, doing it yourself is an easy and fun way to approach home decoration. Whether you start from scratch or simply attach new handles to a thick, wooden serving tray, the process can be completed using a drill, some screws, and some other nuts and bolts.
Conclusion
After this, you should be fully convinced that trays with handles are the true titleholders in the realm of serving decor! Along with being more versatile and functional for carrying anything from coffee to pieces of decor, they also generally have a more stylish and elegant visual profile. If you plan on having guests over, handled trays are the only way to go. All you have to do now is browse to find the one that's right for you.