When it comes to kitchens, we partake in a never-ending battle between finding counter space for our utensils and kitchen appliances and creating a kitchen design that appeals to our decor tastes. 
But fear not, we're here with some creative tips to help you achieve the best of both worlds. From cultivated kitchen counter decor ideas, and color choices that add light and visual interest to your space to clever storage solutions to enhance a functional kitchen design, we have something for everyone. 
Organize Your Space with Storage Baskets
Kitchen counter decor ideas are great, but what if you have a small space? Dual-purpose furniture adds calm and order to your kitchen. A kitchen table with storage can be a great option to hide away your cutlery, whereas storage baskets can round up pantry items. Avoid adding clutter to your counters or floor which can give the impression of cramped spaces with unobtrusive hanging kitchen baskets which hang on the door to minimize debris.
Be Inspired by Nature
While some people are at home in the kitchen, others would much prefer to be in the great outdoors. We offer a little advice for those people: bring the outdoors to you! Natural decor can elevate your mood and is easy to achieve by using natural elements. Wooden surfaces can give your home the rustic look of a woodland, whereas greenery can make your space more inviting.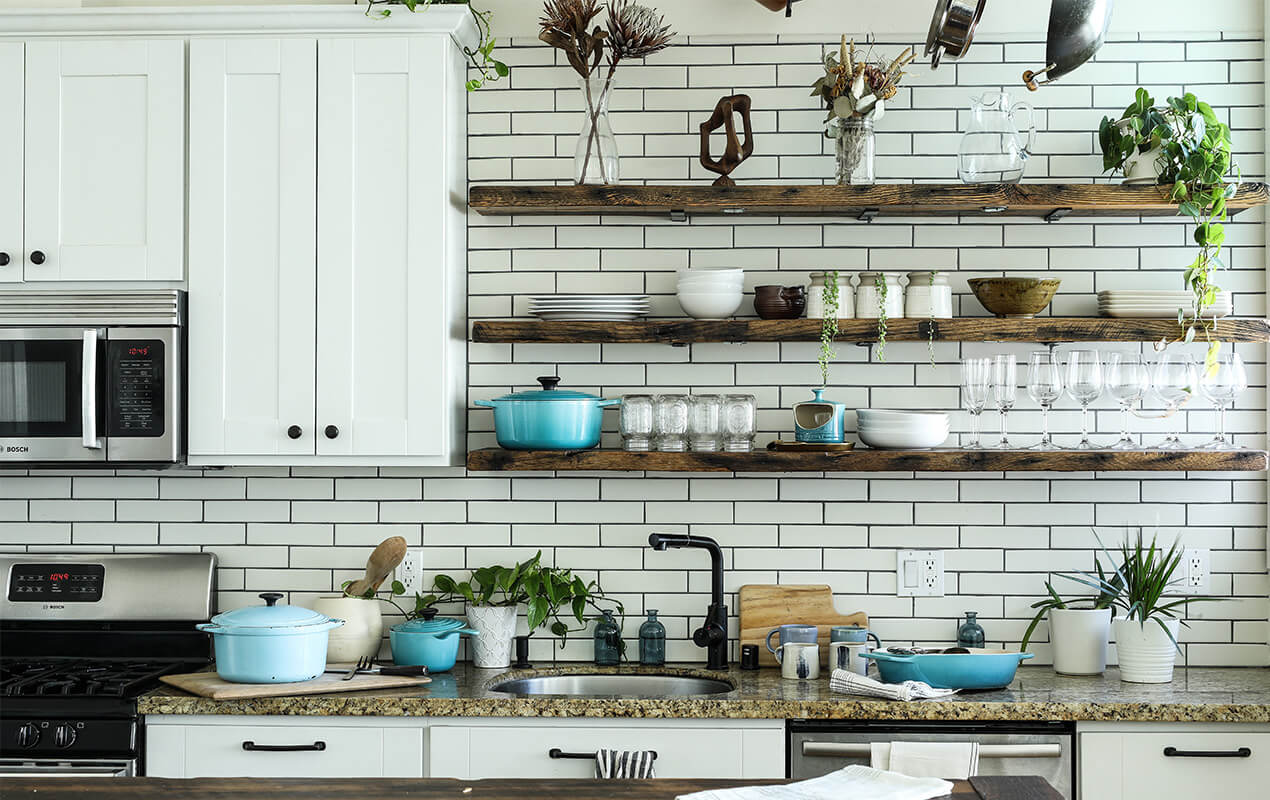 Embrace Farmhouse Style With Rustic Accessories
Adding accessories made from metal, particularly black-toned varieties, chicken wire, and vintage elements can bring a farmhouse design scheme together. When it comes to kitchen decor, you can find cute little egg baskets that offer storage and charm, cast iron recipe book stands, and enamel pots and pans that embrace the rustic theme.
Texture is Your Friend
White connotes cleanliness, hygiene, and order – all the properties we want from a kitchen. But sometimes white can look harsh without softened edges. 
Adding heavy drapes to your windows can eliminate starkness, and are great for those chillier nights. Metal, such as stainless steel, can be easily coordinated with most color schemes to modernize your kitchen decor, and used as an easy-to-clean kitchen countertop replacement with industrial charm.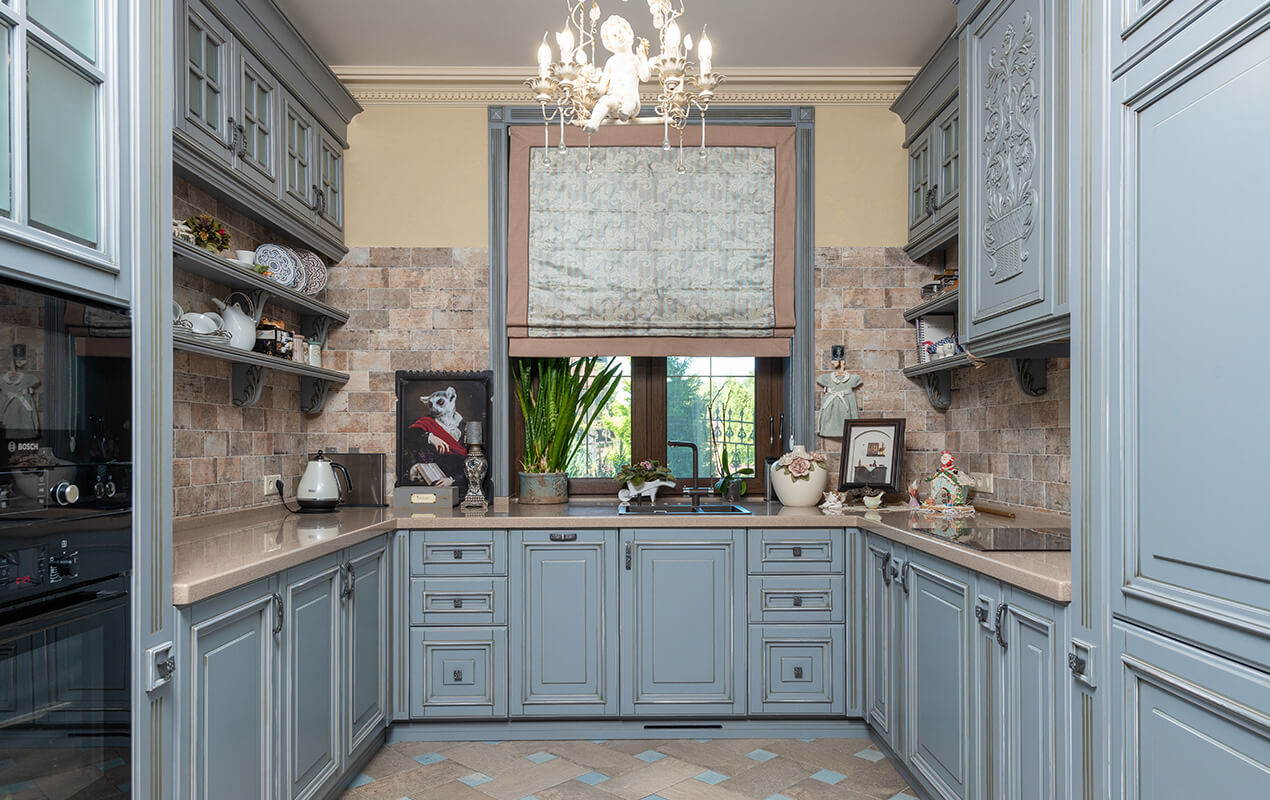 Quick Tip – Add a pot plant for a quick burst of color if your room is looking tired.
Use Light Color Choices for an Airy Feel
Windows add a sense of grandeur to a room, but to increase the roomy feel, increase light flow with color. Warm neutrals such as off-white, pewters, and beiges can give the impression of a larger space while removing starkness. For naturally warm-toned rooms, cool shades such as white, light gray, and silver encourage light to bounce off walls and can be added without sinking your room into darkness.  
Make a Bold Statement
No need to be a shrinking violet in the kitchen – some of the world's most beautiful kitchens combine functional kitchen design with bold, bright statements. Still unsure? Look at this year's kitchen trends which feature blue, green, and monochrome color palettes with great success.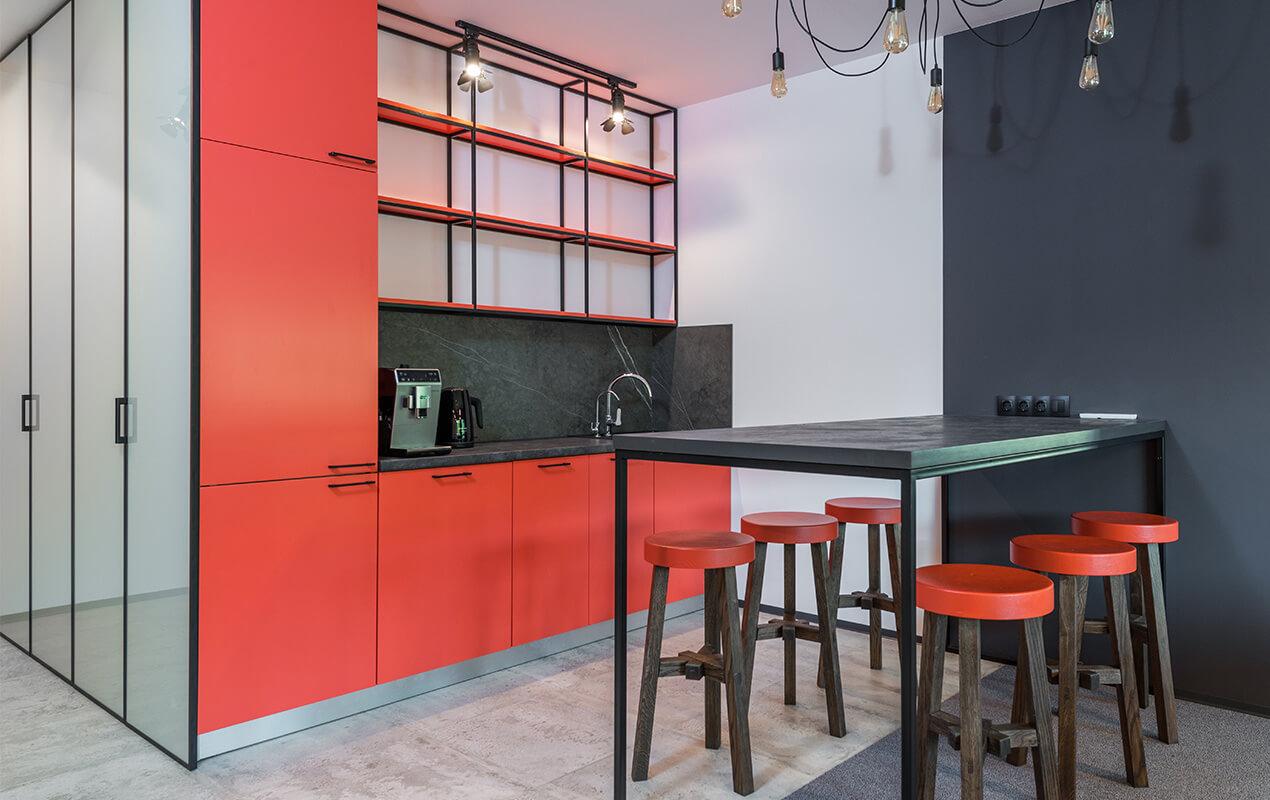 Keep Regularly Used Items Grouped Together
Designing your kitchen for your lifestyle will save you tons of time and frustration. A kitchen is a working space, and for some, it doubles up as a social gathering spot, an office, and more. 
Consider your kitchen's main uses and group regularly used items together so you can find them easily when you need them. If you're on a health kick, a fruit basket for kitchen snacks will help you avoid candy. Modern farmhouse kitchens benefit from hanging pots and pans for easy reach. 
Introduce Open Shelving
Open shelving is a great way of storing items so you can easily see them, and when combined with pretty storage boxes can create a striking decor feature. Floating kitchen shelves add organization to your space and remove items from your countertops. We know that solid surface countertop space is at a premium, so removing items from them gives the impression of a larger room, aids cleaning, and provides more space to work and prepare your meals.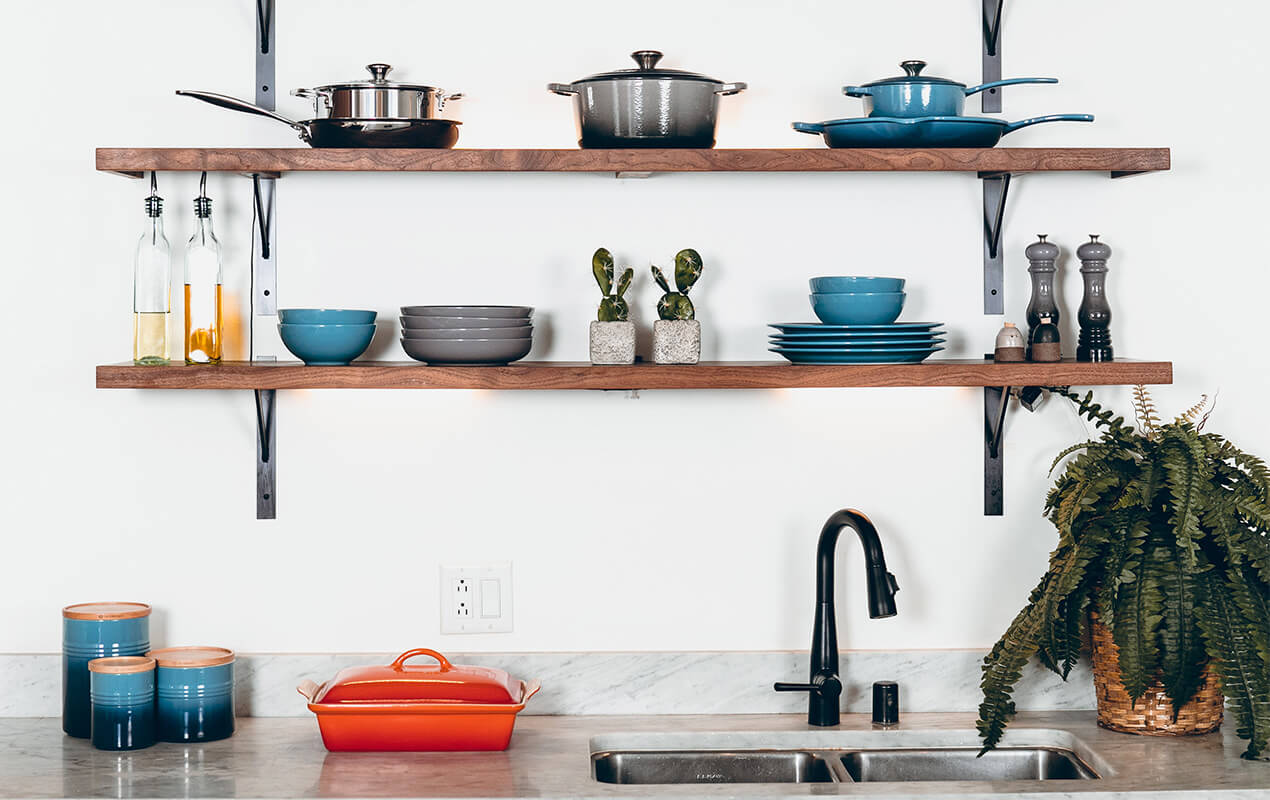 Quick Tip – Before dressing your room, give it a quick clean with a scented cleanser to make it look and smell fresh.
Explore Pattern to Add Interest
In room design, patterns are your friend. They're the little touch of spice that takes a room from bland to wow with minimal effort. While walls are the obvious place to add pattern. Adding patterned countertop accessories, or even pattern directly on your countertops can be a welcome change.
Add Pops of Color Through Accessories and Appliances
Do you love using your walls as a blank canvas to decorate with personal accessories? Or perhaps you live in a rental where you can't paint plain white walls? Don't despair, you can still add dashes of personality and vibrancy to your space using accessories and appliances. Your favorite art, the bold tones of fruit and even colored small kitchen appliances can inject commitment-free playfulness into your kitchen.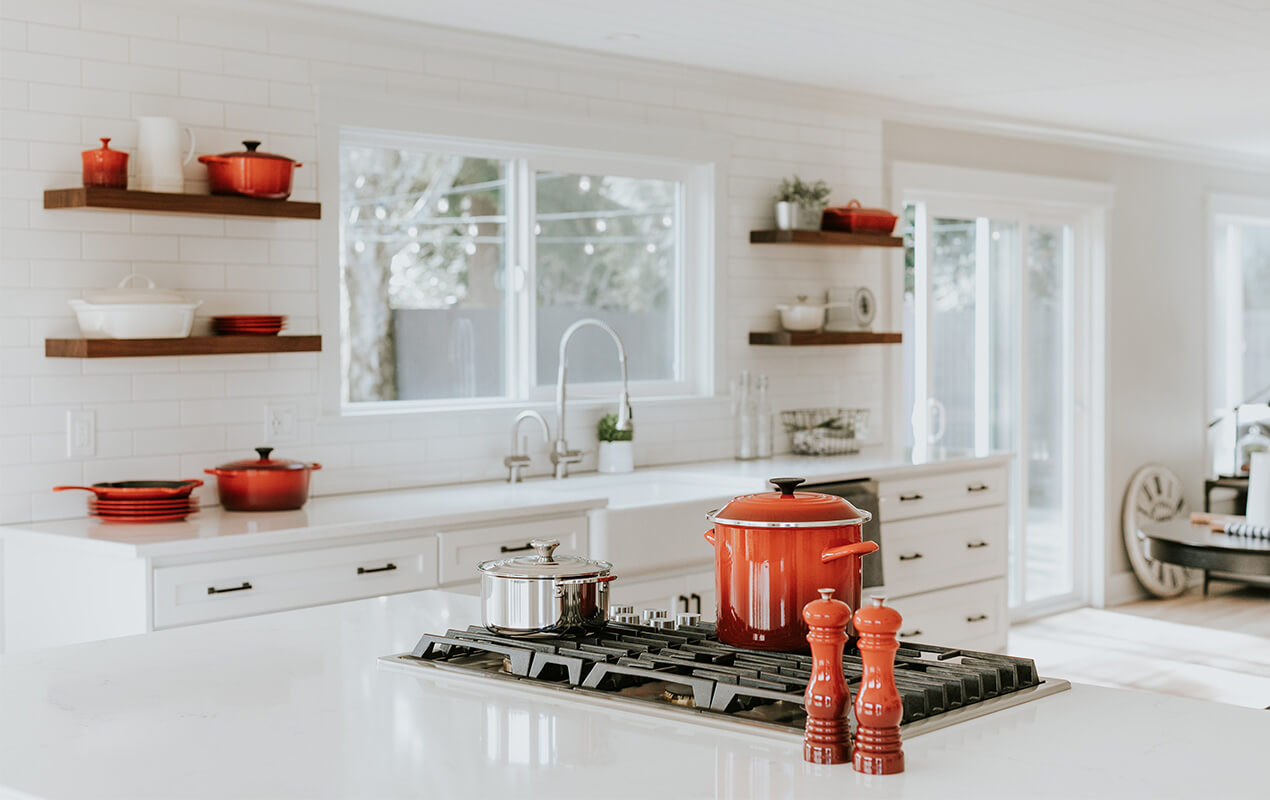 Quick Tip – Scour vintage and antique shops for unique kitchen elements.
Don't Be Afraid of Sculptural Features
Andy Warhol did it best! He wasn't afraid of bright pops of personality, and nor should you. Anything can be a sculptural feature in your home, from an artistically piled mound of books to a bunch of cans (ala Andy himself). If you're nervous to express yourself, that's fine, how about opting for an actual sculpture? We've seen kitchen-friendly ceramic fruit and veg aplenty on our travels. Then there are classic designs such as animals, deities, and more. Your kitchen deserves a little glam after all!
Renovate Your Splashback…
Renovating your splashback to a more contemporary style to complement your countertops not only draws attention to your counter decor but can also give your space a whole new vibe. Splashbacks for the kitchen come in many materials, from easy-to-clean, sleek glass to retro herringbone kitchen wall tiles. Choosing one that invokes joy and also adds visual interest is the way to go.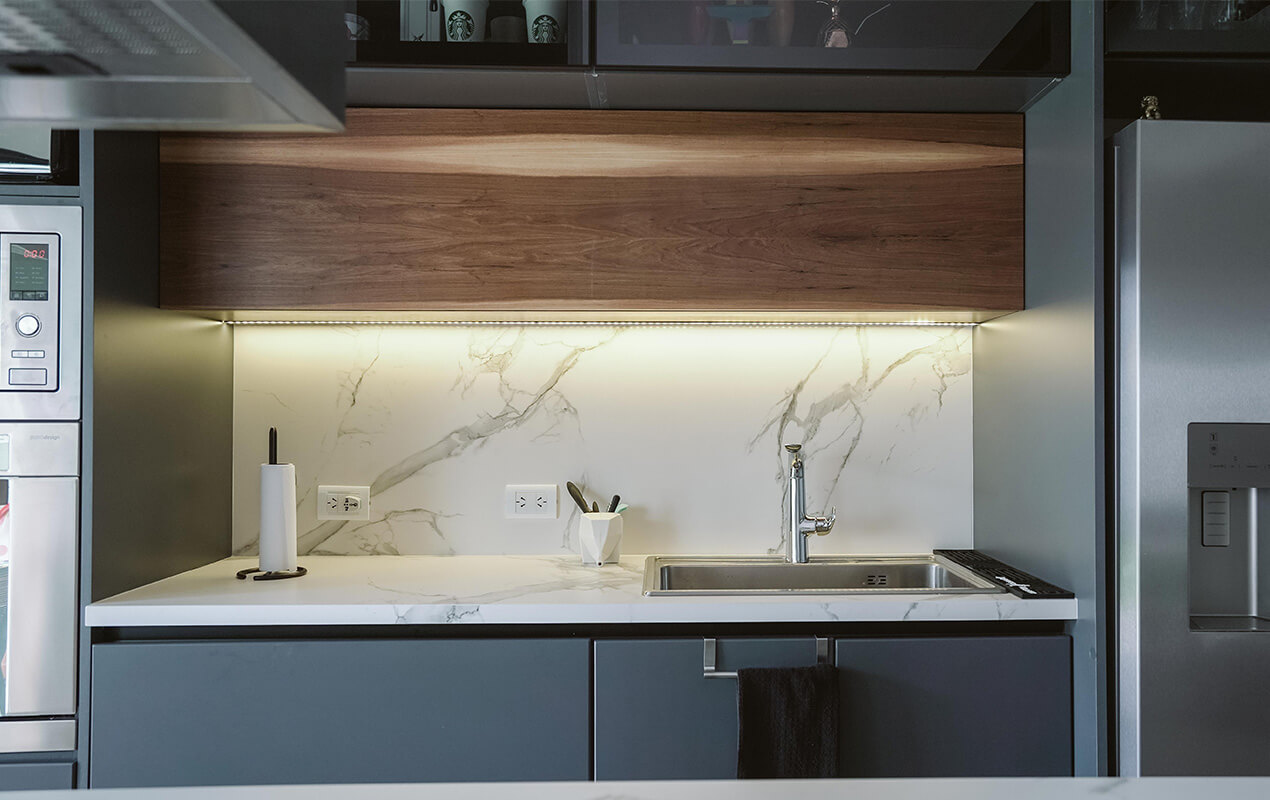 And Your Countertops 
Some solid surface countertops can look dated over time. Opting for a new countertop will contemporize your space and can be a cost-effective way of renovating the whole kitchen. Tile countertops are great for easy clean-downs, whereas wooden countertops add beauty to a farmhouse space. There are also hardwearing composite worktops in a range of colorful designs and patterns, including faux marble, which can add luxury on a budget. 
Use Kitchen Staples to Dress The Room
Not into kitchen counter decor ideas that bring unusual elements into the room? Then how about using the usual features of the room to dress it? While it may sound dull, just picture the beauty of a well-laid dining table with shining cutlery, crisp white plates, and sparkling glasses. The whole thing screams elegance! When decorating your counter, sticking to a color or harmonizing shades adds cohesion and sophistication while also keeping your essentials close to hand.
Conclusion
We hope we've given you some tips to inspire you to revamp your kitchen counter. Which was your favorite? For us, we always enjoy working with what you've got, so decorating with items already useful for the kitchen and renovating more expensive surfaces such as countertops and tiles allow for a cohesive space full of charm.