The word 'elegance' conjures up all manner of interior styles, from the high-ceilinged black and white living room decor from the art deco era to the sleek minimalist decor we have come to love – and loathe – in equal measure. But when it comes to finding elegant living room wall decor ideas, we don't have to work hard to imbue a sense of grandeur to our space. Sometimes something as easy as choosing dark wall colors and simple furniture can provide you with a spacious living room that embodies a classic, elegant style. 
Allow us to take you on a journey from bland to chic with our top 10 elegant living room wall decor ideas. 
Accent Walls are Not a Thing of the Past
While accent walls seem to have fallen out of favor these past few years, in the living room, they remain a popular elegant home decor choice to accentuate a chimney breast or reading nook. 
Opting for an aesthetic wallpaper with a bold pattern can draw the eye to an area you want to make the most of, making a focal point stand out while tying together the individual elements of the space. Opting for similar color choices in your wallpaper and other room elements will provide cohesion in your space that can be followed into other rooms for a seamless transition.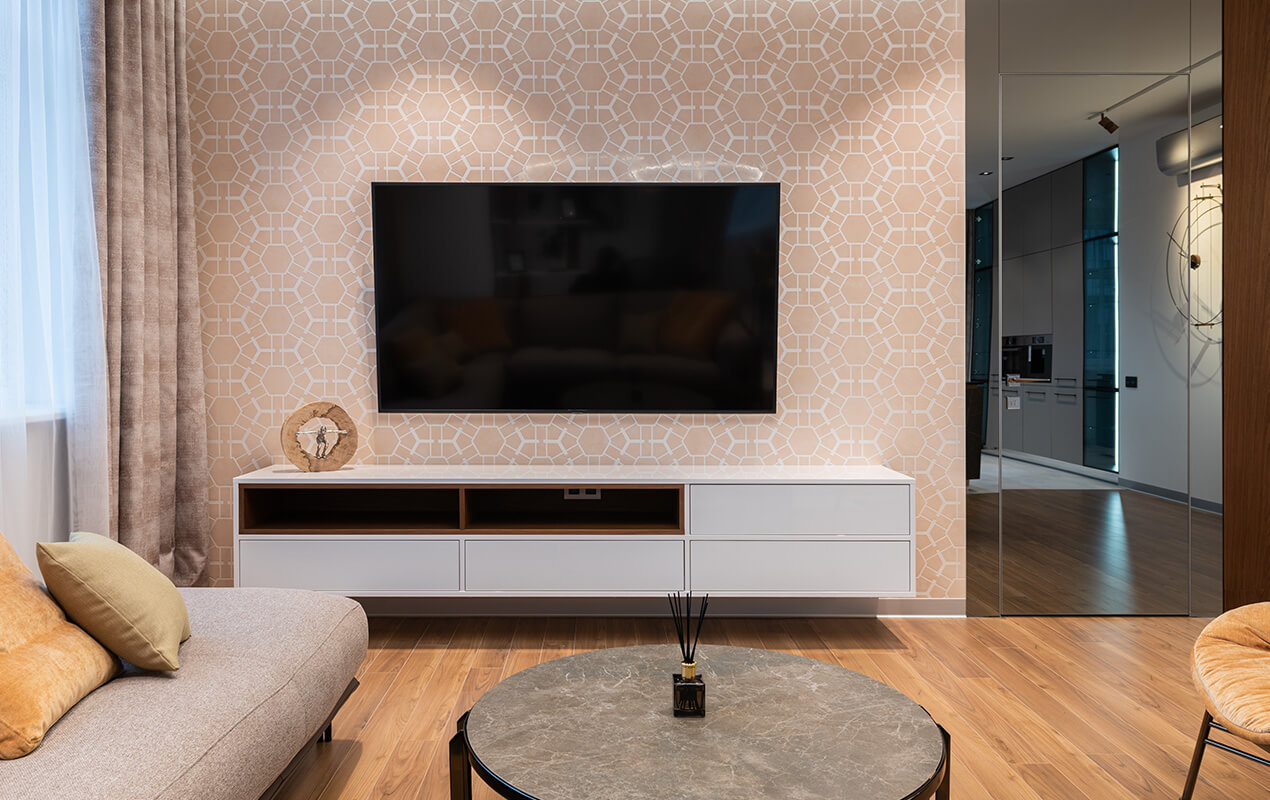 Quick Tip – Creating zones helps you divide a large living room into workable areas.
Stick to One Color Throughout Your Decor
If you've got a small home or would like decor for the living room that is subtle and elegant, try sticking to one color throughout the space. This stylish approach is found in many celebrity designer homes such as Ralph Lauren and his wife's ranch in Colorado, which is a white enthusiast's dream, particularly their minimalist living room with plants, which uses stunning orchids as a counter to the straight, white lines of the shuttered interior space.  
Don't Be Afraid To Mix Styles
For us, the best home interiors are those that reflect the personal style and love of the homeowner, even if they don't fit in with what is currently 'in'. 
As design is subjective, there may be elements that you feel fit in with elegant home decor and some that don't. While chandeliers, high ceilings, and dark furniture are synonymous with elegant home decor, they may not appeal to your tastes. Mixing soft boho-inspired fabrics with straight lines, traditional wall paneling with curved furniture and even mid-century colors can all look great in the right setting. Don't be afraid to experiment!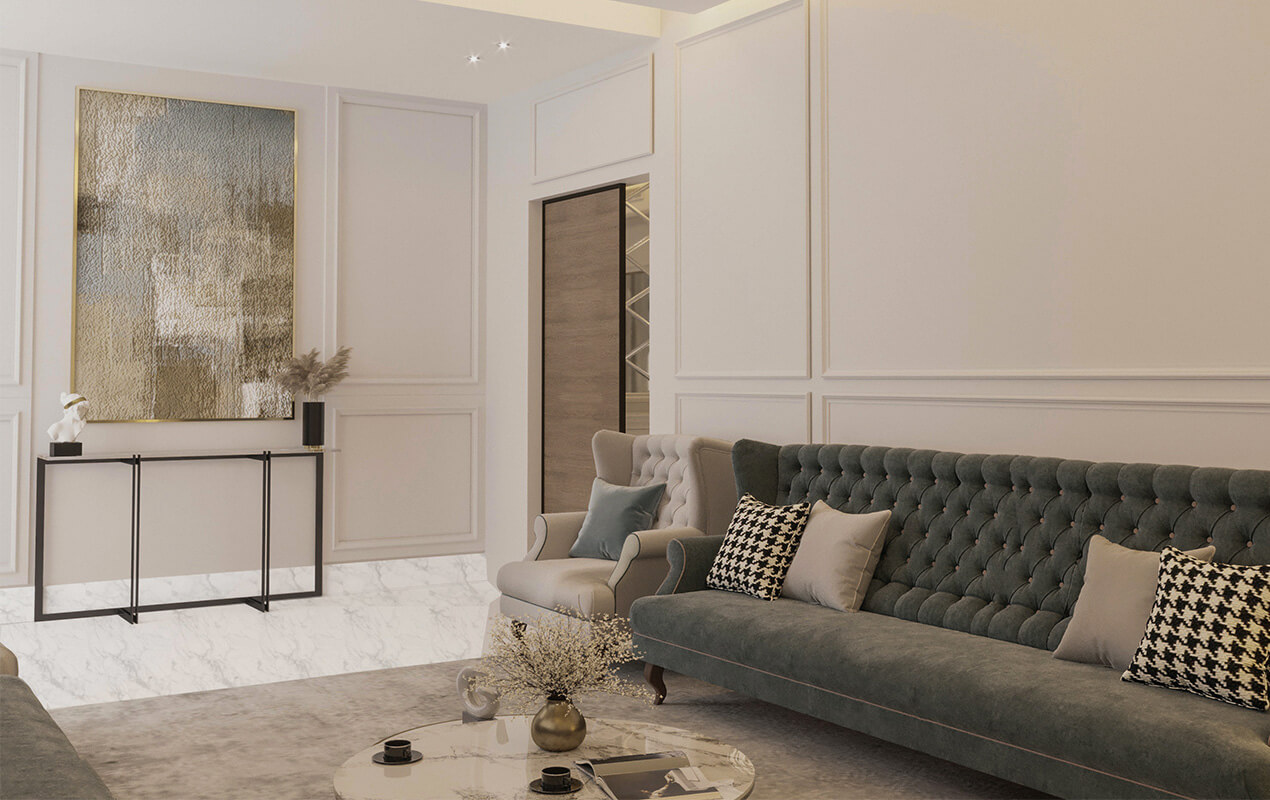 Quick Tip – Black and white living room decor is chic, monochrome, and flatters most accent colors.
Simple, Stress-Busting Scandi Style
Elegance isn't just in the appearance of a space, but how it functions, too. A simple home that is designed and filled with thoughtful treasures is a great way to live. The Scandinavians even have a name for it – LAGOM, meaning 'in moderation'. Combining elements of living sustainably and organizing your home so clutter doesn't blight it, this Scandi style encourages better mental health through a better work-life balance and thoughtful living. Elegance doesn't get any better in our opinion!
Classic Stripes Can Heighten a Room
We return to traditional interior design elements for our next elegant living room decor idea. Versatile stripes are often used to shape interior spaces. If you have a narrow room or hallway, turning stripes on their side so they run horizontally can make a room appear longer and wider.
Elegant interiors rely on high ceilings to increase grandeur, and using stripes vertically can trick the eye into thinking a room is taller than it is. Just be sure to keep the stripes uninterrupted from floor to ceiling; if the pattern is interrupted by molding or paneling the wall will be visually cut horizontally, making it appear shorter than it is.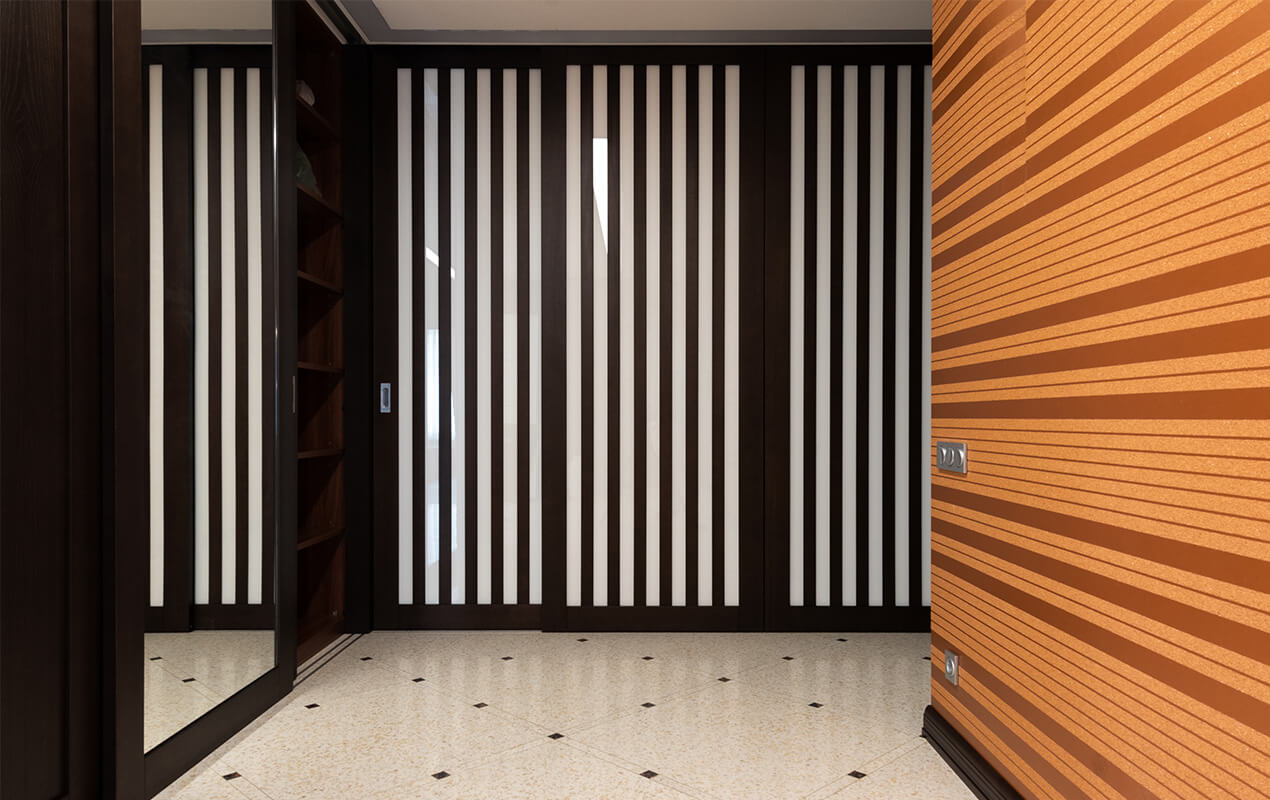 Invest In Light-Reflecting Mirrored Surfaces
From glass living room table decor to mirrors on the walls, adding light reflective surfaces into your living room interior adds visual interest and encourages light to reflect on the mirrored surfaces, making the room appear brighter and larger than it is. 
Look to classic art deco designs from the 1920s and 1930s where designers of the period used highly polished furniture from Ruhlmann and glass lighting from Lalique, now known as the most acclaimed glassmaker of the Art Deco period, to introduce luxury and sophistication to living and dining spaces fit for royalty. Prince Asaka of Tokyo was lucky enough to have his luxurious apartment adorned with a 400 lb chandelier from the French brand. The 'Pineapple', as it is known, can still be seen today in all its glory some 75 years later.
Opt for Dark Tones to Add Sophistication to Your Space
Your wall color of choice can completely change the feel and aesthetic of your room, so choose wisely. Dark wall colors are often avoided in case they make a space look claustrophobic, but that needn't be the case. 
While paler shades reflect light, giving the impression of a spacious living room, a dark wall shade can be used to make walls feel closer, adding intimacy and sophistication to a room. If you are struggling to find the right dark wall color for you, opt for this season's must-have dark green shade. Dark green living room walls add contrast to white or natural wood accents and enhance a biophilic interior where plants are used as feature pieces.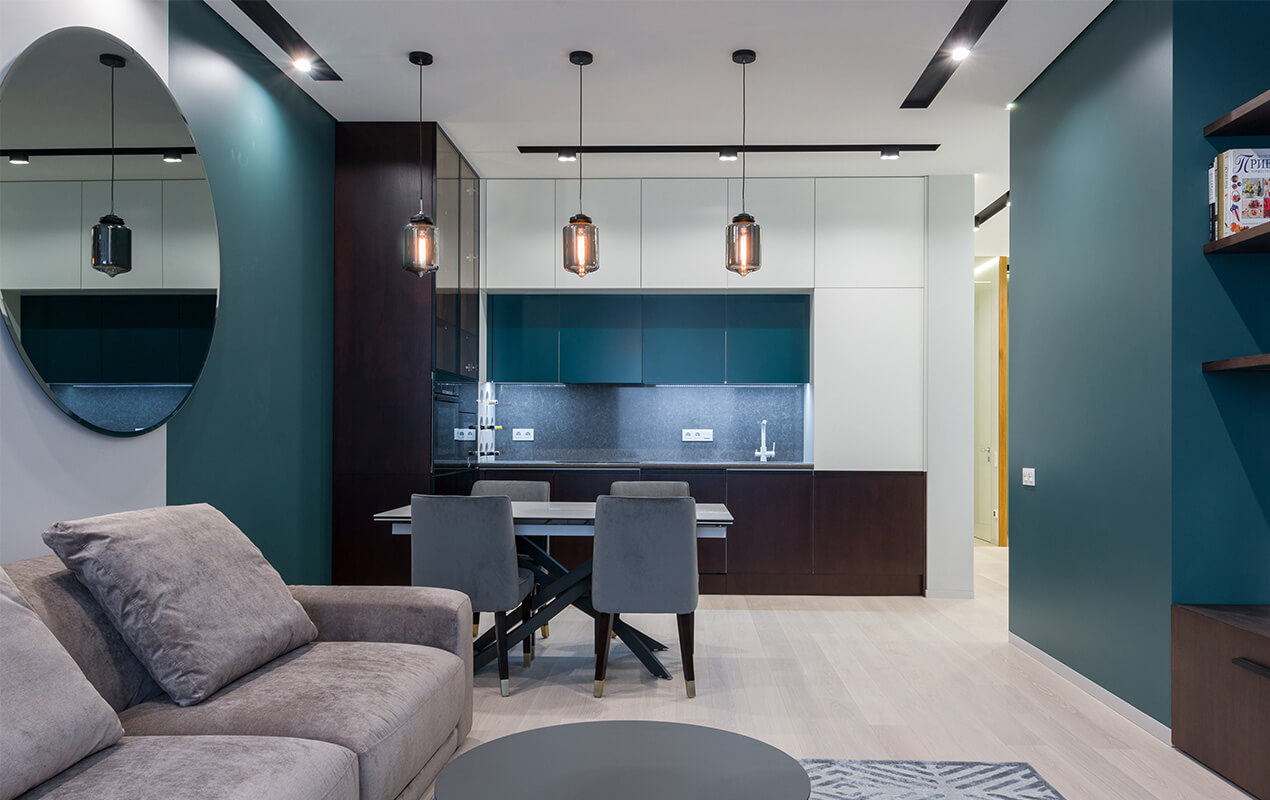 Give Everything Its Own Space
Elegant homes never seem to have an item out of place, but can easily stray into showhome territory. The key to balancing elegance with good design is to organize your items without them looking too 'placed.' 
Books are very easy to store in tall built-in bookcases made cheaply using fibreboard and moldings and painted to match the surrounding walls. Built-in furniture can also hide a multitude of interior sins, including TVs, video game consoles, and remote controls. By giving a little thought to storage, extending it out to your living room table decor through decorative boxes and under-table storage you can minimize the clutter while maximizing the appearance of space.
Use Expensive Materials Sparingly
Elegance is all about taking disparate items and showcasing them to their best. While one way to do this is to add all the finest things money can buy together to create a luxurious space, this can be counter-productive. In decor, as in jewelry, art, and beauty, sometimes less is more. 
Coco Chanel summed up elegance best when she said 'Elegance is about refusal', a quote which she later stated was a counter to big jewelry and flashy clothes in favor of simple styles made of luxurious fabrics with eternal allure. Her ethos was simple – put too many beautiful, luxury things together and you'll look gaudy. The same can be said of your home. Choosing well-made stylish pieces that are simple will give your interior a timeless elegance that transcends current interior trends.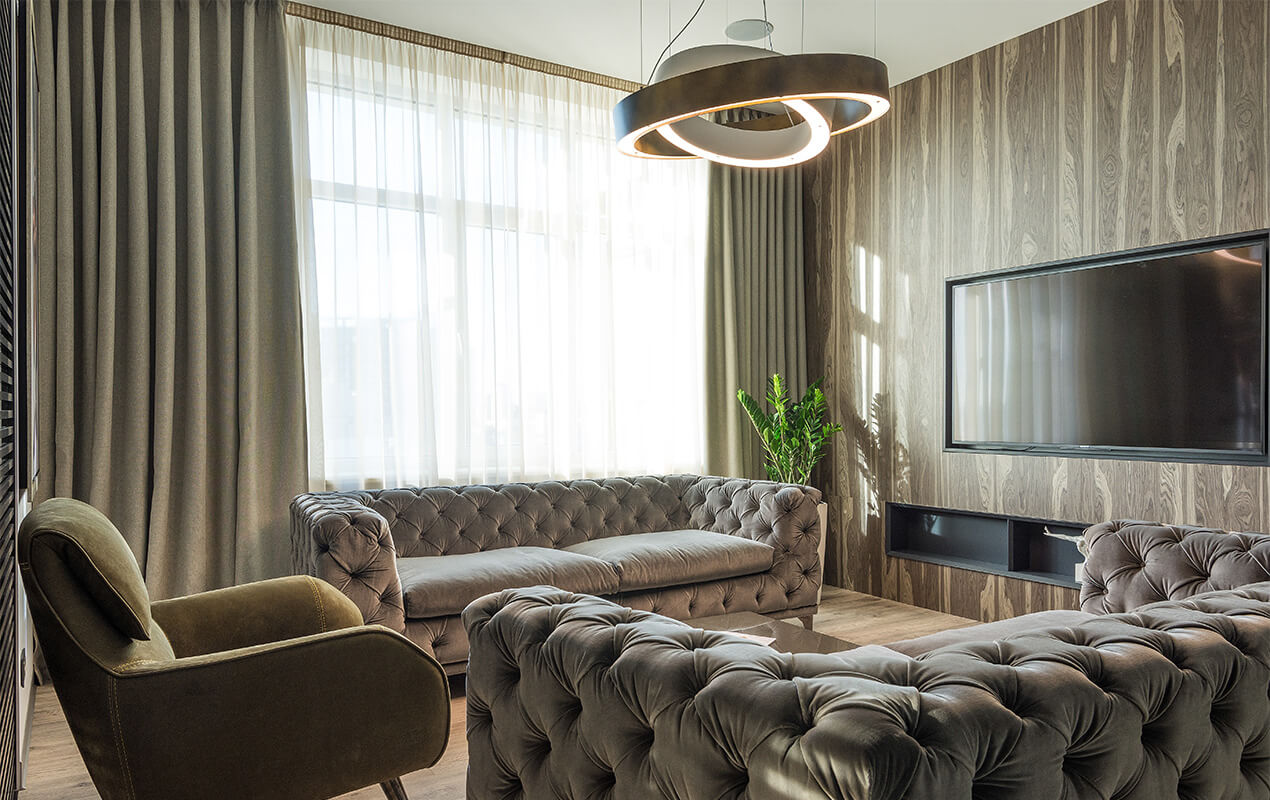 Quick Tip – Who cares if other people like your home? Live how you want!
Source Unique Items from Thrift Stores
Nothing prepares you for the unpredictability of thrift shopping. We adore spending time in those crafty little places, exploring every nook and cranny for interior pieces that accentuate our unique sense of style. 
Don't be afraid of scoring your furniture and accessories from antique and vintage shops, either. Who knows what you'll find? Some of our best scoops have included a neon fairground sign, an old canvas just begging for a splash of paint, and a bargain thrift-store leather chesterfield couch for $50!
Conclusion
So what is elegance in a living room design? For many, it incorporates some of the elements we've listed above, adding art deco glamour and sophistication to a space filled with shimmering, shining accessories. But elegance, like most things in life, is subjective. For some, elegance is nothing more than classic lines and simplicity. Whichever camp you fall into is fine, and chances are, you'll love blending these two bickering styles together. Whatever you do, though, ensure that your space reflects your own personality. Only then will you be able to love the home you live in.