There aren't many things more enjoyable or satisfying than hosting a dinner party, but for all the fun and excitement, you have to deal with a substantial serving of stress. From rustling through recipes and tumbling with table settings, there are plenty of moving parts to ensuring your night of food, drinks, and merriment goes off without a hitch.
With all the focus on the meal, it can be hard for table decoration ideas to materialize, which is why we've come to your side. We've put together this article of table decoration ideas and tips, perfect for dinner parties, holiday gatherings, and even family meals.
Elevate Table Settings with Plenty of Linens
Something that might immediately spring to mind when you think of beautiful table decoration is a crisp, clean tablecloth, and this is a great place to start, but why not take things a step further? Don't stop with a tablecloth and set your table with a variety of linens to create a layered, textured visual profile. 
Start with your tablecloth, laid carefully over the top of the table, before laying a runner down the center, followed by some fabric placemats for plates, and even a linen napkin to lay your cutlery on. You can even go the extra mile and make some linen origami! Linens are a great way to add dimensions to a table decoration.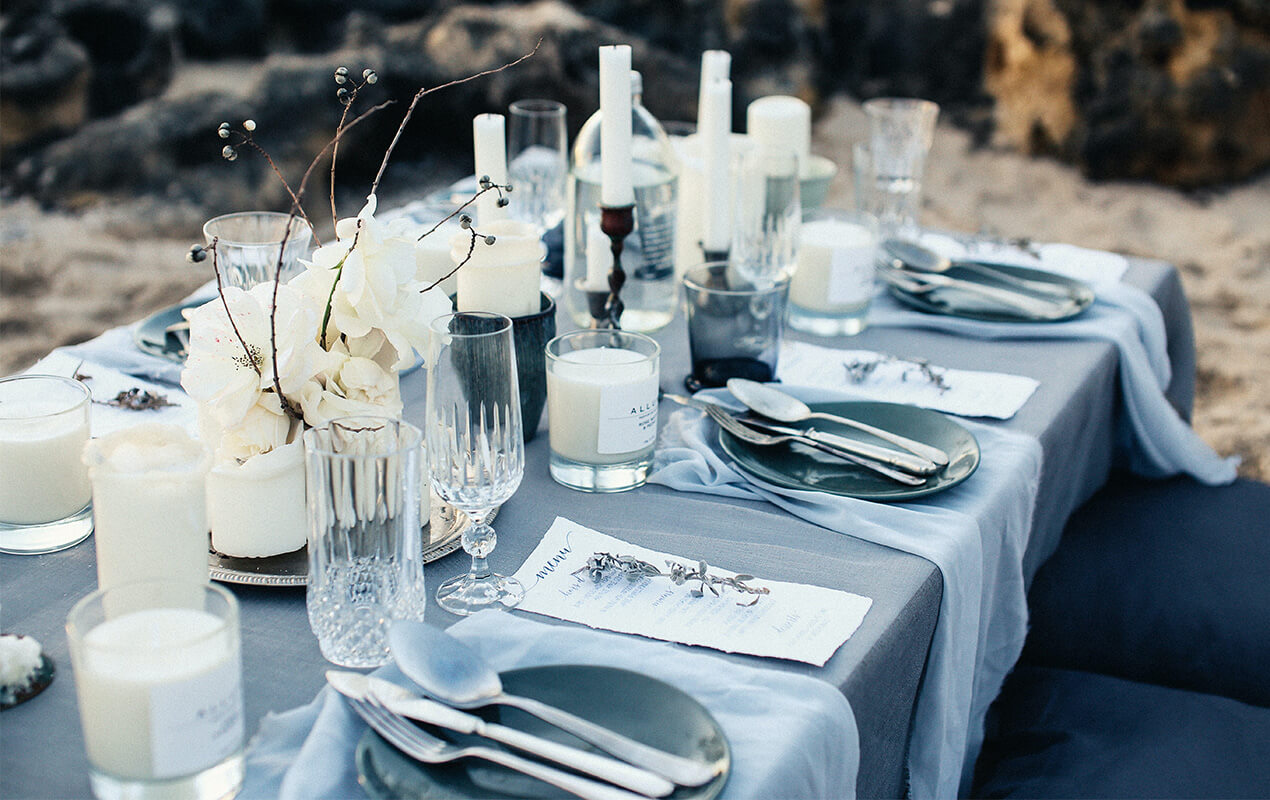 Quick Tip – In keep with the room: Just because it's Thanksgiving, the table doesn't have to become a pilgrim's paradise! Try to keep the table consistent with the rest of the dining room.
Spice up Table Settings by Mixing China Patterns
Some people may recoil at the suggestion of this, seeing the word "mix" and hearing the word "clash" in their head, but this isn't necessarily the case if you approach it in the right way. With a good degree of consideration, you can create an elegant table decoration without needing all of your china elements to match completely.
For example, sticking to a color scheme or general theme is a great way to create a consistent and stunning table setting, using mixed patterns, such as sticking to classic combinations like blue and white, used in a variety of different ways. Alternatively, you could choose items with contrasting colors to curate a striking color story on the table.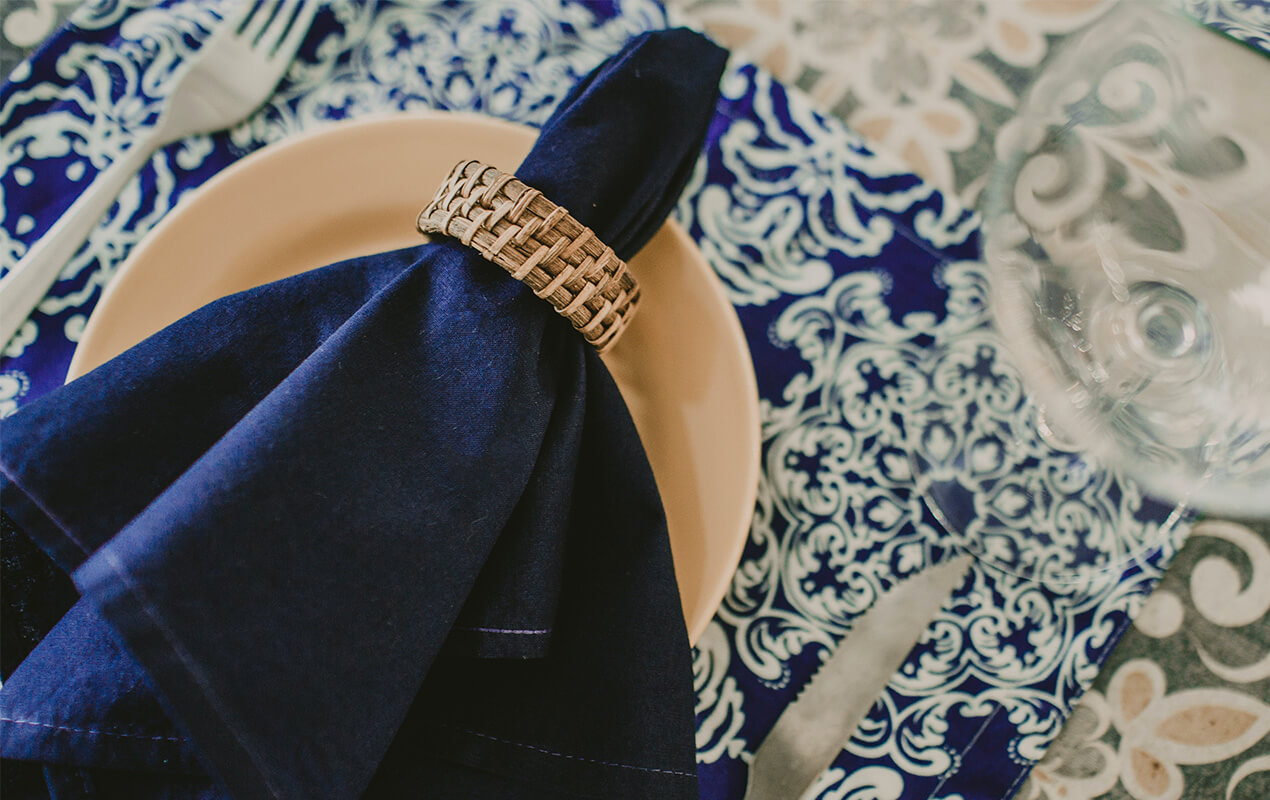 Use a Big Centerpiece on Table Settings with Simple Crockery 
When you set a table, it can be tempting to lay out all of your fanciest crockery, cutlery, and glasses in an effort to impress guests or encourage a sense of formality. However, these elements on the plate are the most functional parts of the meal, destined to become covered in food, filled with wine, and eventually thrown in the wash. Why not put the focus on a statement centerpiece? 
Surround a large, impactful centerpiece with simple instruments to draw eyes to the center of the table and inspire conversation, with the contrast giving the dining room some bohemian appeal. Options for centerpieces include artistic sculptures, fancy pieces of serveware, or even clusters of natural elements like pinecones, holly, and long grains.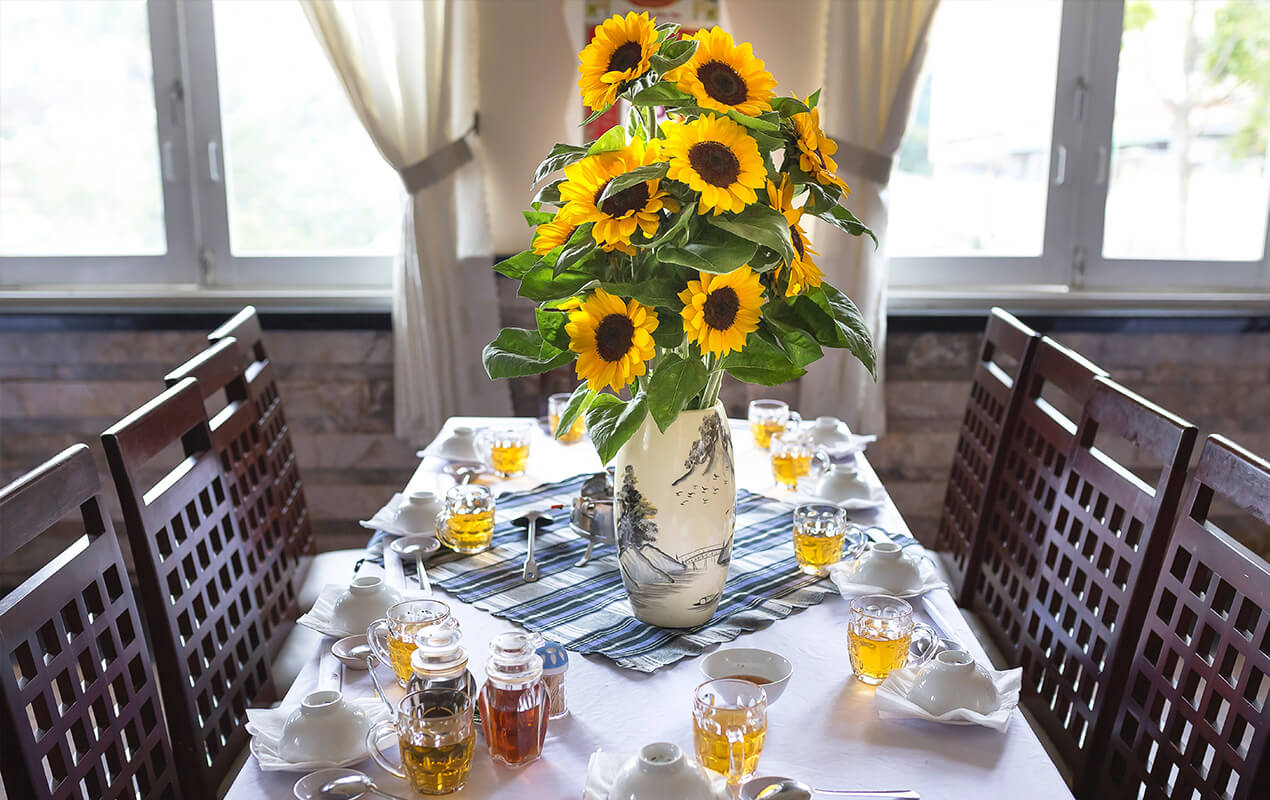 Quick Tip – Start slow: You don't have to go overboard from day one. Start slow with just the things you need and build the setting around those items, it will come with time.
Liven Up Table Settings with Plants or Flowers
It's never a bad time to embrace biophilia in any room of the house, with plants and flowers making excellent choices in table settings for dinner parties and day-to-day life alike. Bringing natural elements indoors is shown to have positive impacts on mental and physical health, so what better place to make use of this benefit than at the dinner table, a hub for conversation?
With a healthy collection of plants and flowers, you could even swap them out based on the occasion. Roses in a nice clear glass vase are perfect for Valentine's Day, overgrown pumpkins are perfect for later Autumn months, and a collection of cacti would be great on any old Taco Tuesday!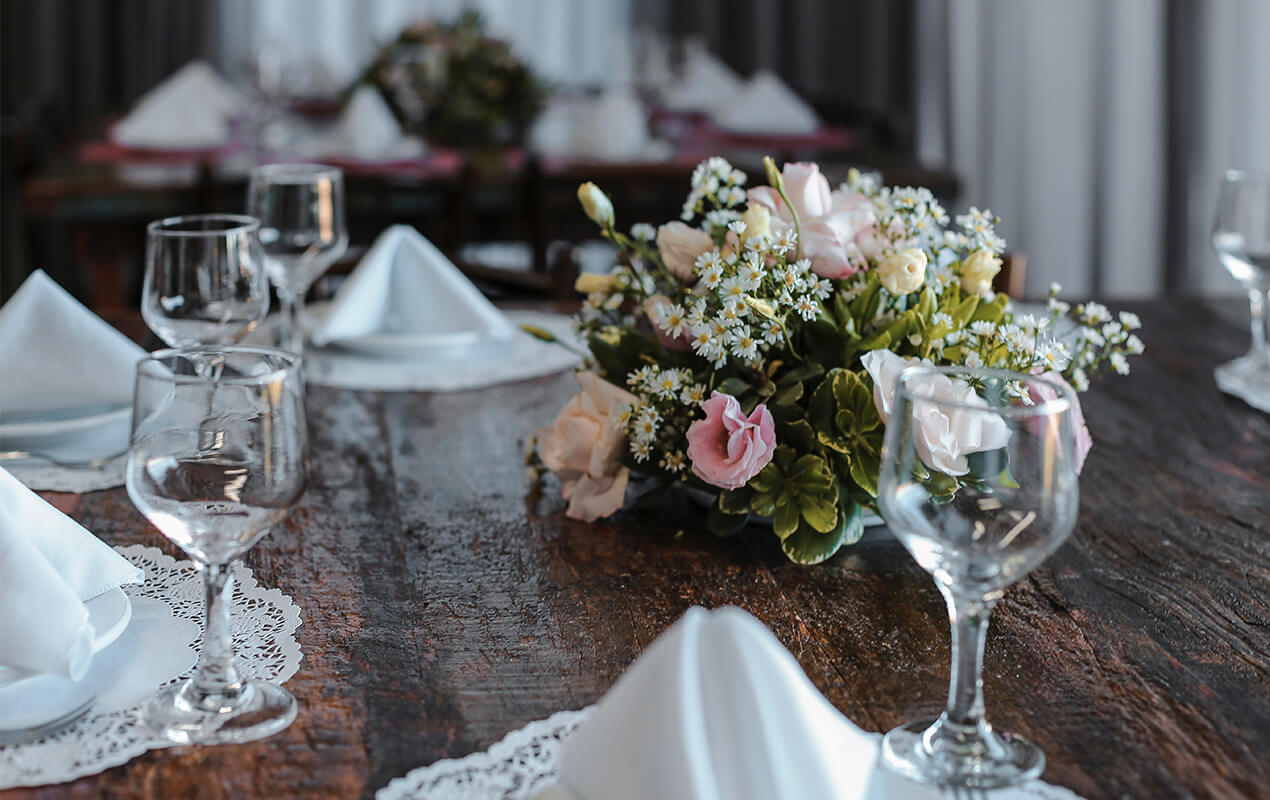 Create Autumnal Settings with No Tablecloth on a Natural Wood Dining Table
If you're looking for that homely look and feel throughout your home, the likelihood is you're an Autumn person! If this is the case, you might want to skip the tablecloth altogether to leave a stunning, natural wood dining table on display. While we're lovers of linen, we also see there's plenty of beauty to marvel at in the natural grain, textures, and rich colors of wooden dining tables
This can be topped with wooden placemat trays, serving trays, and a nice piece of meat on a wooden chopping block to complete the set dinner table, reinforcing that stunning farmhouse aesthetic. Rich red or tartan runners make a good substitute for fully-fledged tablecloths.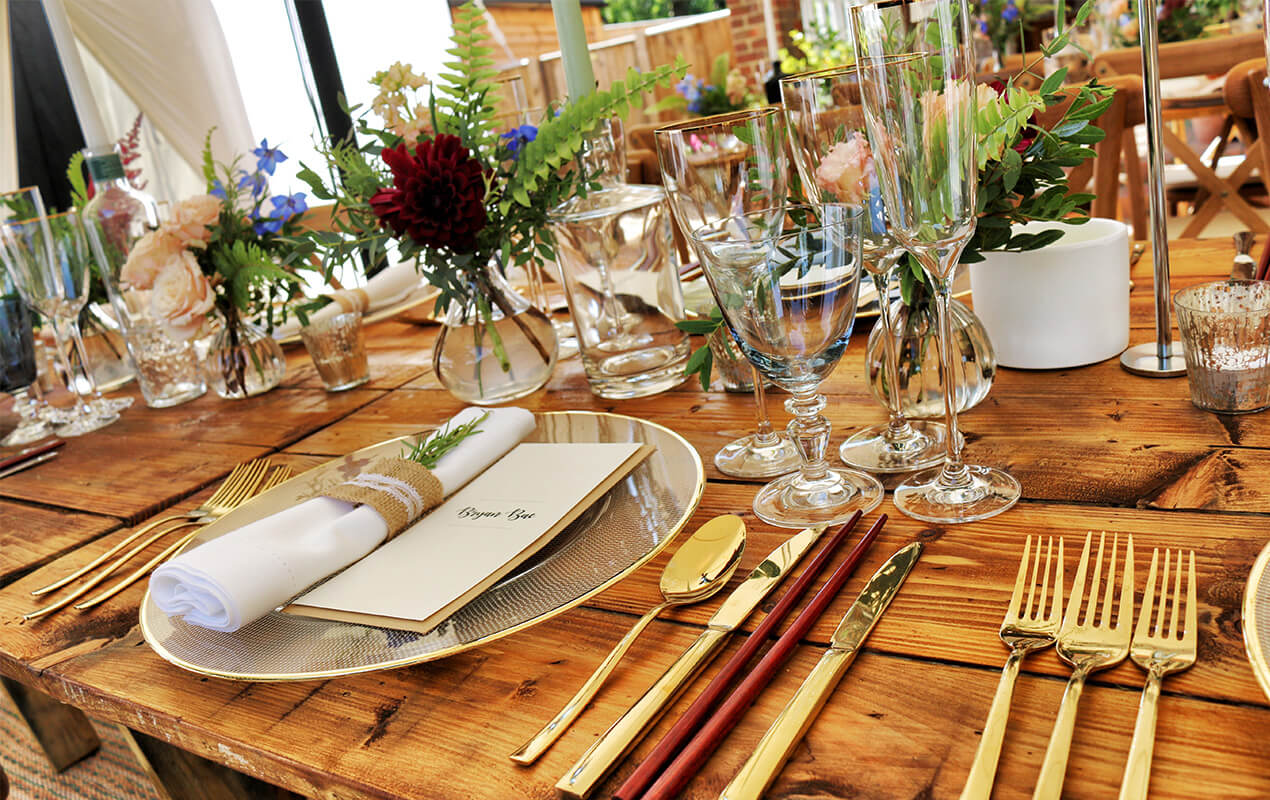 Quick Tip – Marry style and function: Remember that this is where you eat, it's not a gallery. Don't just choose things because they look good, consider how they'll function with a meal.
Create Softer Settings with Pastel Colors
When you think of a fancy table setting, shades of white, cream, and gold probably come to mind, but who's to say this is the direction you should go in at home? We think choosing pastel colors is a great way to make your guests or family feel a little more at ease when visiting for a meal, while still a striking visual choice. 
These pastel colors can come in the form of your tablecloths, napkins, placemats, and even crockery. The softness will take the edge off the night, inspiring relaxation amongst loved ones, ideally centered with some pink roses to get that biophilic effect as well.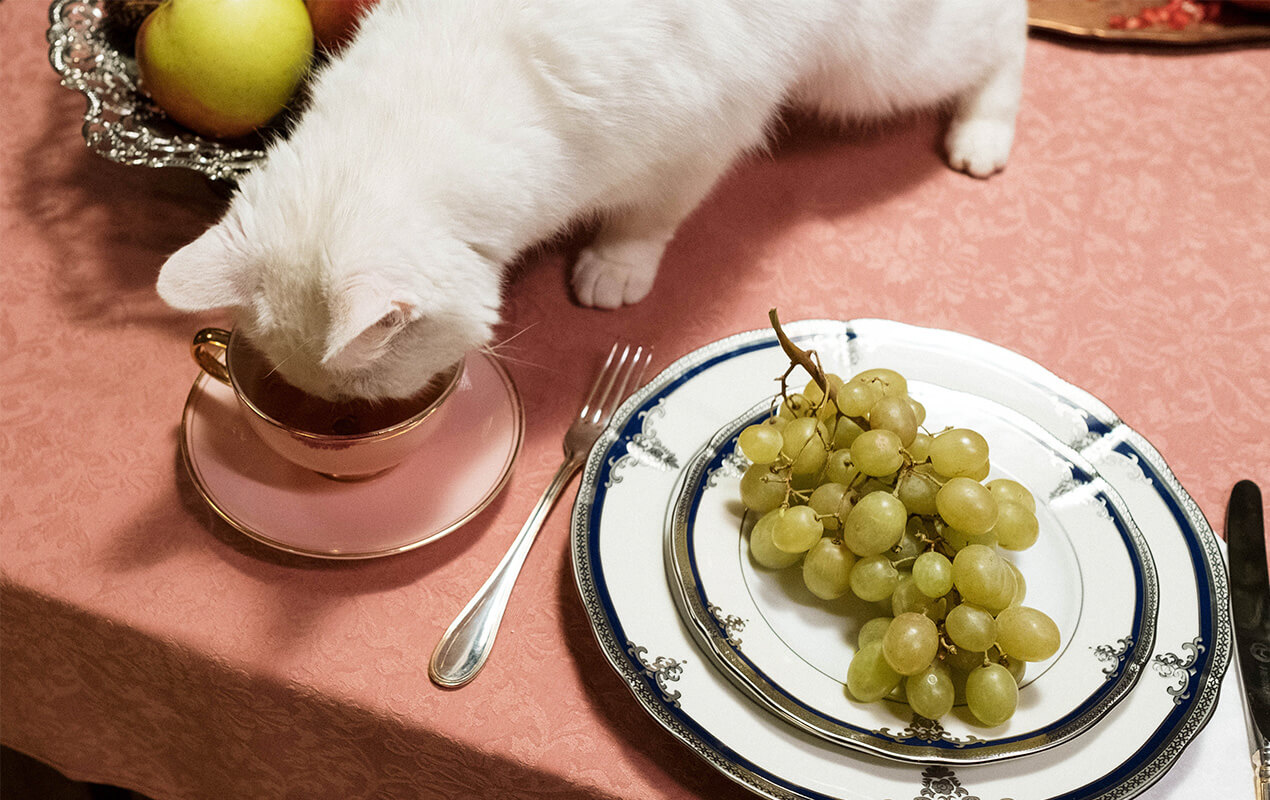 Keep Table Settings Casual with Small, Simple Candles
When we think of modern table setting ideas, we need to consider what the modern property market means for a lot of people. In many cases, the modern housing market means can mean a lack of space, especially in areas of the home as luxurious as dining rooms. In these cases, we should focus on creating more intimate and casual atmospheres, with one way to do so being the use of small, simple candles. 

In a small dining room with a small table, it's over-the-top to make a big song and dance about a set of massive candlesticks. Keep things simple, with humble, low-profile candlesticks, Scandi-inspired furniture, and inconspicuous utensils.
Conclusion
Now, with these tips, principles, and ideas we've laid out, you should be ready to set your dinner table for any occasion! Regardless of the space you're working with, you can still put together a stunning table setting for yourself, your family, and guests to enjoy. Remember, take our suggestions with a pinch of salt – it's your home, and no ones opinion or instincts matter more than yours. If this means combining tips or cherry-picking between them, that's fine. It's your space to experiment with.